One of your primary goals as an affiliate marketer is to optimize your content marketing to boost sales. It can often be difficult to know where to begin as a "newbie" to affiliate marketing. While a primary focus will be on building traffic, those all-important sales need to be considered.
Fortunately, there are some strategies you can use to target your current audience and improve your sales. In fact, with a few tips, you can optimize practices you already have in place to save you time.
In this post, we'll outline four easy ways to boost sales on your affiliate website. We'll also explain why these tips are effective and how they improve efficiency. Let's get started!
1. Build a Targeted Email List
A targeted email list contains the contact information your audience has volunteered in exchange for your website's content and offerings. As these are the leads most likely to convert (since they voluntarily signed up to your list), you can target your sales pitch directly to them.
Of course, you'll first need to convince visitors to sign up for your email list. This can be daunting at first, but there are many tips you can use to get started. For example:
These two methods ensure that you attract more of the right audience, as your freebies will be targeted to them. If you aren't sure where to start, we recommend first finding an email marketing service that will work for your business.
Active Campaign, ConvertKit, Get Response, and Mail Chimp are all excellent email marketing services that seamlessly integrate with Easy Affiliate.
2. Create High-Quality and Valuable Content
High-quality and valuable content offers direct and immediate use to your audience. For example, product reviews or how-to guides can be extremely valuable to readers looking for specific information.
This type of content offers an obvious benefit to your readers. As a side effect, readers build trust, while you may see a boost in sales.
Excellent content is just the beginning, however. There are a few tips you should follow throughout the content creating process, including:
We also recommend you make use of an editorial calendar. This will help you to create more focused content, and it will make the process simpler.
3. Optimize Your Product Landing Pages
A product landing page is the pinnacle of your affiliate website. It contains detailed product information, and provides potential buyers the assurance they need before making the purchase.
As the main conversion page on your site, the landing page should be used to make the final sell. However, it needs to be optimized properly to do so.
There are many optimization tips you can implement, but we believe the two most important ones focus on the structure of your pages. For instance: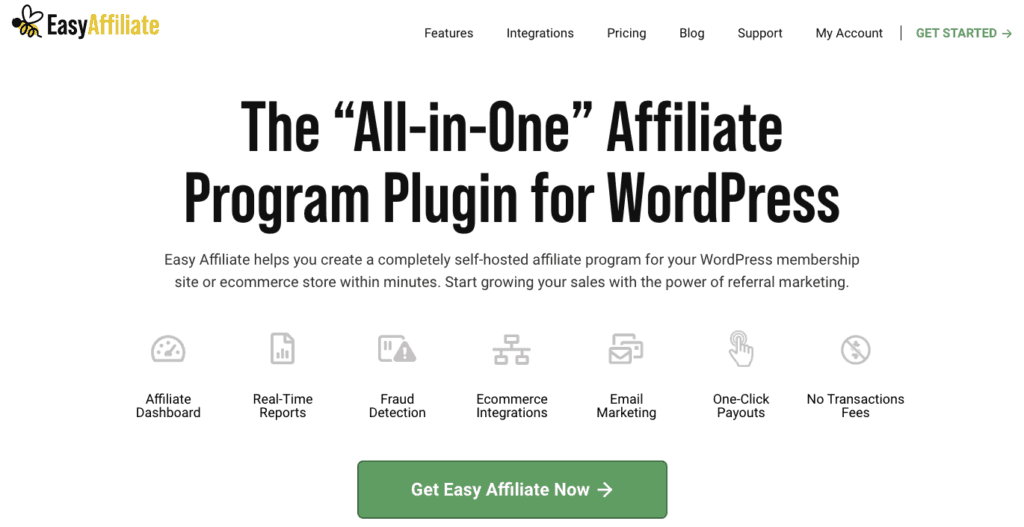 As your landing pages will have the greatest impact on customer decisions, it's vital that you spend the most time on them. This means crafting them correctly from the beginning while tweaking them as needed.
4. Offer Bonuses to Your Readers
Your website's readers are more likely to convert to buyers than non-readers. So, offering them bonuses (like coupon codes or giveaways) just makes sense. Your readers will feel valued, and this can improve positive feelings. This means not only will they be more likely to convert, but they'll be more likely to purchase from you and not a competitor.
There are different types of bonuses you can offer, but some are more effective than others. Here are a couple we recommend trying:
Use limited-time deals. These will compel your readers to act quickly, as they'll feel a sense of urgency.
Run a giveaway. For example, require that readers sign up for your email list and leave a comment on your post to be put into a random drawing. The winner will receive a free product.
Even if bonuses cost you a small amount initially, the returns (i.e. more sales and loyal customers) will pay off in the end. In fact, each of these tips can improve your return on investment immeasurably.
Conclusion
The main goal of any business owner – affiliate or otherwise – is to boost sales and increase profits. While many believe the only answer is increased traffic, improved marketing strategies can work just as well (if not better).
In this post, we highlighted four ways you can increase sales, all without the need to drive more traffic. To quickly recap, they are:
Build a targeted email list.
Create high-quality and valuable content.
Optimize your product landing pages.
Offer bonuses to your readers.
Do you have any questions about boosting affiliate sales for your business? Let us know in the comments section!
If you liked this post, be sure to follow us on Twitter, Facebook, and LinkedIn! And don't forget to subscribe in the box below.