With affiliate marketing, brands and publishers come together in a potentially lucrative profit-sharing business model. It's one of the top strategies for customer acquisition.
However, whether you've been running your program for years or you're just getting started, it's important to understand that smashing success stories are easy to find but harder to replicate.
Thankfully, by looking at other successful programs, you can identify characteristics they have in common and incorporate them into your own strategy. This includes everything from finding top-notch influencers to work with to simply having a bit of patience.
In this article, we'll discuss six important characteristics of successful affiliate marketing programs. We'll explain what they are, why they matter, and how you can bring these concepts into your own plan. Let's dive right in!
1. Quality Affiliates
Affiliates are your representatives, linking you to your customers and leads. They promote your products or services to their own unique audiences, expanding your reach by exposing your business to new prospects you might not otherwise reach.
However, not all partnerships are bound for success. Quality affiliates are knowledgeable about your products and find creative ways to sell them.
They consistently produce valuable and engaging content for their audiences, and they're willing to learn and adapt as you evaluate and modify campaigns.
On the other hand, low-quality affiliates make little effort to show off your products. They publish content sporadically and without thought to their audiences' needs or interests, and may even unintentionally spread misinformation about your brand. In other cases, they might simply be a poor fit for your business' identity or values.
Statistics provided in your affiliate admin panel and your engagement with your partners can help you assess their effectiveness. Develop your relationships and keep your affiliates happy by providing helpful tools, financial incentives, and a sense of community.
2. Products That Provide Value to Customers
Successful sellers promote products they believe in. If you want your affiliate marketing program to succeed, you need to do your part and provide a valuable item that people actually want to buy.
Understanding the problems and challenges your customers face is key to creating products they'll value. Sometimes, you can solve challenges your customers don't even know they have. These products surprise and delight. They can revolutionize an industry.
When Apple recreated the iPhone, it didn't start with what its competitors were already doing. Michael Hyatt describes it as "not only as good as Apple could make it, but as good as Apple could imagine it."
You may not be selling the next iPhone, but you can take a page out of Apple's book. Bake in greater value by understanding the needs of your customers and creating the best solutions you can imagine for them.
Start your product development process with customer problems, and end it with customer satisfaction.
3. Attention to Key Performance Indicators (KPIs)
KPIs provide you with information about the effectiveness of individual campaigns. They also let you know how your business is performing overall.
These metrics include information such as:
Click-Through Rate (CTR). The number of users who click on affiliate links and proceed to your website.
Conversion Rate. Percentage of affiliate traffic you're converting into buying customers.
Cost Per Click. How much you spend on average for every click-through to your website.
This information is hard data. It's an accurate picture of how your affiliate campaigns are performing. KPIs help you measure growth and identify trouble spots before they become costly problems.
KPIs are a crucial reality check, and successful marketers pay close attention to them. You can stay informed and proactive with reliable tracking and reporting via Easy Affiliate.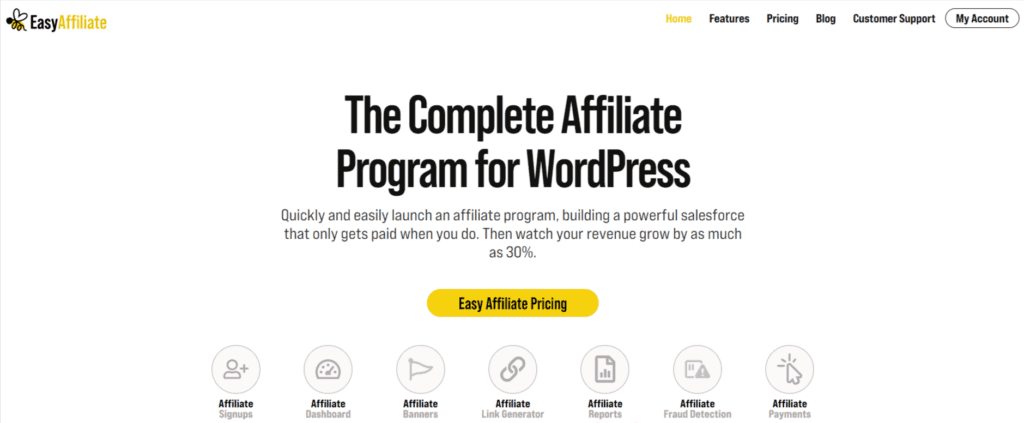 Our WordPress plugin enables you to monitor KPIs from your admin dashboard so you can stay apprised of how your program is doing.
4. A Thriving Affiliate Community
Creating an affiliate community around your brand or business provides a space where your partners can engage with you and each other. This generates loyalty and enthusiasm while also organically building momentum and fostering positive experiences.
Here are a few tips for building a thriving affiliate community:
Provide helpful tools and creative tips to assist affiliates in boosting sales.
Take advantage of accessible communication tools to increase engagement and gather feedback.
Set up forums or other channels to create networking opportunities.
In addition to helping set your partners up for success and enabling them to get to know one another, more exposure to your brand should help affiliates represent your business more accurately to their audiences, too.
5. Patience While You Wait for Growth
Any kind of growth takes patience, and developing a successful affiliate marketing program is no different. Affiliates require time to learn how best to share your product with their followers.
They may also need a few months to develop and publish content, refine calls to action (CTAs), and present your brand in ways that motivate clicks.
Measuring is an essential part of the marketing process. If an affiliate writes a series of blog posts to promote your product, they'll be able to gauge how receptive their audience is through clicks, shares, and the conversation it generates.
This feedback will help them determine what kind of content helps them gain traction.
Give your affiliates the tools they need to succeed while you commit to the process. Then keep an eye on your KPIs and remember that success rarely happens overnight.
6. Profitability
Profitability is usually the first characteristic we think of when measuring success, but it's listed last here for a reason. That's because profitability often comes after a lot of hard work, thoughtful decisions, preparation, and maybe a bit of luck.
Quality affiliates, valuable products, thriving communities, and even patience lead to profitability. In the vast majority of cases, you have to nurture the other characteristics on this list before you turn your attention to money.
Here are a few areas to tweak for increased profitability:
Manage product costs to accommodate fair commission payouts at prices customers are willing to pay. This may take some testing, so track your sales numbers and evaluate.
Determine affiliate commission rates by researching your competition and calculating a target profit margin.
Get noticed, recruit more affiliates, and build awareness through advertising.
Boost immediate sales with coupons.
As your business generates revenue, you can monitor and adjust the factors that impact your profit margins.
Conclusion
Creating a successful affiliate program takes work. While the definition of success may vary between brands, there are definite attributes you can develop and incorporate into your own strategy to unlock your earning potential and increase affiliate and customer satisfaction.
In this post, we've covered six key characteristics successful affiliate marketing programs share:
Quality affiliates who consistently produce relevant and engaging content.
Products that provide value to your customer base.
Attention to KPIs so you can identify areas of potential improvement and growth.
A thriving affiliate community that fosters loyalty and provides resources and motivation.
Patience while you wait for growth.
Profitability achieved by supporting your affiliates and optimizing your commission rates.
Do you have questions about how to build a successful affiliate marketing program? Let us know in the comments section below!
If you liked this post, be sure to follow us on Twitter, Facebook, and LinkedIn! And don't forget to subscribe in the box below.