Seamless automation, custom solutions, and the unmatched potential of our affiliate program API: it's all tied up neatly in our latest add-on release, Developer Tools. Get the lowdown on its features and harness its benefits for you and your clients.
(Pssst, this blog is for devs. If that's not you, read on for news on our upcoming Zapier integration, which will open up a ton of the benefits mentioned here.)
Attention developers!

Your time is here! It's the Easy Affiliate update you've been waiting for. You asked for it and we've been in the lab, working hard to make it happen. The Developer Tools add-on has landed, available with the Pro plan.
Created based on your feedback and demands, this tool is set to reshape the way you integrate and automate affiliate marketing processes.
We're talking rapid development, seamless integrations, and automations that empower you to deliver an unmatched experience for your clients.
Ready to unwrap this digital present? Kick back and read on to discover what awaits in your Easy Affiliate toolkit.
Dev Tools Features, Benefits & Use Cases
Affiliate Program API: Do More With Your Favorite Platforms
With our REST API you can say "yes" to clients using their favorite platforms with Easy Affiliate and craft powerful custom solutions.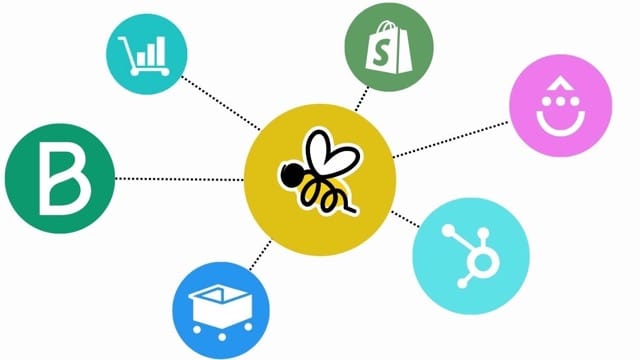 The listed API Routes include get/create/update/delete:
Transactions
Commissions
Events
Creatives
Campaigns
Payments
Affiliates
Use Case
Your client uses an ecommerce platform that doesn't directly integrate with Easy Affiliate.
REST easy!
Use the Create Commission API key on each affiliate-related sale on your e-commerce platform. Automatically trigger the API to create and log the appropriate commission in Easy Affiliate.
Webhooks: Offer Time-Saving Solutions
Add value to your solutions by setting up streamlined automations so your clients can switch up administrative hassle with money-making hustle.
Send post requests to any URL you want when the following events happen in Easy Affiliate:
Affiliate added/removed/blocked/logged in


Creative added/deleted


Campaign added/deleted


Payment added/deleted/updated


Commission added/deleted/updated


Transaction added/deleted/updated


Affiliate application submitted/approved/ignored
And there's no limit. Set up as many webhooks as you need!
Generate a webhook key, enter the webhook URL in the add-on and select which events you want to request.
Use Case
Your client uses a CRM that doesn't natively connect with Easy Affiliate. To make the most of their chosen CRM they need to manually input affiliate data.
No sweat!
Use the Affiliate Added webhook to automatically add each new affiliate sign-up to your client's chosen CRM, ensuring all teams have the latest data with no boring admin required.
Job's a good'un!
Review Events: Ensure Everything's Tickety-Boo
You've set up all the automations, integrated platforms, and created the seamless flow your clients dream of. But how do you know everything's running as smooth as a hot knife through butter? Our Event feature has you covered.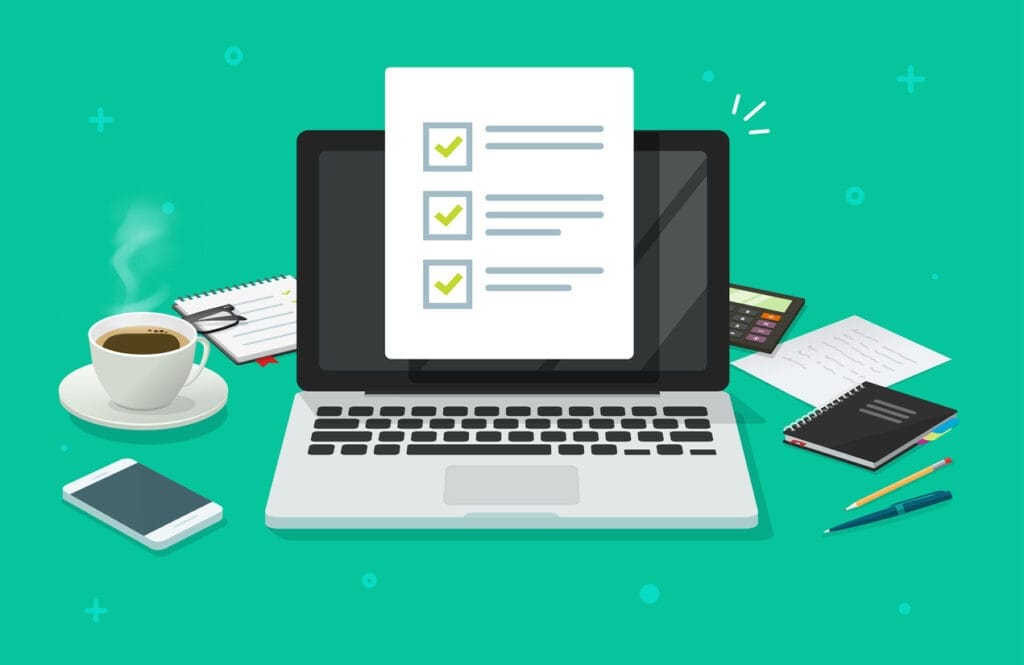 Use Case
Your client launches a massive sale, and affiliates are churning out promotional content like there's no tomorrow. Suddenly, there's a surge in registrations and sales.
Stay on top of it!
Quickly review and Test any events you set up using a webhook.
With one-click, send a POST request to all webhooks you've configured.
Get a preview of the JSON Response
Identify any hiccups, ensuring that every commission, registration, and action is logged and executed perfectly.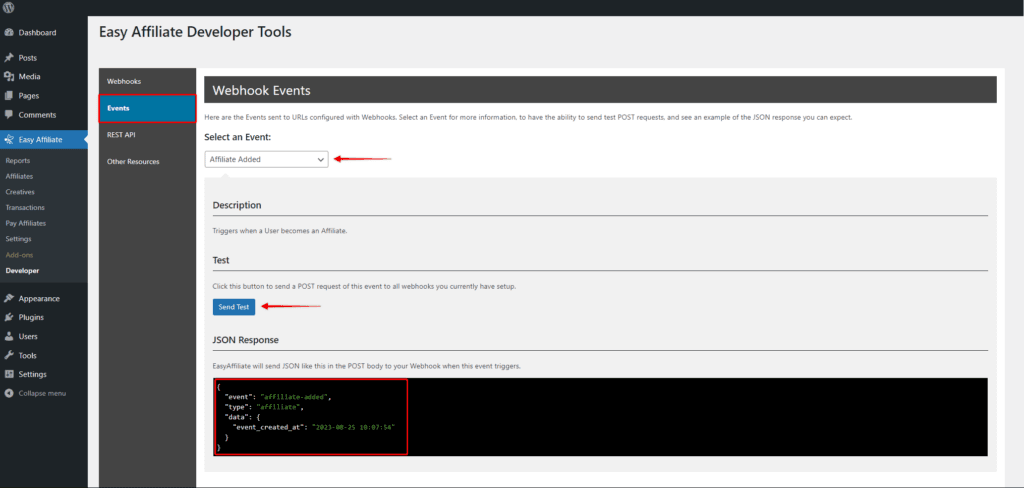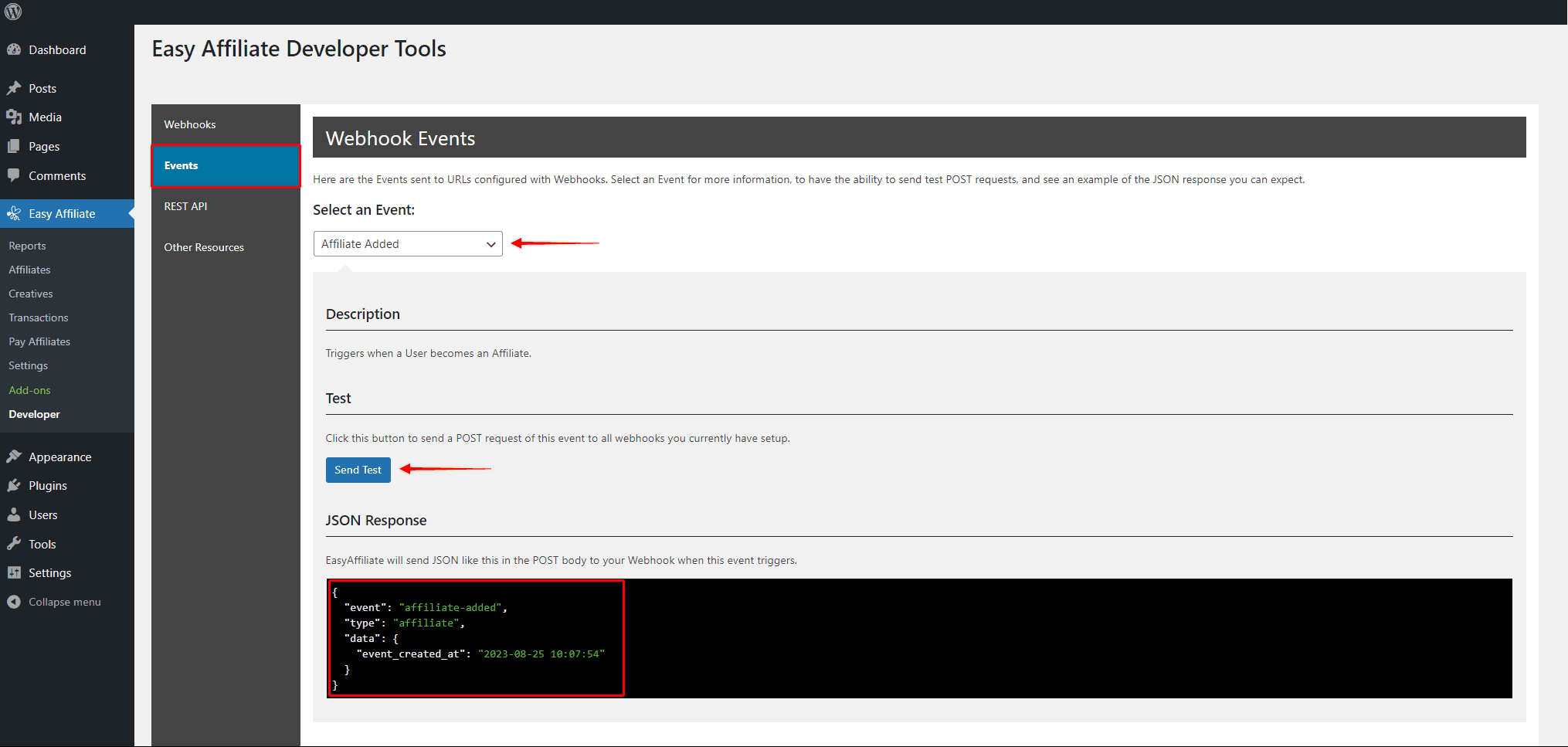 No more guessing games, get straight to assessing and fixing any problems so you can assure your client that everything's on track.
All Systems Go!
Give you and your client peace of mind, knowing that no detail, however small, slips through the cracks. With the Event tab in your arsenal, you're not just promising excellence; you're delivering it.
Why Dev Tools is A Dev's Best Friend
As a developer, you juggle a myriad of tasks, platforms, and requirements. You deserve a break!
If you yearn for tools that feel intuitive, integrate seamlessly into your workflows, and maximize efficiency, Dev Tools is your guy:
Intuitive Interface
The tool is designed with devs in mind. Whether you're a newbie or a seasoned pro, find your way around with ease.
Fast-Track Learning Curve
With clear documentation, responsive support, and a user-friendly design, you're set up for success from day one.
Seamless Integrations
Our affiliate program API ensures that there are no more clunky transitions between your favorite tools. The Dev Tools add-on works harmoniously with other platforms.
Time and Error Reduction
With webhooks and the REST API, manual errors are minimized, and tasks that once took hours are streamlined to mere minutes.

Handy Shortcode Pocketbook
Get quick and easy access to our collection of Easy Affiliate shortcodes from the Other Resources tab in Dev Tools. Add a tailor-made affiliate journey to client websites with shortcodes that elevate and streamline the affiliate experience.
Skyrocket Your Dev Business To New Heights!
So, we've explored the details of how the Developer Tools add-on can streamline your daily tasks. But let's zoom out a moment and gaze at the bigger picture.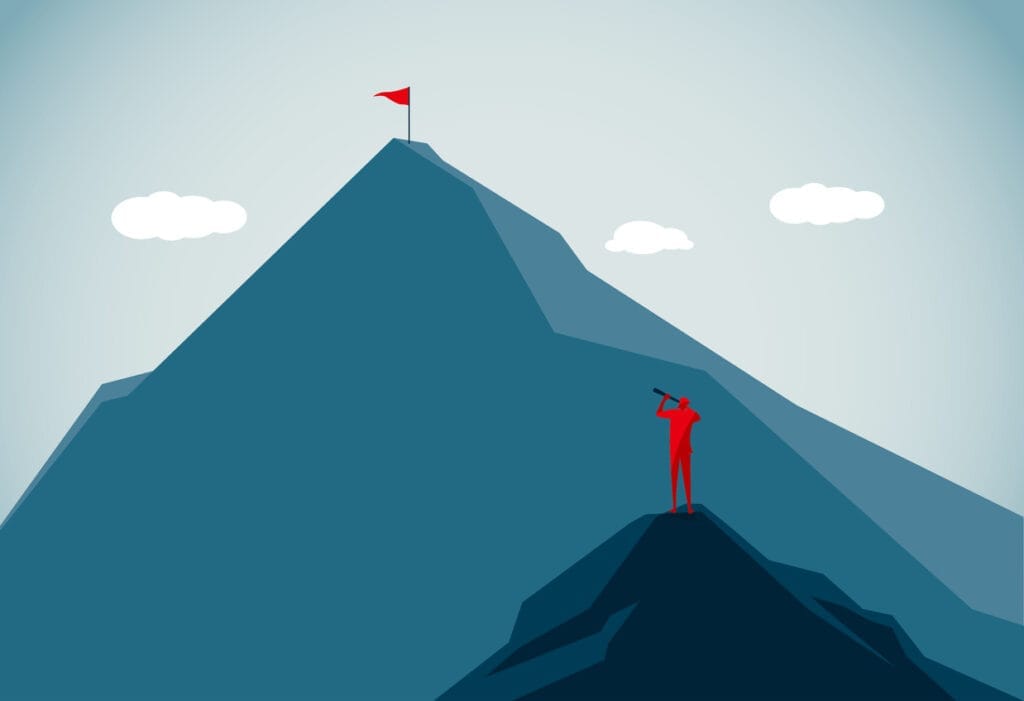 Beyond just technical proficiency, the add-on is set to revolutionize how you approach and conduct your development business.
Ready to reinvent? Here's how this add-on can be a game-changer, taking your business to new horizons.
Offer More to Your Clients
With our affiliate program API in the Developer Tools add-on, you're not just enhancing your current services; you're charging into uncharted territories
Cater to niche markets, integrate with groundbreaking platforms, and set up advanced automations. By offering up next-level solutions, you'll expand your client base.
Stay Ahead in the Affiliate Marketing Game
Affiliate marketing is dynamic and ever-changing. While tools and trends move quickly, the Dev Tools add-on keeps you agile.
Adapt swiftly to your clients' evolving needs, and stay on top of cutting-edge affiliate marketing tech, securing your position at the forefront.
Boost Client Retention
It's one thing to impress a client; it's another to keep them coming back.
With the efficient processes and tailor-made solutions the Dev Tools add-on offers, you're not just delivering a service, your making yourself invaluable.
Once your customers have seen what you're capable of, you'll have them hooked.
How To Get Started – It's Easier Than You Think!
Alright, we've gushed about the transformative potential of the Dev Tools add-on. Now, let's get you geared up and ready to roll with the setup. We promise it's smooth sailing.
Step 1: Install Easy Affiliate (If You Haven't Already)
Step 2: Activate The Developer Tools Add-On
Now from your WordPress dashboard, head to Easy Affiliate > Add-ons


Use the Search bar to find Developer Tools or just browse the add-ons until you come across it.


Click Install Add-on.


Wha-dya-know! You'll all done!
Step 3: Locate And Explore the Add-on
On activation, you'll see a shiny new tab in your Easy Affiliate dashboard named Developer Tools.


Click on it, and embrace a world full of potentials and tools just waiting for your command.
A Glimpse into the Future – The Zapier Integration Awaits!
You heard it here first! We're in the process of developing a Zapier integration, meaning many of the benefits mentioned above will soon be more accessible.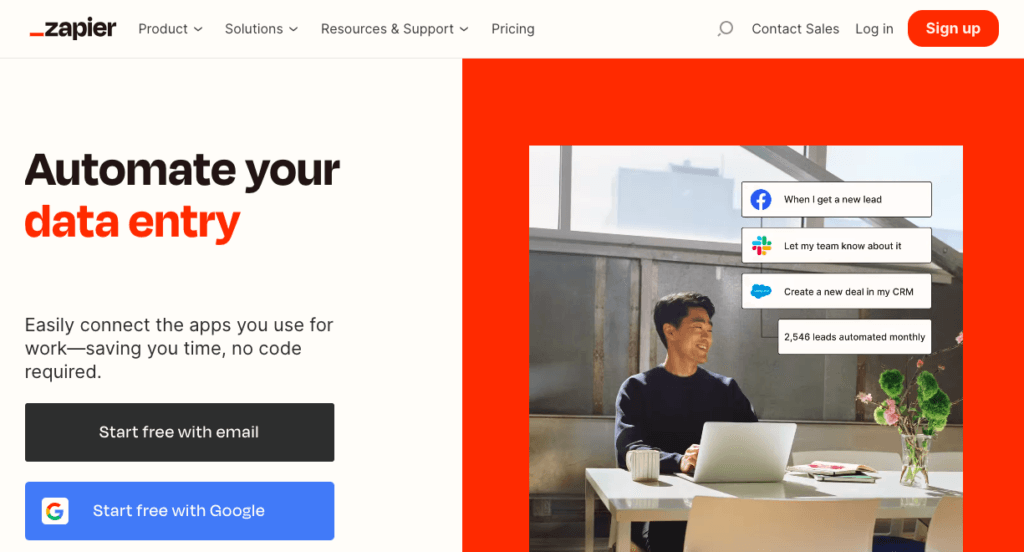 If you're a developer, you know the sheer magic that Zapier brings. With its capability to integrate over 3,000 apps, Zapier is the nexus of automation. It's the glue that binds diseperate systems, helping them work in harmony.
Stay Tuned! We're in the lab, coding away, ensuring that this integration will not only work but will excel. Expect tutorials, guides, and robust support when this rolls out.
Our commitment to innovation never stops. The Zapier integration is just a sneak peek into our broader vision. We're on a relentless quest to fuse the best in technology to offer you even more capabilities.
The Takeaway
Add Easy Affiliate Dev Tools to your arsenal, and set a new standard in your industry. We've meticulously crafted this add-on, keeping your needs, aspirations, and challenges at the forefront.
Here's a recap of the awesome benefits to empower your business growth and an unmatched experience for your clients:
Streamlined Integrations: Through our affiliate program API, easily integrate Easy Affiliate with popular platforms, including ecommerce sites, email marketing platforms, and CRMs.


Time-Saving Automations: Set up webhooks to automatically update systems in response to events in Easy Affiliate.


Effortless Testing and Review: Quickly review and test events for flawless execution of every affiliate action and sale.


Customization Power: Get easy access to our shortcodes so you can customize and place affiliate-related content exactly where you want it on a webpage.


Developer-Centric Design: Built with your convenience and needs in mind, reducing friction and elevating projects.


Impactful Business Growth: Differentiate your development business, build client trust, and open doors to new revenue streams.
Ready to elevate your game? Get Easy Affiliate now and install the Dev Tools add-on.
Stay ahead of the curve by following the Easy Affiliate blog for continuous updates and be the first to know about our Zapier integration. Sign up below.
Got thoughts or feedback? We're all ears! Drop a comment below and let's keep the conversation going. Here's to empowering your development journey. 🌟🛠️