There are many ways to ensure your affiliate business' success, but one of the most effective is earning new leads. Without drawing in new customers, you'll be forced to rely on repeat customers (as well as any outliers). This can mean fewer sales overall, especially if you only sell a one-time product.
With active lead generation, you can easily bring new prospects to your website. This means you don't have to rely on your current customers, and you can continue to expand your reach. As a result, you're likely to see an increase in conversions and affiliate sales.
In this post, we'll introduce affiliate marketing lead generation and why it's a necessary part of managing an affiliate website. We'll then discuss three ways to generate new leads to your website (including with the help of Easy Affiliate). Let's get started!
Why Affiliate Marketing Lead Generation Is Necessary For Your Site
Simply stated, lead generation is the process of attracting prospects to your website. It's a crucial aspect of any business website, but especially so for affiliate marketers.
In fact, active lead generation is one of the best things you can do for your business. It provides numerous benefits. For example:
It's less time-consuming. Instead of focusing on drawing in individual customers, you're drawing in a larger audience with less effort on your part.
It's more effective. Leads are more likely to purchase from you when they discover your website organically.
When implemented correctly, you can use lead generation to continually bring new prospects directly to you. This means you spend less time on recruitment activities and more time on other aspects of your business.
3 Smart Ways to Generate New Leads For Your Affiliate Website
Now that you understand why lead generation is so important, we'll look at a few ways you can begin to use it on your own website. Let's dive in!
1. Offer 'New Customer Bonuses' To Your Affiliates
While you may do a little lead recruitment yourself, your affiliates will bring the majority of prospects to your site. One way to motivate them is to offer new customer bonuses. These are payouts designed to encourage your affiliates to bring in more new customers to your site.
Depending on your affiliate management tool, it may be tricky to offer bonuses. However, Easy Affiliate makes it simple with the use of commission tiers. Once you've downloaded and installed the plugin, go to Easy Affiliate > Settings> Commission: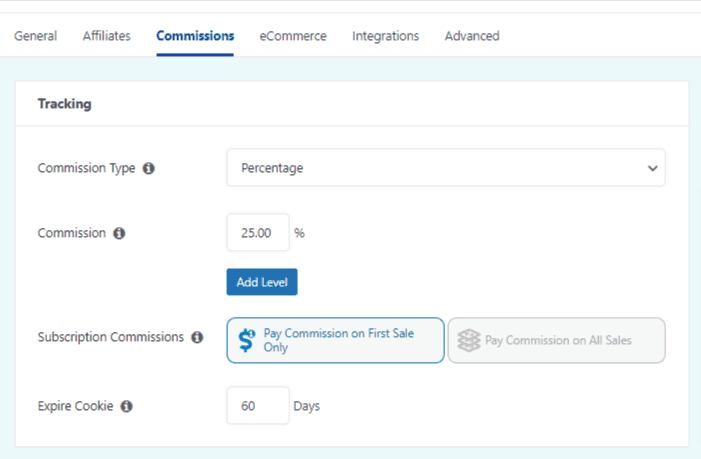 Here, you can change Commission Type (percentage or fixed) and even add levels. This enables you to control how much each affiliate is paid, and it can be used to offer bonuses when appropriate.
2. Expand Your Reach By Writing Guest Posts
A guest post is written content that you publish on a website other than your own. And it's great for bringing new prospects to your website. By reaching out to a new, but niche-related audience, you can drive new traffic to your website. Additionally, guest posts will include backlinks to your website, which can boost its search engine results page (SERP) ranking.
Of course, there are a few guidelines to keep in mind as you seek out guest posting opportunities and write your content. For example:
Guest post for blogs with an engaged audience. Blogs with active comments section and social media pages will increase your reach exponentially.
Link to your landing page. Sending leads directly to your landing page can increase conversions.
It's also important to stick around after posting and interact with readers in the comments. This enables you to make deeper connections and build credibility as an expert.
3. Create (Or Optimize) Your Social Media Campaigns
A social media campaign is what you do to bring your marketing efforts to various social media platforms. By creating (or optimizing) your campaign, you can reach a greater audience while still targeting keywords and topics.
While the thought of creating a campaign can seem daunting, it's simple when you break the process down into smaller chunks. To get started, we recommend the following steps:
Pick the right platform. For example, Instagram is best for image-based posts, while Facebook and Twitter are better for sharing written content.
Create 'shareable' content. To get your audience to interact (and share), create content that is valuable, trending, and easy to share on social media platforms.
More than anything, remember that you should use your social media campaigns to interact with your audience. This allows you to connect directly to your audience, which is one of the most effective ways to draw in new prospects.
Conclusion
By practicing lead generation on your website, you can ensure you always have a steady stream of customers from your affiliates and your own recruitment efforts. This will improve your business' bottom line by increasing the odds of conversion and boosting your sales.
In this post, we've introduced lead generation and shared three ways to generate new leads to your affiliate website. They include:
Offering new customer bonuses to your affiliates.
Expanding your reach by writing guest posts.
Creating (or optimizing) your social media campaign.
Do you have questions about affiliate marketing lead generation, or how to implement it successfully on your website? Let us know in the comments section below!
Don't have your own affiliate program yet? Get started with Easy Affiliate!
If you liked this post, be sure to follow us on Twitter, Facebook, and LinkedIn! And don't forget to subscribe in the box below.