Managing affiliate taxes just got way easier!
Are you ready? Your 1099 forms for U.S. affiliates are due January 31. Fortunately, we've got great news.
The new Easy Affiliate Tax Reports Add-On is up, running, and ready to go. And that means your job just got a whole lot easier.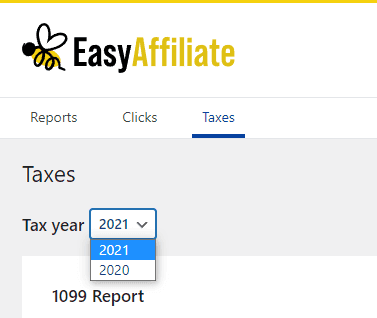 How the Tax Reports Add-on Helps You
As an Easy Affiliate Pro user, you can activate the Tax Reports Add-On and:
1. Send automatic reminders
Automatically send a reminder email to any affiliate who…
Earned $600+ in the previous tax year, BUT
Hasn't entered an address or tax ID in their profile
2. Download a CSV file for all 1099s
Download a CSV file with a list of every U.S. affiliate who earned $600+. This list has each affiliate's…
Address
Total earnings
Tax ID
That's all the info you need to complete your 1099 forms, all in one handy file.
How to Get Started with Easy Affiliate Tax Reports
First, make sure you're running the Easy Affiliate Pro version. If not, you'll just need to complete a quick upgrade.
Then, check out Tax Reports in the Knowledge Base for quick, simple instructions to help you get started. You can also watch the tutorial video below:
If you have questions about the Easy Affiliate Tax Reports Add-On, ask away in the comments section. Here's to easier tax reporting!
If you liked this article, follow us on Twitter, Facebook, Pinterest, and LinkedIn. And don't forget to subscribe in the box below!