Affiliate programs are one of the best methods for monetizing your website. However, their success is highly dependent on careful search engine optimization (SEO).
The affiliate keyword research you do, as well as the quality of your content, significantly influence where you rank in organic search engine results.
With so many keywords to choose from, however, finding the best ones can be difficult. You need to have a strategic approach to hunting down and using keywords.
Conducting keyword research is the perfect way to get started, since it can help you improve the return on investment (ROI) for your affiliate marketing campaigns.
In this article, we'll discuss how to find keywords for affiliate marketing by introducing a handful of helpful tools you can use. Let's get started!
The Importance of Keywords for Affiliate Marketing Search
If you want to drive traffic to your affiliate marketing campaign, you need to focus on keywords. They play an important role in how well your content ranks in search engine results. But choosing keywords can be tricky.
To do effective affiliate keyword research, you'll need to find ones that have high search volume in your niche.
For example, let's say you're selling dog leashes. Obviously, you want to be found for the query "dog leash". However, that's a broad search term that is also very competitive. As you'll see below, Google produces around 263 million results for that phrase:

This is where long-tail keywords come in. Long-tail keywords are typically between three and six words in length, and represent more specific search phrases.
For example, a good long-tail keyword could be: "retractable leash for a large dog". That one change narrows the topic down, giving you way fewer results – which is good.
Long-tail keywords are particularly relevant for affiliate keyword research, because they focus on buyer intent. The closer a person is to buying, the more specific their search phrases tend to be.
Long-tail keywords typically have less competition and search volume. However, the people searching for them are more relevant to your niche, and more likely to make a purchase.
How to Find Keywords for Your Affiliate Marketing Campaign (4 Tips)
Now that you understand why it's important to be strategic about the keywords you use, let's learn how to find the right ones!
1. Choose a Specific Niche Focus
The niche for your affiliate marketing campaign determines who you'll be marketing to. Generally, it's a subgroup of a larger marketing category. For example, golf is a niche in the sports industry.
The niche you choose also determines what products and services you'll be selling. So it helps to pick something you're knowledgeable about and interested in.
You also want to find a niche that will be profitable. The goal is to find a balance between a niche with profit potential and one that you're familiar with and understand.
To settle on the right niche, brainstorm a list of markets that align with your skills and interests. Then, identify those markets you think have enough selling potential.
Ask yourself: What problems do people have that your knowledge could help solve? You can also try using solutions like MindMup's free mind mapping tool to spark some ideas:
This particular tool will help you visually build out ideas for niches from a basic topic: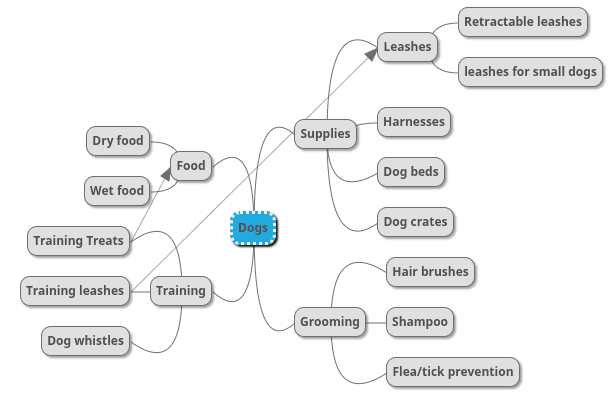 Milanote is another excellent mind mapping tool you might want to give a try. The great thing about Milanote is that, unlike with Mindmup, it's free to export PDFs or images of your mind maps. Plus, it's 100% free to use, and there's no time limit.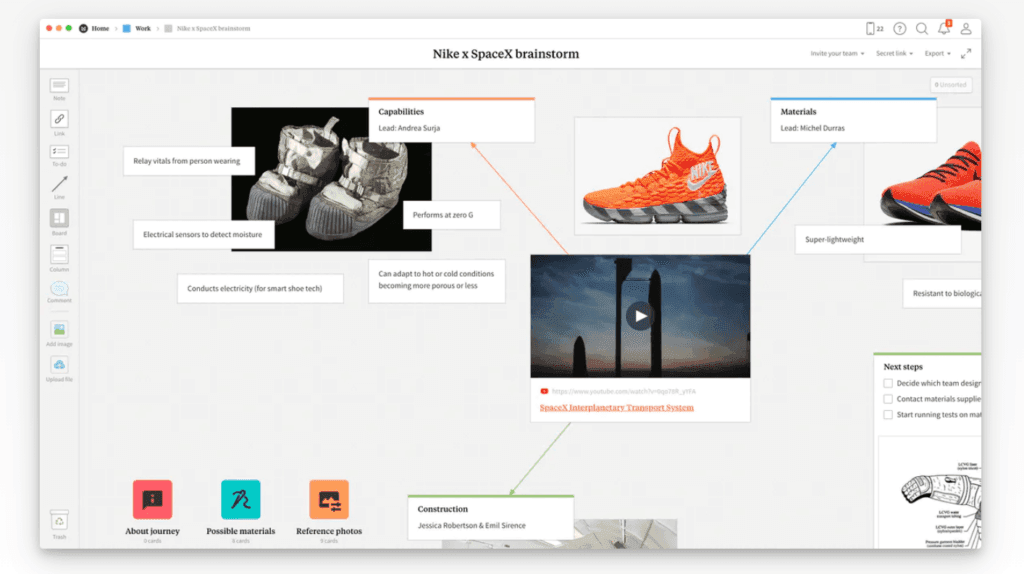 Once you narrow down your niche ideas, you can search for potential products using a site like ClickBank. This will help you figure out how profitable each niche might be in an affiliate marketing campaign.
2. Use Google Keyword Planner
After you choose a niche, it's time to figure out which keywords to target. Google Keyword Planner is a research tool designed to help you discover the terms that are most relevant for your campaign.
It offers insight into the frequency of keywords, as well as their competition. The goal is to target keywords with high monthly searches but low competition.
To use Keyword Planner, you'll need to set up a Google Ads account. It's important to note that you don't need to have an active Ad Campaign running, however. Once you're in your Google Ads account, click on Tools in the menu bar, then select Keyword Planner:
You'll be presented with two options. Choose Get search volume and forecasts:
Then, enter a list of keyword ideas for your niche products, and click on Get Started. This will bring you to a page that displays insights about each related term's volume, competition, clicks, impressions, etc:
The longer the list of keywords you provide, the better your results will be. Some of this information is geared toward marketers using pay-per-click advertising, and may not be relevant to your affiliate campaigns. However, it's useful to learn how certain keywords perform when compared to others.
3. Conduct a Keyword Analysis
Understanding the competition around certain keywords is vital to effective affiliate keyword research and choosing the right phrases for your campaigns. Search terms that are highly competitive, while profitable, can also be difficult to rank for.
This is why focusing on long-tail keywords is especially beneficial for affiliate marketing.
Ubersuggest is a free keyword research and suggestion tool created by Neil Patel, which can help identify keyword competition. It also makes it easier to form a list of keywords based on what's working for your competitors:
Once you type in your long-tail keyword and select Search, you'll be presented with an analysis page. You can see related keywords and how they compare, as well as examples of how the top-performing sites with that keyword used your long-tail keyword.
You can also toggle the filter button to further customize your search by including or excluding certain words and eliminating specific metrics: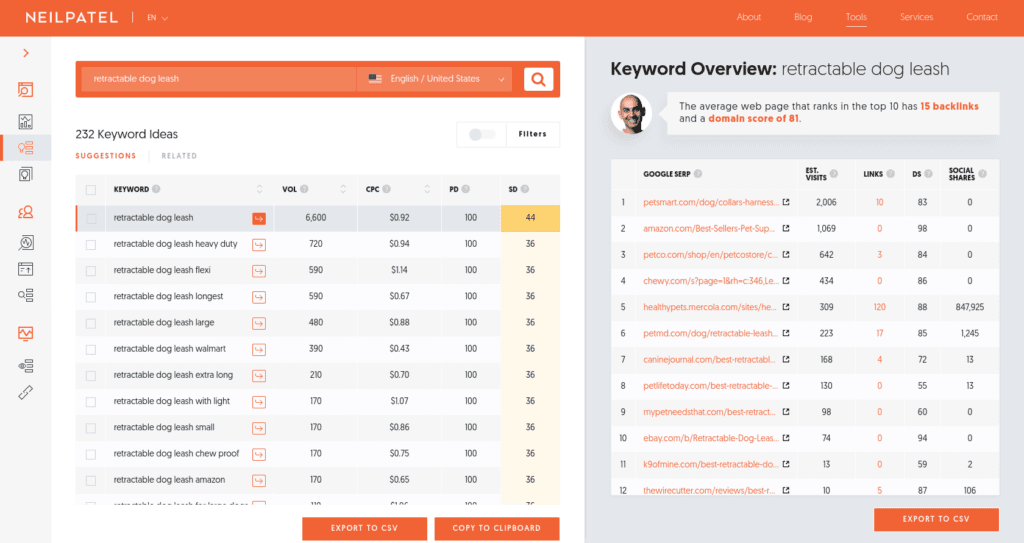 There's also a Content Ideas section that lists some of the top-performing pages for each keyword. This can give you a jump-start on your content creation strategy and topics.
4. Search Amazon
Amazon is a giant when it comes to online selling and affiliate marketing. It's also a great place to do some affiliate keyword research.
Use the search bar to type in your potential product or keyword, and see what autofill suggestions are presented:

Next, check out the categories included in your niche to see what some of the highest-selling products are. Then ask yourself a couple of questions, such as:
What keywords are the sellers using in the product titles?
What kind of keywords are included as links and in the product descriptions?
Not only can Amazon be a useful resource to help you figure out what products to sell; it can also be handy for finding the terms and phrases that encourage conversions.
Conclusion
For your affiliate campaigns to be successful, you'll need to spend time researching and developing a strategy for keywords. Using the right keywords can improve your SEO rankings, help attract the right audience, and lead to more sales.
There are plenty of ways you can do affiliate keyword research for your affiliate marketing search, including:
Choosing a specific niche to focus on that has profit potential.
Using Google Keyword Planner to identify keyword values and trends.
Conducting keyword and competitor analysis with tools like Ubersuggest.
Searching Amazon for high-selling products and popular search terms.
What methods or tools have you found useful when finding keywords for affiliate marketing campaigns? Let us know in the comments section below!
Don't have your own affiliate marketing program yet? Get started with Easy Affiliate today!
If you liked this post, be sure to follow us on Twitter, Facebook, and LinkedIn! And don't forget to subscribe in the box below.