Running a successful affiliate program – including managing affiliates, creating effective content, and engaging with customers – can be overwhelming. It can be especially painful when you try to go it alone, without the assistance of suitable software or tools.
One answer is to implement an organizational method such as an editorial calendar. In fact, this tool is a great way to streamline your editorial processes, boost your affiliate engagement, and improve your program's effectiveness.
In this post, we'll introduce you to the concept of an affiliate program editorial calendar, including a look at the benefits. We'll then show you how to display an editorial calendar on the dashboard of your program using Easy Affiliate. Let's get started!
What Is An Editorial Calendar? (and Why You Should Use One)
An editorial calendar is an organizational tool that combines all of your communication and content marketing assignments into one location. While popular for blogs and news websites, an editorial calendar can also play a crucial role in your affiliate program. For example:
It's a great way to keep your affiliates in the loop. Your affiliates will have a clearer idea of your program's goals (and what to expect in the future).
You can manage your program more easily. You'll have a better idea of what you need to accomplish – both short term and long term – so you can prioritize more effectively.
It contributes to a cohesive program structure. Your program can appear more cohesive, as many of your affiliates will be offering similarly themed articles at the same times throughout the calendar.
In short, an editorial calendar can contribute to more involved affiliates, an easier management task load, and a more integrated program structure. However, there are many more key benefits to leverage.
3 Ways Your Affiliate Program Can Benefit From an Editorial Calendar
As we've discussed, there are a myriad of benefits for implementing an editorial calendar, but these three ways are our favorites. Let's dive in!
1. Improve Affiliate Engagement by Encouraging Feedback
Affiliates are (of course) the backbone of your program. The more engaged they are, the more active they become in promoting your products to their customer base, which increases their sense of investment in your business. An editorial calendar makes improving affiliate engagement simple. Here are two ideas to get you started:
Give affiliates the opportunity to contribute their own program ideas. This could be for the main affiliate blog or even program management tasks for the editorial calendar.
Offer optional bonuses to affiliates who've completed recommended tasks. These tasks may include creating themed content or incorporating a themed hashtag onto their social media accounts.
You will need to encourage feedback at first, but your affiliates will soon become accustomed to the new structure. As a result, you'll see more natural engagement over time.
2. Increase Program Brand Awareness by Providing Content "Themes"
Brand awareness is the extent that your intended audience is familiar with your product or service. With improved awareness, you can attract more high-quality affiliates and drive qualified leads to your website. Here are two ways to improve both aspects with the help of an editorial calendar:
Incorporate planned content "themes". You can provide your affiliates with content ideas based on a theme, and increase the odds of targeted content creation for your program.
Give bonuses to affiliates who participate. To boost the success of themed content weeks, offer bonuses to affiliates who meet their targets.
With more of your affiliates creating cohesive, brand-focused content, you can improve the effect your program has on prospective affiliates and customers.
3. Decrease Time Spent on Program Management Through Scheduling and Outsourcing
The less time you spend on program management, the more you can dedicate to income-boosting activities (such as sales and customer engagement). With an editorial calendar, getting started with time management is very simple. Try these ideas for inspiration:
Schedule adequate time for all necessary management activities. By purposely scheduling each management task, you'll spend less time planning, which will improve your productivity.
Outsource less important management tasks. With an editorial calendar in place, you'll have a clearer picture of what needs to get done, making it easier to outsource the less important tasks.
Of course, you won't see changes overnight. However, sticking to this new routine should prove fruitful, and be well worth it.
How to Display an Editorial Calendar Using Easy Affiliate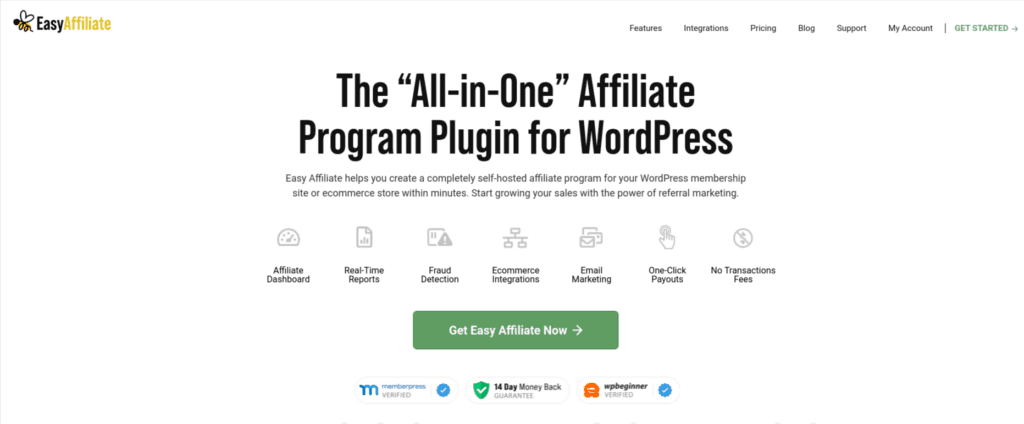 Easy Affiliate is an affiliate program management plugin with a variety of features. While an editorial calendar isn't included, the flexibility of Easy Affiliate (alongside additional WordPress plugins) means implementing one is easy.
There are various editorial calendar plugins to choose from. However, we particularly like My Calendar and Calendar by WD for two specific reasons:
They use shortcodes. This means your calendar can be placed practically anywhere on your site.
They're highly customizable. Not only can you add scheduled blog posts to your calendar, but you can also add events and reminders.
By using either one of these plugins, you can easily create an editorial calendar and display it for all of your affiliates to see.
You'll first need to create your editorial calendar using your chosen plugin. Then you'll want to add it to the Affiliate Dashboard. You can access the Affiliate Dashboard for customization in WordPress Pages, or you can go to Easy Affiliate > Settings > General, and scroll down to Affiliate Pages. Then just click on the edit icon:
Once the WordPress block editor is open, you can add the shortcode to the page. Your editorial calendar will now be on display within the Affiliate Dashboard, and any changes that are made to the calendar will automatically update.
Conclusion
Managing your affiliate program's various tasks can seem overwhelming, but a well-tuned editorial calendar can significantly improve business operations. It can also contribute to a more cohesive program structure and make it easier for affiliates to stay involved.
In this post, we discussed the importance of an editorial calendar for your affiliate program, including its benefits. Let's recap them quickly:
Improves affiliate engagement by encouraging feedback.
Increases program effectiveness by providing content themes.
Decreases time spent on program management through scheduling and outsourcing.
Do you have any questions about affiliate program editorial calendars, or how Easy Affiliate can help? Let us know in the comments section below!
If you liked this post, be sure to follow us on Twitter, Facebook, and LinkedIn! And don't forget to subscribe in the box below.