When recruiting affiliates to your program, it's important that you pull out all the stops. One way to do that is by using an affiliate-focused landing page for registrations. Unfortunately, this aspect is commonly overlooked, which could impact signups.
Fortunately, adding an affiliate landing page to your program's website is simple and effective. Going forward, you can even optimize your landing page for conversions.
In this post, we'll discuss why you should consider adding a landing page to your affiliate website. We'll also explore the three key components of a conversion-driving affiliate landing page. Then, we'll show you how to set up your landing page using Easy Affiliate. Let's get started!
Why You Should Add a Landing Page to Your Affiliate Website
Much like its product-centric sibling, an affiliate landing page aims to attract readers and potential affiliates. A dedicated and optimized page on your website can have numerous benefits for your program, such as:
What's more, you'll also have a place to send any possible recruits for more information about your program, which makes it appear more professional (among other positives).
3 Key Components of a Conversion-Driving Affiliate Landing Page
While there are many important aspects to include in any landing page, an affiliate-focused one has its own additional goals – specifically attracting quality affiliates. Let's take a closer look at three key components for a conversion-driving affiliate landing page.
1. An Affiliate-Focused Message
Just as you write directly to your customers, you can also do so to your affiliates with the same benefits (i.e. improved conversions). By focusing on the affiliate and what they have to gain, you help them visualize what it would be like working with your program. With this in mind, we recommend you:
Speak to them directly. It's important to know who your target demographic is. Knowing your demographic allows you to speak to potential affiliates in a way that grabs their attention.
Outline the benefits. In short, explain how becoming an affiliate for your program will provide a benefit. Keep this in mind as you write the landing page copy – remember that your focus should be on them rather than your program.
Overall, it helps to think of your affiliate landing page as a sales pitch. You want to 'sell' the idea of becoming your affiliate to any potential recruits, and you can do this by focusing heavily on how your program can meet their wants and needs.
2. A Powerful Call To Action (CTA)
A call to action is a marketing device that's used to spur readers into action. Using the right CTA on your page can create a sense of urgency for your readers, which can also offer a reason to push the potential affiliate from "Maybe" to "Yes!" when it comes to signing up for your program.
Try these two tips to make your CTA as effective as possible:
Speak to your audience. Just as with your affiliate message, it's important to speak to your target audience within your CTAs.
Emphasize the offer. Instead of a generic term (such as "Sign Up"), use a phrase that includes a benefit such as, "Start earning today!" This slight tweak focuses on what your affiliate will get, not the action they have to take.
You should also be sure your CTA is visible. You can do this through clever design choices – changing the font element, adding it to a button or graphic, or otherwise contrasting it from the rest of the page's content, for example.
3. Website Elements That Build Credibility

Another good step to take is to create an area of your site that showcases your program's achievements and experience. Potential recruits will only want to work with credible programs that can prove their expertise.
Trust is one of the most important aspects of your affiliate program, so it's essential to include elements on your landing page that build your credibility, and give potential recruits a reason to trust you.
Here are a few recommendations that can help you bolster credibility on your landing page:
Collect testimonials from past and current affiliates.
Create graphics showing companies you've worked with.
Offer a breakdown of possible affiliate earnings.
While it's important to build your credibility as a program, you want to be sure this area also focuses on the affiliate – meaning you'll need to frame the section as another benefit to the potential recruit.
How to Set Up an Affiliate Landing Page With Easy Affiliate
If you're ready to create your affiliate landing page, but don't know where to start, Easy Affiliate makes the process simple. In addition to its various other program-boosting features, it includes a built-in affiliate page for signups: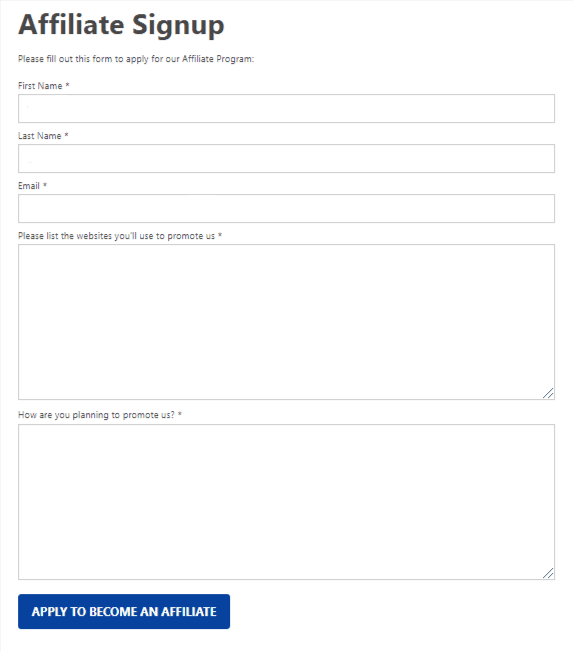 To customize this page, just open the Affiliate Signup page under Pages in your WordPress dashboard. You can add text, links, images, and other conversion-driving content right in the block editor.
Conclusion
Adding an affiliate landing page to your website is one of the easiest things you can do to increase signups for your program and give out tailored information to potential recruits. What's more, implementing one is a piece of cake with the right tools to hand.
In this post, we've discussed the importance of an affiliate landing page and highlighted three key components you should look to incorporate. These include:
An affiliate-focused message.
A powerful CTA.
Elements that build credibility and trust.
Do you have any questions about how to set up an affiliate landing page, or how Easy Affiliate can help? Let us know in the comments section below!
If you liked this post, be sure to follow us on Twitter, Facebook, and LinkedIn! And don't forget to subscribe in the box below.