Once you have control of your day-to-day affiliate site management, it's time to perform some routine site maintenance to enhance its impact. Having a healthy affiliate site enables your partnerships to thrive, and keeps your daily operations running smoothly.
By taking care of a few regular tasks relating to your affiliates' recruitment and performance, you can improve the quality of your program and keep it legally compliant. This will improve program credibility and effectiveness, both of which are beneficial to your business.
In this post, we'll discuss the importance of affiliate program maintenance. Then we'll look at three maintenance tasks you should be performing to keep it running smoothly (some with the help of Easy Affiliate). Let's get started!
Why You Should Perform Regular Affiliate Program Maintenance
Maintenance – the task of monitoring and tweaking various aspects of your affiliate program on a regular basis – is of vital importance to the health of your program. It also offers various benefits, including:
The ability to spend less time caring for your program.
The assurance that your program remains of high quality.
The lowered risk of fines associated with breaking compliance laws.
At the very least, you're getting hands-on with your program – and that's a good indicator of someone who's passionate about its growth. At this point, you need a better idea of what maintenance tasks you should be performing. Let's take a look at that now!
3 Maintenance Tasks to Keep Your Affiliate Program Running Smoothly
The general maintenance you'll need to perform for your program will vary. However, the three basic tasks below will give you a solid start. Let's dive in!
1. Perform Ongoing Affiliate Recruitment to Boost Your Program's Credibility
Affiliate recruitment is an important part of your program's creation, and it should be incorporated into your usual affiliate program management tasks rather than on an ad hoc basis.
Having a constant recruitment cycle ensures your affiliate pool never runs low. In addition, the more affiliates you recruit, the more varied your pool. This can help to expand your reach and boost your program's credibility.
Here are two recommendations on how to perform ongoing affiliate recruitment without spending too much time on the task:
Set up an affiliate landing page. With Easy Affiliate, you can personalize the affiliate signup page to create an effective landing page for your program.
Offer recruitment bonuses to current affiliates. With the ability to set commission levels within Easy Affiliate, you can offer bonuses to referring affiliates by giving them a cut of each of their recruits' sales.
Implementing both of these recommendations means you can almost set your recruitment efforts on autopilot. You can then turn your attention to more pressing concerns, such as affiliate performance reviews.
2. Consistently Review Affiliate Performance to Promote an Effective Program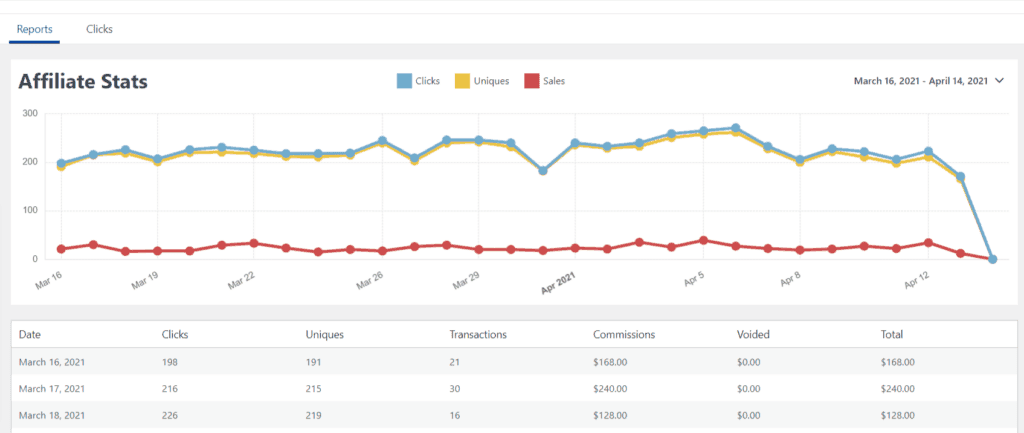 How your affiliates perform impacts your business's success, and consistently reviewing their performance provides you with numerous benefits. Foremost, your reviews and feedback offer the opportunity to improve performance and work on specific issues. This should give your affiliates confidence and help promote an effective program. A review process also warns you about affiliates who aren't performing well, giving you a chance to put things right.
There are two major areas you'll want to focus on here – activity and promotion. For example:
Keep a tab on your affiliates' status. You can offer special deals to inactive affiliates to try and jumpstart their participation, or send an 'account removal' warning if they don't participate within a certain time frame.
Know how your affiliates are promoting you. Visiting the pages of your affiliates and seeing how they're performing their work is a great way to keep an eye on compliance (more on that below). Additionally, you can offer helpful suggestions for boosting their efforts.
As an extra step, you can even offer affiliates a 'heads-up' by posting a warning message on their affiliate dashboard. This may get them moving without too much input from you, saving time. Fortunately, Easy Affiliate makes adding personalized dashboard messages simple!
3. Regularly Monitor Affiliate Program Compliance to Avoid Legal Liability
Regular compliance monitoring is perhaps the most underrated task on this list. However, it's crucial to avoid legal liability (and to keep your program from appearing shady).
The most obvious reason to monitor compliance is to ensure you and your affiliates aren't breaking any laws. This is especially important as these rules tend to change over time. You can also ensures your program guidelines are crystal clear. If certain guidelines are consistently broken by your affiliates, you'll know to clarify them in the future.
By using a solution such as Easy Affiliate, you can easily monitor and maintain program compliance. Here's how:
One of the last things you want to deal with is noncompliance with the Federal Trade Commission. That's why following the actions outlined above are important for your program's health and your business's wellbeing.
Conclusion
Program maintenance is an underrated aspect of a successful program. After all, failure to maintain your program can lead to a loss of credibility, increasing ineffectiveness, and legal liability. Fortunately, carrying out maintenance is easy, especially with the help of a plugin such as Easy Affiliate.
In this post, we've discussed the importance of affiliate site program maintenance. We've also outlined three tasks you can perform to keep things running without a hitch. To quickly recap, you should:
Perform ongoing recruitment to boost your program's credibility.
Consistently review your affiliates' performance to promote an effective program.
Regularly monitor program compliance to avoid legal liability.
Do you have any questions about how to keep your affiliate program maintained, or how Easy Affiliate can help? Let us know in the comments section below!
If you liked this post, be sure to follow us on Twitter, Facebook, and LinkedIn! And don't forget to subscribe in the box below.