Creating and running an effective affiliate program takes a lot of effort. It requires countless hours of maintenance and management, and this is especially difficult without the help of a designated tool. However, choosing which one to use can be difficult.
By choosing the right tool – a WordPress plugin that contains all the features you need – you can ensure you're running your program as efficiently as possible. In turn, this will benefit your business' conversion rates and bottom line.
In this post, we'll highlight three features you should look for in an affiliate management plugin. We'll then outline how Easy Affiliate checks all of those boxes, and how you can start using it immediately. Let's get started!
3 Features Your Affiliate Management Plugin Needs
With so many plugins available, it can be difficult to find the right one. To help you narrow your search, let's look at three features your affiliate management plugin needs.
1. Multiple Payment Integration Options
In a nutshell, the more payment options you accept, the greater the choice for your customers. By offering multiple options, you make it easier for as many users as possible to make payments with ease.
PayPal is usually the go-to options. Choosing an affiliate management plugin that offers at least this integration, therefore, is key.
Of course, it's also important to choose a plugin that makes the integration process easy. For example, any plugin you consider should provide a list of supported and recommended payment integrations. You may be able to use others not listed, but supported ones are typically easier to add to your website.
2. A Full-Featured Affiliate Dashboard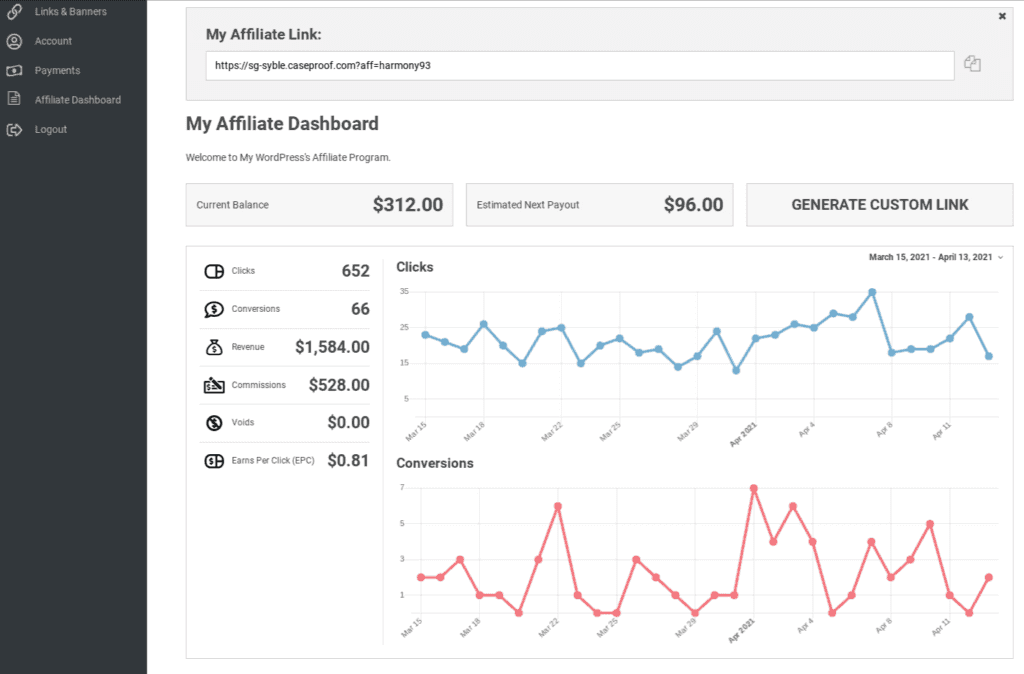 An affiliate dashboard is your main point of contact with your affiliates, so it should contain everything you both need to communicate with each other. This includes contact information, and even links to useful program information (such as links and banners, which we'll discuss below).
You should also choose a plugin that enables you to customize the dashboard – adding your own links to the navigation menu and setting a personalized welcome message, for example. This ensures you're able to provide exactly what your affiliates need, and you aren't locked in to a particular set up. After all, you may find that your communication style (and, therefore, dashboard needs) change as your program grows.
3. A Links and Banners Creation Tool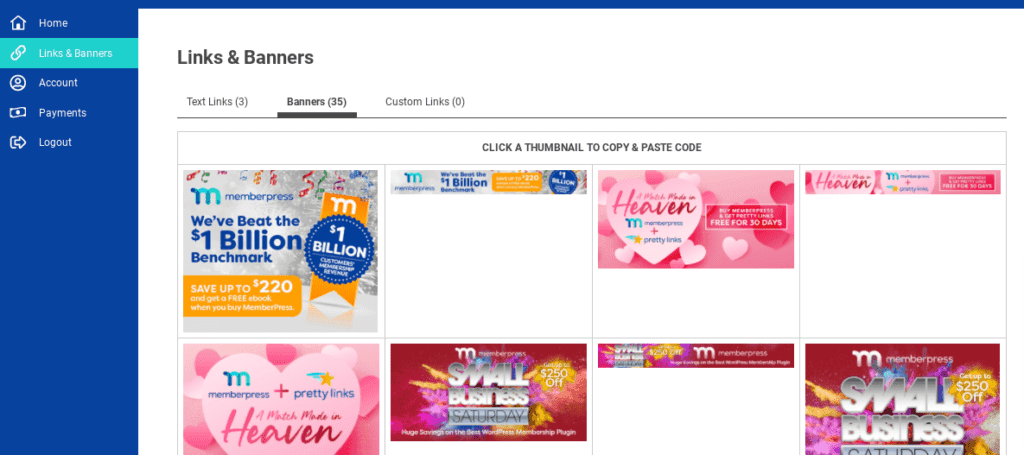 A links and banner creation tool simply enables you to create affiliate-specific links and ads. You'll be able to personalize the link and advertisement for each affiliate automatically, so they get credit for sales.
When used correctly, this feature enables you to streamline the way you usually create links and banners. You can create them with just a few clicks, and your affiliates don't have to perform the process themselves, leaving them more time to bring in new custom and income.
In addition, you'll also want to consider how you'll share these links and banners with your affiliates. For example, you could do so on the Affiliate Dashboard or within an affiliate newsletter. You'll want to consider plugins that make the sharing process simple. This will increase the number of affiliates who actually use them on their own websites.
Why Easy Affiliate Is the Ideal Choice for Your Program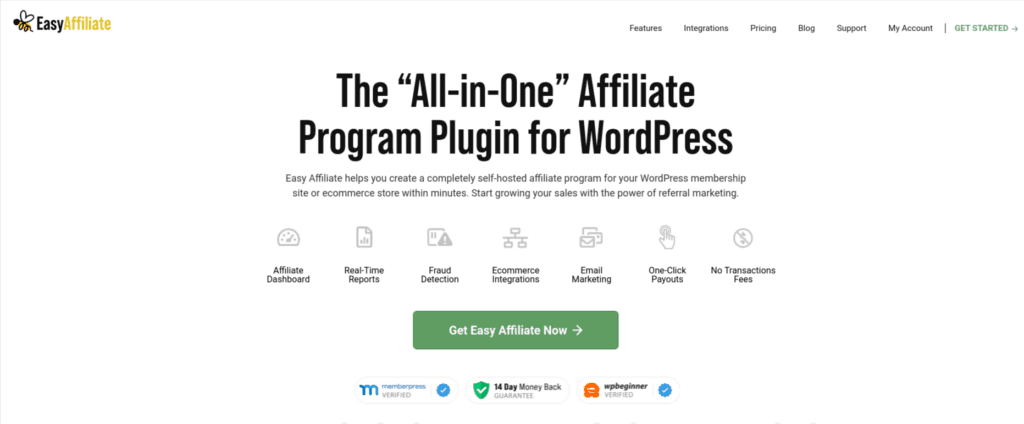 The features we've listed here will ensure that your program runs smoothly, and have full control over managing your affiliates. There are various dedicated affiliate management plugins available, but you won't find the above essential features in all of them. One plugin that contains all of these features and more is Easy Affiliate.
Once you've purchased a plan, and downloaded and installed the plugin on your website, you'll have access to a wealth of features to help you manage your affiliates and site.
For example, you can implement all of the above key elements – multiple payment integration options, a customizable affiliate dashboard, and a links and banners tool – to enable you to run your program more efficiently and communicate better with your affiliates. In turn, this will potentially boost your traffic, conversions, and income.
Conclusion
Choosing the best tool for affiliate management will make it easier to run your program successfully. It will enable you to focus on other aspects of your business – including content creation and affiliate recruitment – and in some cases offer some self-sufficiency to your affiliate ranks.
In this post, we've outlined three features you should look for in an affiliate management tool. Let's recap them quickly:
Multiple payment integration options.
A full-featured affiliate dashboard.
A links and banners creation tool.
Do you have any questions about affiliate management features, or Easy Affiliate? Let us know in the comments section below!
If you liked this post, be sure to follow us on Twitter, Facebook, and LinkedIn! And don't forget to subscribe in the box below.