Starting an affiliate marketing program is an effective way to generate leads and increase sales. However, some people make the mistake of assuming it's easy money. While this strategy can certainly be lucrative, success doesn't happen overnight.
This type of marketing is performance-based. Therefore, healthy amounts of research, content creation and optimization go into successful affiliate marketing programs. Fortunately, there are plenty of tools to help.
In this post, we'll discuss the benefits of affiliate marketing and how it can be a powerful method for driving conversions. Then, we'll introduce you to five must-have tools if you're new to affiliate marketing. Let's get to it!
The Benefits of Affiliate Marketing
Affiliate marketing is an arrangement in which a merchant or online retailer (you) pays a commission to their affiliates, who are essentially independent sales representatives. They promote your products to generate traffic, sales, and leads and are compensated when they're successful.
There are many benefits to affiliate marketing for both brands and those who promote their products. If you're a business owner, building a strong network of partners can help expand your reach. It enables you to tap into the audiences of popular influencers in your niche.
Additionally, because affiliate marketing is performance-based, it's highly cost-effective. Unlike ads, you only have to pay affiliates when they bring you results. In other words, they only get paid when you do. There's no waiting around for leads while you shell out money for promotional content.
Affiliates benefit because they earn money on each sale they make. They have complete control over the products they choose to promote, as well as how to promote them. This means professionals using several different mediums can all make effective partners for your brand.
Common examples include video content creators (or "Youtubers"), social media influencers, and bloggers. Another key benefit for both you and those promoting your brand is that it's an on-going relationship. Affiliates can recommend your products or services as often as they want, potentially resulting in long-term working relationships.
6 Tools Every New Affiliate Marketer Needs
When you first start out with affiliate marketing, it can be a bit overwhelming. Fortunately, there are tools you can use to make it significantly easier. Let's take a look at six we think every new affiliate marketer needs.
A website is the first thing you need to create a successful affiliate marketing program. Although there are many content management systems (CMSs) available, we recommend WordPress:
WordPress is the most popular CMS on the web and is incredibly easy to use. If you're new to creating a website, it also has plenty of helpful documentation you can use to get started.
This platform is free to download, making its startup costs remarkably low. WordPress also has a plethora of customization options. Additionally, there are thousands of plugins for extending your site's functionality to create your marketing program, including Easy Affiliate (which we'll discuss below).
Mailchimp is an all-in-one email marketing platform you can use to collect and build out a subscriber list:
Email marketing is an effective channel to incorporate into your overall marketing strategy. Mailchimp is free for up to 2,000 subscribers and enables you to create affiliate-driven newsletters. You can use these for product promotions and free giveaways such as e-book downloads.
An alternative you may consider is Constant Contact. Like Mailchimp, this platform enables you to choose from customizable templates optimized for mobile devices. You can also use it to collect email addresses via your website or social media accounts.
Both of these platforms have corresponding WordPress plugins that enable you to easily connect your site and your chosen email marketing tool. This makes it possible to send notifications about site activity to interested parties, such as your affiliates.
3. Easy Affiliate
To make your affiliate marketing campaigns as successful as possible, it's important to use a tool such as our Easy Affiliate plugin: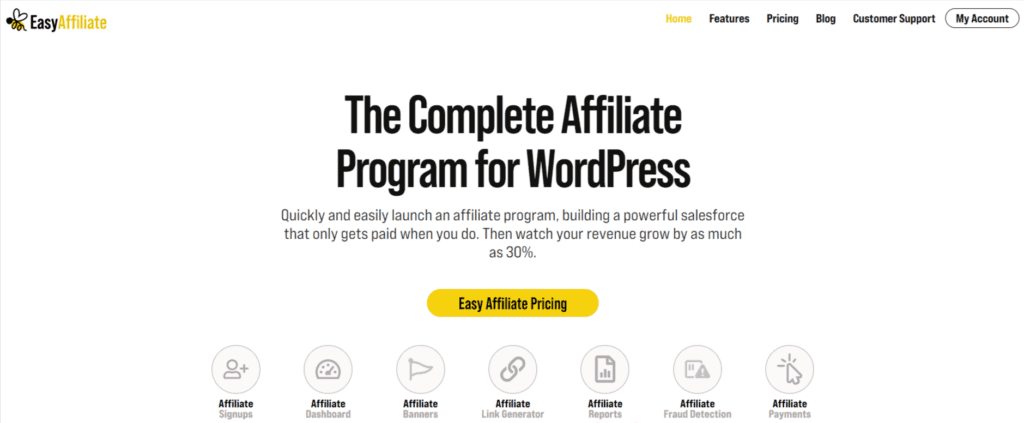 Easy Affiliate makes it easy to create and implement an affiliate marketing plan, especially for beginners. It features a host of link tracking tools, so you can monitor the progress and performance of your campaigns.
From one dashboard, you'll be able to view clicks, sales, and payments to your affiliates. You can also personalize your dashboard and data according to your specific goals. Plus, it includes easy-to-use reporting and helps you maintain custom banners and links.
After you download the Easy Affiliate zip file, upload and install it on your WordPress website. Then you can launch a full affiliate program and manage it directly from your site.
When you first start out with affiliate marketing, it's important to learn about your competitors. SEMrush can help with that:
This digital marketing research tool gives you insight into other companies' paid advertising campaigns. It can help you uncover relevant trends and patterns in your industry to fine-tune your own promotions and generate ideas for creating effective content for Search Engine Optimization (SEO).
Although this service requires a paid account, the price is worth the information you can glean from it. You can use it for:
Keyword research
Competitor analysis
Lead generation
SEO metrics
And more
If you're looking for a free alternative for keyword research, you could use Google Keyword Planner. However, with this tool you won't have access to all the competitor analysis features SEMRush offers.
Affiliate links are known for being long and unsightly. To some leads, this may also make them seem untrustworthy. Pretty Links is a WordPress plugin you can use to shorten and brand your affiliate links:
This plugin enables you to take long, bulky URLs and turn them into short, concise, and memorable ones. Some refer to this process as "cloaking". With Pretty Links, you can also manage server-side redirects and monitor link activity.
However, one of the most appealing features of this plugin is the ability to brand your links. Incorporating your company's name into the URLs your affiliates share on their platforms can boost awareness of your business and encourage users to click through to your site.
Communication with affiliates and customers is key when it comes to operating a successful affiliate program. And the MobileMonkey chatbot application makes communication a cinch.
The MobileMonkey platform allows you to stay connected with your customers and affiliates through the messaging apps they already use by way of its patent-pending OmniChat chatbot technology. This tech enables a multi-platform chatbot builder, a unified chat inbox, and instant communication, among other features.
And much to MobileMonkey's credit, it is endorsed by marketing expert Neil Patel.
Conclusion
When you first start out with affiliate marketing, there are a lot of decisions to make. It can take some time to get comfortable in your niche and develop an effective campaign strategy. However, having the right resources and tools makes it much easier.
As we discussed in this article, there are five tools we think every new affiliate marketer needs:
Do you have any questions about affiliate marketing tools? Let us know in the comments section below!
If you liked this post, be sure to follow us on Twitter, Facebook, and LinkedIn! And don't forget to subscribe in the box below.