You've got your affiliate marketing site up and running, and that's half the battle. But now it's time to bring your site – and your business – to the next level, and that can seem daunting.
After all, with so many aspects involved in running a successful marketing business, it can be difficult to get a handle on each one.
As an affiliate marketer, though, you have a variety of tools at your disposal. These include tools for affiliate program management, traffic and link tracking, and even ad tracking, all of which can be used to leverage affiliate marketing to your benefit.
In this post, we'll outline four such tools, highlighting their key features and uses. You'll then learn how each tool directly relates to affiliate marketing and how they can improve your business. Let's get started!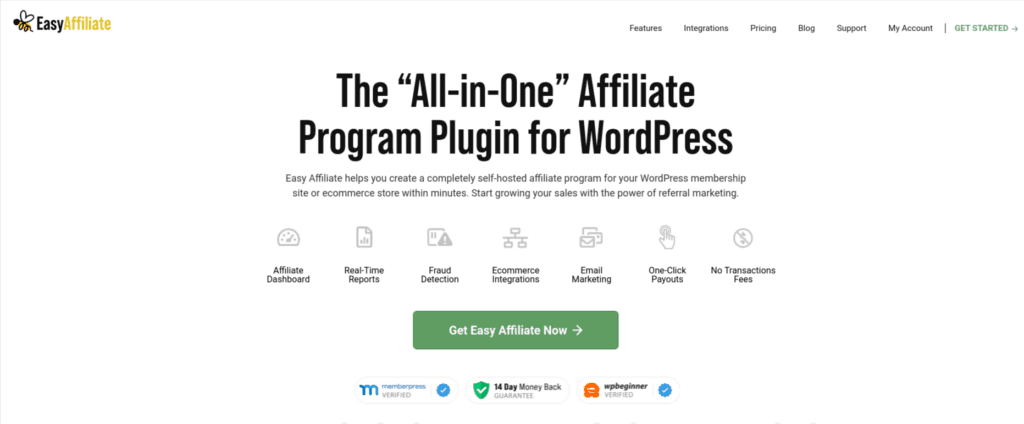 Easy Affiliate is a WordPress plugin focused exclusively on the management of affiliate programs. As an all-in-one tool, Easy Affiliate has an extensive list of features, including link tracking, transaction reporting, and shopping cart integration.
This feature-packed affiliate management plugin takes all of the technical complications out of the process. Right from your WordPress dashboard, you can configure a variety of management options, including commission levels, affiliate dashboard settings, and even payment options.
In addition, your affiliates can utilize the plugin's affiliate dashboard to stay on top of their sales stats.
Key Features
Price
Easy Affiliate starts at $99 per year.

Pretty Links is a premium WordPress plugin that enables you to shorten, cloak, share, and track affiliate links from within the WordPress dashboard. While there is a Pretty Link Lite version, the additional features included in Pro (such as conversion reports and additional redirection types) make the cost worth it.
For affiliate marketing, this plugin offers a simple way to cloak and brand your affiliate URLs, which not only gives you a link that is nicer to look at, but also increases link click-through rates and prevents link theft (among other benefits).
Key Features
Price
Pretty Links starts at $49 per year.

Google Analytics is a web analytics application that makes it possible for you to keep an eye on site traffic, visitor demographics, conversions, and so much more. As a free tool, Analytics packs a powerful punch when it comes to data collection and reporting.
As an affiliate marketing tool, not only can you track site visitors and their actions, but you can also collect visitor demographics to use later for lead targeting.
Additionally, the Acquisition feature provides you with a complete rundown of traffic sources, providing you with a view of your affiliate marketing efforts across the web.
Key Features
Offers multi-site tracking.
Enables an in-depth look at e-commerce conversions.
Provides a breakdown of traffic sources.
Price
Free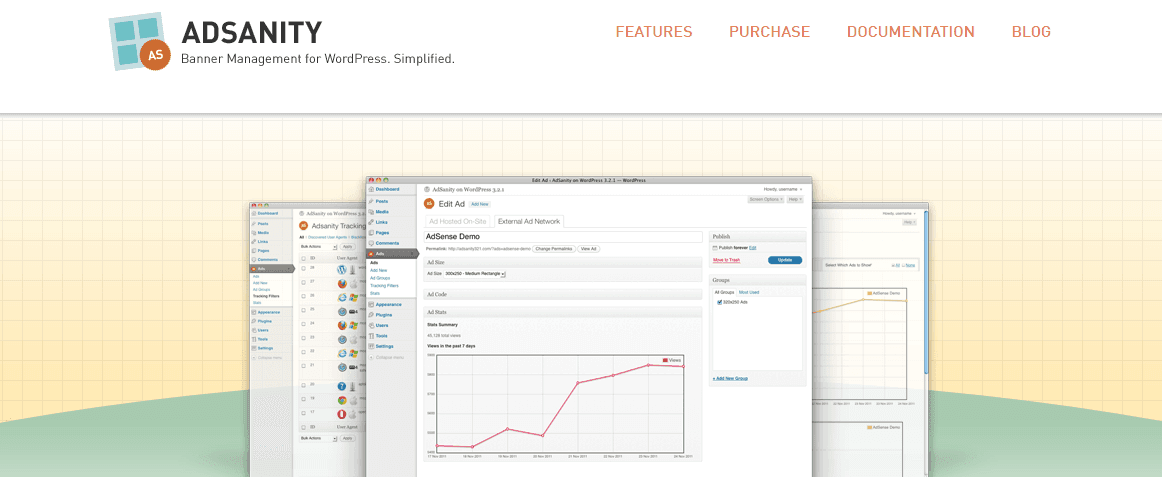 Another WordPress plugin, AdSanity is an ad management and rotation tool. This plugin enables you to create ads, display them anywhere on your site, and rotate them as you wish with the plugin's various features. In addition, you can automate the ad display process (setting start and end dates for each ad) and even track ad clicks and views.
While affiliate links are the lifeblood of your business, ads can act as another way to display affiliate products. And, with AdSanity, you can completely automate the process, making ad management and tracking a breeze.
Key Features
Price
AdSanity starts at $39 per year.
WPAdCenter is a complete advertising management plugin for WordPress, allowing users to control every facet of website advertising. With the responsive tool, you can place ad scripts or banners on your site. And, as with AdSanity, you can rotate and place multiple banners within any "ad zones".
Among the plugin's robust features are geo-targeting, ad tracking with detailed statistics, and a Google Adsense importer that allows you to automatically show ads without the need to manually add code.
WPAdCenter is not only affordable, it also features a free version if you'd like to try before you buy.
Key Features
Straightforward setup.
Enables geo-targeting.
Includes a Google Adsense importer.
Price
WPAdCenter starts at $19 per year.
Conclusion
When you're just starting out, you may find yourself struggling to bring your affiliate marketing site to the next level. However, with the right tools – including those for affiliate program management, traffic and link tracking, and even ad tracking – you can create a successful affiliate marketing business.
In the above post, we offered a look at five affiliate marketing tools for WordPress. Here's a quick take on each one:
Which must-have affiliate marketing tools for WordPress would you recommend? Let us know in the comments section below!
If you liked this post, be sure to follow us on Twitter, Facebook, and LinkedIn! And don't forget to subscribe in the box below.