As an affiliate program manager, you'll likely get questions both from existing affiliates and from users curious about your program. While this is a great sign of your business's growth, it can also be time consuming. You could end up spending more time answering basic questions, and less on growing your business.
By creating an affiliate program frequently asked questions (FAQ) page for your website, you make it possible for potential affiliates to find answers for common questions. This frees up your time for other program tasks, such as affiliate recruitment and management. It also makes your program more welcoming and easier to use.
In this post, we'll discuss three tips for creating a FAQ page for your affiliate program. We'll then show you how to display this page on your website, including using Easy Affiliate's Affiliate Pages. Let's get started!
3 Tips for Creating an Affiliate Program FAQ Page
When creating an FAQ for your website, the first step will be to create a new page. Once this is out of the way, it's time to implement the tips below so your FAQ can be as informative and effective as possible.
1. Separate Your Questions Into Categories
The first step to creating a FAQ page is to come up with a list of questions to include. These should answer the most common and basic information about your program:
Use previous queries. Use questions you've received multiple times through email, social media, or other channels.
Combine questions where possible. Combine similar phrasings ("How much will I make?/What is the commission rate?"). This makes the list easier for readers to skim and search.
You should also consider using categories to separate the questions. This enables readers to quickly find the information they're looking for and creates a clean, organized look. A few examples of common categories include Sales and Payments, Products/Services, and Support and Resources.
2. Add a Table Of Contents (TOC) for Easy Navigation
In short, a table of contents is an on-page directory that collects all questions at the very top of the page. Adding a TOC simplifies navigation, which makes it easier for affiliates to find the answers they're looking for. With the right tools and a bit of know-how, you can easily add a TOC to your WordPress FAQ page. Here are two methods you can use:
Use a TOC WordPress plugin. Options such as Easy Table of Contents (free) and Fixed TOC ($20) enable you to add a TOC to a page in minutes.
Use page jumps to create a manual TOC. This requires a small bit of coding, but it gives you a bit more flexibility with styling.
Your TOC doesn't need to be fancy. It simply needs to be useful in guiding readers to the answers they're looking for.
3. Link to Further Information When Necessary
While the answers within your FAQ page should be thorough, you may find it necessary to provide additional context. This can mean linking to on-site content, and even external tutorials and guides.
This makes it easier for readers to do more research on their own. However, you'll want to link out effectively so readers click through:
Use descriptive anchor text. This ensures your links aren't overlooked, and readers know exactly what information they'll receive when clicking through.
Link to high-quality websites. This will boost your site's credibility, and make you more trustworthy to potential affiliates.
To ensure readers remain on your site, you should set all links to open in a new tab. Your readers will still get the information they need, while also sticking around to read more about your program.
How to Display Your FAQ Page Using Easy Affiliate's Affiliate Pages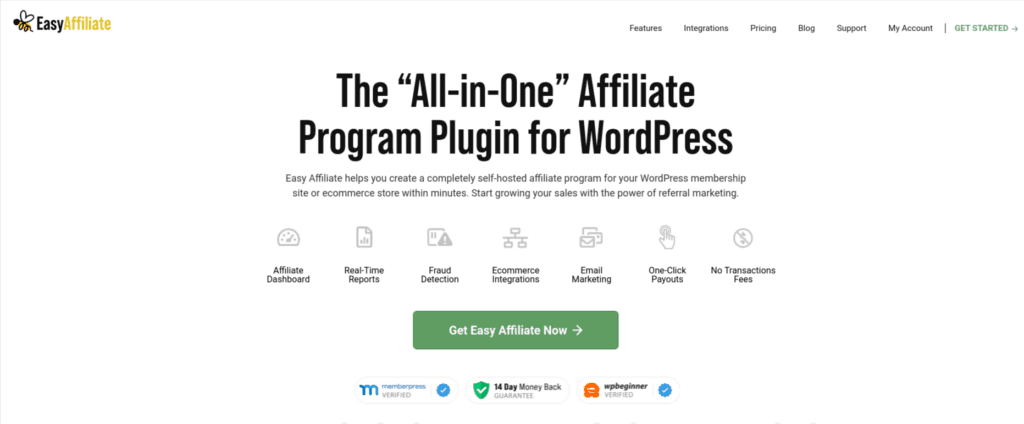 With your FAQ page now created, it's time to display it on your site. You can do so with the help of Easy Affiliate and its Affiliate Pages. Easy Affiliate includes a sign-up page, login page, and Affiliate Dashboard.
The affiliate FAQ page should be included in your navigation menu. You can place it there by heading to your Dashboard > Easy Affiliate > Settings > Advanced tab. Then scroll down until you see the Dashboard Navigation:

Select Add Page. Since you've added your FAQ page to your WordPress site, it should appear in the dropdown.
Now, all established affiliates can gain instant access when logged into their dashboard.
Conclusion
As your affiliate program grows, you'll receive more questions from potential affiliates. However, if you don't have a dedicated FAQ page, you could lose time answering the same questions over and over. Fortunately, creating a FAQ page is easy and will be beneficial for you, your program, and your affiliates.
In this post, we've introduced three tips for creating an affiliate program FAQ page. We've also shared how you can incorporate this page into your website's Affiliate Pages using Easy Affiliate. Before you create your FAQ, bear the following in mind:
Separate your questions into categories
Add a table of contents (TOC) for easy navigation.
Link out to further information when necessary.
Do you have any questions about creating a FAQ page, or how Easy Affiliate can help? Let us know in the comments section below!
If you liked this post, be sure to follow us on Twitter, Facebook, and LinkedIn! And don't forget to subscribe in the box below.