In order to build a successful affiliate program, it's important you have a strong relationship with your affiliates. However, it's difficult to know how to build that relationship. With so many options for digital communication, it can be overwhelming to choose the best ones and know how to implement them.
Fortunately, regular communication doesn't need to be difficult. It takes effort, but the benefits – including an increase in affiliate trust – will be worth it in the long run.
In this post, we'll discuss the importance of regular communication with your affiliates. Then we'll share three key methods for effective communication and the tools you can use to implement them. Let's get started!
Why Regular Communication With Your Affiliates Is Important
As an affiliate manager, you need to relay important information (and share helpful tools and resources) with your team on a regular basis. Doing so can help you to develop a strong manager-affiliate relationship. This builds trust, which could increase loyalty and motivates affiliates to promote your program.
Additionally, regular communication can ensure your program runs smoothly and can even improve sales. As you show your affiliates that you care – and keep them updated with pertinent information – they'll be motivated and well-prepared.
How to Communicate Effectively With Affiliates
Now you know why you should communicate regularly, it's vital that you know how to communicate effectively. The three methods below help you do so.
1. Use an Affiliate Dashboard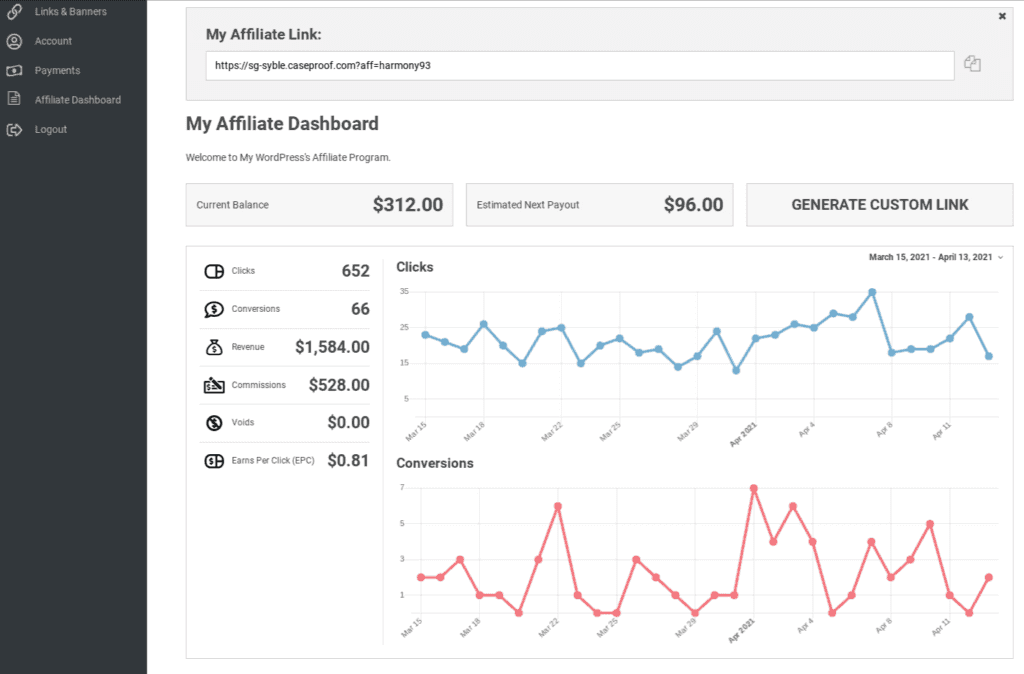 Fortunately, you can easily set up an affiliate dashboard with Easy Affiliate. After you've purchased a plan and installed and activated the plugin, setting up your dashboard is simple. Navigate to the Easy Affiliate panel on your WordPress dashboard, and head to Settings > Affiliates. Here, you can add a welcome message, select the page width, and even add navigation pages to the dashboard: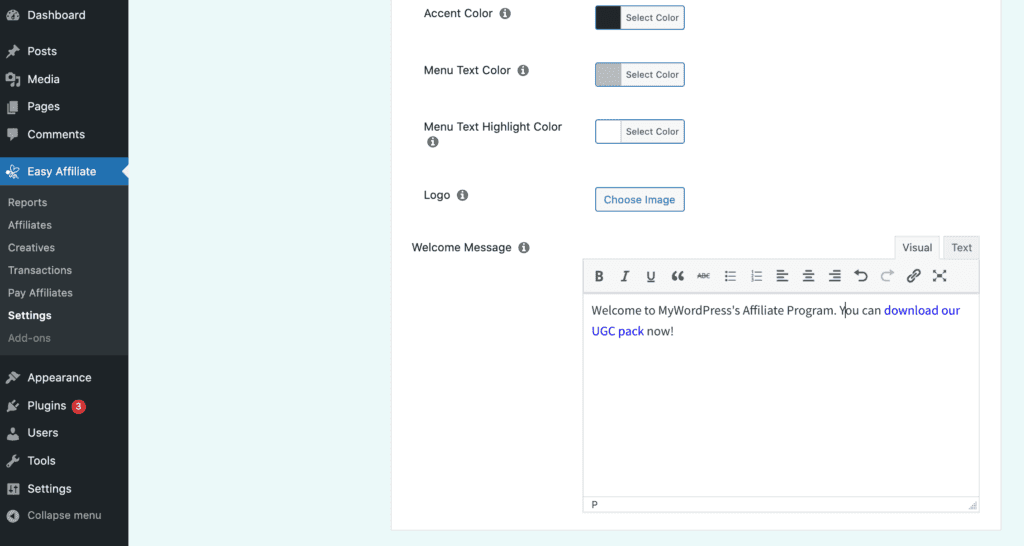 To maximize your efforts, you can also add a resource hub and a contact page. You can even include a link within the welcome message to your latest webinar or other program-related event.
2. Create an Email Newsletter

An email newsletter is a great way to communicate with your affiliates directly. It offers a number of benefits, making it popular among online marketers for both customer and team communication.
An email newsletter enables you to share important program-related news to each affiliate's inbox. Additionally, regular emails can help you to communicate with those who aren't regularly logging into the affiliate dashboard.
To get started on your first email newsletter, we recommend using a dedicated newsletter tool, such as MailChimp, which also integrates with Easy Affiliate. After you've signed up for your account and chosen the plan that's best for you, take these steps to create your first email newsletter:
Set your template. MailChimp will guide you through the process of selecting a layout for your first campaign from a myriad of professional-looking templates.
Create your headline. Add a Text content box to the very top of your newsletter, and use a headline optimization tool – such as CoSchedule's Headline Analyzer – to create an enticing headline for your affiliate readers.
Write your content. Add another Text box to your newsletter, this time below the headline. Now, add in your body content, and save your changes when complete.
Add images: Find images that align with your content, then insert them into your newsletter by dragging and dropping the Image content box where you'd like.
Include a call to action (CTA): With the Button content box, add in a powerful CTA to tie your newsletter together. For example, "Visit the Resource Hub!" or "Sign Up For the Webinar!"
That's it – your first email newsletter is now set and ready to go! For ease of use, you can even save the template and use later in your future newsletters.
3. Host a Monthly Webinar

Webinars are web-based conferences that can connect you with your audience, either live or at a later time. For affiliate communication, webinars can play a key role, providing effective, informative, and positive interactions.
One of the best things about webinars is their direct and personal nature, which can create stronger connections and build trust. You can also receive and answer questions from your team during the live stream. What's more, affiliates unable to attend live can view the recording anytime.
For hosting webinars, we recommend YouTube Live. This free webinar hosting tool includes live chat and recording capability, and can be embedded into your WordPress website.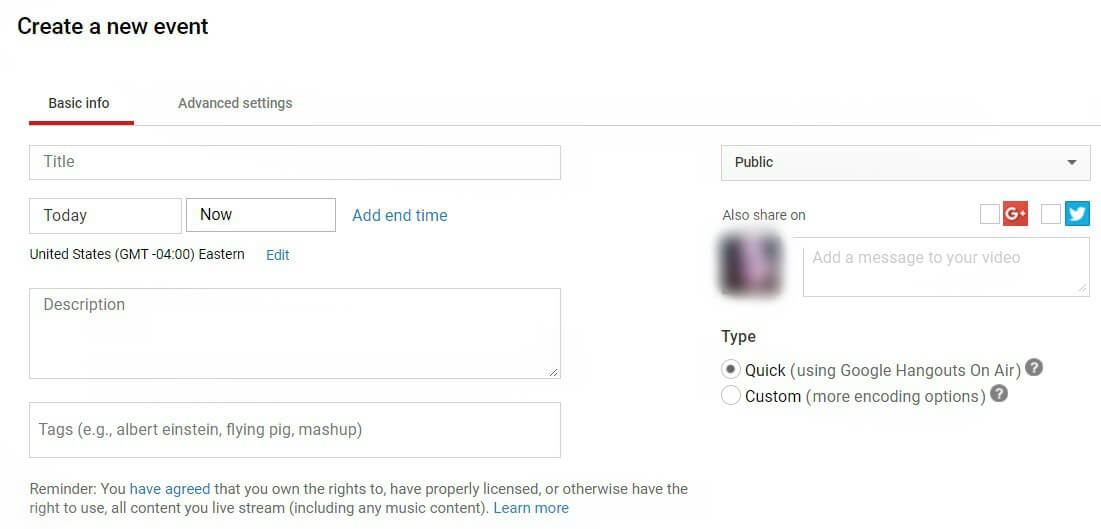 It takes just a few minutes to set up your first live event:
Navigate to your YouTube profile, then click on your profile picture.
Click the Creator Studio button, which will take you to a dashboard.
Navigate to the Live Streaming tab in the sidebar, then choose Events and enter your webinar's details, before saving your changes.
During your webinars, look to encourage affiliate engagement. Since webinar platforms enable you to answer questions live, use this ability to get help from your affiliates in identifying common problems they face, and gaining ideas for future communication.
Conclusion
When you take the time to communicate with your affiliates regularly, you build trust and loyalty with them. Effective communication shows your affiliates that you care. It also equips them to be more effective in promoting and gaining sales for your program.
In this post, we've outlined three ways you can communicate with your affiliates effectively. Here's a quick recap of our recommendations:
Use an affiliate dashboard.
Create an email newsletter.
Host a monthly webinar.
Do you have any questions about how to communicate with your affiliates? Let us know in the comments section below!
If you liked this post, be sure to follow us on Twitter, Facebook, and LinkedIn! And don't forget to subscribe in the box below.