Since new affiliates will enter your program with a wide array of prior experiences, it can be hard to determine if they're all on the same page about marketing practices. This lack of conformity can lead to a number of issues, including the improper use of link disclosures and an unfavorable promotion of your business.
Fortunately, creating clear affiliate guidelines will help you lead your affiliates down the right path. Set guidelines ensure your program runs smoothly and consistently – which will reflect favorably on your business.
In this post, we'll discuss what affiliate guidelines are and explain the benefits they can provide to your program. Then we'll show you how to create crystal clear guidelines with three simple tips, and explain how Easy Affiliate can help along the way. Let's get started!
What Affiliate Guidelines Are (And Why Your Program Needs Them)

Unlike rules, which are generally considered mandatory, affiliate guidelines are recommended best practices as outlined by the program manager. Here are just a few reasons your program can benefit from developing affiliate guidelines:
They ensure all affiliates are on the same page: This helps your program remain consistent, since affiliates will all follow the same practices and procedures.
They keep expectations clear: This lets you focus more on your business and less on training new (and existing) affiliates.
They ensure that appropriate practices are followed: While they aren't hard and fast rules (to allow for some flexibility when reacting to unique circumstances), guidelines still enable you to equip your affiliates with the information they need to make decisions.
With the above benefits in mind, it's easy to see why so many marketers opt to create guidelines for their affiliate programs. Let's talk about how to do so!
How to Create Crystal Clear Affiliate Guidelines for Your Program (3 Simple Tips)
The process of creating set guidelines for your affiliates may seem overwhelming at first. However, the following three tips will ensure you get off to a great start.
1. Incorporate Relevant FTC Mandates

FTC mandates are guidelines laid out by the Federal Trade Commission that protect both consumers and marketers. Many of these mandates give crucial advice for how to best run your affiliate business, so incorporating them into your own guidelines can be a smart idea.
When you're looking to create crystal clear guidelines for your program, here are a few ways you can make use of FTC mandates:
Know which mandates apply to your business. For marketers, link disclosure and advertising mandates are perhaps the most important categories. However, it doesn't hurt to look through the FTC's Business Center for a better idea of which guidelines apply to you.
Create guidelines with specific mandates in mind. For best results, we recommend directly referencing the mandates, and using them as a base for some of your guidelines. That way, your affiliates can easily find more information if they need to.
As the manager, it's your job to keep on top of FTC mandates and related updates, and revise your guidelines accordingly. To do this, you can make it a point to visit the FTC's News and Events regularly (or set up Google Alerts for any FTC-related events).
2. Include Examples Throughout Your Guidelines
Clarity is key when it comes to creating guidelines you want your affiliates to actually follow. That's why examples are an excellent addition to your program's policies.
Examples are beneficial because they make your guidelines clearer, so they're more likely to be followed as intended. There are two major ways you can incorporate examples into your guidelines:
Use different forms of media. Images, videos, and GIFs can break up your content and highlight key points. This makes them ideal media forms for examples.
Focus on relevance. This means you need to understand what situations your affiliates regularly face, and provide them with examples that enable them to follow the guidelines during those moments.
If you want particular situations or methods handled a certain way, examples are the best way to communicate your requirements.
3. Make Your Guidelines Memorable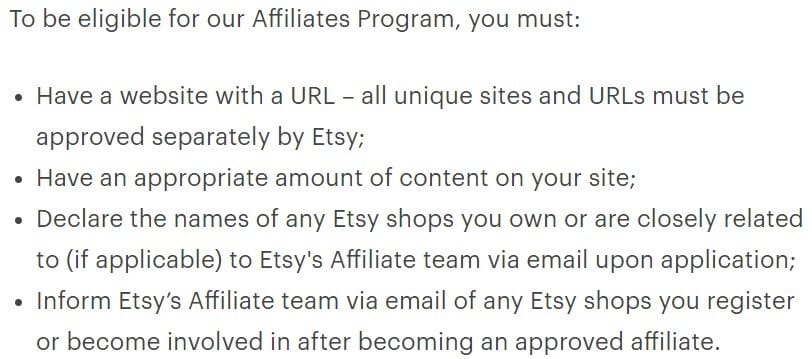 Memorable guidelines are less likely to be forgotten or misinterpreted by your affiliates. Fortunately, it's quite easy to make your guidelines easy to remember:
Keep them short: Concision is the way to go, especially since some affiliates will scan the guidelines instead of reading them in-depth.
Make them relevant: Guidelines that can be easily applied to real situations stick out to affiliates, and are most likely to be followed on a regular basis.
Another way to make your guidelines memorable is to use an easy-to-read format. This means including bullet points, paragraph breaks, and bold and italic font to get your point across clearly.
How to Display Your Guidelines With Easy Affiliate
First, create your guidelines page in WordPress. Once you've created them, it's time to consider how to best display your guidelines. This is an important step, because guidelines are naturally less likely to be followed if they're hard to find.
Fortunately, Easy Affiliate can help you to display your guidelines front and center with the Affiliate Dashboard via Tabs. To set up the new Tab, visit the back end of your site and go to Easy Affiliate > Settings > Advanced tab.
Scroll down until you see Dashboard Navigation:

Then just add your page and update the settings.
As a unique way to display your guidelines, you can create a FAQ page or resource hub to supplement the official policy. This can be linked to in the dashboard's main navigation menu, which will make it easy for affiliates to notice and access.
Conclusion
Running your affiliate program isn't always easy, but there are ways to streamline the process. While you may encounter the odd problem now and then, with clear affiliate guidelines you'll be able to rest easier, since you'll know your affiliates have the tools they need to follow proper marketing practices.
In this post, we've outlined three tips you can follow to create crystal clear guidelines for your affiliate program. To quickly recap, you'll want to:
Incorporate relevant FTC mandates.
Include examples throughout your guidelines.
Make your guidelines memorable.
Do you have any questions about how to create clear affiliate guidelines? Let us know in the comments section below!
If you liked this post, be sure to follow us on Twitter, Facebook, and LinkedIn! And don't forget to subscribe in the box below.