Every website is flooded with forms. Chances are, you've probably filled out several forms yourself from the moment you opened your internet browser.
Signing in to check your email: online form. Booking a dinner reservation: online form. Entering your credit card information to make a purchase: online form. Logging in to your Affiliate Dashboard on Easy Affiliate: online form. You get the picture…
As an affiliate program owner, you too rely on online forms for key actions that take place on your site, such as affiliate applications, affiliate sign-ups, a contact page, and more. But what if you had a way to monetize an online form to help boost your affiliate sales?
Now you can with WPForms! We're excited to share that our newest integration will allow WPForms users to add beautifully designed online forms to your Easy Affiliate program – including more ways to collect payments and even track affiliate sale commissions.
Introducing WPForms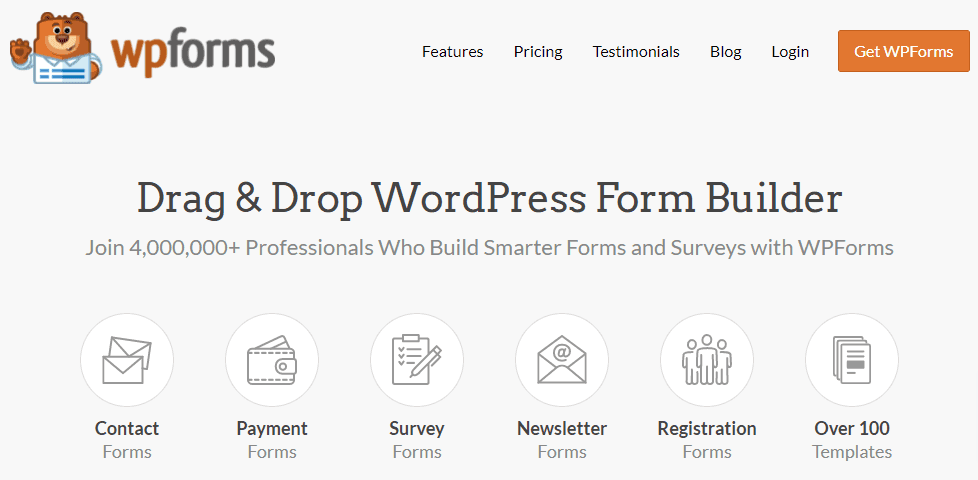 WPForms is a beginner-friendly contact form builder that allows WordPress users to create interactive and engaging forms on their site.
The creators of WPForms simplified the form building process so you can work smarter, not harder. With no need to write any code, you can quickly publish lead-generation forms, such as:
Contact Forms
Survey Forms
Subscription Forms
Sign Up Forms
Donation Forms
Payment Forms (more on this later)
and more!
As of today, WPForms is active on over four million sites. Users can't get enough of how easy it is to build powerful online forms to improve user experience (UX), drive conversation rates, and increase sales!
Learn more about the amazing features and add-ons available with WPForms.
WPForms Features
Drag-and-Drop Form Builder
Anyone can consider themselves a webpage designer with the WPForms Drag-and-Drop Form Builder. Easily add, remove, and rearrange form fields to meet the needs of specific pages on your site.
Create the ultimate form with intuitive WPForms tools, including:
You'll also have access to over 300 pre-made form templates you can customize to your brand in seconds!
Instant Notifications
Customer engagement is crucial to the success of your business. The WPForms Instant Notification feature will alert you the moment a visitor has completed a form on your site.

WPForms also makes it easy to review all of your form submissions from your personalized entry management screen. Sort through multiple forms individually to show potential leads, sales, contact attempts, and more.
Spam Protection
Fraud and spambots are a threat to any business – especially in the affiliate marketing sector.
That's why WPForms uses the latest spam defense methods to help protect your site. When building with WPForms, you can add your choice of CAPTCHA, including Google reCAPTCHA, hCaptcha, and even their own WPForms Custom Captcha addon.
WPForms Add-Ons

Signature Add On: Require site visitors and affiliates alike to sign their names for official forms, such as contracts, service agreements, terms of service, affiliate applications, and more.

Form Abandonment Add On: Monitor and save partial entries to follow up with interested prospects and cut down on cart abandonment rates.

Survey And Polls Add On: Gain insight on your business by creating surveys and polls to help improve the overall customer experience.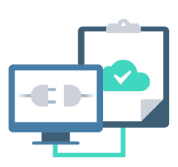 Offline Forms Add On: Allow users to save their form submission, even when they lose internet connection.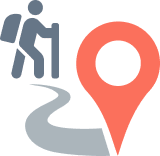 User Journey Add On: Monitor and track visitor movements on your site to see which pages are most effective in getting submissions.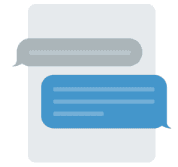 Conversational Form Add On: Humanize your online forms to only ask one question at a time, stimulating a conversation with your user.
Email Marketing Add Ons: Choose from a list of your favorite email marketing tools, including AWeber, GetResponse, Mailchimp, Campaign Monitor, ActiveCampaign, Drip, and more.
Payment Add Ons: Cash-in sales with the built-in payment gateways of PayPal, Stripe, and Authorize.Net. (Our integration currently supports PayPal and Stripe)
Check out the full list of WPForms features and add ons here.
How WPForms Integrates with Easy Affiliate
With WPForms, you can enhance the overall look of your website – including your sales-converting pages. By improving the payment process on your site, you'll also provide a better user experience for your customers. This ultimately increases your chances of making a sale.
But wait, there's more!
Unique to our Easy Affiliate integration with WPForms is the ability to monitor affiliate activity. In use case terms, when an affiliate initiates a completed payments form, the sale will show up in your Easy Affiliate Dashboard, along with the commission earned.
Increase Sales with a Payment Processing Form
When a customer works their way through to the final stages of your sales funnel, you may think that you've got the sale in the bag. Wrong! Even at the height of worldwide ecommerce sales in 2020, the online cart abandonment rate was still 88.05%.
Your order form is the last page a customer sees before making their purchase. If something about your page just doesn't sit right with the consumer – whether it looks unsafe, is crowded with upselling ads, or requires visitors to create an account – they're very unlikely to complete the purchase.
Using the right combination of WPForms add-ons, you can be sure to present a safe and professional-looking payment form so customers can be confident with their purchase.
Automatic Commissions Tracking
Making a sale is always exciting, but when you manage an affiliate program, you also need to see exactly where that sale came from. With our WPForms integration, every affiliate sale will be monitored to accredit the affiliate and calculate the commission earned.
Here's a rundown on what that process will look like after you get your payments form up and running:
Affiliates will lead consumers to make a purchase on your site where you have built a WPForms payment form.
Then, when the consumer completes a purchase, the sale will register as a transaction in Easy Affiliate > Transactions. Here, you can see the details of the sale, including the affiliate name, product, price, and the commission issued:

How to Enable WPForms with Easy Affiliate
The WPForms add-on is available to Easy Affiliate Pro users. You'll also need to set up a WPForms account and choose between their Pro or Elite plan options.
As for your payment methods, this integration currently supports PayPal and Stripe. So you'll want to create active accounts with these add ons as well in order to make and receive payments.
Create PayPal Account Create Stripe Account
1. Purchase and install Easy Affiliate Pro
Download Easy Affiliate just as you would any other WordPress plugin. When the download is finished, your new plugin will automatically be added to your WordPress dashboard.
2. Open Easy Affiliate > Settings and run through our one-of-a-kind Setup Wizard
Our user-friendly Setup Wizard will guide you step-by-step on how to set up your new affiliate program.
3. The Setup Wizard will automatically detect that you are a WPForms user: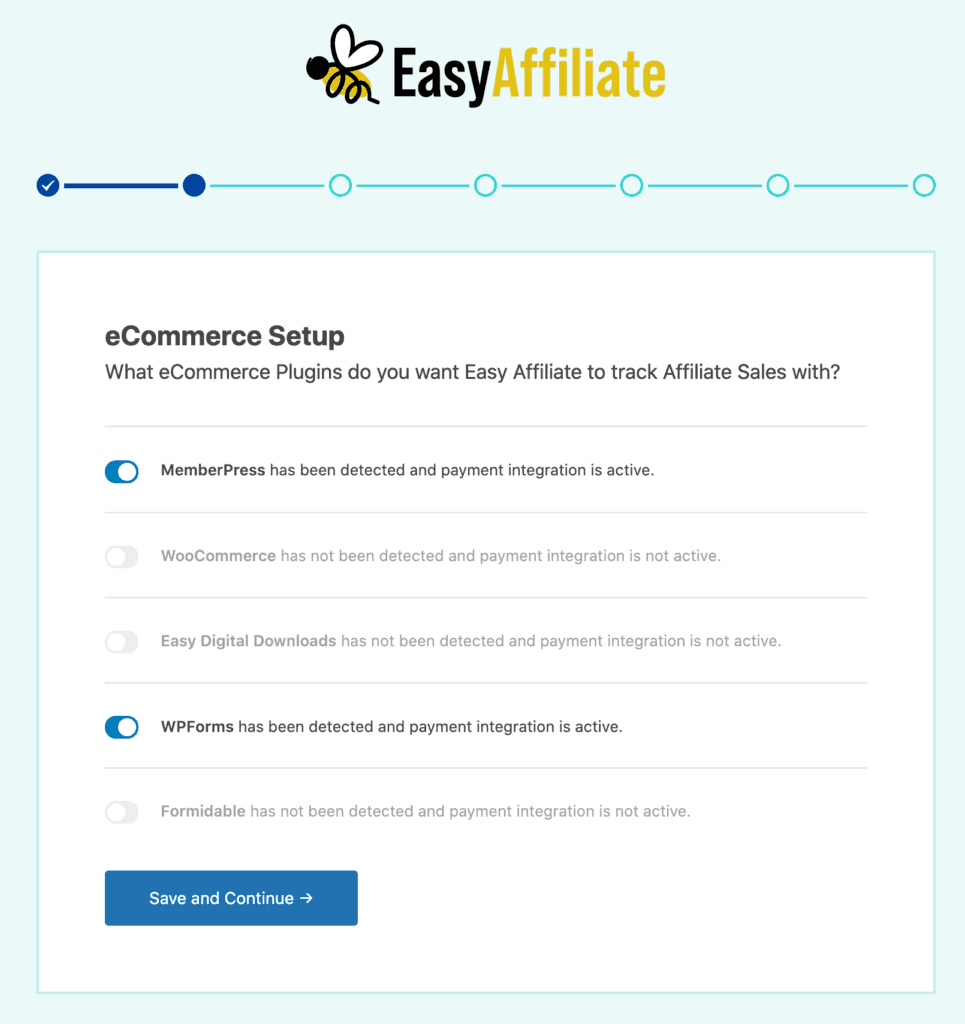 All you need to do is click the slider to activate WPForms.
Already have an Easy Affiliate Account?
Not to worry, we've got a simple setup process for you as well!
1. Open Easy Affiliate > Settings > eCommerce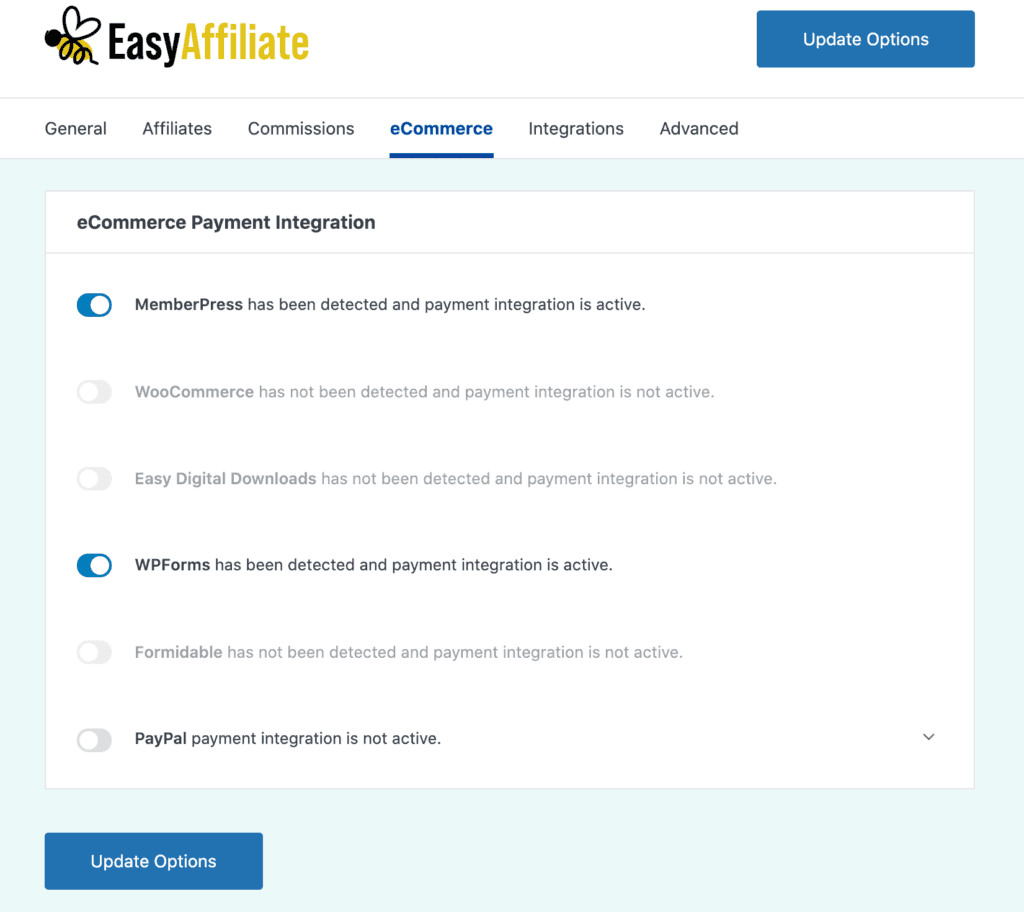 Under the eCommerce tab, you'll now see where you can activate WPForms. Again, just click the activation tab and you're all set!
One Last Step!
Now that you've got everything good to go in Easy Affiliate, you'll need to go in and make similar setting changes in WPForms.
1. Open WPForms and go to Form Settings > Easy Affiliate
Click on the Enable Easy Affiliate Commissions option:
That's it!
Ready to Build Your First Payment Form with WPForms?
Check out our 5-minute tutorial video on How to Create Payment Forms for Your Affiliate Program with WPForms below:

If you liked this article, follow us on Twitter, Facebook, Pinterest, and LinkedIn. And don't forget to subscribe to our newsletter 🐝