Running an online store comes with many challenges. You not only have to create and upload new products regularly, you also need to make sure your visitors are engaging with your shop and making purchases.
Fortunately, there are several ecommerce features that can help you succeed. By choosing the right tools for your store, you can improve your site's user experience (UX) and boost your conversion rates.
In this post, we'll look at five essential store features that can help you make more sales. We'll also recommend a few tools for each one. Let's get started!
1. An Easy Checkout Process
Almost 70% of ecommerce site users abandon their shopping carts. One of the most commonly cited reasons for this cart abandonment is a long and complicated checkout process.
While this figure may be a little worrying, several measures can encourage customers to complete their orders.
For instance, you can help make the checkout process more efficient by adding digital wallets to your store. A digital wallet is an application that stores credit card information, including available funds. Basically, it's a virtual version of your bank card.
Many online stores use different digital wallets in their payment gateways, including PayPal and Google Pay:
Thanks to these payment options, shoppers won't need to enter their personal information every time they want to make a purchase on your site. They can simply use their digital wallets to complete transactions in just a few clicks.
Another way to facilitate a smooth checkout is by using a service such as Buy Now Plus to create accessible buy now buttons:
These buttons take shoppers directly to your checkout page. That way they can finalize their purchases in just a few seconds.
2. Reviews and Ratings
Displaying customer reviews and ratings on your product pages can help boost your conversions. In fact, research shows that this strategy can increase sales by 270%.
Many online stores allow customers to post their reviews directly to the product pages:
Displaying feedback can be particularly beneficial if you want to attract first-time customers. New users may be more likely to trust your brand if you prove that you have a good track record.
You can also use a user-friendly plugin like WPForms to gather valuable feedback from your customers:
WPForms lets you create professional forms for different purposes, including online surveys and polls. It also enables you to display the results on your site.
Another effective option is YITH WooCommerce Advanced Reviews. If you have a WooCommerce store, you can use this add-on to customize the review sections on your site.
For instance, you can highlight the best feedback from clients and use star ratings and bar graphs for added effect.
3. Product Filtering
If your store delivers a pleasant shopping experience, your customers may notice this and choose to come back for additional purchases. One way to improve your store's UX is to offer product filtering.
This feature enables users to look for particular items on your site. For example, you can organize your products into different categories and styles:
With filters, users won't have to spend a lot of time browsing through your catalog to find the right product. They can simply look for their preferred item in the relevant section.
If you have a WooCommerce store, you can use Advanced AJAX Product Filters:
With this plugin, you can enable users to browse products in their selected price range. You can also sort items according to color, size, and attribute.
This filtering system can make the ordering process more efficient for your users, which may help increase your sales.
4. An Affiliate Program
Setting up an affiliate program can be a powerful way to reach new audiences and increase your profits. This marketing method entails working with influencers and bloggers who are willing to promote your products on their platforms:

Our Easy Affiliate plugin helps you set up a self-hosted affiliate program on your WordPress site in just a few steps. You can then start creating banner ads and affiliate links for your products, and invite your favorite bloggers to join your program: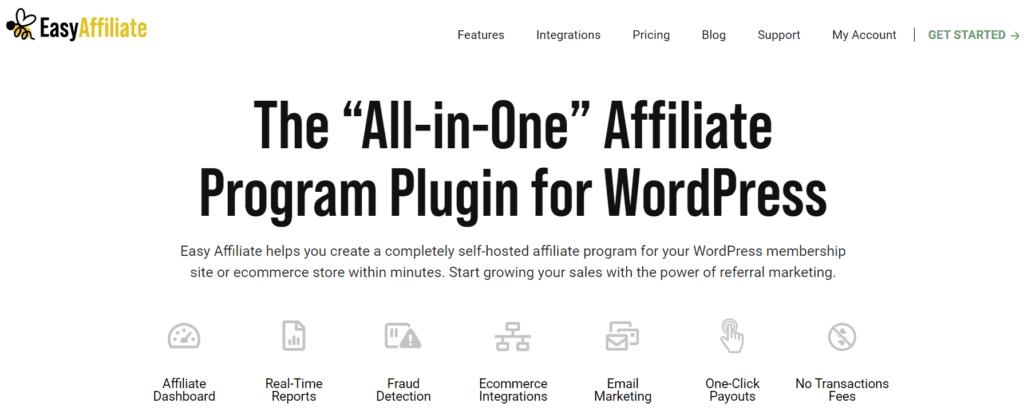 Our plugin also offers real-time reports and in-depth analytics to help you track of your program's performance and affiliate members. For instance, you can see which websites send the most traffic to your site and convert clicks into sales.
5. Wishlists
Sometimes, users may like something from your store but are unable to make a purchase. Others may simply choose to browse your products for inspiration.
For this reason, you may want to consider adding wishlists to your store. Using these, visitors can save their favorite items for later so that they won't forget about them:
Some users may also choose to share these wishlists with their friends and families, bringing more traffic to your store and potentially helping you make more sales.
WooCommerce Wishlists enables shoppers to make lists for different occasions, such as birthdays and weddings. This tool also lets you see created wishlists to gain an insight into your audience's preferences and interests.
You could also use email marketing to send customers reminders that they have items in their wishlists. Alternatively, you may want to let them know that a product they were interested in is on sale. This strategy can help you turn those wishlists into conversions.
Conclusion
Running an online store takes a lot of work. Besides adding new products, you'll need to ensure that customers can easily browse your shop and make purchases.
Fortunately, there are several tools and features that can increase your conversions.
In this post, we looked at five essential store features that can help you grow your business and make more sales:
Do you have any questions about the features mentioned in this post? Let us know in the comments section below!
If you liked this article, follow us on Twitter, Facebook, and LinkedIn. And don't forget to subscribe in the box below!