Physical products have been the lifeblood of affiliate marketers. However, you may be wondering if there's a way to supplement your offerings affordably and flexibly.
Fortunately, the age of ecommerce has produced a solution. By offering affiliates the option to promote digital products alongside your physical ones, you can boost your business' profits and versatility.
In this article, we'll cover some of the benefits associated with a digital affiliate product line. Then, we'll take you through 3 easy steps for adding digital products to your online store.
The Benefits of a Digital Affiliate Product Line
A digital affiliate product line has a lot of potential to boost your revenue. One prominent reason for this is that virtual items typically cost less to produce than physical ones. There's no need to manufacture, store, or ship anything.
Resources that you may otherwise have needed for the distribution process can thus be redirected. You might be able to spend more time on high-quality virtual content. Alternatively, you may choose to use the saved money to cover the cost of advertising or other necessities.
Non-physical products also tend to be better suited to flexible marketing. You can offer accurate previews and attractive bundles for them with ease. Current affiliates might find that it's easier to market a more readily available product, and potential influencers may also take note of your savvy strategy.
In a broader sense, digital product lines can also help you establish a consistent brand identity. For example, ebooks can help refine your voice, while educational content related to your field can establish you as a thought leader. Over time, you can create a library of profitable revenue-boosting content.
How to Add Digital Products to Your Affiliate Program (In 3 Steps)
Once you decide on what type of digital download (or downloads) you want to add to your product lineup, your first matter of business is making your newest idea available online as soon as possible.
Step 1: Set up a digital sales platform with Easy Digital Downloads.
Next, you need to make your digital download available for purchase.
Step 2: Post your digital products for sale.
Finally, you want to alert your affiliates on your new digital product so they can get to marketing and drive more sales.
Step 3: Market your digital product.
Now that you know what to do, let's dive in on how to add digital products to both your WordPress storefront and your affiliate program.
Step 1: Choose a Digital Sales Platform
First things first, you'll want to choose a platform to sell your virtual products. There are a few important features that you might want to look for in a potential e-commerce solution, such as acceptance of the same payment methods you use in your physical store.
You might also want to find a solution that specializes in digital products, or that has a design that will blend well with your current theme. As this platform will be the crux of your digital sales, we recommend spending the time to find one that you're comfortable with.
For the purpose of this walkthrough, we'll be using Easy Digital Downloads.

Easy Digital Downloads is a high-performing plugin that's been designed to support electronic sales. It's also a smart choice for supporting your affiliates, as it has built-in reporting functionality to help track performance.
Once you've decided on a platform that works for you, feel free to play around with it. This can help you get your bearings and determine if it's a viable long-term solution for you. After you've installed and activated it, you can move on to the next step.
Step 2: Post Your Products for Sale
Next, you can start posting your products on your site. These can take many forms, such as:
ebooks
Artistic prints
Stock media (photos, videos, music)
Software
PDFs (calendars, worksheets, etc.)
If you're using Easy Digital Downloads, navigate to your WordPress dashboard and locate the option in the left-hand menu labeled Downloads: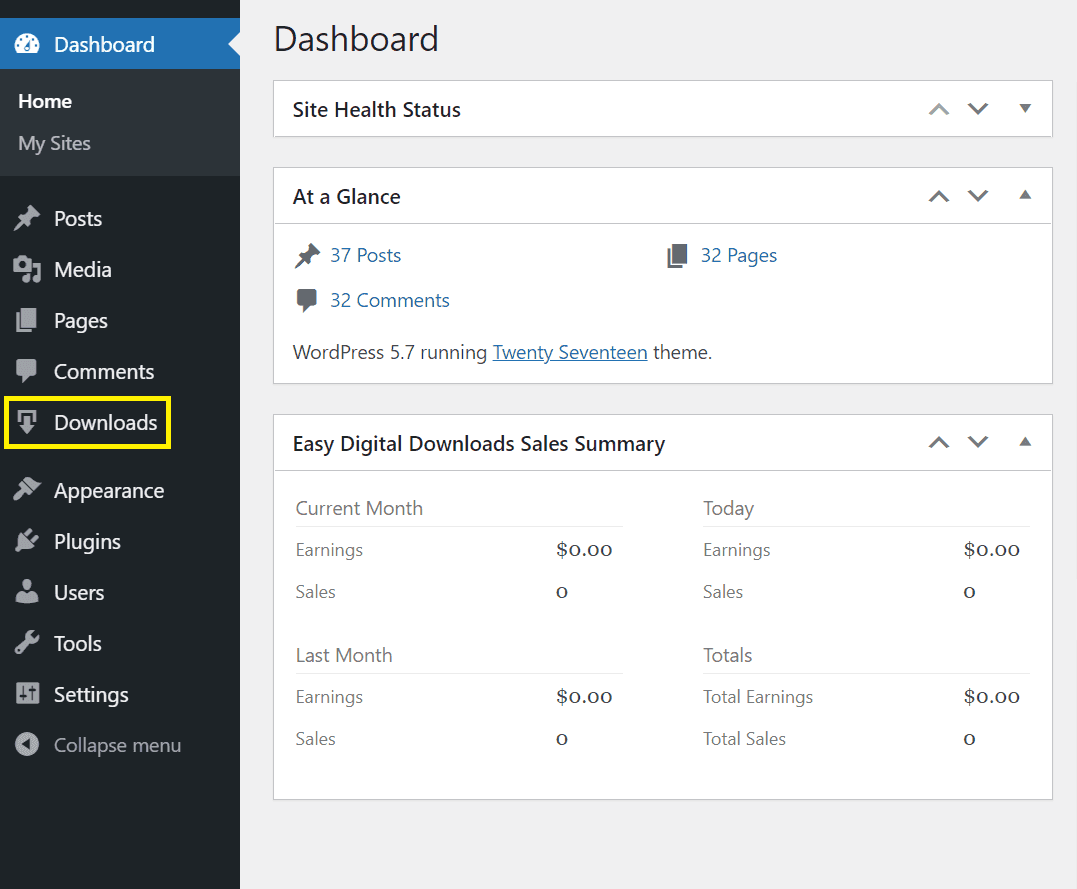 This will take you to a screen summarizing your digital products, which should be empty if you're just starting out. From here, navigate toward the top of the page. Find the button labeled Add New and click on it: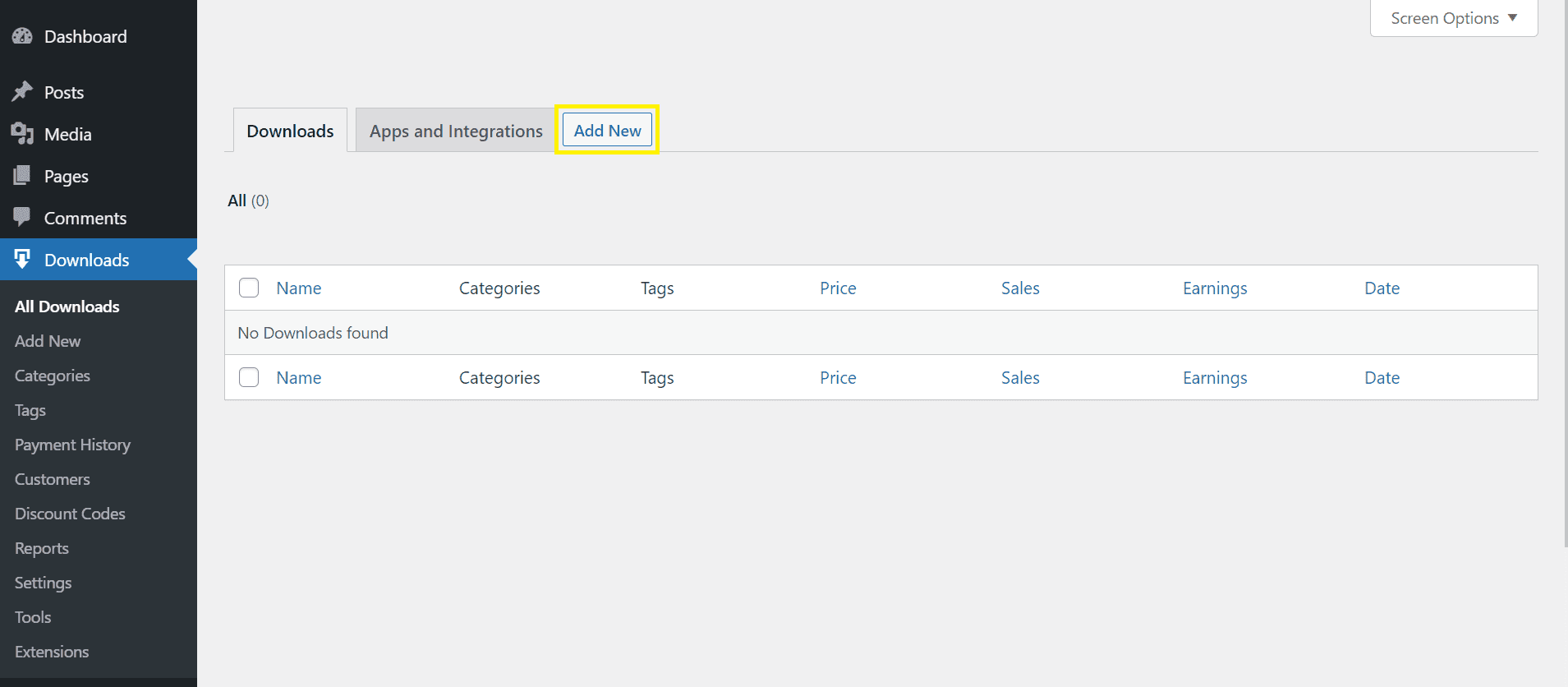 After that, you'll be taken to a page that looks similar to the WordPress Classic Editor. Here you can start filling in the information about your first product: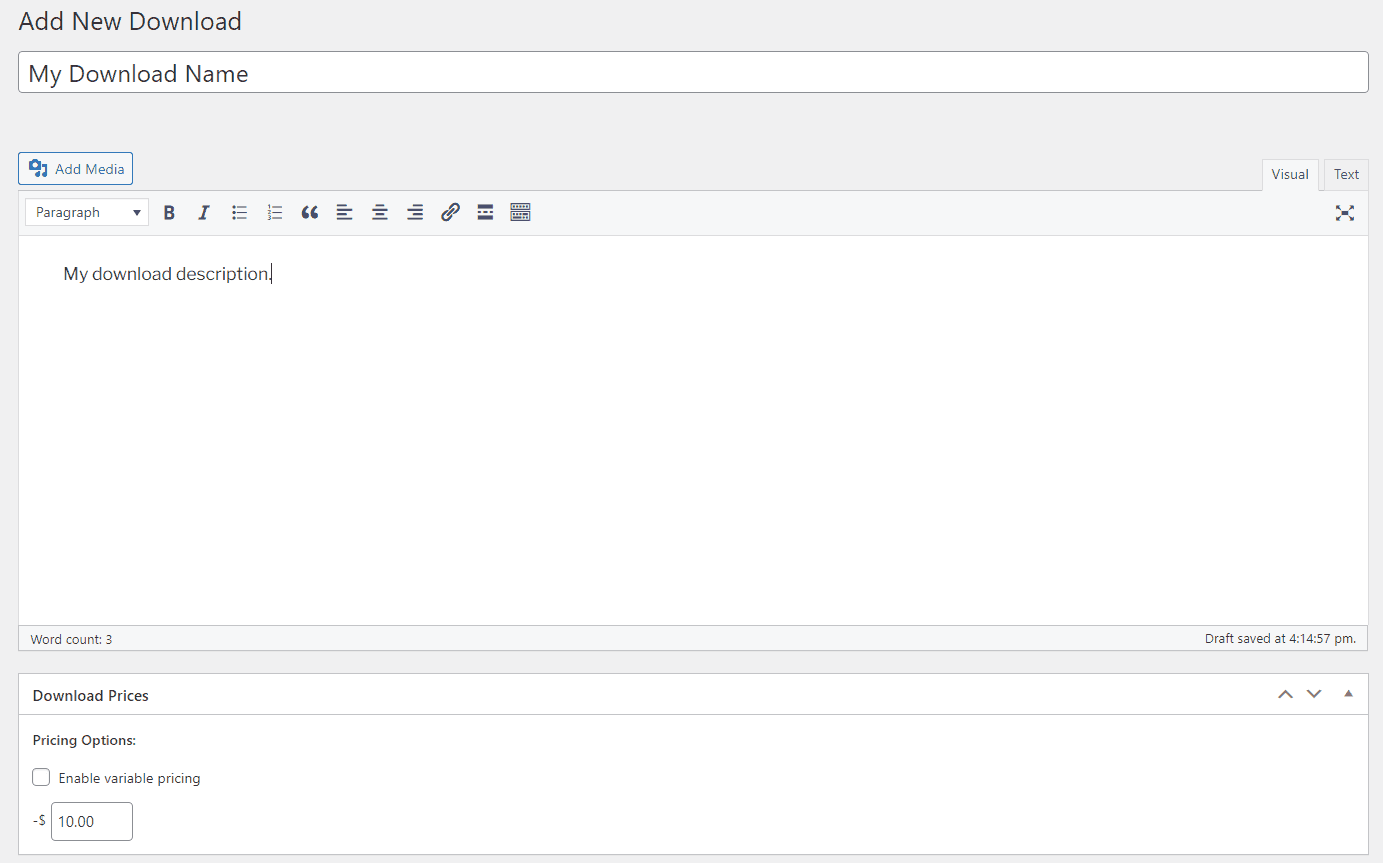 Start by entering the name of your digital product in the top field. You can then move on and provide a description in the box below it, as well as a price.
Once you've completed that, scroll down the page. You'll see a field where you can upload an image by selecting Set Download Image. Even with digital products, we recommend that you include some kind of visual component to the listing that gives customers an idea of what it includes.
These steps will help you to set up your digital products. However, you may also want to consider improving upon them. You can add categories, tags, or variable pricing options. These can help you display a wider range of buying options and improve your online store's navigation.
Repeat this process for each of your digital offerings. Save your work and hit Publish when you're ready.
After your products go live, you can begin to make use of your purchase data. To see this information, navigate to Downloads > Reports. Consider using these metrics to inform your other marketing strategies as well.
Step 3: Market Your New Digital Products
Once you've published your downloadable products on your site, you can start to market them to your customers. We recommend collaborating with your affiliates to launch a small advertising campaign. This can raise awareness of their availability and generate some positive buzz.
You may also want to consider investing in customer service for your new line. Resolving purchase issues is still important, even with non-physical items. Try to make your digital support just as robust as its tangible counterpart.
Your affiliates can be a valuable asset during this step. Consider keeping them informed of your plans as much as possible. This can enable them to prepare promotions for your digital products that are relevant to their audiences.
If you're looking for a seamless way to keep your affiliates in the loop, our Easy Affiliate plugin might be just what you need. It will enable you to track your partners' success and understand their performance. It also integrates seamlessly with Easy Digital Downloads for a hassle-free experience.
Finally, you may also want to consider creative advertising techniques for your digital products. New strategies can spark your audience's curiosity. Try encouraging your partners to produce their own affiliate marketing videos for trusted endorsements with a personal touch.
Conclusion
E-commerce is a constantly evolving field, with new trends seemingly emerging every day. However, a smart business strategy never goes out of style. By offering digital products in addition to your physical line, you can make your store more versatile in an economic way.
In this article, we covered three steps to add digital products to your online store:
Choose a platform to help you sell virtual items, such as Easy Digital Downloads.
Post your products for sale.
Market your new line with the help of your affiliates.
Do you have any questions about selling digital products? Let us know in the comments section!
If you liked this article, follow us on Twitter, Facebook, Pinterest, and LinkedIn. And don't forget to subscribe to our newsletter!