In 2020, e-retail sales passed $4.2 trillion. This is enough to convince any entrepreneur to move online. However, running an ecommerce business can seem a little daunting.
Fortunately, there is a range of tools and platforms designed to help companies make the leap to ecommerce. Regardless of your budget or requirements, we're confident that our top picks can help supercharge your digital journey.
In this post, we'll discuss why you might want to join the ecommerce world. We'll then share three ways to get your small business online. Let's get started!
Why You Might Want to Take Your Small Business Online
The past few years have been challenging for brick-and-mortar stores, with COVID-19 forcing many shops to close their doors. As a result, more consumers turned to the Internet, and 2020 saw online shopping reach an all-time high.
This trend seems set to continue, with over 2.14 billion people forecast to purchase goods and services online in 2021. With a huge (and growing) audience of online shoppers, now may be the ideal time to get your small business into ecommerce.
We're not going to pretend that taking your company online is easy. However, there are several tools and platforms that can provide everything you need to start promoting your products and accepting credit card payments.
When shopping for the right software for your online business, it's important to consider your target audience and their needs.
In particular, you may want to ensure that your customers can pay using their preferred gateway. Ideally, we recommend opting for a payment gateway that's supported globally.
For example, the Stripe gateway is available in 44 countries: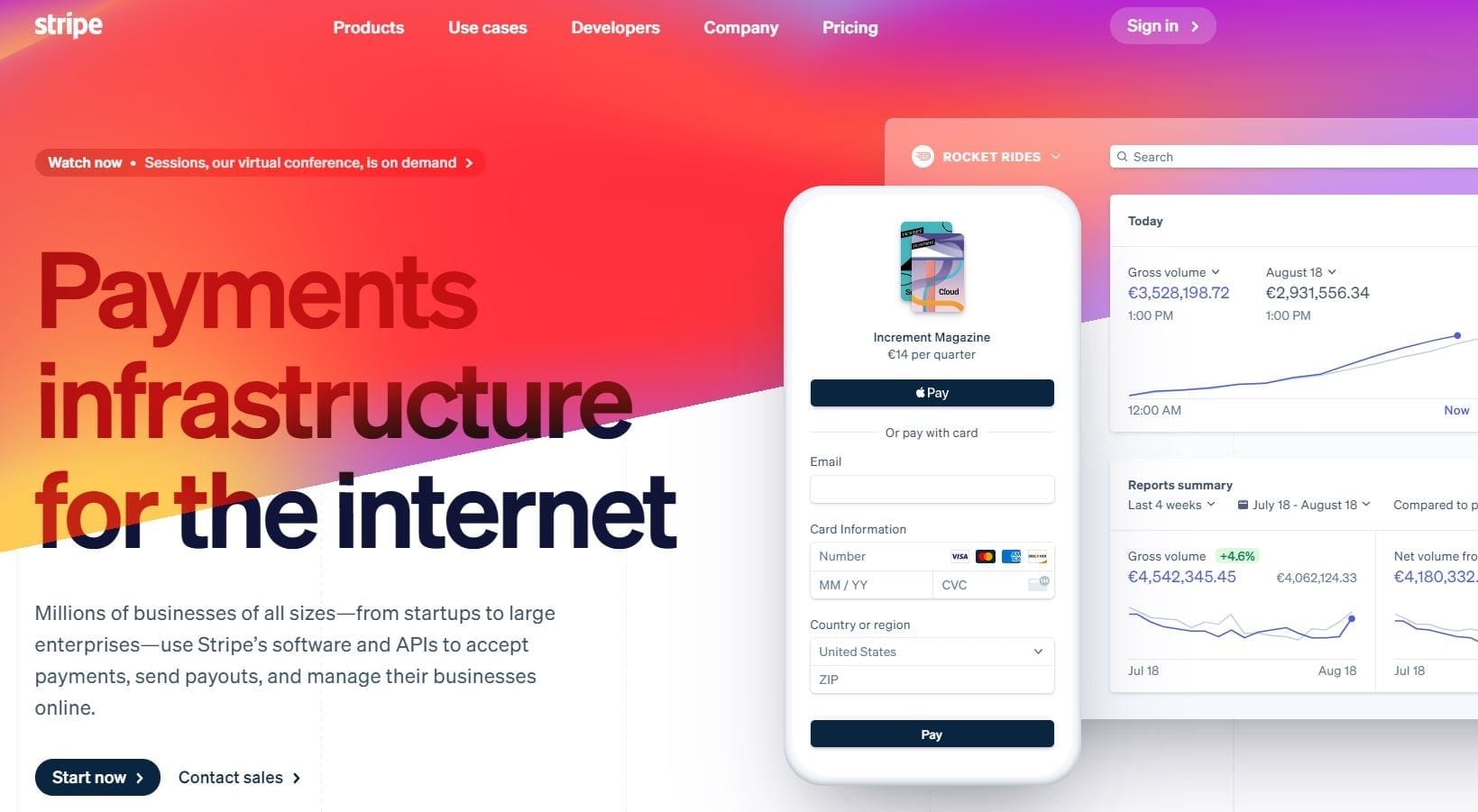 Budget is another important factor. To ensure a good return on investment (ROI), it's smart to consider the extra costs associated with maintaining this software.
Some self-hosted tools and platforms will require hosting, and transaction fees can also vary between different ecommerce solutions.
Once you launch your online business, you can set up an affiliate program to reach a wider audience. Our Easy Affiliate plugin makes this process super easy. Working with influencers and bloggers can help you increase your sales and drive more brand awareness.
How to Get Your Small Business Into Ecommerce (3 Ways)
With global e-retail revenue projected to reach $5.4 trillion in 2022, it's no surprise that there's a huge demand for ecommerce platforms. However, sometimes too much choice can be a bad thing!
If you're feeling overwhelmed, here are some of the most effective ways to start your ecommerce business.
1. Use an Ecommerce WordPress Plugin
WooCommerce is a WordPress plugin ecommerce platform that you can use to launch an online store and start selling your products right away. Because the platform is open-source, customizing your site with extensions is super easy.

With WooCommerce, you'll need to add WordPress hosting. But many companies offer specialized WooCommerce hosting plans, significantly reducing the cost.
As an official WordPress and WooCommerce recommended hosting provider, Bluehost is your best bet.
To get started with WooCommerce, you'll need to first install the plugin, then figure out which extensions to add based on your needs.
WooCommerce Rescources
Extensions, plugins, and services expand the functionality of your WooCommerce website in a major way, and there are thousands to choose from. A great place to start is at Make Web Better, where you'll find a big collection of WooCommerce marketing plugins.
Here are a few additional must-haves:
WooCommerce Costs
The chart below will give you a pretty good idea of what it might cost you annually to operate a WooCommerce website.
As you can see, the cost can range from around $110 to around $1500 per year, depending on the scale of your business.
2. Design Your Store With a Page Builder
BigCommerce is a hosted Software as a Service (SaaS) solution. You can use this ecommerce platform to sell an unlimited number of digital and physical products, as well as professional services:
With BigCommerce, you'll design and develop your store using the company's page builder. This enables you to drag and drop elements onto your pages, and customize your content to reflect your branding.
Although BigCommerce places a focus on ease of use, you can also use its page builder to access and edit your store's template files. This is perfect for more advanced users.
Key features
Prices: BigCommerce subscriptions start at $29.95 per month. You can also sign up for a one month free trial.
3. Create a Cross-Platform Buy Now Button
To achieve the best possible ROI, you'll want to drive sales while minimizing your running costs. When it comes to ecommerce, you can often boost your conversions by simplifying the purchasing process.
Every additional step between the customer and your payment confirmed screen is another opportunity for that person to change their mind. Maybe that explains why around 88% of online shopping carts wind up abandoned.
You can use the free Buy Now Plus service to generate a buy now button, and start accepting credit card payments via the popular Stripe payment gateway.
These buttons streamline the purchasing process by enabling customers to access the checkout with a single click:
When it comes to expenses, your typical website represents a big financial investment. Thanks to Buy Now Plus, you can run a successful ecommerce business without having to set up a website:
Using this service, you can add a buy now button to your email campaigns, share them via your social networks, or post them to any location that accepts text – no website required.
Key features
It allows you to create your first buy now button within minutes.
It supports recurring payments.
It is built on top of the robust and secure Stripe platform.
It has a fully customizable checkout.
Price: Free to sign up. Buy Now Plus adds a minimal 2% fee for each sale, on top of Stripe's fees.
Conclusion
Getting your small business into ecommerce isn't easy. However, with the right technology at your disposal, you'll be able to fast-track through the first stages and start reaping the rewards in no time.
In this post, we looked at three effective ways to take your small business online:
Get an ecommerce WordPress plugin like WooCommerce.   
Design your store, using the page builder by BigCommerce. 
Create a cross-platform, buy now button using a service such as Buy Now Plus.
Do you have any questions about the ecommerce tools mentioned in this post? Let us know in the comments section below!
If you liked this article, follow us on Twitter, Facebook, and LinkedIn. And don't forget to subscribe in the box below!