To build a strong affiliate program, a positive relationship with your affiliates is vital, so that they're motivated to give you their best work. However, this can be a challenge. You may never meet your affiliates face-to-face, and it can be hard to maintain a personal relationship with a seemingly anonymous stranger.
Fortunately, there are some easy ways you can promote a healthy affiliate relationship with strong communication. Implementing these methods can give your affiliate program a huge boost, and help you to attract influential "super" affiliates.
This article will provide some tips for how to brand your affiliate site in a way that promotes recognition and engagement. Let's get going!
Why You Should Maintain Positive Contact With Your Affiliates
When growing your affiliate program, you may be focused on finding websites that match your business' aesthetic and target audience. However, it's also important to maintain a positive relationship with the affiliates themselves.
Word of mouth is still one of the most important tools marketers have. Maintaining a positive relationship can help keep you at the forefront of your affiliates' minds, and even inspire them to refer you to their colleagues. This can include asking for feedback so you can find out any pain points, and correct them before they drive a wedge between you and the affiliate.
Even if you're doing excellent work, if you're 'siloed' from your affiliates, they may not be aware of what you're doing for them. It's important to periodically reach out and see how things stand. For example, you can send out a survey to receive honest responses. In the next section we'll explain some of the best ways to build a relationship with your affiliates.
How to Promote a Positive Relationship With Your Affiliates (In 4 Easy Ways)
There are a few steps you can take to keep your affiliates happy, and show how much you care about them. Let's discuss four of them.
1. Send Out Periodic Surveys
Sometimes it can be embarrassing to give negative feedback directly. Surveys give affiliates an outlet to express what is and isn't working, so that you have a chance to address it. It's better to find out what's wrong before it causes affiliates to abandon your program.
It's surprisingly easy to run a survey online. You can create one using a platform such as Survey Monkey or even Google Forms. Once you have it, you can email a link to your affiliates or embed it on your WordPress site. Remember to also use a strong call to action (CTA) to urge your affiliates to complete the survey.
2. Conduct Regular Check-Ins
Maintaining a relationship can be as simple as checking in once in a while. Not all affiliates will be interested in keeping up a personal relationship of course, but you can test the water by asking them how things are and feeling out how interested they are in talking.
If this isn't something that comes naturally to you, you can check out Dale Carnegie's book How to Win Friends and Influence People. He explains the value of making people feel like you're interested in them, and walks through how to do so. It's a classic work in the niche, and is solid reading for anyone who wants to improve their business communications.
Some of the times you may want to reach out include holidays, your affiliates' birthdays (if you know them), and after any major life events they tell you about. For example, if your affiliate mentions that they're getting engaged, it would be a thoughtful gesture to send a card.
3. Maintain a Blog
Another small thing you can do is regularly update your blog. This shows how serious you are about affiliate marketing, which can improve the relationship with your own affiliates. You ultimately want to run a website with high-quality content that they are proud to have their products displayed on.
Maintaining a blog can also help keep you in mind. As we mentioned earlier, word of mouth can lead to referrals. If your site is a resource of useful information, affiliates will be inspired to visit – and may use this positive feeling to recommend you to their colleagues.
4. Craft a Welcoming Affiliate Dashboard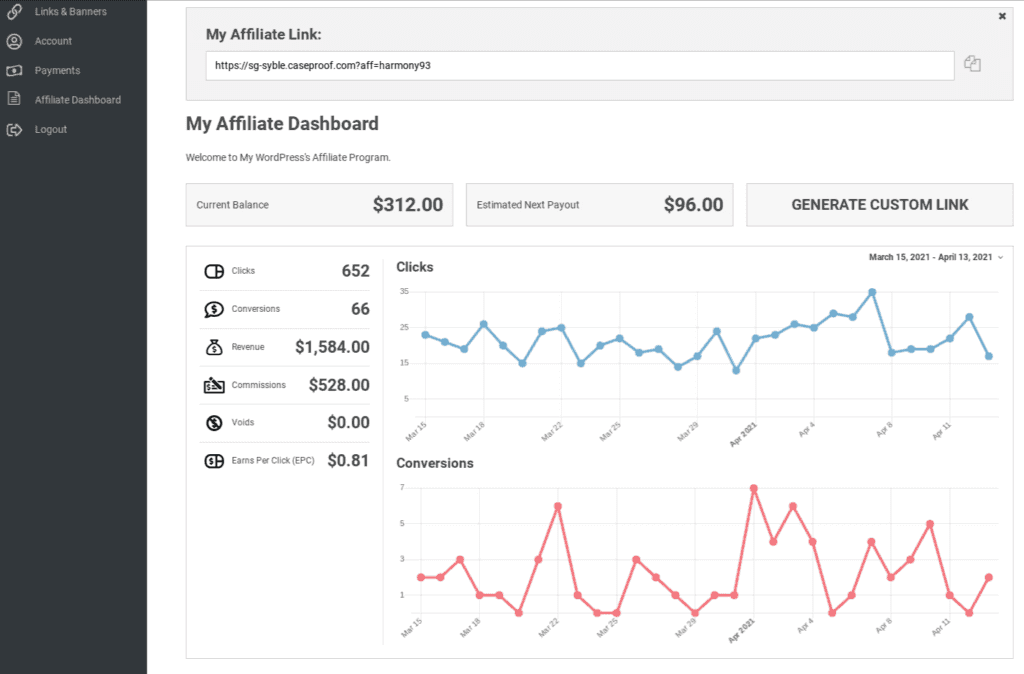 Finally, strong affiliate relationships can be cultivated by using a customized affiliate dashboard. This is essentially the landing page that your affiliates will see when they log into Easy Affiliate. A welcoming dashboard can encourage positive affiliate relationships by helping your affiliates feel like you value them.
Some ways to make your dashboard radiate a welcoming vibe are to include a personalized welcome message, and add easy navigation links to anything they may need to access. It's these tiny, subtle elements that go a long way towards displaying your level of care and attention to detail.
Conclusion
It's crucial to promote positive interaction between your affiliates. This can help them care about both you and your business, and give them the impetus to help you succeed. Having affiliates on your side may also lead to more word of mouth referrals.
Four easy ways to promote a strong relationship with your affiliates include:
Sending out surveys to build communication
Checking in regularly with your affiliates to build a personal connection
Maintaining a blog to keep your company relevant
Crafting a welcoming affiliate dashboard
Do you have any questions about building a positive relationship with your affiliates? Let us know in the comments section below!
If you liked this post, be sure to follow us on Twitter, Facebook, and LinkedIn! And don't forget to subscribe in the box below.