Affiliate marketing doesn't have to be all work for your affiliates. In fact, you should aim to mix things up from time to time. Otherwise, you might find that they become bored with your program, which can lead to a decrease in your profits.
One smart way of motivating your members is by periodically running a contest. By tracking their performances and setting an end goal to strive for, you can more effectively engage your affiliates and boost your conversions in the process.
In this article, we'll show you how to run a contest using Easy Affiliate, and explain what you'll need to consider in order to pull it off successfully. Finally, we'll discuss how you can track the results in order to find your winner. Let's go!
Why You Should Consider Running an Affiliate Contest
Running a contest for your affiliates isn't just a fun side project. In fact, it can motivate your affiliates to perform better, which can in turn help to increase your conversions and income.
A contest is something fun and different from the usual way of making money using affiliate marketing. It can spur on all of your affiliates to work harder in order to win, and in particular can inspire affiliates who may not have been very invested in your program recently.
To achieve this, all you really need to do is provide your affiliates with an incentive. This could be in the form of prizes or other rewards, which you can give to those who perform the best in response to set criteria.
Of course, you'll also want to make the contest and its current results visible to everybody. By showing the current standings, you'll be spurring on the contestants to perform even better.
Fortunately, both of these things are pretty easy to set up. Let's look at how you can create and run your affiliate contest.
How to Run a Contest for Your Affiliates (In 3 Steps)
If you want to start your own affiliate contest, Easy Affiliate is here to help. The following three steps are all you need in order to plan and execute a successful contest for your affiliates!
1. Specify Your Contest's Goal and Prizes
Naturally, you first need to decide what the goal of the contest will be. The most obvious setup is to have affiliates compete for who can make the most sales within a given time frame. However, you could try something a little different instead, like seeing who can recruit the most new affiliates to your program.
You'll also need to come up with some worthwhile prizes. You'll need to find desirable rewards that make the contest worth the contestants' time and effort. What you decide to use depends on your budget and business, but the easiest option is usually to use items from your own stock. However, you could also get a sponsor for your contest, and have them supply the prizes.
Finally, you'll also want to consider the contest's duration. This will depend a lot on your business and the number of affiliates you have, but a month is usually an ideal period. It's also important that you make the start and end times very clear in advance and throughout the competition, so contestants can prepare sufficiently.
2. Provide Information and Resources to Your Affiliates
If you want your contest to be a success, you need to make people aware of it. This applies both before it starts, and all the way until the moment that winners are announced. Your welcome dashboard in Easy Affiliate lets you communicate information about the contest: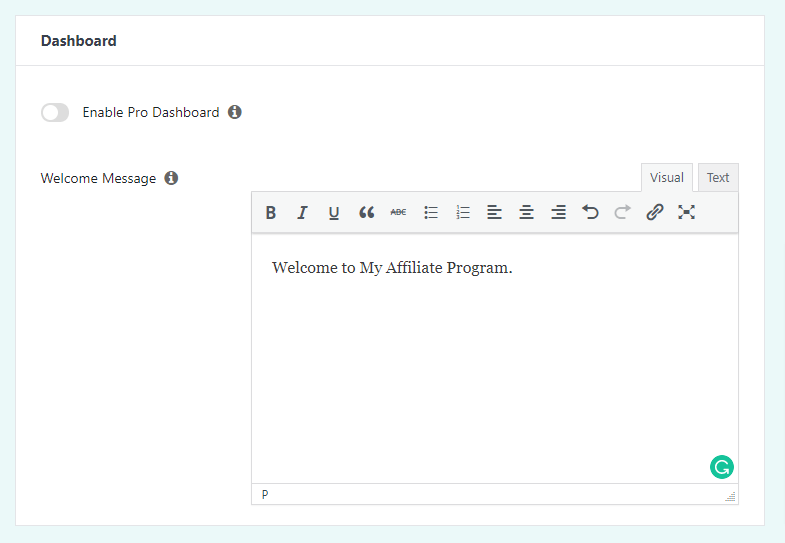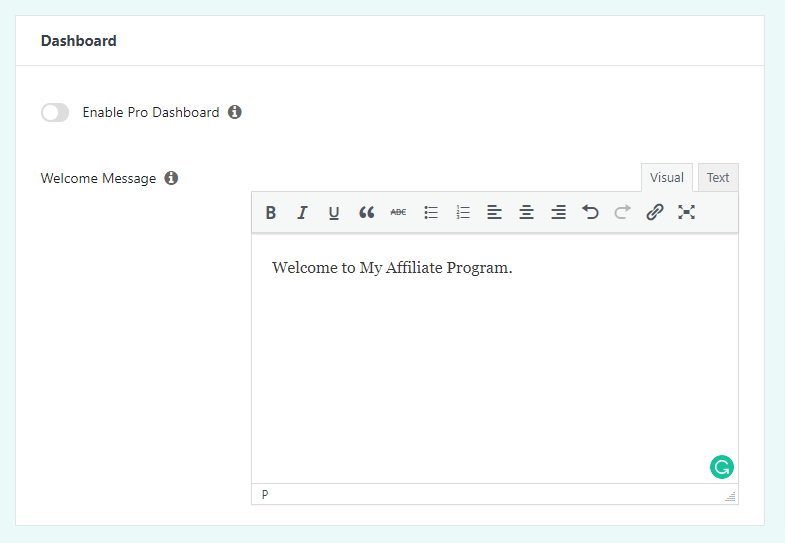 Easy Affiliate also enables you to share links and banners that contestants can use during the competition. For example, if your contest revolves around selling particular products, you should make sure that you provide affiliates with resources to help them promote these products. This will ensure that they perform better, while also leveling the playing field.
Your dashboard is also the perfect place to share the current leaderboard during the contest. Here, you can show off the affiliates who are currently doing the best, which will motivate them and others to perform better and climb to the top. Just make sure that you update the standings often, so everyone will know how they stand.
3. Track Your Affiliates' Performance Using Analytics
Of course, a crucial part of any contest is tracking the progress of the contestants. How you do this depends on the contest's objective. For example, if you want to see who has made the most referrals during a certain period, you can use Easy Affiliate's Reports data: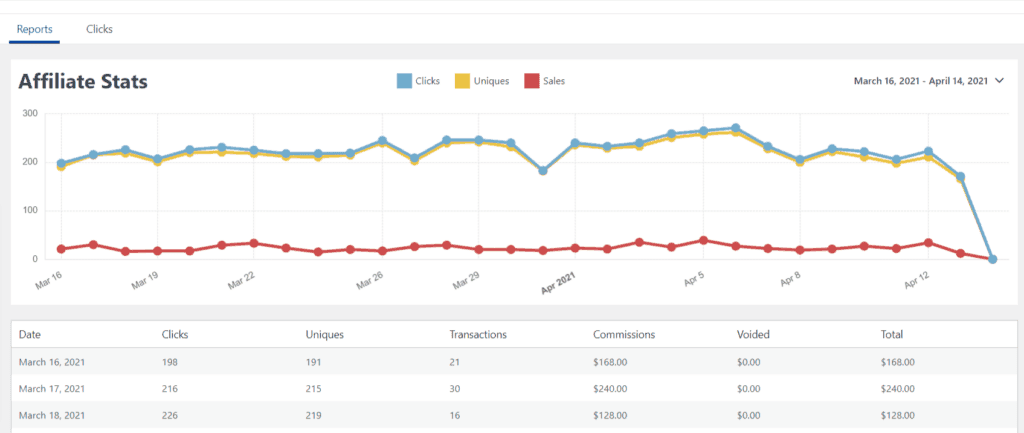 However, if you're gauging who can recruit the most new affiliates, you could add a field to the affiliate sign-up page, letting newcomers indicate who referred them to the program.
Most importantly, your dashboard enables you to easily see who has won when the contest is over. You can then reach out to them and deliver their prizes. It's also a smart idea to feature the winners on your website in some manner. This will highlight their success, and motivate others to do better when the next contest rolls around!
Conclusion
Hosting a contest for your affiliates is not just a fun way of motivating them into performing better. It can also help increase your conversions, and bring new and old affiliates back into your roster. The key is to make sure your contest is set up correctly and to track each affiliate's performance throughout the process.
Fortunately, this is made simple with Easy Affiliate. Using our plugin, you can handle every aspect of your competition effortlessly. The following steps are all that's required for creating a successful contest:
Specify your contest's goal and prizes.
Provide information and resources to your affiliates.
Track your affiliates' performance using analytics.
Do you have any questions about running a contest for your affiliates? Let us know in the comments section below!
If you liked this post, be sure to follow us on Twitter, Facebook, and LinkedIn! And don't forget to subscribe in the box below.