As you build your affiliate program, a major indicator of its success will be the actual affiliates you choose. If you don't select the right candidates, their mediocre conversion rates could end up sabotaging your business. In short, you could be setting your program up for failure.
Fortunately, you can simplify the application review process by keeping a few key elements (such as their website activity and social following) in mind. By using these criteria when judging applications, you can speed up the process while still picking the right candidates.
In this post, we'll discuss three elements to consider when reviewing affiliate applications. We'll show you how to use them most effectively, and also show you how to set up an application form on your website using Easy Affiliate. Let's get started!
1. Check Whether the Candidate Has An Active Website to Promote Your Services
An active website – one that's updated regularly and with a solid audience – is an essential element of any affiliate marketer's job. It's also important when recruiting candidates for your program, because it ensures your affiliate has a strong platform to promote your services.
Fortunately, determining whether your candidate's website is active is easy. In fact, there are a few free tools available online that you can use to get started:
Use SimilarWeb to learn traffic numbers. If the numbers are consistent, or if they're steadily growing, this is a good sign.
Use Alexa to learn bounce rate and other numbers. More than just visitors, Alexa will help you to see how a website is interacted with, and whether visitors stick around.
This should be one of the most important elements to consider. After all, a candidate with an active website means you can see more sales in a shorter period of time than a candidate with an inactive site.
2. Determine a Candidate's Social Following to Expand Your Business's Audience
Your affiliates are a link between your services and their audience. When you choose candidates with an already established following (on their websites or social media), you're giving more people access to your business. This is also important because it means the affiliate's followers are more likely to listen to their recommendations (which includes your services and products).
This particular element doesn't need to take a lot of time to figure out. To determine whether your program's candidates have their own dedicated following, here are two simple steps you can take:
Find the affiliate on social media. To make this easier, you can even include a field for social media links within your application.
Evaluate interactions and numbers. Consider how many followers the applicant has and how often they interact with them, then compare them to industry standards.
Another thing to consider is social media growth. Even if the candidate hasn't been active for long, the amount of growth (in followers and engagement) their profiles have seen can tell you more about their social media efforts.
3. Consider the Candidate's Previous Experience to Ensure Quality
Previous experience, while not absolutely necessary, can tell you a lot about candidates. It's also beneficial because an affiliate with previous experience will likely require less hand holding from you. To consider a potential affiliate's experience, you can:
Ask them to speak about their experience. You can learn a lot from your applicants by simply asking them to provide you with more details. Here, you could include a field within the application for long-form answers asking them to detail their experience.
See how they've previously used affiliate links and ads. If the applicant is active online, you should be able to locate their previous affiliate work. Look on their website and social media pages to see how they've previously promoted products and services, as well as how much engagement those posts got.
With this information in hand, you can get a good idea of how your affiliates have previously performed. This will help you to determine whether they're a good fit for your program.
How to Set Up an Affiliate Application Using Easy Affiliate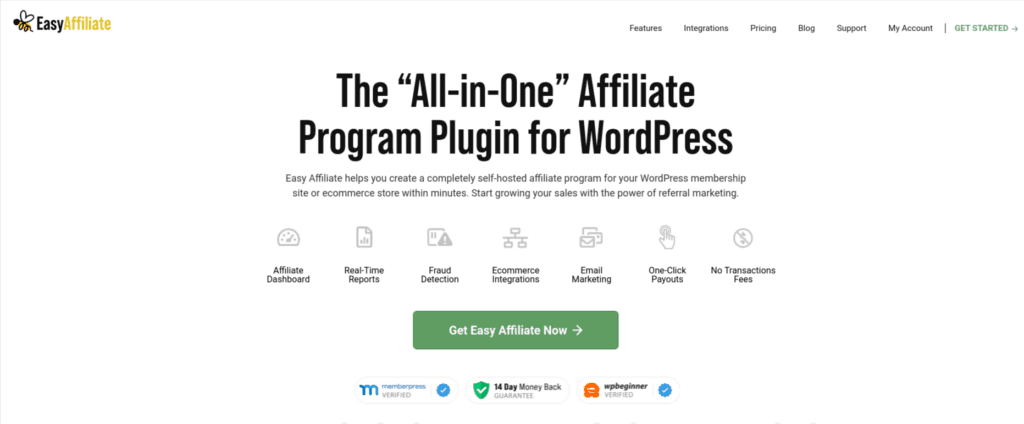 Easy Affiliate is a dedicated management plugin that enables you to build an affiliate program directly within your WordPress dashboard. Once configured, the plugin offers plenty of features to help you keep your program running smoothly.
While an affiliate application form isn't a built-in feature, it's one you can easily create using Easy Affiliate's ability to create specific pages for your website, including one for signups: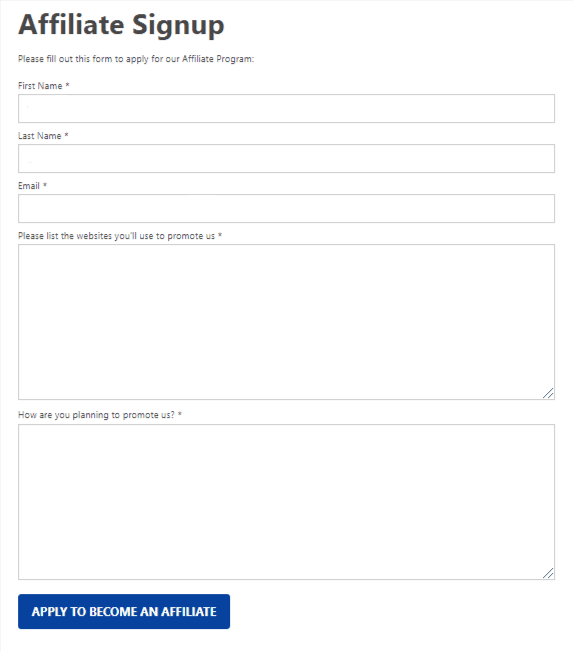 To do so, first create your own signup page in WordPress. While you could code a simple application form, using a plugin (such as Apply Online or Contact Form 7) is going to be much simpler for many applications. For example, with Contact Form 7, this means creating a form on the WordPress back end, and pasting the shortcode into your new page:
Once you're ready, click Publish, and go to Easy Affiliate > Settings> General > Affiliate Pages. Click the drop-down menu next to Affiliate Signup Page and select your newly-created WordPress page: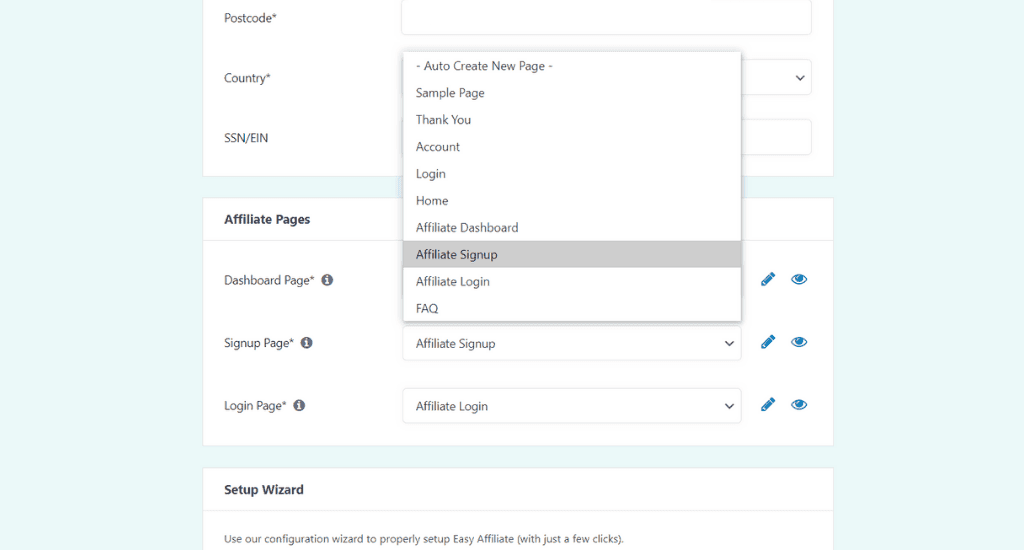 As you can see, this feature gives you full control over the signup process, including the types of information you collect from candidates. Of course, this goes for all other affiliate pages as well (including the dashboard and login pages)!
Conclusion
High-quality affiliates are a must when building a solid program. By taking the time to comb through your applications carefully, you can ensure that only the best sign up, and you provide a solid foundation for your program and your business.
In this post, we've discussed three elements you should consider when reviewing your affiliate applications. To quickly recap, they include:
An active website to promote your services.
A dedicated social following to expand your business's audience.
Previous experience to ensure quality affiliates.
Do you have any questions about the affiliate consideration process, or how Easy Affiliate can help? Let us know in the comments section below!
If you liked this post, be sure to follow us on Twitter, Facebook, and LinkedIn! And don't forget to subscribe in the box below.