Creating clear terms and conditions for participation in your affiliate marketing program is no easy task. There are legal and behavioral standards to consider when designing them, which can be complicated for many business owners.
However, by following some practical tips, you can define your ground rules and ensure they meet certain legal requirements. In turn, you can inform your affiliates of their responsibilities as well as mitigate risk to your business.
In this article, we'll first explore the value of setting terms and conditions for your affiliate program. Next, we'll offer tips on how to create them by using clear rules and procedures, outlining behavioral standards, and including clauses that cover intellectual property rights. Let's get started!
Why Your Affiliate Marketing Program Needs Terms and Conditions
Terms and conditions outline a set of rules users must follow in order to continue using a certain company's products or services. This is a popular practice for many types of websites and online platforms, not just affiliate programs.
You're probably familiar with the concept from using various online services yourself: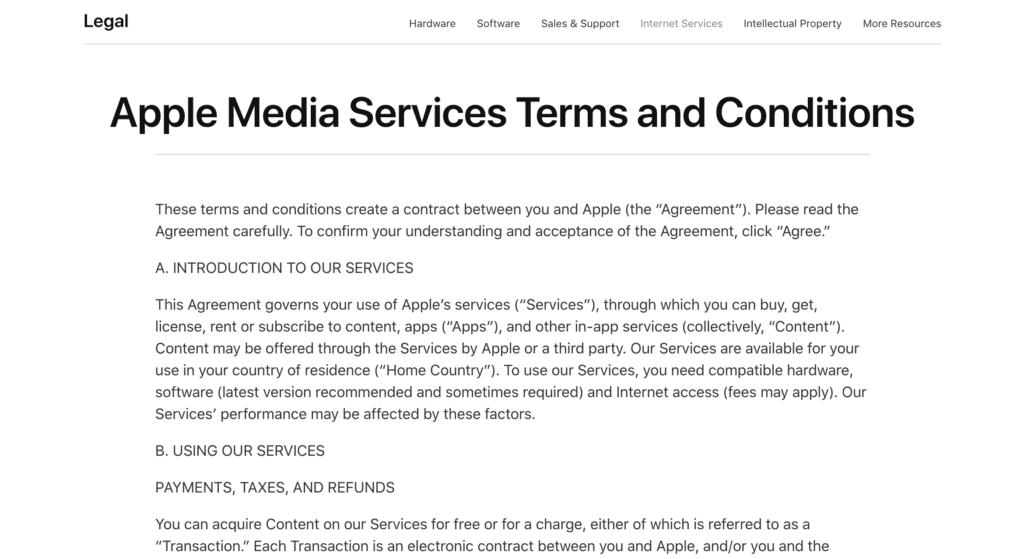 In the context of your affiliate program, your terms and conditions outline guidelines your partners must follow to continue receiving compensation for promoting your brand.
One key reason to include these ground rules for your affiliate program is that they set expectations for your partners in advance. A common practice is to require them to agree to your guidelines before they begin promoting your products, which helps define their responsibilities and yours.
Another reason to create official terms and conditions is that they can limit your legal liability in certain situations. You can include a clause that states you are not responsible for your affiliates' actions or content, including whether it's accurate, complete, or suitable for any purpose.
Finally, you can enforce terms and conditions through termination clauses. If one of your affiliates is deliberately breaking your rules, you'll have the power to revoke their account.
How You Can Set Out Terms and Conditions for Your Affiliate Marketing Program (3 Key Tips)
If you find creating terms and conditions for your affiliate program overwhelming, don't worry. Here are three key tips you can put into practice to help make it easier.
1. Specify Clear Rules and Procedures for Compliance with Government Regulations
The Federal Trade Commission (FTC) is an agency of the United States government that sets out regulations businesses must follow. To be compliant with FTC guidelines, you need to ensure your affiliates disclose that they receive compensation for promoting your products in an obvious way, such as tagging affiliate posts on social media with "#ad".
Merchants are responsible for ensuring their affiliates follow these disclosure laws. Breaking them can lead to hefty fines for your business. To protect yourself, it's wise to include a clause in your terms and conditions requiring affiliates to adhere to FTC guidelines in order to continue participating in your program.
2. Outline Behavioral Standards to Uphold Your Brand's Image
Your terms and conditions can also enable you to set behavioral standards for your affiliates. This lets your partners know what's acceptable when promoting your products and what will not be tolerated.
For example, you can include clauses that prohibit users from spamming third party blogs or social media with their affiliate links. You can also ban unethical marketing practices such as cookie stuffing, which is the practice of embedding affiliate cookies into web pages without a visitor's knowledge.
These standards can help you maintain your brand's positive image and authority, and prevent the negative repercussions of such practices from falling back on you. Plus, your affiliates may be less likely to try underhanded activities if they know it will put their accounts at risk.
3. Protect Your Business Against Intellectual Property Claims
Finally, your terms and conditions should include a clause about intellectual property. This includes copyrights, patents, trademarks, and trade secrets. Your contract should state that affiliates are responsible for all intellectual property right claims that may arise from their content.
By doing so, you can avoid potential lawsuits as a result of your affiliates using copyrighted images, logos, or other content when promoting your brand. This is also another chance to educate your partners on laws they should be aware of to legally market your products or services.
Bonus Tip for Setting Up Your Privacy Policy
When you're looking into setting up your terms is conditions is also a great time to consider taking care of your privacy policy. Being that these policies can be more nuanced and have more legal ramifications, it's a good idea to enlist professional help.
One great way to make sure you dot all your i's and cross all your t's is to utilize an online resource. You might want to check out WPLegalPages, a WordPress plugin that helps you create attorney-level privacy policies (for GDPR and CCPA compliance) within minutes.
The plugin has both free and paid versions starting at $39 per year.
Conclusion
Creating the terms and conditions of your affiliate marketing program can be overwhelming due to the number of factors you must consider. However, by following a few key tips you can ensure you're on the right track to help protect you and your partners.
In this post, we covered why your affiliate marketing program needs terms and conditions, and three important clauses to include:
Specify clear rules and procedures for compliance with FTC regulations.
Set behavioral standards of how you expect your affiliates to promote your products to uphold your brand's image.
Protect your business against intellectual property claims.
Do you have any thoughts or questions about how to create terms and conditions for your affiliate marketing program? Let us know in the comments section below!
If you liked this article, follow us on Twitter, Facebook, Pinterest, and LinkedIn. And don't forget to subscribe to our newsletter 🐝