There are many advantages to affiliate marketing. Among them is the flexibility you have when it comes to how you promote products. While a blog is a solid start, it may not be enough to capture the attention of users who prefer video content.
An increasing number of shoppers are turning to video platforms to learn about products and brands. Starting a YouTube channel as an affiliate lets you expand your reach, increase engagement and conversions, and ultimately boost your earnings.
In this article, we'll discuss the value of video marketing and the benefits of using it as an affiliate. Then, we'll walk you through four steps for starting your own YouTube channel. Let's get started!
The Value of YouTube in Affiliate Marketing
YouTube often plays a key role in successful affiliate marketing strategies. This is largely due to the variety of video content you can create to promote products and services. Reviews and tutorials are particularly useful, as they provide value to viewers and feel more personal to them than generalized ads.
With over one billion users, YouTube is a powerful platform for sharing video content. It's flexible and easy to use, and viewers can subscribe to channels to receive updates. For affiliate marketing, it can be particularly effective because you can add links and discount codes in your video descriptions: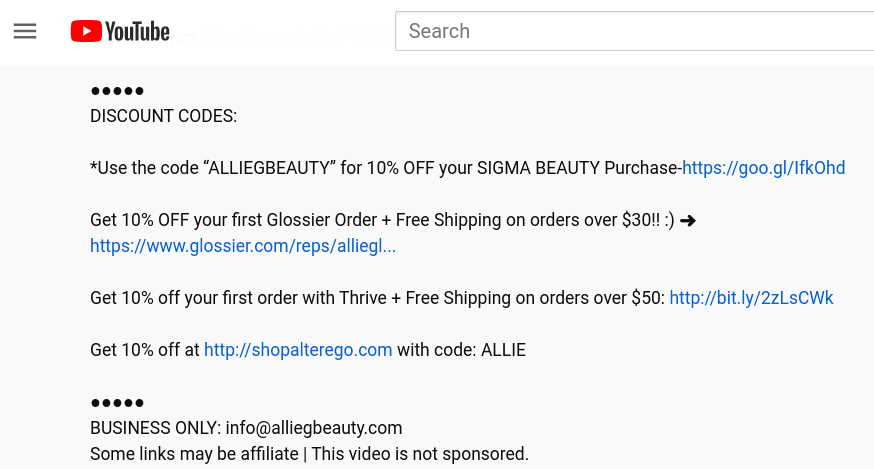 Additionally, you can also incorporate affiliate links and discounts within your videos: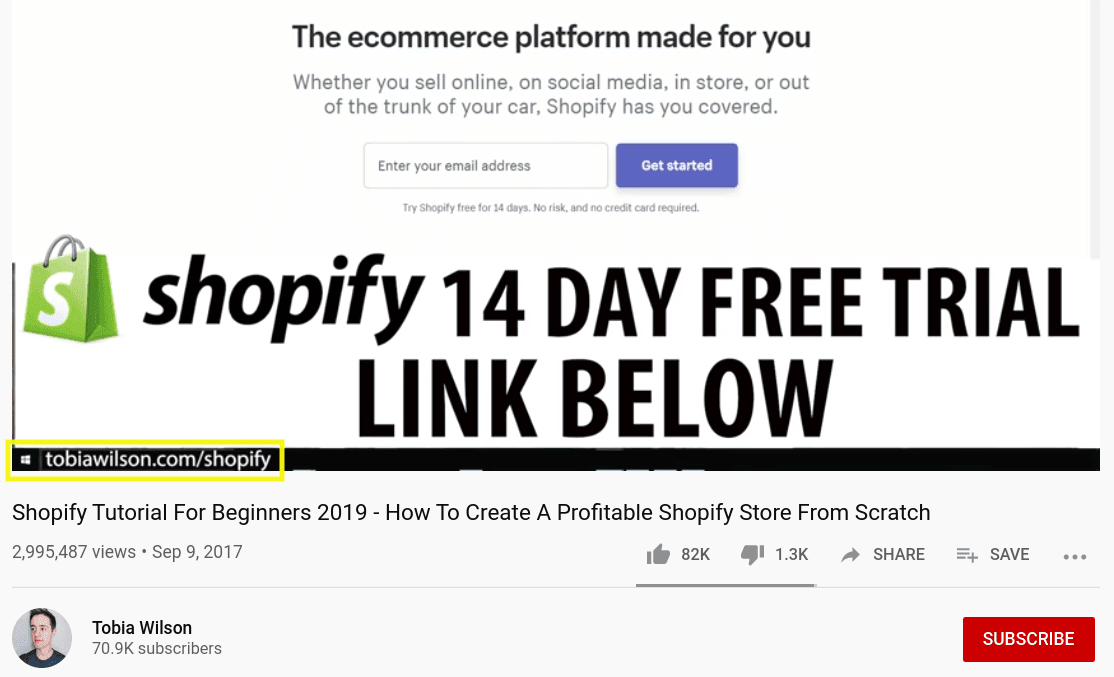 You may consider creating end cards with clickable calls to action (CTAs) to encourage viewers to check out the brands you're promoting. More opportunities to share your affiliate links means you have more chances of reaching leads and landing sales, therefore generating more revenue for yourself.
How to Start Your Own YouTube Channel (In 4 Steps)
Even if you don't have much technical know-how, starting a YouTube channel is quick and easy. All it takes is a few simple steps, which we've outlined below.
Step 1: Sign In to YouTube and Create a Brand Account
You can set up a personal YouTube channel through your Google account. However, for the purposes of affiliate marketing, you may want to consider creating a brand account as well.
Brand accounts let multiple people access and contribute to a single channel. You can also use a different name than the one associated with your Google account and work on multiple channels from a single dashboard.
To get started, go to YouTube.com and click on Sign In in the upper-right hand corner. If you have multiple Google accounts, choose the one you want to associate your channel with.
Once you're logged in to YouTube, go to your channel list and click on Create a new channel:
This will bring you to a page that prompts you to create a brand account. Choose a name, then click on the Create button:

For this tutorial, we'll use "Affiliate Brand." After you choose your name, YouTube may ask you to verify your account. The verification code will likely be sent to the phone number associated with your Google account via text message. Enter it in the relevant field to proceed.
Step 2: Customize and Optimize Your Channel
Once you've created and verified your brand account, you'll arrive at your new channel dashboard. The next step is to fill out your description and details. From the dashboard, click on the Customize Channel button:

This will bring you to an overview of your channel. Click on the About tab, then select Channel description: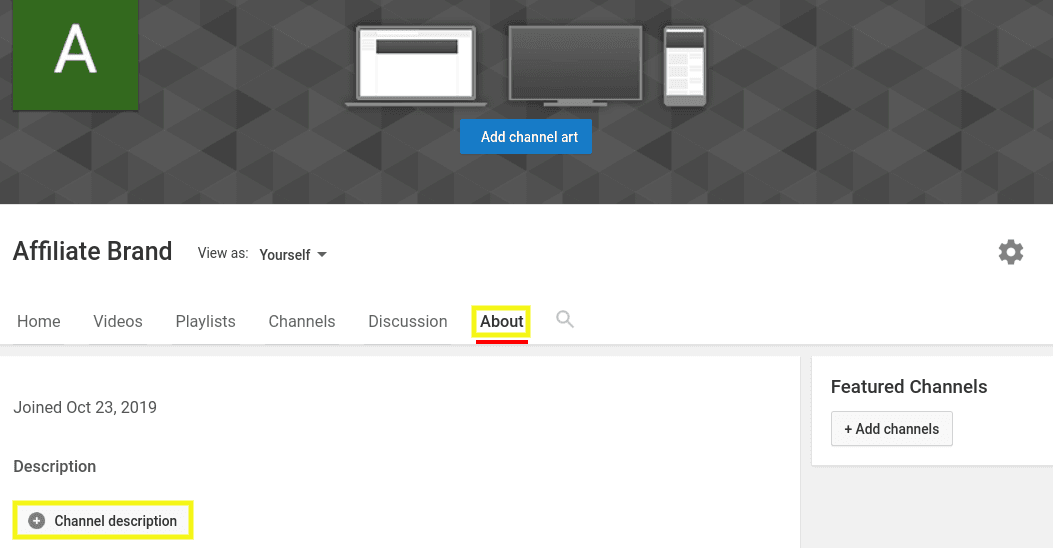 This is one of the first things users will see when visiting your channel. You can use this space to explain what it's about and the type of content viewers can expect. Optimizing your description with keywords you want your videos to rank for can also help you grow your audience faster.
After the description, you can add a business email and location under Details. The last section is for adding links:

You can choose five custom links to appear as icons overlayed on your channel's banner art. For example, you could include your social media accounts and affiliate website: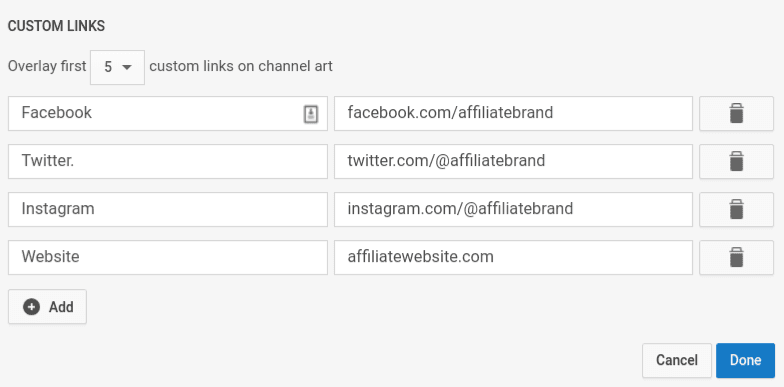 You do have the option to add more links. However, only the first five listed in your dashboard will appear in your channel banner. It might look something like this:

When you're finished, click on Done. Remember, you can always change these details later. You'll also be able to add affiliate links in the descriptions of your videos.
Step 3: Choose Your Profile and Cover Photos
Now it's time to brand your channel by adding photos and cover art. This can help you stand out to users browsing YouTube and make your account appear more professional and authoritative.
For your profile picture, you could use a picture yourself or your logo. The important thing is that it's a high-quality image, ideally with dimensions of 800 pixels square.
To change the photo, hover your mouse over the default account photo on the banner. Then, click on the pencil icon that appears: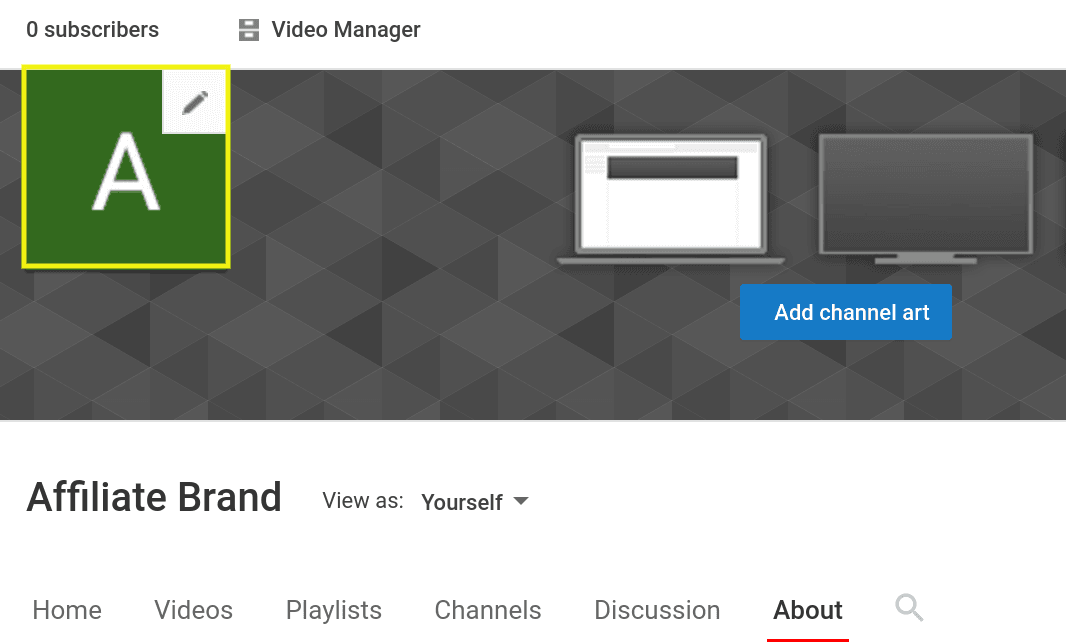 A popup will appear to let you know that changing the channel icon means switching your Google account photo, too. To proceed, click Edit. This will bring you to a new page to upload a photo:
When you're finished, you may need to reload the page for it to update. Next, to add a banner image, click on the Add channel art button next to the profile icon:
You can upload your own image or choose one from the Gallery. For this image, the maximum dimensions are 2560 by 1440 pixels with a file size of 6 MB.
Once you choose your photo, YouTube will direct you to a preview of how the cover art will display on different screens. If needed, you can Adjust the crop: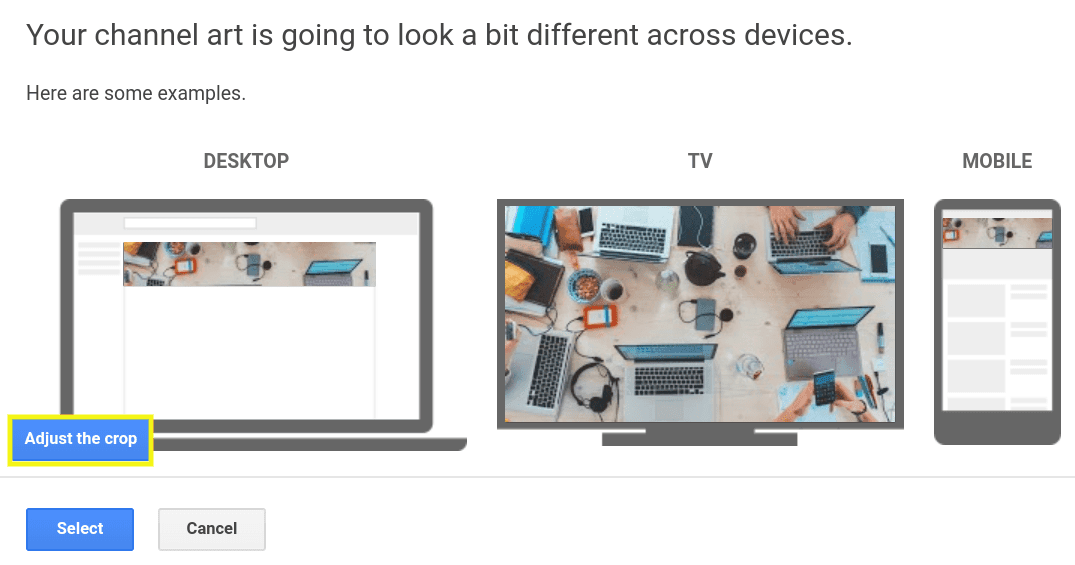 When you're done, click on Select.
Step 4: Start Uploading Videos
Now that your channel is up and running, you can start adding content. You'll find the Upload a video link under the Home section of your dashboard. Once you select a video and add it, you'll arrive at the Details page: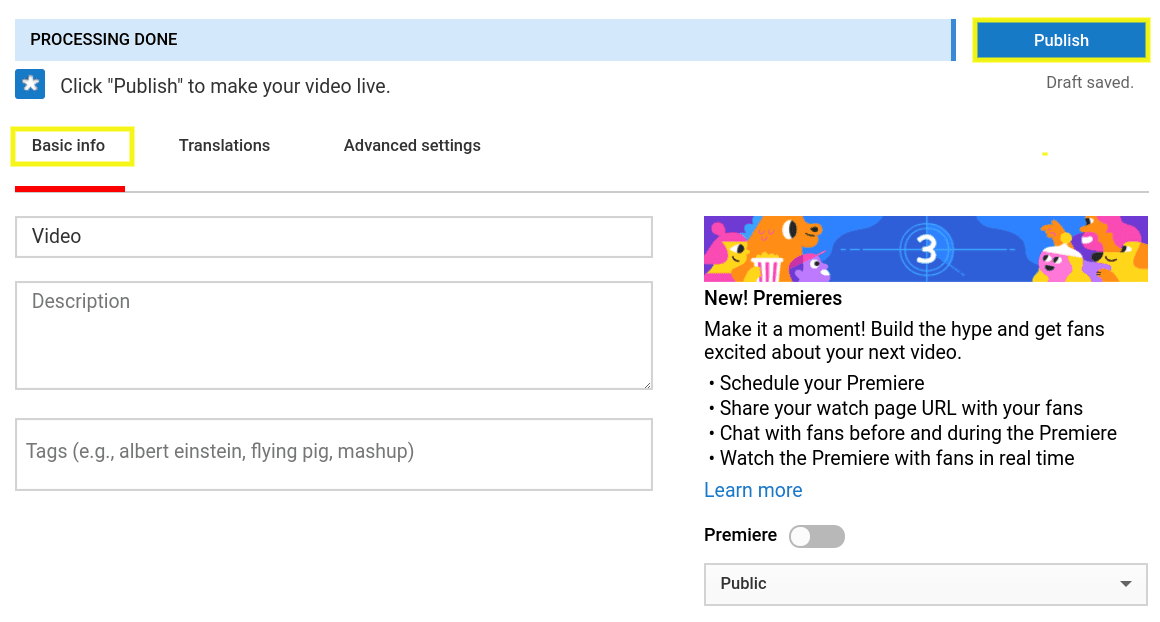 Under the Basic info tab, you can fill in your video's title and description, then choose relevant tags. Remember to incorporate and disclose your affiliate links here. When you're finished, click on the Publish button in the top right-hand corner.
Once you're comfortable with creating and uploading affiliate videos, it's recommended to establish a regular posting schedule. That way, your audience will know when to expect new content.
Conclusion
As an affiliate, you have the freedom to choose which brands and businesses you work with, and how you promote their products. However, to make your promotions as successful as possible, it's smart to focus on methods that offer high audience engagement, such as videos.
As we discussed in this article, there are four steps you can take to start your own YouTube channel and use video content to establish credibility, grow your audience, and increase conversions:
Sign in to YouTube and create a brand account.
Customize and optimize your channel details.
Choose profile and cover photos.
Start uploading videos.
Do you have any questions about starting a YouTube channel? Let us know in the comments section below!
If you liked this post, be sure to follow us on Twitter, Facebook, and LinkedIn! And don't forget to subscribe in the box below.