Any thriving affiliate program will need to attract new recruits. Without them, your marketing strategy may not pan out as well as you had planned. Without new partners, expanding your brand's reach can be a challenge.
That's where social media can have a powerful impact. Not only does it boast a huge user base and therefore a seemingly-unending reservoir of potential recruits, but it's an excellent means of raising your program's profile overall.
In this article, we'll go over just why social media matters for affiliate program recruitment. Then we'll discuss three ways you can begin utilizing it. Let's get started!
Are you ready to start your own affiliate program? Try Easy Affiliate today!
Why Social Media Matters for Affiliate Program Recruitment
On the Internet today, social media reigns supreme. Many of these platforms boast large, active, and engaged user bases.
In 2019, there were some 3.5 billion users on social media, with 90.4 percent of millennials alone using it every single day. That's a considerable audience and a reservoir that could be tapped by affiliate programs for both marketing and recruitment purposes.
As a marketer, you're likely already aware of the practical benefits that come with a social media presence, such as increased traffic and click-throughs. Beyond that, you can also use it to enhance your credibility and raise your brand's profile.
However, there are specific reasons to utilize social media for affiliate recruitment. Namely, it could give you access to a new and wider audience. Plus, you may be able to find recruits who already possess many of the skills you might look for in an influencer.
3 Ways Your Affiliate Program Can Use Social Media for Recruitment
Knowing that social media could be an excellent tool to find new recruits and knowing how to use social media for that process are two distinct matters. Let's take a look at three ways you can utilize social media to find new affiliates!
1. Utilize Hashtags for Exposure
With so many users on social media, it can seem impossible to stand out from the crowd. Thankfully, hashtags are one way to deal with this.
Hashtags are a common technique used across multiple social media platforms to categorize and promote posts and increase exposure. They're also an effective technique to stamp your identity on your creative process, whether in a tweet or an Instagram post: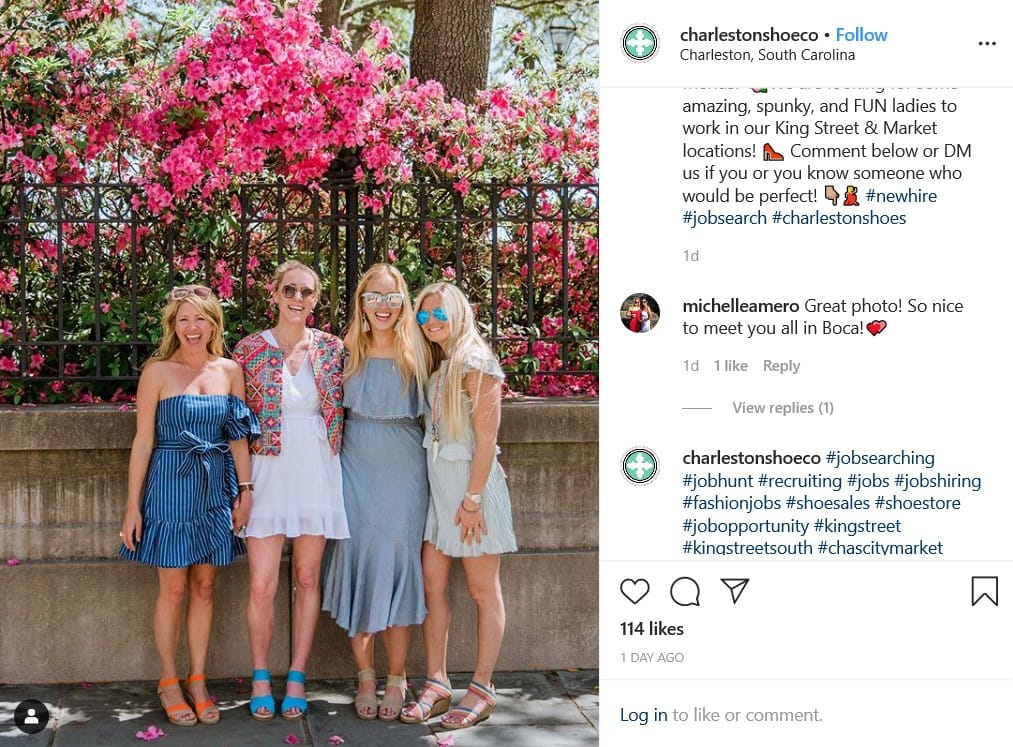 Best of all, there are often specific hashtags you can leverage for recruitment. Of course, you'll likely have to do your research to identify which ones are relevant to you and your business.
At first glance, you may find that generic hashtags like #recruiting and #hiring are too competitive for you to gain traction; however, it isn't likely to hurt your chances of increasing engagement if you include them alongside other more specific hashtags.
If you're unsure which hashtags to utilize, don't fret. There are free tools such as RiteTag and Hashtagify that can guide your choices.
These tools enable you to enter specific details, such as a prospective hashtag. They then analyze its associated metrics and provide similar alternatives.
With this information, you can try to optimize your posts for maximum effectiveness. Ultimately, the more people you reach, the more likely it is you'll find new recruits.
2. Interact with Followers to Boost Engagement
No matter the quality of your social media accounts, it's still important to be accessible. If your followers don't feel listened to, they may still be unconvinced that joining your program could benefit them.
That's why it's important to go into social media with two specific engagement strategies: reactive and proactive. Both have their benefits, and each can improve your profiles and recruitment levels in the short and long-term.
When it comes to reactive engagement, think along the lines of responding to messages or replying to comments on your posts. These interactions can help people feel valued, which may lead them to conclude that they would also be appreciated as part of your program.
With respect to proactive engagement, the goal is to take the initiative and put the ball squarely in your own court. For instance, you could search social media platforms for people referencing affiliate marketing or looking to become an affiliate.
You can then directly answer them, lending authority to your brand while showing genuine interest in their services as influencers. Or you could utilize features such as Twitter's poll functionality to draw engagement.
By creating opportunities for engagement, your affiliate program may stand out and create a buzz in the eyes of prospective partners. After all, they may not fully understand what affiliate marketing entails. Your program can step in and provide the answers and possibly inspire prospective partners to promote your brand.
3. Stay Active to Build Connections
Successful social media accounts thrive on connections. As we've discussed, connections can be fostered through hashtags and interactions with followers.
However, if you're not active, then you may still lose out on engagement and exposure. If you aren't posting consistently, then you may undermine your own recruitment efforts.
Leaving sizeable gaps between posts could prevent you from making it to the top of followers' feeds. However, a successful schedule is all about balance. You want to be active enough that people don't forget about you, but not so active so that you start to overwhelm or annoy them.
Each social media platform may require a different level of commitment. For example, you may have to post multiple times a day on Twitter to improve your chances of being seen by followers, but be able to get away with weekly Facebook updates.
Of course, quantity shouldn't come at the expense of quality, so it's important that your contributions are crafted well and relevant to your targeted audience. If you're concerned that posting regularly could be time-consuming for you, don't worry.
There are plenty of tools that can help, and some of them, such as TweetDeck, are free. They enable you to schedule posts well in advance. This can help ensure you stay active and post at the times you consider to be optimal without it detracting from your other priorities.
Conclusion
As an affiliate program, you may already know that social media can be an excellent platform for driving sales and click-throughs. With a bit of effort, it might also become a source of new, capable affiliate recruits.
In this article, we looked at some techniques you can apply to turn your social media presence into a recruitment hub, including:
Utilizing hashtags to maximize your social media profiles.
Interacting with followers to boost your engagement levels.
Staying active to nurture strong connections with your followers.
Do you have any questions about using social media for affiliate recruitment? Tell us in the comments section below!
If you liked this post, be sure to follow us on Twitter, Facebook, and LinkedIn! And don't forget to subscribe in the box below.