Your affiliates are your most precious resource. As such, you want to make sure they feel welcome when participating in your program. However, with many programs having countless affiliates, it can be difficult to reach out to everyone and make them feel like part of the team.
The use of an affiliate dashboard enables you to provide your affiliates with a welcoming environment, while also giving you a place to share important information. This can improve your affiliate program significantly, mainly through bolstering the relationships with your affiliates.
In this post, we'll discuss why you should consider using an affiliate dashboard in your program. Then, we'll highlight three ways you can create a welcoming dashboard for your recruits with the help of Easy Affiliate. Let's get started!
Why You Should Use An Affiliate Dashboard for Your Program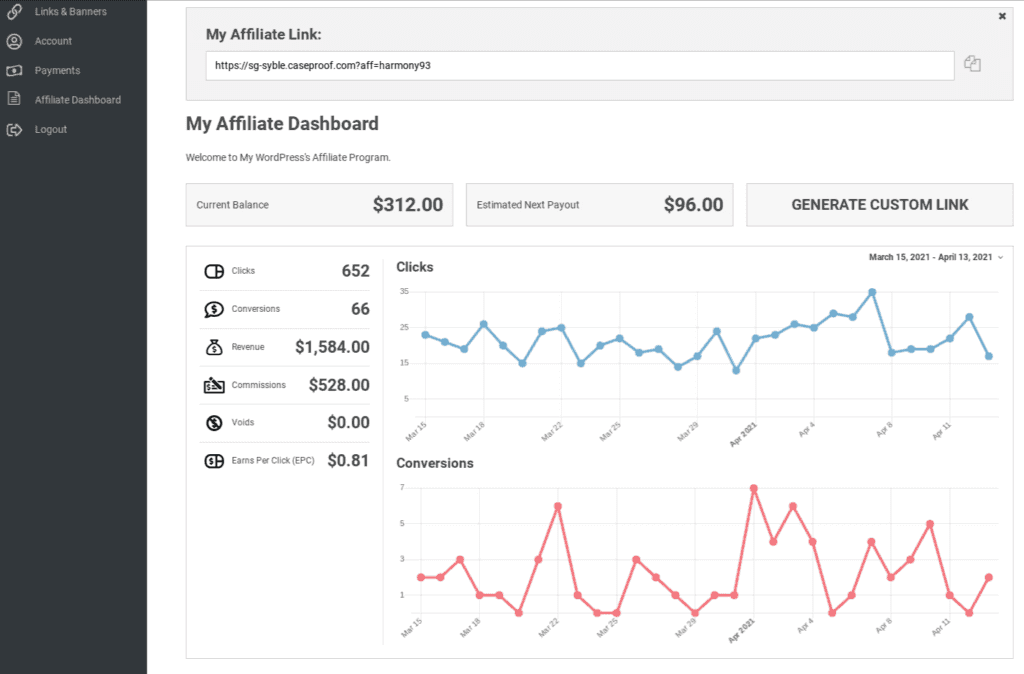 An affiliate dashboard is a platform that will serve as a home base of sorts for your affiliate recruits. There are a variety of benefits to adding one to your program. For example, it can:
Enable you to add a professional touch to your affiliate program. This can be a great way to retain affiliates, as it shows you're invested in your program.
Provide recruits with a sense of belonging. As a place for your affiliates to access important information and resources, a dashboard gives your affiliates a place to call their own.
Offer you an easy way to stay in touch with your recruits. This can improve affiliate performance and boost feelings of respect.
Of course, we understand that setting up an affiliate dashboard can seem a daunting task. Fortunately, Easy Affiliate makes the process a breeze. Let's take a look!
How to Provide a Welcoming Affiliate Dashboard for Your Recruits
Once you've purchased a plan and activated the Easy Affiliate plugin, it's time to personalize the dashboard. As the first thing your affiliates will see, this is an essential step. Here are three things we recommend you consider while setting up your dashboard.
1. Add a Personalized Welcome Message
A welcome message is just as it sounds: an upbeat or otherwise welcoming message that greets your affiliates upon signing in. It's a great way to set the tone for the entire program, and it can provide affiliates the encouragement boost they need. With Easy Affiliate, setting up a personalized welcome message for your affiliates is simple. It only takes a few minutes. Here's how you do it:
Navigate to Easy Affiliate > Settings > Affiliates on your WordPress dashboard. Then scroll down to find the Welcome Message text editor.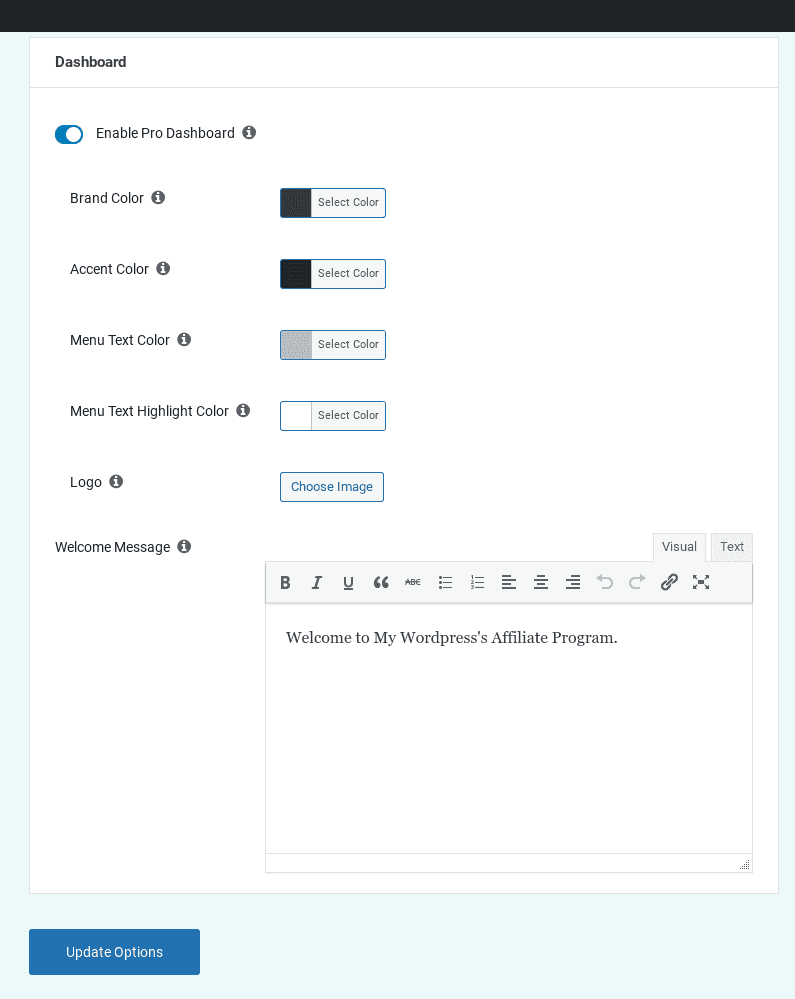 Simply edit the Welcome Message as you'd like, such as by adding a simple "Hello!" or a more involved "We're glad to have you here!". If you'd like, you can even give your affiliates a quick tour around the Dashboard by explaining each page and what it has to offer.
2. Incorporate Helpful Navigation Links
There's much more you can do to make your affiliates feel right at home. One simple way to do so is by adding helpful navigation links to the Affiliate Dashboard. For example, you can include links to affiliate resources, program policies, affiliate statistics, and even payment history.
By adding useful links, your affiliates will see that you care about their success. Of course, this also makes it possible for them to adhere to your guidelines, and get straight to the task of earning affiliate income.
To implement this strategy, go to Easy Affiliate > Settings > Advanced tab, then scroll down to Dashboard Navigation.

Once you've created your resource pages in WordPress, just click on Add Page, and select your page from the drop down menu.
3. Provide Clear Contact Information
As the program manager, it's important to be available to your recruits. One way to do so is by providing them with the information they need to contact you. For obvious reasons, this is a great way to promote a welcoming environment.
With an easy way to contact you, your affiliates will feel as if they're part of a larger team. They're also more likely to approach you with questions and concerns, and this makes it easy to keep your program running smoothly.
If you'd like to give your affiliates access to your contact information, you have two methods of doing so with Easy Affiliate – and both involve the ways we've already discussed.
First, you can add your Contact page to the navigation menu by following the instructions above.
Second, you could also add your contact information to the Welcome message. This way, your affiliates will see your info immediately upon logging in.
Conclusion
An affiliate dashboard can be a welcoming environment for your recruits, and this can have many benefits. In addition to providing you with a place to share important program information, you can also make your affiliates feel valuable. All in all, this feature is useful for increasing your affiliate income.
In this post, we've discussed why you may want to add an affiliate dashboard to your program, as well as how to make it welcoming with the help of Easy Affiliate. To recap, you can:
Add a personalized welcome message.
Incorporate helpful navigation links.
Provide clear contact information.
Do you have any questions about how to make your affiliate dashboard more welcoming? Let us know in the comments section below!
If you liked this post, be sure to follow us on Twitter, Facebook, and LinkedIn! And don't forget to subscribe in the box below.