Your affiliate marketing business is your livelihood, so when you're struggling to meet your goals – especially as they relate to income – it can create a lot of angst and uncertainty.
This is especially true when you've put in hours of work, only to have gotten no further in what you set out to do. Check out https://www.strategicsolutionsresearch.com for an actionable research to form your marketing strategy.
Many companies have market research, but lack understanding of target audience, market, and competitors. That's what experts can do for you.
And that's also where understanding how to make a business plan for affiliate marketing comes in. With a well-written plan, you can create a clear path for your business. This will ensure that all of the work you put in contributes to your overall business goals and objectives.
In this post, we'll introduce you to affiliate marketing business plans. This includes a look at why you need one for your business, and the essential elements of a solid plan. Then, we'll show you a few of Easy Affiliate's features that make planning and implementation a breeze. Let's get started!
Why You Need an Affiliate Marketing Business Plan
Even without a brick-and-mortar business, having a marketing plan can help you immensely – both immediately and in the long-term. With a strong business plan, you can achieve two things:
A clear path for success. The number one goal of any marketer is to achieve success. A business plan enables you to lay out a clear path and adjust it as you go along.
Time management. With a clearly defined plan, you can gain the ultimate resource – time. Extra time can then be used to further your business, including the reassessment and modernization of your goals as time goes on.
Both of the above benefits are enough on their own to make a plan for your affiliate business worth it. The bottom line is, a solid plan can lend itself to success – all that's left is to create one.
4 Essential Elements of An Affiliate Marketing Business Plan
Creating an effective business plan can be a challenging yet worthwhile endeavor. To make this process easier, let's take a look at four fundamental elements you must include when creating a business plan.
1. Goals and Objectives
It's not enough to know what you'd like to achieve; you also have to know how you'll get there. With a clear list of goals and objectives, you can do just that. In order to get the most out of your business, your goals must be clear and specific. A great way to do this is by following the SMART formula.
For example, take a general goal such as, "I want the business to earn more money". It's unclear and vague. Instead, setting a goal such as, "I'd like the business to generate 10% more profit over a three month period" is much more actionable. It's clear, specific, measurable, and attainable.
These elements set the tone for the rest of your affiliate marketing business plan, so it pays to clearly define what you want from your business up front.
2. Market Research and Analysis
With a clear idea of where you need to go, carrying out some research and analysis is the next logical step. In short, this enables you to have a firm understanding of your target audience and competition.
Here are two tips to get you going:
Create buyer personas. These help you target only those who are interested in your affiliate product, which could increase conversion rates and boost your income.
Analyze the competition. While you shouldn't be led by your competitors, expanding and developing on what they're currently offering can help you attract higher quality affiliates.
Your target audience and competition play key roles in the business decisions you make, so it's vital that you use them to develop your business plan.
3. Finances
This is arguably the most important element to consider, as without finances the shutters will stay down. Of course, money is likely a major reason you're in business, so getting this right is key.
To create a solid financial plan, there are three tips you should keep in mind:
First, understand the terminology. In order to take control of your finances, you need a solid understanding of the jargon you'll run into as you seek out advice.
Be realistic with your projections. To get a feel for typical expenses, plenty of well-known marketers post their monthly income reports on their blogs.
Create a process for financial tracking. This will help you to keep tabs on expenses and income throughout the year. There's a wide variety of business tracking software to choose from, including FreshBooks and Wave.
Most of all, keep in mind that you shouldn't rely on estimates. You want to dig deep and ascertain exactly what to expect when it comes to your coffers.
4. Promotion and Marketing
Being a marketer, your promotion and marketing strategies are two of the most important elements of your business plan. Without them, you can't spread your message, or showcase just how great your products are. Without customers, there's no point to being in business.
To get started, here are a few steps you can take:
Perform a situation analysis. Know where your business currently stands and how this aligns with your goals.
Focus on the product. Understand that the products you promote can make or break your business, so choose wisely.
Keep track of statistics. Keeping track of statistics will help you adjust your plans accordingly. This is vital to success.
Enlist the right tools. For starters, invest in a good email marketing platform like ActiveCampaign, as well as a chatbot like MobileMonkey to maintain engagement with your customers.
According to professionals marketers, your marketing strategy is one of the strongest indicators of your business' success. It's also an essential element in turning a profit.
How to Use Easy Affiliate When Planning and Implementing Your Business Plan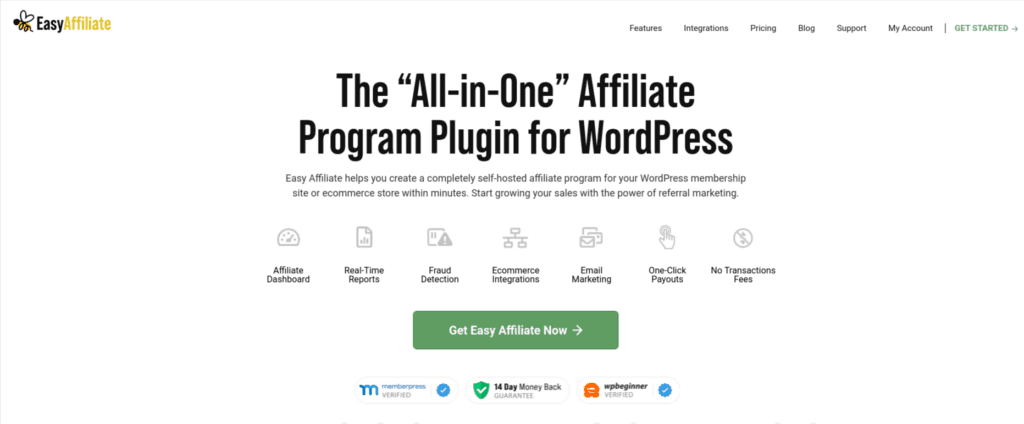 Easy Affiliate is an affiliate management plugin with a wide array of features. It's a stellar solution for taking control of many aspects relating to your affiliate business, from planning through implementation.
For example, Easy Affiliate includes features related to transaction tracking, banner and link management, and click reports. All of these can give you a better idea of how your current plan is panning out, enabling you to adjust your strategy as you see fit.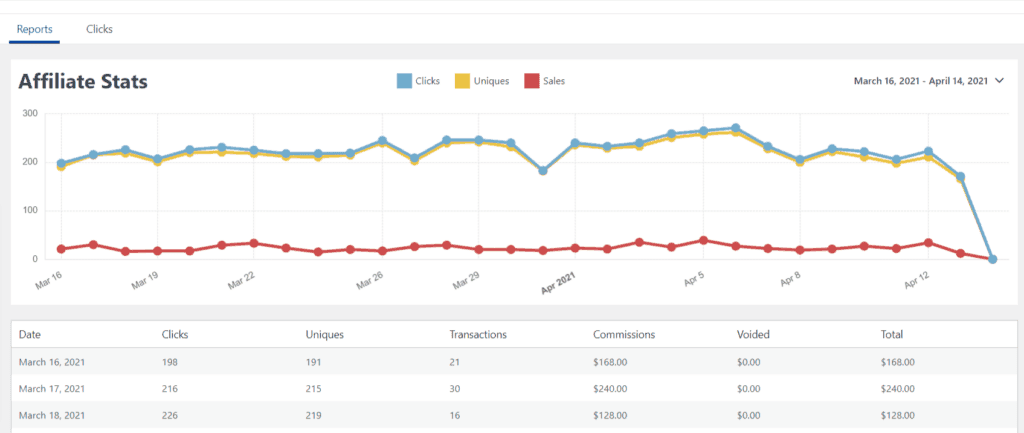 Getting started is simple. Once you purchase a plan and install the plugin on your WordPress site, you'll have almost everything you need to set up a quality affiliate program right at your fingertips!
Conclusion
Business plans are an underrated element of many online businesses. With the right plan in place, you can move your business forward with a clear and solid strategy.
In the above post, we've outlined four essential elements you must consider when developing your business plan. To recap, they are:
Your goals and objectives.
The market research and analysis you carry out.
Arguably the most crucial element – your finances.
Any promotion and marketing you'll do.
Do you have any questions about how to make a solid business plan for affiliate marketing? Let us know in the comments section below!
Don't have your own affiliate program yet? Get Easy Affiliate today!
If you liked this post, be sure to follow us on Twitter, Facebook, and LinkedIn! And don't forget to subscribe in the box below.