Running a successful affiliate marketing campaign sounds very tempting. After all, who wouldn't want to make money in their sleep? However, managing an affiliate website isn't as simple as it might sound. It requires time, dedication, and most importantly, marketing strategies that work.
To improve your chances for success, you can leverage the power of affiliate marketing coupon discounts. This affiliate marketing strategy provides an immediate incentive for your customers, and when employed effectively, can have a higher-than-average conversion rate.
In this post, we'll discuss the importance of effective marketing strategies for your affiliate campaign. Then we'll talk about the power of coupon discounts, and offer some tips for creating quality deals. Let's get to it!
Why Coupons Can Be a Valuable Part of Your Affiliate Marketing Strategy
If you can save someone time and money, they're a lot more likely to keep coming back. Marketing strategies that accomplish either of these things are often the most effective.
This is why coupons can be a successful strategy. Over time, customers have become lazier and unwilling to go to the store and wait in long lines for discounts.
Online websites like Coupons Collector or Coupon Cabin provide an easy solution to getting discounts without going to a place on a specific date. Coupons save people money, which provides real and quantitative value.
A lot of shoppers search for coupons when they're ready to make a purchase. They may have their virtual carts loaded up, but before they submit their credit card info, they do a quick check to see if there are any coupons out there to help them save money on their purchases.
At this point, they're likely to buy the products either way. If they can find a coupon, however, they'll be happy to use it. If that coupon is from your affiliate site, you've made a commission.
That's why this strategy can be so profitable. When you attract people to your affiliate site before they buy, the resulting conversion rates can be quite high. For example, just in 2019, 31 billion digital coupons were redeemed online worldwide.
Not only that, but coupons are an enticement to try out new products and services. Many people are reluctant to purchase something they've heard little about or that seems expensive. When you offer them a discount, they're more likely to take a chance.
4 Tips for Creating Quality Coupons
Digital coupon redemption is projected to rise by 94% by 2022. Harnessing this marketing method now is a smart way to boost conversions on your affiliate marketing site. With that in mind, here are some tips to help you create coupons that drive sales.
1. Use a Simple Graphic
When someone sees your coupon, you want them to immediately understand what it is. If it's overly complex, with an image that is too busy, they might skip it and move on to something else. You have about seven seconds to capture people's attention on the internet, and for coupons this can be even less.
Therefore, it's best to use a clear and simple graphic to draw people's eyes to your coupon:

This can include a unique design or a logo. The important thing is to pique customers' interest in your coupon. From there, you can offer them more relevant information.
2. Add a Positive Description
Now that you've grabbed your audience's attention with your graphic, you can offer them a little more information. If the description provides further reason to use the coupon and try the product in question, you're much more likely to convert: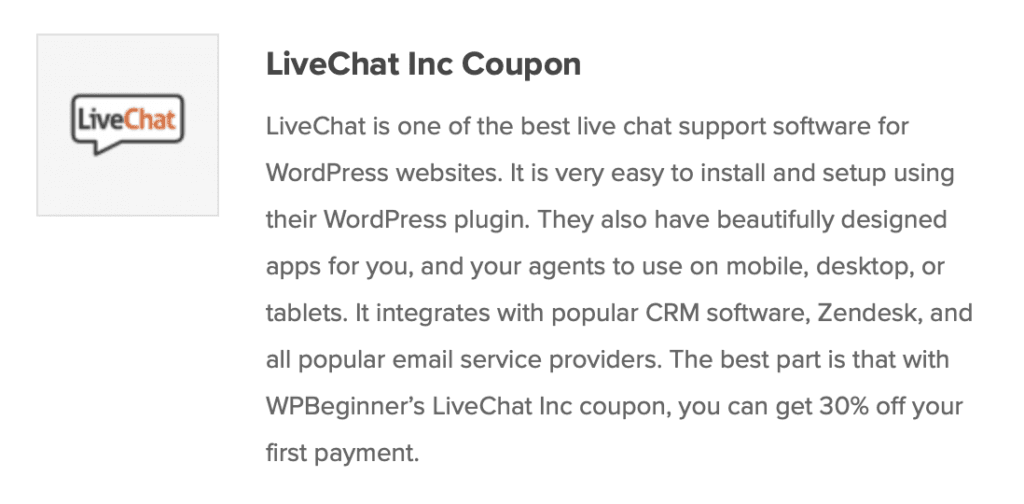 Tell the potential customer about the product here, and outline its key features. You can mention its ease of use, what it's used for, and how it solves a problem for the customer. Your goal is to make the product's (and the coupon's) value clear.
3. Link to a Landing Page
A well-designed landing page can go a long way toward encouraging people to use your coupons. An effective page offers both a focused message and a powerful call to action (CTA):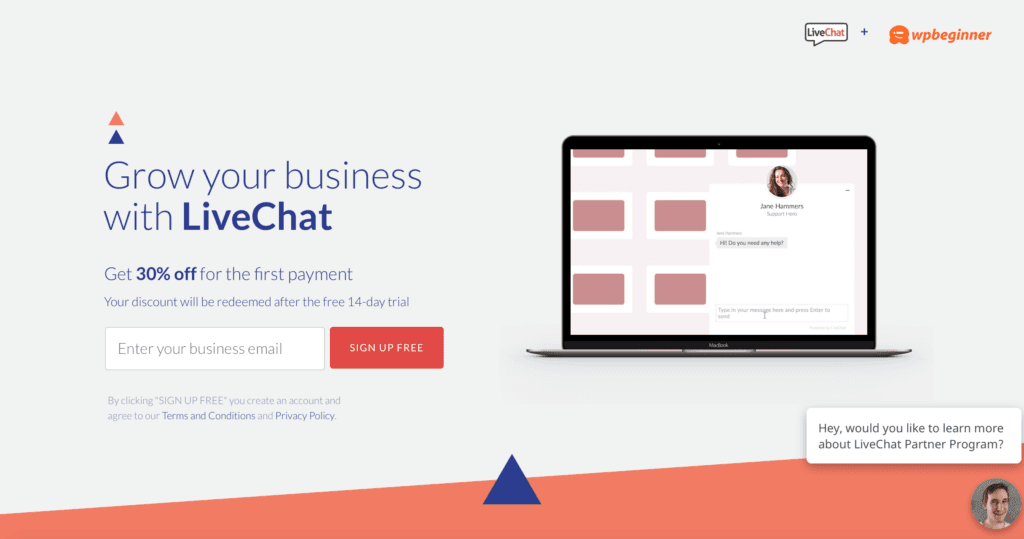 It may help to think of this landing page as an expanded version of your coupon. It can include a lot of the same elements, and provide additional information about the product.
This is also where you can include a clear CTA. Reiterating your coupon offer and providing a button or link that stands out encourages potential customers to click and convert.
4. Get Users Involved
Another thing you can do to bump up the quality of your affiliate marketing coupons is to offer social options. The more involved users are, the more likely they are to engage with your coupons:
For example, you can invite your audience to comment on or rate the product. You can also ask them to join a community forum, or check out related social media pages.
Using Coupons Alongside Other Affiliate Marketing Strategies
How you go about implementing your quality coupons is another key aspect you'll want to consider. If you're not careful, your coupons may come across as spammy and turn customers away.
To avoid this, you may wish to set up an exclusive coupon site for those searching for discounts for their purchases. However, keep in mind that the most successful sites provide additional value beyond simply saving customers money.
Instead, those sites focus on creating value with information that's related to the products they promote. For example, you can include your coupons in blog posts or how-to guides. However you incorporate coupons into your affiliate marketing efforts, offering quality content is the best way to improve their performance.
Conclusion
Running an affiliate site isn't as easy as it sounds, but creating coupons may help improve your odds for success. Coupons not only offer immediate value to potential customers, but also have a naturally high conversion rate.
Some tips for creating quality coupons include:
Use a simple graphic.
Add a positive description.
Link to a landing page.
Get users involved.
Do you have any questions about using coupons in your affiliate marketing campaigns? Please feel free to ask in the comments section below!
If you liked this post, be sure to follow us on Twitter, Facebook, and LinkedIn! And don't forget to subscribe in the box below.