Affiliate links and banner ads are a crucial part of any affiliate program. Easy Affiliate makes it simple to upload and share all your link and banner creatives with your audience.
Text Links
To create a simple HTML link that your affiliates can share, head to Easy Affiliate > Creatives page in your Dashboard.
Click the "Add New" button at the top of the page and you'll see something like what's shown below: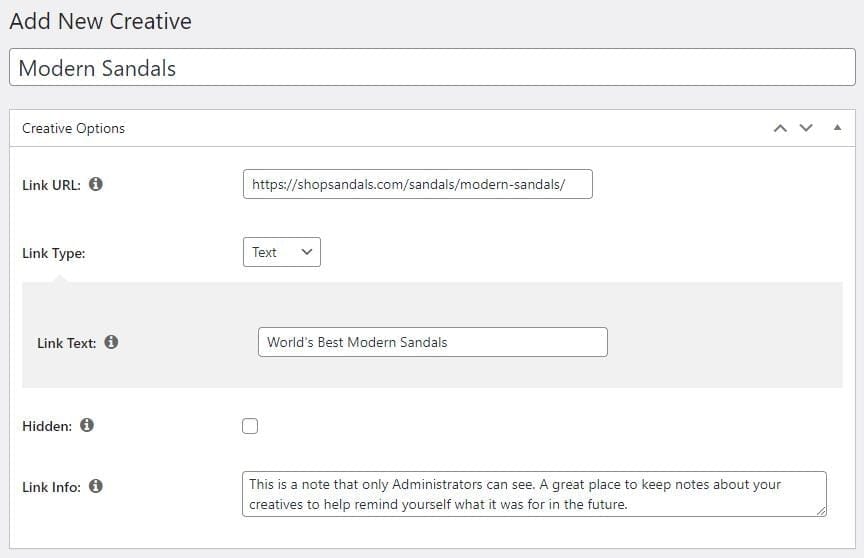 Link URL: This is the URL the guest will be redirected to after they click on this link from one of your affiliates. Typically this would be a landing page or a product sales page.
Link Type: Choose "Text" to create a simple Text Link. The other option is Banner which is covered below.
Link Text: This is the text that is hyperlinked. Should be some kind of short description of the product being offered.
Hidden: Typically you'll want to leave this unchecked, when checked the creative will NOT be visible to your affiliates on their Affiliate Dashboard page when they're logged in. You may want to use this for seasonal promotions that you'll use again next year for example.
Link Info: This is a private note that only you (and other Administrators) can see. This is a great place to remind your future self what this creative was for.
Banners
Banners are images that your affiliates can use in their advertising to help give a more visual appeal to your products.
Adding a Banner is nearly identical to adding a Text Link (above), so we won't cover all the settings again.
The only difference is that you'll select "Banner" as your Link Type instead of "Text".
You'll then be able to upload or select an existing image from your WordPress Media Library.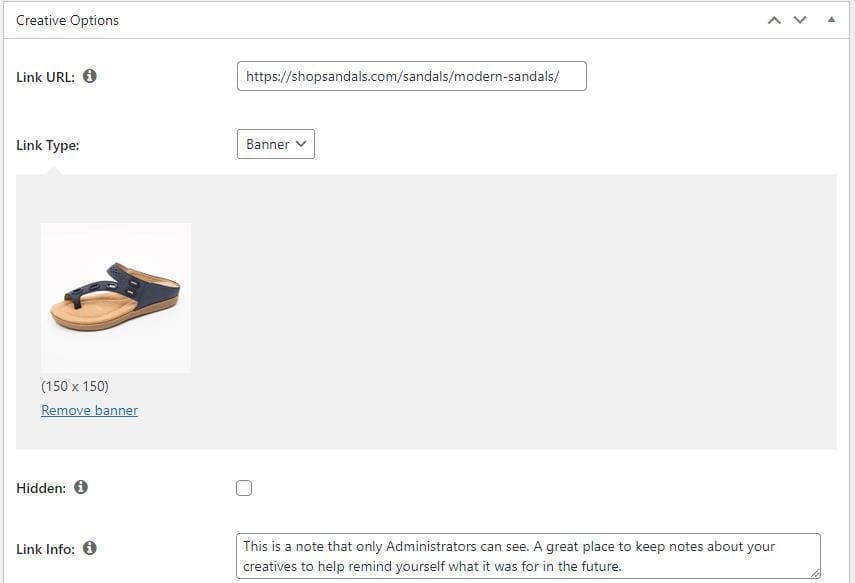 Affiliate Dashboard
Your affiliates can access these creatives from their Affiliate Dashboard > Links & Banners tab. This is covered in more detail here.
You might be wondering, Do I need to make a separate creative for each Affiliate? NO! You only make the creative once. Easy Affiliate will automatically turn it into a unique link for each affiliate when they log in to their affiliate dashboard.