You've written some quality content for your website, and now you want people to see it. You know that if they do, they'll find it helpful, and it will likely increase traffic to your site. However, that won't happen if no one knows your site exists.
Keywords are vital to getting your content noticed. Choosing effective keywords can help your work connect with your target audience. When woven into an engaging and well-written piece, they can also help your content rank more highly in search engines.
In this article, we will talk about why keywords are important to driving traffic towards your website's content. We'll then offer some tips for selecting the right keywords and using them effectively. Let's get to it!
Why Keywords are Vital to Getting Your Content Noticed
Keywords or keyword phrases are what people type into search engines when they are looking for information. This is how people find content, but how can you make sure they are running across your content?
You can help your audience locate your pages by using keywords strategically. Once you've identified what people are typing into search engines when they're looking for the kind of information you're providing, you can tailor your articles to match these terms.
It's important to understand that when we are talking about keywords, we are also talking about keyword phrases, or 'long-tail keywords'. A search for a single word can result in very different content than a search using a phrase or even a short sentence.
For example, a search for "tie" brings up different search predictions than the above search for "how to tie".
This is an important distinction to consider, because it can help you to choose search terms that are a closer match to what your audience is already using.
Of course, simply using keywords isn't enough. Choosing the ones that are most effective are incorporating them strategically are vital Search Engine Optimization (SEO) practices.
How to Choose the Right Keywords for Optimizing Your Website's Content (3 Key Tips)
Picking out the right keywords for your website's content can be a difficult task. To ease the process, here are three key tips that can improve your odds of success.
1. Brainstorm Possible Keywords Based on Your Target Audience
To identify the best keywords to use in your content, you'll first need to put yourself in the shoes of your target audience. Ask yourself: "If I wanted to find this kind of content, what would I type into Google?"
For example, when we enter "how to choose keywords" into Google, we get the following predictions:
This gives us an idea of possible keyword phrases to focus on. For example, let's say that our target audience is online marketing managers, many of whom will be familiar with the term SEO. This makes a keyword phrase such as "how to choose keywords for SEO" a strong possibility.
It's important to know who your target audience is, and to be specific about their characteristics and needs. If your content is about cars, simply using "cars" as a keyword is far too vague. If a particular article is about "how to choose the right car" or the "most popular cars", using those keyword phrases will be a closer match to what your audience is looking for.
2. Use Keyword Research Tools
Once you've brainstormed some possible keyword phrases for your target audience, it's important to do further research on them. Using keywords that are too popular may make it hard for your content to rank well against its competition. On the other hand, using keywords that are too obscure can mean that few people will ever stumble across your content.
Therefore, it's important to research the search volume and potential competition for any keywords you're considering. One way to do this is with Google Trends:
This tool will help you see how many people are searching for a specific keyword phrase. If you enter a term, you'll be shown a graph that displays the number of people who have searched for that keyword over time: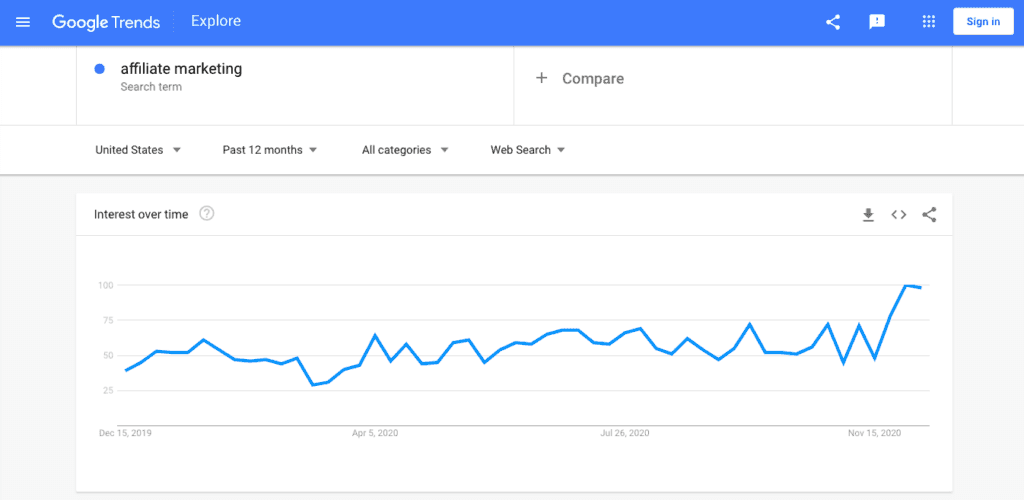 In addition, you'll receive data on interest in that keyword, broken down by region and related topics. This information can be useful in helping you decide on the most effective keyword phrases to use.
3. Analyze Your Existing Content for Keyword Options
Finally, don't forget to look through your existing content for keyword ideas. Your pages and posts may already contain keywords, which you can choose to emphasize more strongly.
When we search for "how to choose the right keywords for seo", we get the following results:
As you can see, the top hit is an article with the same title as the search term. The other related articles all have similar titles.
If you want your content to rank highly, your titles and descriptions need to explicitly state what each page or article is about. If you've been doing this, you may find that the best keywords for your articles are already in their titles.
An effective keyword phrase may often make up the majority of your headline and meta title. When readers search using these terms, they will see your content and hopefully be enticed to click through. At this point, all you need to do is take those keywords from your titles, and include them throughout the rest of the content as well.
How to Use Keywords Effectively
Once you've established which keywords you'll focus on, it's important to optimize your content around them. In most cases, this is as simple as weaving your keywords into your posts and other website content.
However, you need to be careful about how you do this. Keywords should add value to your content, and should be organically woven into it (rather than forced in unnaturally). If you are finding it difficult to use a keyword phrase several times without the result sounding awkward, you may need to rethink your choice.
In addition, don't be tempted into using 'black hat' seo techniques such as keyword stuffing. Inserting too many highly-searchable keywords into your content can actually hurt your SEO. To achieve the right balance, it can help to pick up a plugin like Yoast SEO. This will help you add your key terms to the right places within your content, at an ideal frequency.
Conclusion
Using the right keywords can help your content rank highly in search results, and make it easier for your target audience to find it. This is one of the best ways to build a following for your website, and increase page views and even conversions.
For help choosing the right keywords, consider these three important tips:
Brainstorm possible keywords based on your target audience.
Use keyword research tools, such as Google Trends.
Analyze your existing content for keyword options.
Do you have any questions about keywords or how to use them effectively? Do not hesitate to ask in the comments section below!
If you liked this post, be sure to follow us on Twitter, Facebook, and LinkedIn! And don't forget to subscribe in the box below.