When creating a site that relies on affiliate marketing and top-tier backlinks, you'll need to use every trick in the book to make sure of two things: relevance and quality. However, it can be tough to figure out which strategies will actually help grow your site.
The good news is there's a free and easy way to get inspiration for link building campaigns, and it comes directly from Google itself. Google Alerts goes hand-in-hand with affiliate marketing programs by enabling you to filter relevant search terms, and delivering alerts directly to your email inbox.
In this article, we'll take a quick look at the importance of effective link building, and see how you can do link building with Google Alerts to receive a steady stream of new affiliate ideas daily. Let's dive in!
What Is Link Building and Why Is It So Important?
Link building is a highly-effective way to help your site rank higher on search engines. An understanding of this strategy is fundamental to leveraging SEO, as it can help your website grow through organic traffic.
In basic terms, link building means encouraging other websites to link back to yours. These URLs, also known as backlinks, demonstrate to Google and other search engines that your site's content is valuable by increasing qualified traffic.
The advantages of effective link building include:
Greater visibility in search engines
Quality traffic from external sites
Higher levels of trust and legitimacy
Faster web indexing for your site
Whether you're new to link building or are an experienced campaigner, using the right resources is key to getting the most from your efforts.
One of the best tools you can use is Google Alerts. This solution enables you to "monitor the web for interesting new content". It's tailor-made for identifying potential link building partners, so let's take a closer look at how it works.
5 Simple Steps for Effective Link Building with Google Alerts
Getting started with Google Alerts is simple – and won't cost you anything. This makes it an indispensable tool for your affiliate marketing campaigns. In the following five steps, we'll walk you through how to get set up and conduct searches for valuable link-worthy sites across the web.
Step 1: Set Up Google Alerts
First, you'll want to make sure you're using a Gmail account (signing up is easy and free). While Google Alerts will still function with alternative email addresses, it's a Google property and will therefore work most optimally within the Google Suite.
Once you're signed in and ready to go, simply navigate to the Google Alerts home page:
Here you'll see your Google account's image, name, and email address below the Me on the web heading. This is a fun way to first get acquainted with Google Alerts: just click on your name and it will display any mention of you throughout the web.
However, the most important element here is the search bar. This is where you can input keywords, phrases, and other relevant information for your link building campaigns.
Now that you're familiar with the basic Google Alerts interface, we can talk about how to search for and create alerts.
Step 2: Enter Search Terms Relevant to the Sites You're Campaigning For
All you'll need to do now is type in a keyword or phrase related to the kind of sites you'd like to get backlinks from. We'll search the phrase "affiliate marketing" as an example:
This prompts Google to do a quick crawl of the internet, searching for mentions of the words you entered. Bear in mind that a term like "affiliate marketing" is a very broad search, and will yield lots of results right off the bat. We'll discuss how to narrow down your results in the next section.
Step 3: Strategically Filter Your Results
Google Alerts provides some excellent filtering options. As we mentioned earlier, there are often millions of results for broader searches, so zeroing in on more specific content will save you a lot of time and add to the effectiveness of your campaigns.
Below the search bar, you'll see a drop-down menu called Show options:
When you select it, you'll be presented with various ways that you can restrict your searches for more accurate results: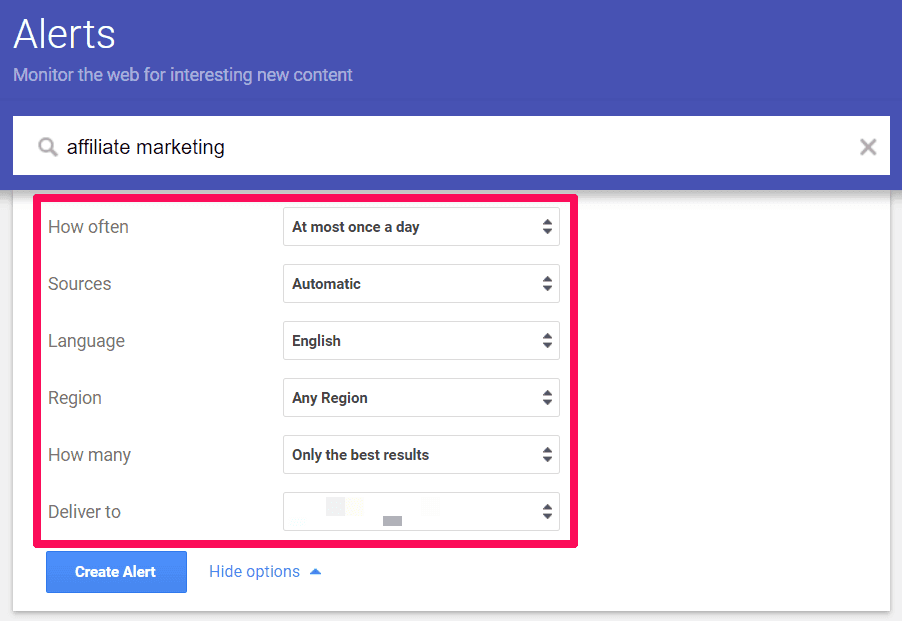 Your options include:
How often: How frequently you'll receive alerts to your inbox. You can choose from As it happens, At most once a day, and At most once a week.
Sources: What type of content you'll receive alerts for. These options include news, blogs, web, videos, books, discussions, and finance.
Language: There are 45 languages available at the time of this writing.
Region: Here you can narrow the countries you'll receive results from.
How many: You can opt to see all results, or only the most relevant ones.
Deliver to: The email address where you'll receive the alerts.
By adjusting some of these parameters, you can end up with significantly different results:
The filters you choose to use are 100% subjective to the goals of your campaign. So it's a good idea to spend some time tweaking these options, in order to find the best results.
Step 4: Optimize Your Search Inputs for the Best Results
Once you've filtered your alerts, it's time to dig deeper and get more specific with your search terms. Remember that the goal of using Google Alerts is to get relevant, quality ideas for potential backlinks. Optimizing your searches will take a lot of the guesswork out of which alerts will be most useful to you.
The best ways to do this are:
Use very specific words and phrases
Try a site-specific search (type in "site:" and then the domain name)
Include negative keywords (add "-" in front of terms to remove them)
Note that using quotation marks will yield only results with that specific phrase or word in them:
At this point, you should be well acquainted with how Google Alerts helps you find ideas for affiliate marketing. However, you don't have to stop there.
Step 5: Create and Set Multiple Alerts
The final step is to hit that "Create Alert" button, and you're done:
New alerts will be added to a list on the initial search page. They can also be edited or removed by clicking on the icons to the right:
Finally, you don't need to rely on only one search term or phrase at a time. In fact, you can set up to 1,000 alerts with each Gmail account you have. Simply repeat the above process to add as many alerts as you need.
Conclusion
With so much information available, it can seem difficult to find the most profitable link building prospects. That's why you don't want to go it alone. Using a tool like Google Alerts can help you encourage relevant backlinks more easily, and boost your SEO in the process.
To implement this solution, all you need to do is:
Set up Google Alerts.
Enter search terms relevant to the sites you're campaigning for.
Strategically filter your results.
Optimize your search inputs for the best results.
Create and set multiple alerts.
Do you have any questions about how to do link building with Google Alerts in your affiliate link building campaigns? Leave us a comment and let us know!
If you liked this post, be sure to follow us on Twitter, Facebook, and LinkedIn! And don't forget to subscribe in the box below.