If you sell products or services, one of the best ways to promote your business is with an affiliate program. Getting customers and fans directly involved is an effective way to expand sales through word of mouth. However, setting up an affiliate program can be tricky.
For example, you may wonder how you can incorporate an affiliate program with your existing storefront. If you're using WooCommerce, then you're in luck. With the right plugin, you can integrate your WooCommerce store and affiliate program, and run both right from your WordPress dashboard.
In this article, we'll discuss the benefits of adding an affiliate program to your online store. Then we'll show you how to use Easy Affiliate with your WooCommerce site, to make the process of setting up your affiliate program and tracking your commissions easy. Let's get started!
The Benefits of Adding an Affiliate Program to Your Online Store
An affiliate program is a marketing model where you recruit individuals ('affiliates') to help spread the word about your products or services. In exchange, you'll offer them a commission for each sale that results from one of their links or advertisements.
The people who sign up for your affiliate program are motivated to recommend your products, because they know they'll earn money for each sale they refer. As a result, they'll do their best to let their own communities and audiences know about your business.
Affiliates can promote your offerings on social media, through their websites or blogs, via video content, and more. In other words, they'll do a lot of your marketing for you. Plus, unlike with traditional advertising, you don't have to pay them anything up front.
Quality affiliates can also create more 'buzz' around your products, which should convert into new sales. The more affiliates you have, the greater your brand's reach and exposure will likely be. This is a compelling reason to start your own affiliate program today.
How to Add an Affiliate Program to Your WooCommerce Store (In 3 Steps)
Naturally, you can start an affiliate program from scratch if you like. However, what if you're already selling products and/or services through your website?
The good news is that you can integrate your new affiliate program with your existing store. This is especially easy if you're using the popular WooCommerce plugin:

WooCommerce is an effective way to run your online business, and integrates seamlessly with the Easy Affiliate plugin:
Easy Affiliate makes it simple to create an affiliate program from scratch, and to integrate it into your WooCommerce store. All you need to get started is to follow the three steps below.
Step 1: Install and Configure the Easy Affiliate Plugin
The first thing you will need to do is purchase and install the Easy Affiliate plugin. Once you've purchased a license, login to your WordPress Dashboard. Go to Plugins > Add New > Upload, then choose the .zip file and upload it.

Once the upload is done, select Activate, and the Easy Affiliate menu will appear on your WordPress Dashboard.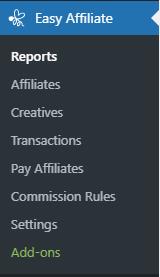 Now just head over to Easy Affiliate > Settings > and run through our Setup Wizard.
Here, you'll find everything you need to run your affiliate program from your WordPress site.
You can begin by setting up your commission levels, determining how you'll pay your affiliates, customizing your welcome and sales notification messages, and configuring anything else that's relevant to your particular affiliate program's needs.
You can also add links and banners that affiliates can use to promote your products and services using the Creatives tool.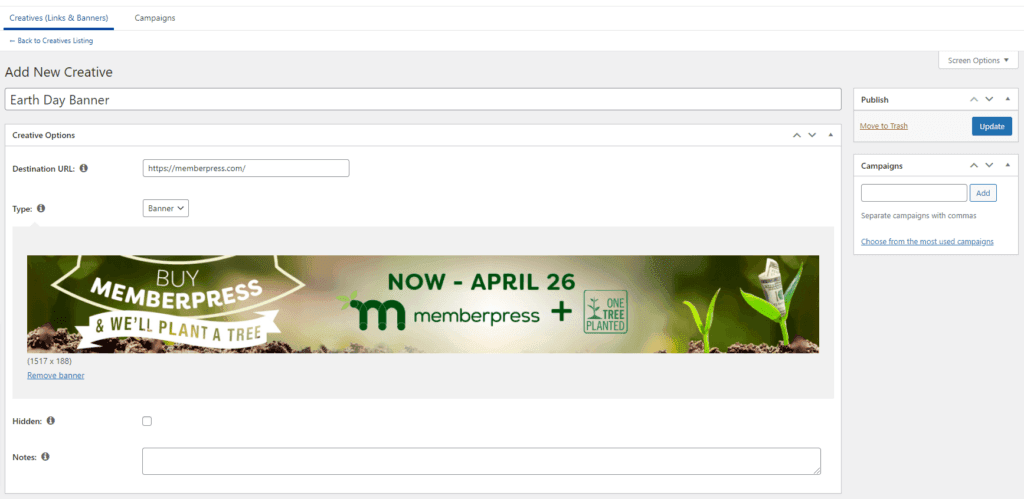 You'll also be able to view reports listing top affiliates, clicks that have been referred, and other important stats.
Step 2: Create Key Affiliate Pages
Next, you'll want to add a few new pages to your website. In the previous section, you had a chance to configure behind-the-scenes settings and options. However, you'll also need to provide your affiliates with the resources they'll require to promote your products.
To do this, head to Easy Affiliate > Settings > General, and scroll down to Affiliate Pages:

From here, you can set three key pages. They include:
Affiliate Dashboard: This is where affiliates can view their links, stats, payment information, resources, and so on.
Signup page: Here, new affiliates can sign up for your program and get started.
Login page: Existing affiliates can use this page to log into their individual dashboards.
You can choose to use existing pages for all of these, although it's easiest to use the Auto Create New Page option. Once you do that, you can access all three in your WordPress Pages section, and start customizing them to suit your needs.
Step 3: Set Up WooCommerce Payment Integration
This final step is the simplest of all. If you want to manage your affiliate payments through WooCommerce, and you have to do is configure a single setting.
Just go to Easy Affiliate > Settings > eCommerce tab, and enable the WooCommerce toggle.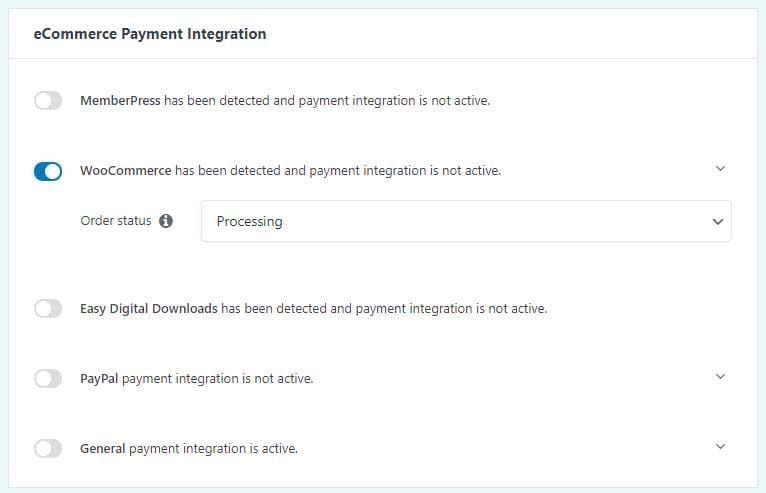 There's no additional configuration needed, and you'll now be able to manage your store and affiliate program payments at the same time.
Conclusion
Adding an affiliate program to your marketing campaign can increase your business' reach, with little upfront cost or effort required. Your new affiliate program will help you spread the word about your products or services, and create more buzz around them
To set up an affiliate program for your WooCommerce store using Easy Affiliate, all you need to do is follow these three steps:
Install and configure the Easy Affiliate plugin.
Create key affiliate pages.
Set up WooCommerce payment integration.
Do you have any questions about affiliate marketing or the Easy Affiliate plugin? Ask away in the comments section below!
If you liked this post, be sure to follow us on Twitter, Facebook, and LinkedIn! And don't forget to subscribe in the box below.