Today, blogging has become a vital marketing tool that can help create a personal brand, promote it, and build a community around a brand. With the help of a blog, you can also develop an online presence, interact with your audience, drive traffic to your website, and attract leads.
Thus, a blog turns out to be a helpful instrument for both an entrepreneur, a specialist, and an enthusiast who wants to turn their hobby into a personal brand.
In this article, we will talk about how to create a blog and share some tips with you. Let's get started!
Choosing a Platform
The first thing you need to consider when starting a blog is the platform. The most popular platform for blogging is WordPress. But you can also take a look at Blogger and Medium.
For a video blogging format, you may want to consider platforms such as YouTube, Instagram, and TikTok.
What You Should Know about Starting a Blog
After you've chosen a platform and decided what the topic of your blog will be, it is time to get busy. At this stage, several tips on how to start a blog may come in handy for you, especially if you have no experience in blogging yet.
Analyze Your Target Audience
After you've picked a topic for your blog, make a portrait of your ideal reader. Learn what people are interested in your topic, their age, professions, hobbies, etc.
Such analysis can help you to understand your audience better. Thus, you can produce content that will be valuable and interesting for people.
Don't Try to Please Everyone
This point is similar to the previous one. The main idea is: you need to find your target audience. These are people who are interested in you and your brand. They usually have some common points like age, particular hobbies, or points of view.
However, there are still many people who aren't your target audience. They can disagree with you or even find your blog useless and boring. It's essential to remember that not all the people in the world are interested in your blog's topic.
Focus on the Quality, Not Quantity
It's a good idea to fill your blog with helpful information so your readers can swim through a big pool of knowledge; however, the quality of this information is more important than its quantity.
There is no need to publish dozens of useless articles. People would not stay in such a blog. Studying the subject and creating content that highlights the question from the new side would be much better.
Listen to Your Audience
It's an excellent idea to consider your readers' opinions when thinking about themes for your next posts and developing your blog.
If you already have your community, these people probably have the same interests and values as you. But some may also bring opinions from the other side.
Thus, your readers' comments can be beneficial for you. They can help you attract more interesting and interested people to your community.
How to Write a Blog Post: Content Tips
There are several key points in creating content for a blog that each beginner should know. Moreover, these tips can also be helpful for experienced bloggers who want to get their blogs to a new level.
Make a Content Plan
It's necessary to make a content plan for a blog to clearly understand how often you need to post and what kinds of content your blog will include.
There are various content types such as informative, engaging, learning, entertaining, and promotional ones. The primary function of the content plan is to help you combine all of these types properly.
Add Media
Today, people tend to pay much more attention to text if it includes images or videos; thus, it's an excellent idea to add some to your posts.
Images and video use can also help you catch and hold your readers' attention. Moreover, media can become a tool that improves engagement. Even if people have no time to read the entire post, they can look at the illustration and react to it.
Make Good Use of SEO
Search engine optimization (SEO) is one of the crucial points for bloggers. It's necessary to optimize your post so search systems can offer it among the first results. This can help your audience find you.
Upgrade Your Content
To get the most from your audience, you can upgrade your posts by adding lead magnets and calls to action (CTAs) to them.
A lead magnet is a small product like a checklist or worksheet you offer readers for free in exchange for their information, such as a phone number or email.
A call to action is an invitation to do a specific action, such as subscribe or leave a comment. CTAs can be helpful, as they let people understand what you want them to do, and people are more likely to do it if they see a direct ask.
Monitor Your Posts' Performance
Various trends are changing quickly. New ideas and developments appear every day. That's why you need to audit your content regularly in order to find out how people react to recent posts and how actively they interact with different kinds of posts.
It can also be good to check new posts in your competitors' blogs for the same moments: how readers accept them. Thus, you can keep your finger on the pulse and make posts that are valuable for the audience.
Best Promotion Channels for Your Blog
One moment, you come to the point where you need to promote your blog to increase your audience. There are three main promotion channels for blogs:
Social media
Influencer marketing
Niche-related forums
The easiest way to promote your blog is with the help of social media. Sharing links to your posts, teasers, and announcements can help you drive traffic from your social media account to your blog.
Influencer marketing can help you if you are promoting a particular product. In this case, you can collaborate with an influencer in your field, and an influencer can promote your brand, your product, and your blog.
Promotion on forums can appear more time-consuming. You may need to spend some time on these forums to gain a reputation so that you could post links to your blog without being banned. However, this way is great for getting long-term traffic as your posts stay on a forum for a long time, and they can even appear in search results.
Tools for Upgrading Your Blog
To bring your blog to a new level, you may need some extra tools. However, they can work for both beginners and amateurs as they are helpful for any blog.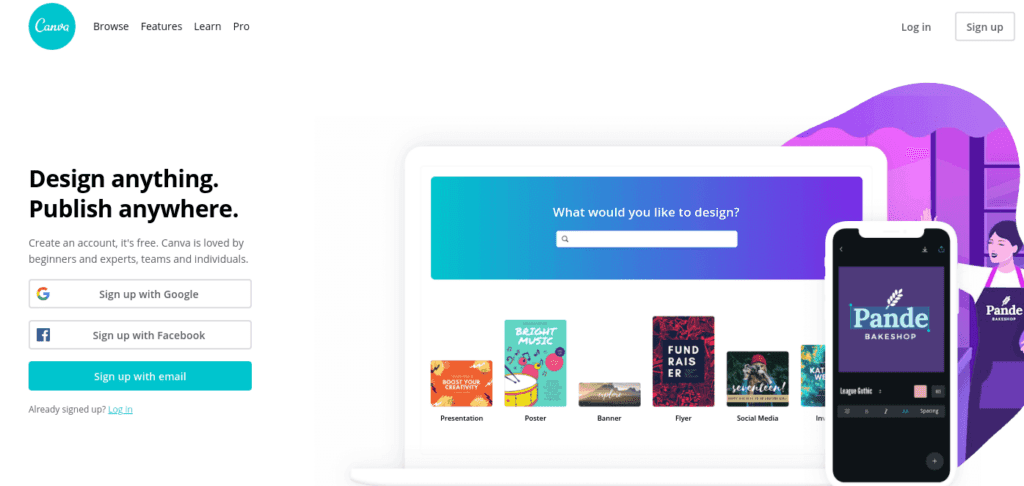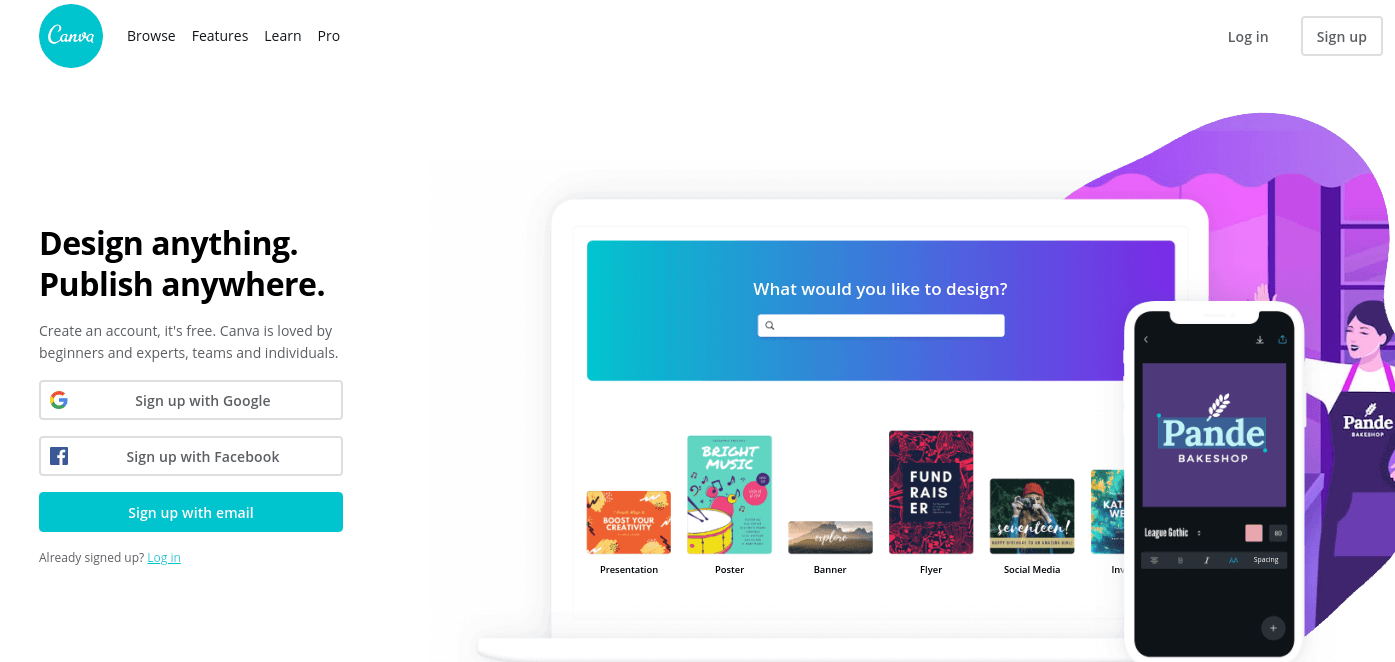 As we have already mentioned, adding images to posts can upgrade your blog. Canva is an excellent tool for creating designs and editing images/ It's super-intuitive and suitable for users of all levels.
In addition, there are dozens of various presets, fonts, and stock images so you can create a professional-looking illustration for your post quickly and easily.
Videos are becoming the most popular content type, and this free online video editor can help you edit your footage and create clips. This tool combines a straightforward, intuitive interface with the functionality of a professional video editor.
Thus, you will be able to use more than 30 tools and a number of templates for creating videos.
Google Trends is one of the many free tools offered by Google. This tool can be indispensable for a search of keywords. With its help, you can find current search requests people make all over the world.
Thus, you will be able to pick the most popular words and phrases and insert them into your posts to optimize them for search systems.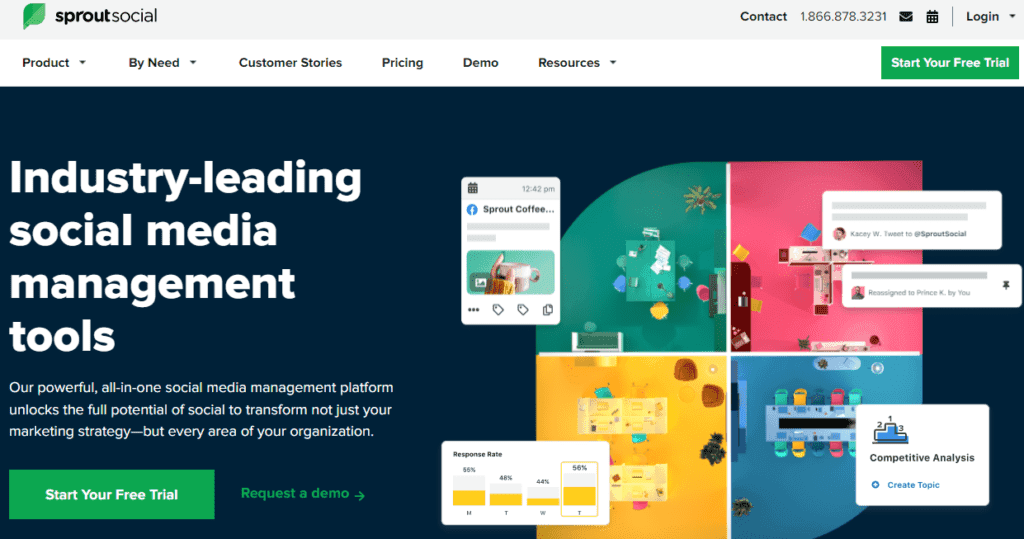 Sprout will come in handy if you choose social media as the primary promotion channel. In this case, you will need to publish on social media regularly, and Sprout can help you schedule your posts and manage various accounts.
Conclusion
Starting a blog may seem overwhelming, as there are many moments to take into account. However, you can use various tools to make it easier.
If you liked this post, be sure to follow us on Twitter, Facebook, and LinkedIn! And don't forget to subscribe to our newsletter.