Affiliate marketing is a useful strategy for increasing brand awareness, generating passive income, and growing your audience. However, it can feel discouraging if your campaigns aren't converting the way you'd hoped.
If that's the case, it may be time to take a look at your campaign's written and visual content. Creating a sound content strategy and utilizing key tools can help increase sales and generate more revenue.
In this article, we'll explain the importance of producing quality content for your affiliate marketing campaign. Then, we'll outline a number of ideas to help you craft useful and interesting posts, ads, and other elements that can convert your audience. Let's get started!
The Importance of Quality Content for Affiliate Marketing Campaigns
Affiliate marketing makes up 15% of all digital media advertising revenue. It also generates 15-30% of total sales for advertisers, so taking the time to get your campaign's content right can lead to huge payoffs.
As the saying goes, content is king. However, writing careless, sloppy text stuffed with links isn't enough to convert visitors into customers. The success of affiliate marketing campaigns hinges on carefully crafting intentional content on a consistent basis.
As an affiliate marketer, one of your responsibilities is to educate your audience to help promote certain products. The most effective way to do that is by earning their trust through well-written content that is valuable, unique, and relevant.
This will also help your site perform better in search engines. Google and similar platforms are vital for acquiring organic traffic for your affiliate website. Providing meaningful material to your readers can help keep them engaged and will ideally lead to more sales.
How to Create Content That Converts for Your Affiliate Marketing Campaign (5 Key Tips)
There are many factors that influence how well your content goes over with leads. Below are a few ways to improve the quality of your campaign to increase conversions.
1. Make Your Content Mobile Friendly
For users to engage with your content, it's important to make sure they can access it from any device. Today, that means making your content mobile friendly.
Mobile devices now account for over 50% of affiliate-referred traffic. Failing to optimize for mobile will likely mean missing out on potential conversions.
When it comes to WordPress, the first step to making your content mobile friendly is choosing the right theme. A responsive design can help ensure that the content on your affiliate site automatically translates to mobile screens.
You can start your search in the WordPress Theme Directory:
It's also wise to visit your site from your own mobile device, to see it from your users' perspective. The mobile version of your website should include scannable text, large clickable buttons, and quick loading times.
2. Include Videos and Other Media
Another way to create content that converts is to incorporate original videos, high-quality images, and other media. Research has found that 44% of consumers watch at least five videos per day online, making this medium a ripe opportunity for conversions.
The same research found that 70 percent of people frequently go to the publisher's website once they're done watching the video. Plus, 60 percent of participants said they often visit the publisher's social pages as well.
To make your content more meaningful to your audience, consider creating and embedding YouTube videos that are relevant to your topics:
Embedding videos on landing pages alone has been found to increase conversion rates by as much as 80%.
Some of the best types of videos you can include in affiliate marketing campaigns are tutorials. For example, you could create an instructional video on how to use a product that affiliates can share with leads. Another option is to enable marketers to create their own video reviews.
3. Use Banners and Links to Drive Traffic
Creating eye-catching banners is an effective alternative to text-based ads in affiliate marketing campaigns. Users tend to process visual data faster than text-based data, so banners may inspire more of them to click through and convert.
There are a handful of tools you can use to create banner ads, such as Canva, Fotor, and Pixlr. Remember, it's best to keep your banners as simple and direct as possible. Each needs just five main elements:
A background image
An attention-grabbing title
Textual information
Your logo
A prominent Call to Action (CTA)
Using our Easy Affiliate Creatives feature makes it easy to create ads and personalized URL links for affiliate campaigns. Once you've installed the plugin, navigate to Easy Affiliate in the back end of your WordPress site and select Creatives. Then just add your creative asset to the form, and click Update.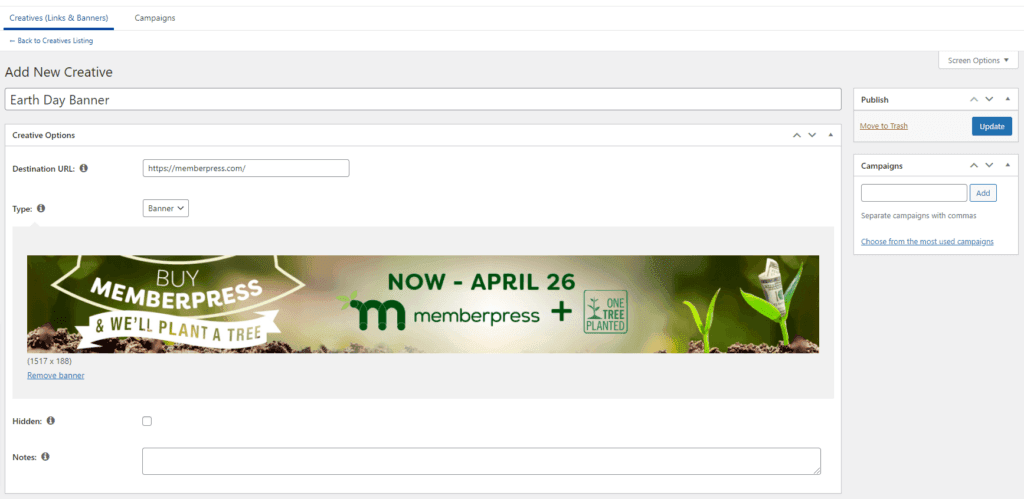 4. Follow Search Engine Optimization (SEO) Best Practices
For affiliate marketing campaigns, bringing in organic traffic is key to landing conversions. An efficient way to do this is by improving your site's search engine rankings via Search Engine Optimization (SEO).
One of the most important aspects of creating SEO-friendly content is choosing the right keywords for your niche. Using tools such as SEMrush or Google Keyword Planner can help you narrow down a list of keywords that are relevant to your target audience: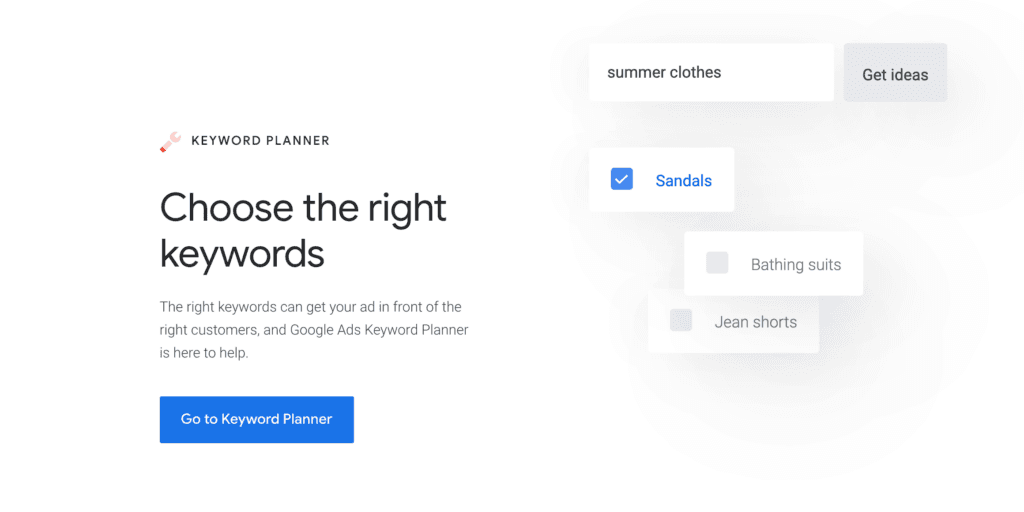 Once you have your keywords, you can use WordPress plugins such as All In One SEO (AIOSEO) to help your content rank for those search terms. AIOSEO enables you to see which elements of your content need improvements right in the WordPress editor:
However, it's important to remember that you aren't just writing for search engines. Your content also needs to be relevant and valuable to your audience. Aim to solve specific problems readers may have, and link to relevant, trustworthy sources.
5. Instill a Sense of Urgency in Your Users
To create content that converts, it's helpful to instill a sense of urgency in your readers that makes them eager to buy into your campaign. There are a variety of ways to achieve this effect.
Using coupons and limited-time offers in your promotions is an effective way to grab users' attention and encourage them to act immediately. In this same vein, using the word 'free' can elicit a quick response and help make your users feel like they're getting a deal.
One of the best strategies for boosting conversions is through powerful CTAs. Using prominent buttons or links, you can let your audience know exactly what you want them to do and make it easy for them to do it.
By creating attention-grabbing, prominently-placed CTAs, you increase the chances of getting an immediate response:
Consider using contrasting colors to make your CTA stand out against your site's background. It's also wise to understand the eye-tracking patterns of web users, to help you determine the ideal location for each CTA.
Conclusion
The success of your affiliate marketing campaigns relies heavily on the quality of the content you produce. Fortunately, there are simple steps you can take to create top-notch posts, ads, and other content that lead to conversions.
These include:
Making your website mobile friendly
Incorporating videos and high-quality images
Creating custom links and banner ads with Easy Affiliate
Following SEO best practices
Instilling a sense of urgency to drive action from your audience
Do you have any questions about creating content for your affiliate marketing campaign? Let us know in the comments section below!
If you liked this post, be sure to follow us on Twitter, Facebook, and LinkedIn! And don't forget to subscribe in the box below.