You may already know that a ton of ecommerce businesses make more money through affiliate marketing. However, in order to have a successful affiliate program, you'll want to invest in an easy-to-use platform that's well-suited to all your marketing needs.
Fortunately, there are lots of options available. Before you make your decision on which one to use, it's important to understand what these different platforms have to offer.
In this post, we'll review three of the most popular affiliate marketing platforms: JVZoo vs ClickBank vs Easy Affiliate. Let's get to it!
Features for JVZoo vs ClickBank vs Easy Affiliate
Each platform is going to offer you a collection of different features. Some might overlap, but no two have the exact same combination. Let's explore the features of each affiliating marketing hub to help you decide which one is best for you.
Features: JVZoo
JVZoo is an affiliate marketing platform with plenty of useful features. It's a popular choice for marketers, membership sites, and even software developers. The site boasts 800,000+ active affiliates.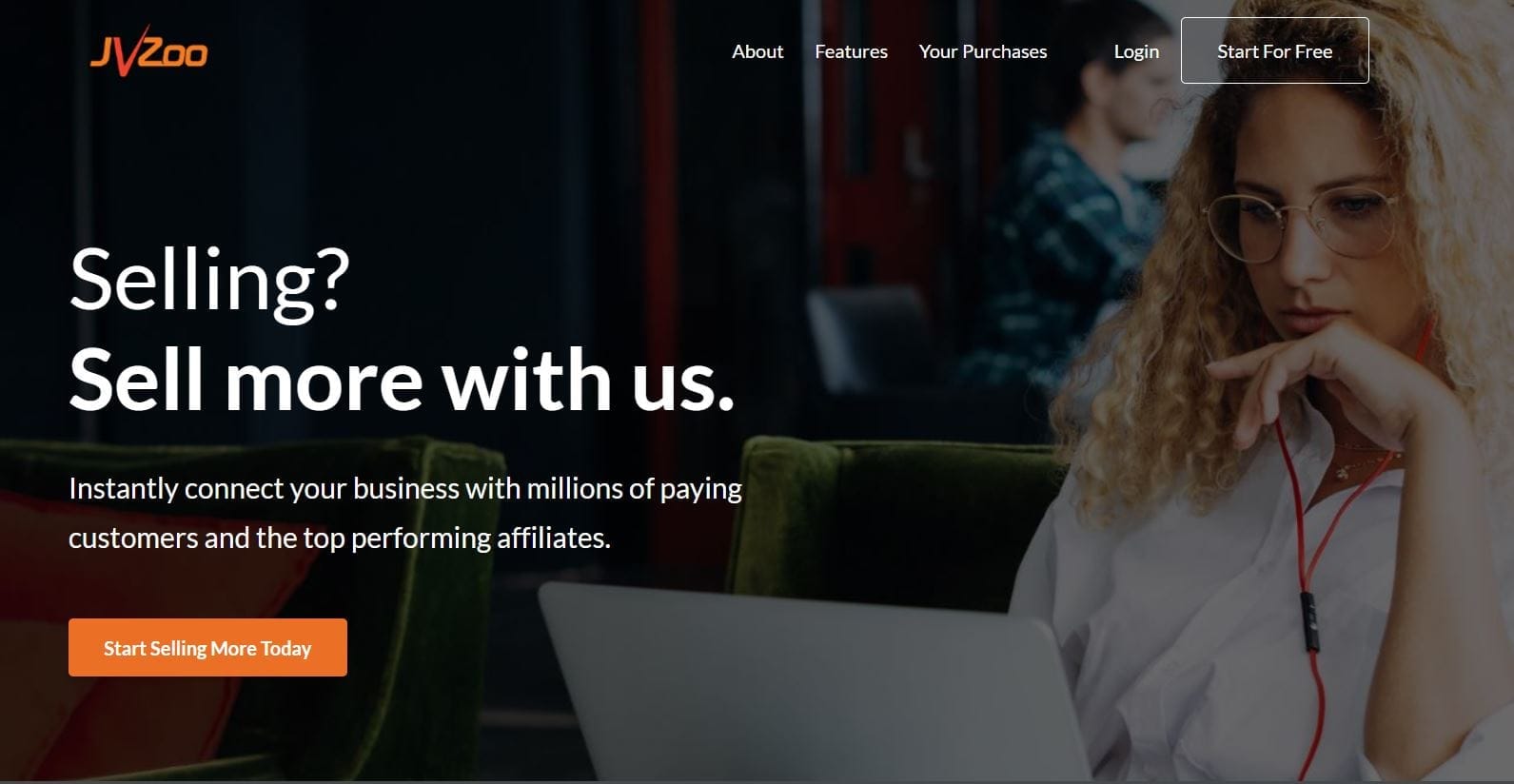 With JVZoo, you'll get access to a fine-tuned workflow. They also offer a long list of powerful integrations, including Stripe, PayPal, and Slack. JVZoo comes with a sleek interface and has a reputation for being professional and dependable.
Here are some of the standard features of JVZoo:
Instant signup
Drop and click sales funnel
Auto payments
Tax and regulation support
Real-time tracking
JVZoo has been around for two decades, so developers have had time to adapt and perfect it. The platform's focus on compliance and regulations is also a big plus. JVZoo users can rest easy knowing they have quality professional support.
Features: ClickBank
ClickBank is another all-in-one hub for your affiliate marketing needs. This company has been operating for more than 20 years and has users in over 20 countries: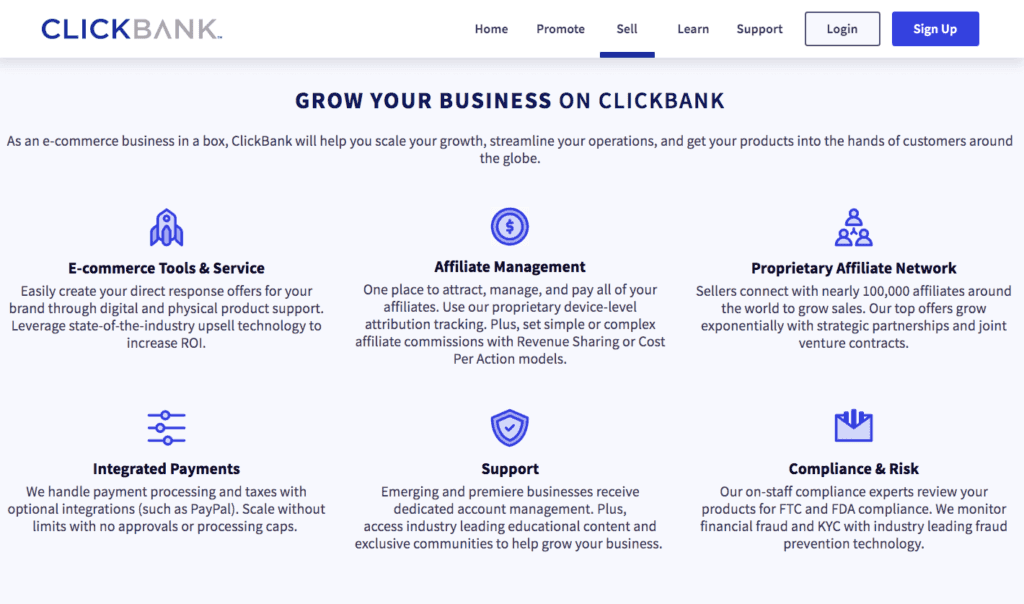 Here are some of ClickBank's prominent features:
Business support and training tools
Access to a proprietary affiliate network
Integrated payments
Ecommerce tools to increase ROI
An intuitive dashboard
ClickBank is user-friendly and easy to navigate. It offers quality integrations for payment and automated workflows. Therefore, it provides users with great potential for growth.
Additionally, ClickBank helps with some of your rather pesky administrative tasks related to compliance and taxes. And its custom order forms and proprietary affiliate network make it especially unique.
Both of these features can significantly boost your ability to make strong affiliate partnerships.
Features: Easy Affiliate
Our third choice is slightly different from the options mentioned above, because it's not an affiliate network. Rather, Easy Affiliate is an easy-to-use plugin that enables you to manage your affiliate program straight from your WordPress dashboard: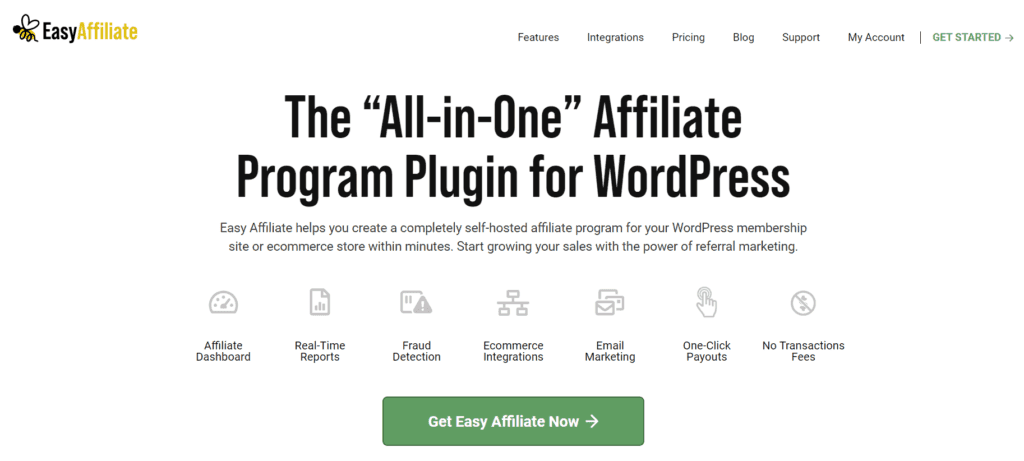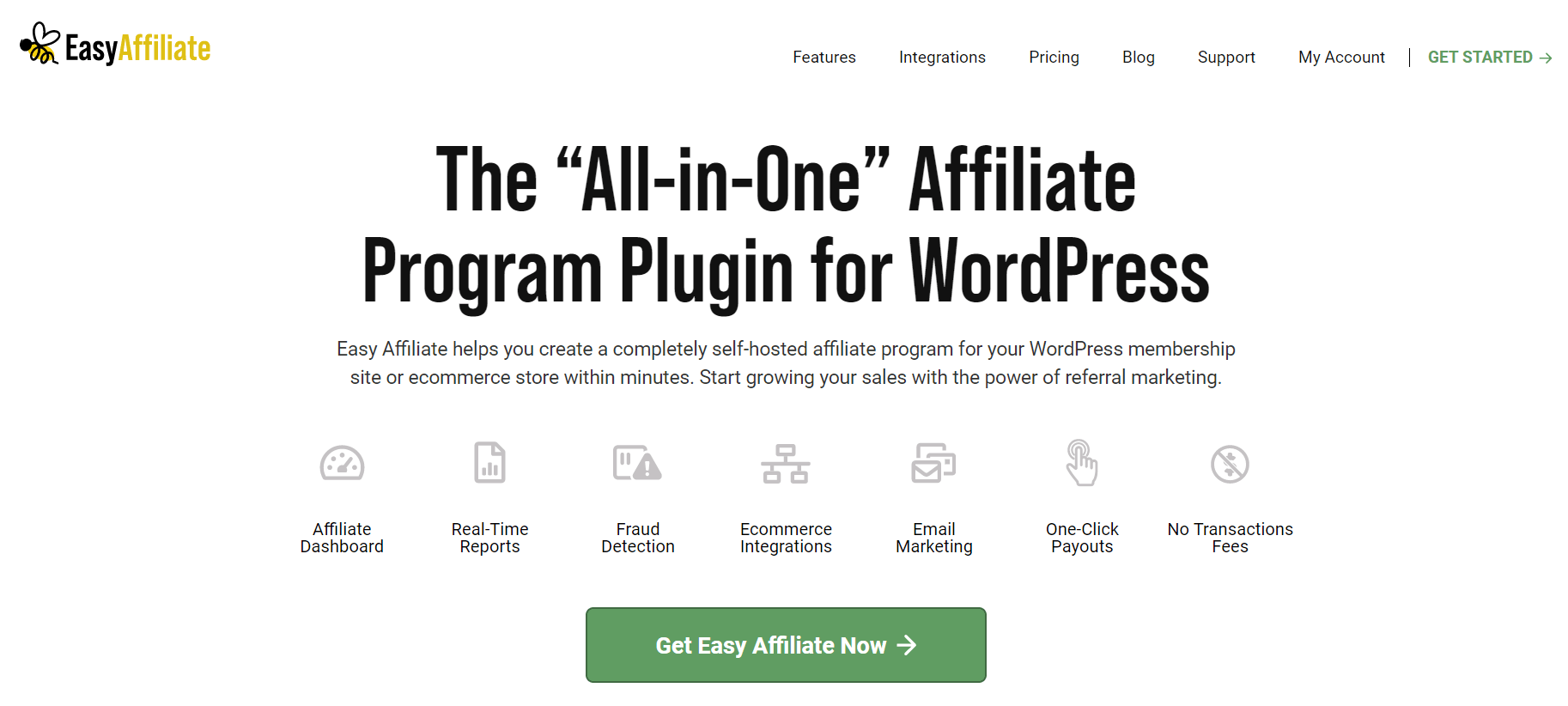 These are just a few of Easy Affiliate's useful features:
Free and simple setup
Advanced security and fraud detection
Comprehensive creative management tools
Custom link generation
Affiliate tracking and reports
Friendly support team
Customizable interface
Easy Affiliate is super versatile, so it will benefit pretty much any affiliate program. The primary advantage is that it's compatible with a wide variety of other tools, including email marketing programs.
You can comfortably pair Easy Affiliate with your favorite ecommerce tools. Also, because it was created by the same team of developers, Easy Affiliate integrates seamlessly with the leading WordPress membership plugin MemberPress.
Furthermore, it allows you to personalize nearly every element of your affiliate program. With Easy Affiliate, you can cater to your own unique needs. You can even create affiliate application processes and choose custom commissions for each individual.
Ease of Use for JVZoo vs ClickBank vs Easy Affiliate
Whether you're new to affiliate marketing or a veteran vendor, you'll want to manage your business on a straightforward platform. You don't want to waste time fumbling around.
When making your choice, it's crucial to consider things like the user dashboard, workflow, and analytics. In this section, then, we'll explore the usability of each platform.
Ease of Use: JVZoo
Your first interaction with any affiliate management platform will be the signup process. Setting up an account with JVZoo is simple, free, and fast:
Without any barriers or signup fees, you'll be able to get started instantly. Once you've signed up, the first thing you'll want to do is navigate to the dashboard.
This offers access to all the tools and resources you'll need to manage your affiliate program. It also provides you with a quick highlight of your revenue and clicks.
If you're genuinely interested in the platform, it would be wise to register for a free account first. That way you can familiarize yourself with the dashboard then move forward if you like it.
Ease of Use: ClickBank
ClickBank is also well-known for being user-friendly. Plus, it's free and easy to sign up. You can fill out the form and complete the process in just a few minutes: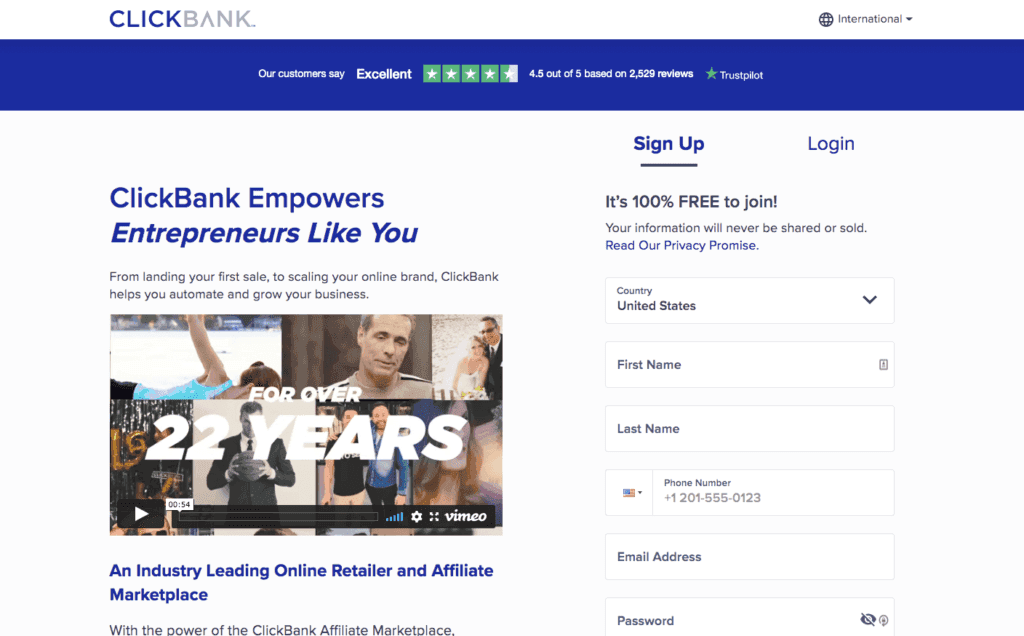 After you register, you'll be able to access the ClickBank dashboard. Most people will find this minimalist, image-based homepage simple and easy to use: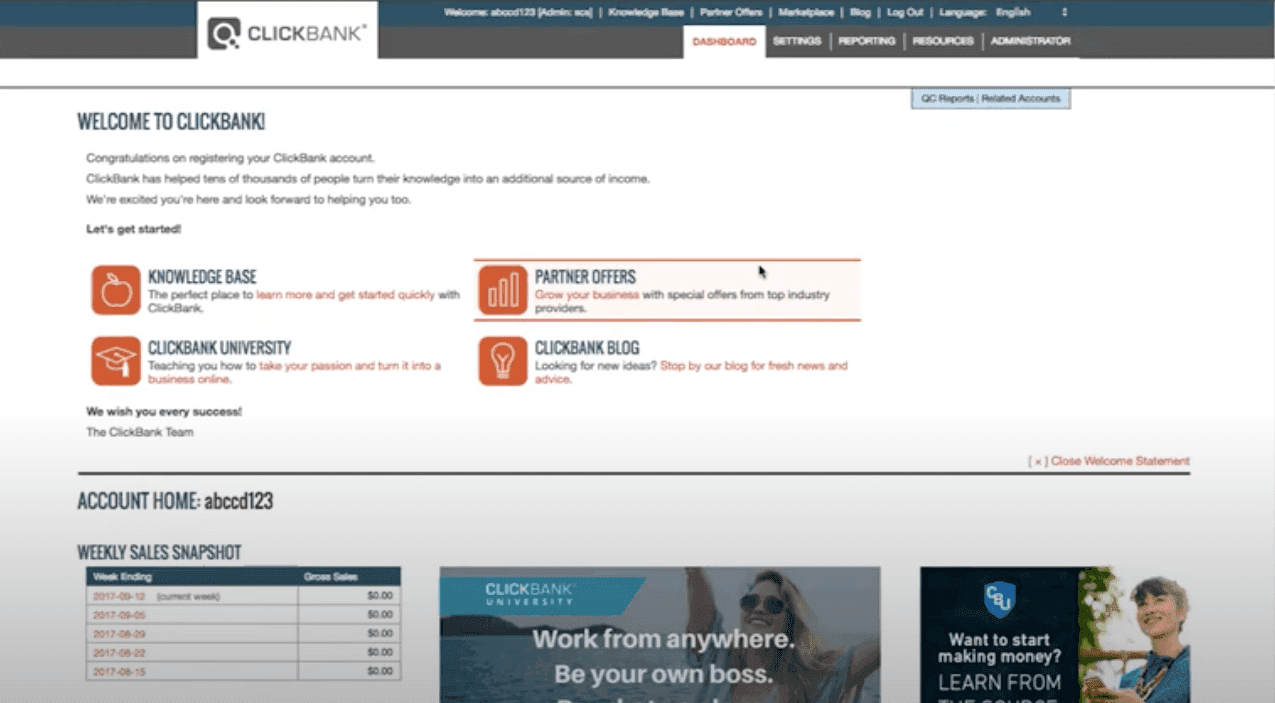 This dashboard is great for every skill level. Also, it makes it simple to gather important data and reports so you can monitor the progress of your affiliate program.
Easy of Use: Easy Affiliate
As the name suggests, the Easy Affiliate platform is simple and intuitive. Your experience level isn't important. Anyone can use it, which makes it a great tool for small online businesses.
The process begins with a signup form that you can complete in just a few minutes. All you need is your personal information and payment details:
Once you sign up, you can install the Easy Affiliate plugin on your WordPress website. Then, you'll be able to access the Easy Affiliate dashboard from your site.
Depending on the plan you choose, you'll have access to different capabilities, but you'll be able to find them all in one convenient place: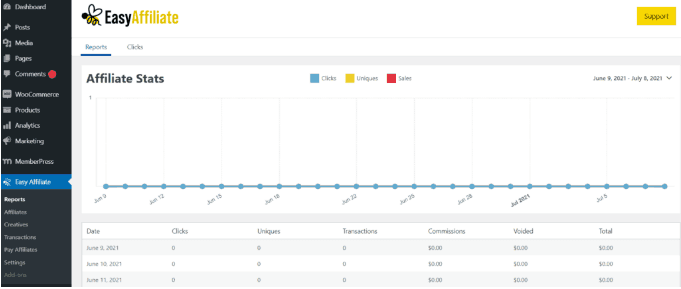 If you're already familiar with the WordPress dashboard, Easy Affiliate may the right choice for you. You'll be able to manage your affiliates directly from your site.
From here, you can access everything from email campaigns to commission controls. This centralized system makes Easy Affiliate a very efficient tool to have.
Support for JVZoo vs ClickBank vs Easy Affiliate
Trustworthy customer support is a must for any affiliate platform. If you run into trouble, the last thing you want to do is to wait a week for a customer support agent to respond to you.
A good affiliate platform should offer you a variety of speedy support options when you're in need. In this section, we'll review the different customer support services for these platforms, so you know what to expect.
Support: JVZoo
JVZoo has two support options. You can either access the JVZoo knowledgebase or submit a customer support ticket: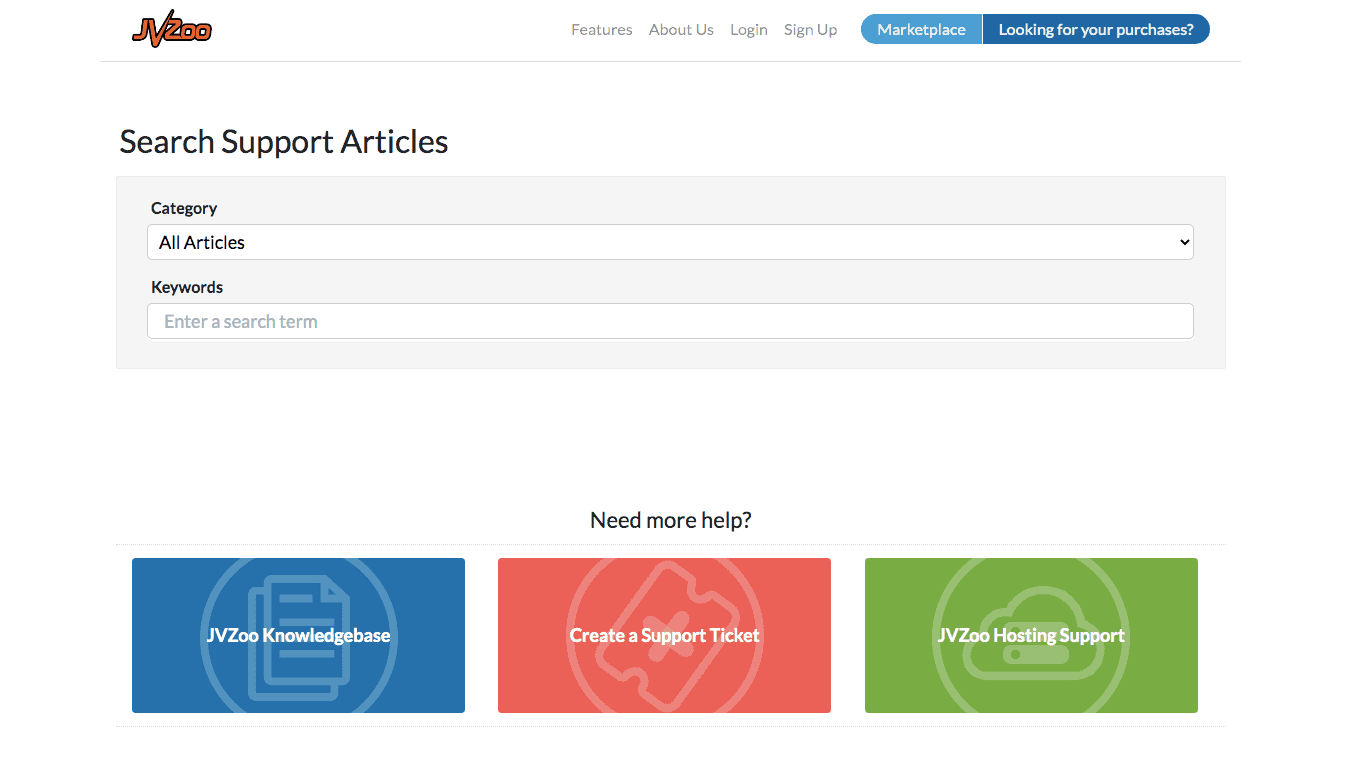 The JVZoo Knowledgebase offers several helpful FAQ articles. However, the form to submit a ticket is rather long and tedious: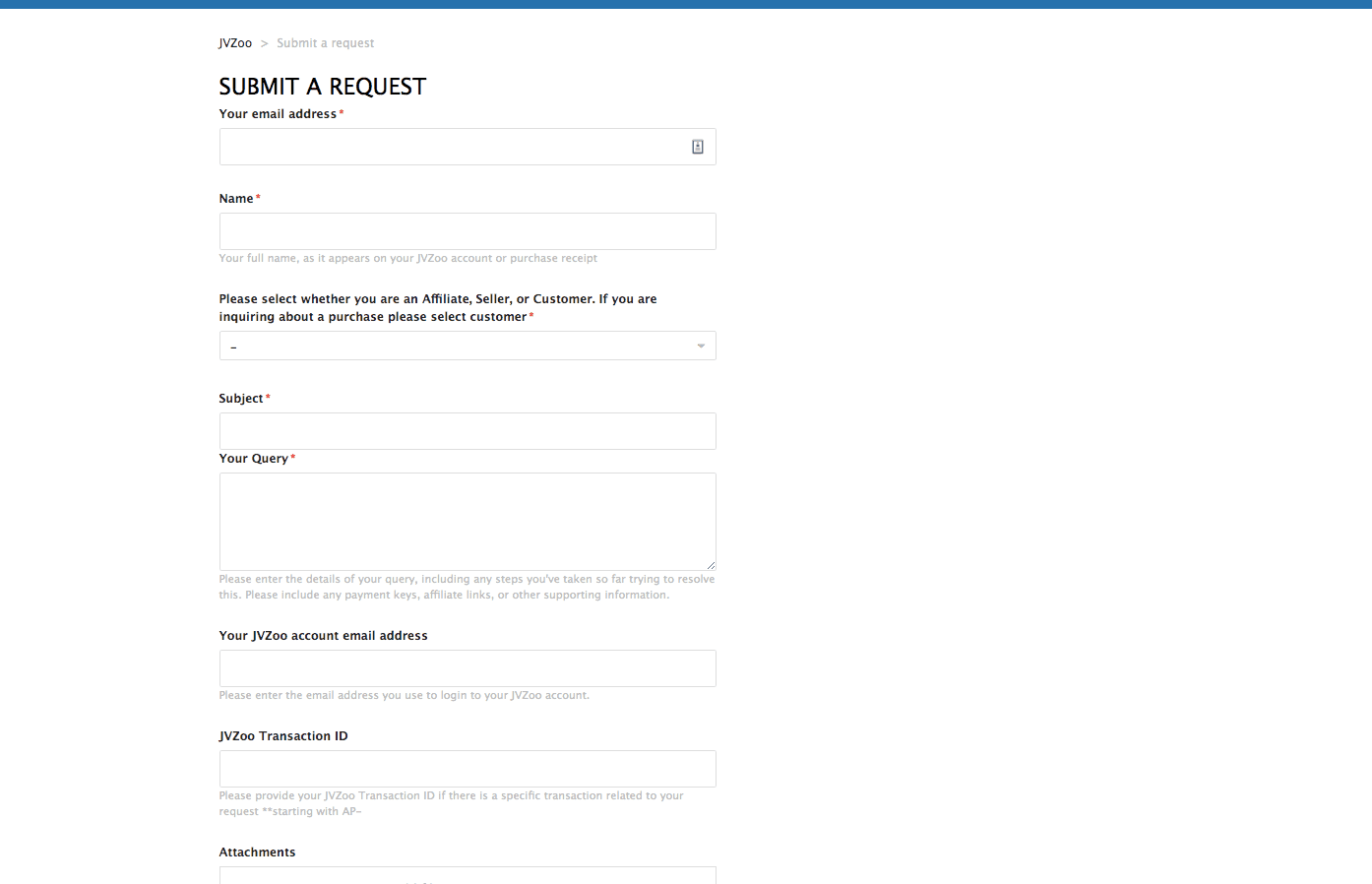 Unfortunately, JVZoo's customer support is not the most comprehensive. However, this could be because users run into fewer problems on such a well-established platform.
Support: ClickBank
Like other affiliate platforms, ClickBank has extensive written resources. When you're in need of guidance, you can navigate to the Vendor Help or Affiliate Help pages:
However, there are a few things that make ClickBank's customer support services stand out. In addition to an extensive library of knowledge, they offer live chat and phone support (in up to five languages).
Of course, you don't want to run into too many problems with your affiliate platform. Nonetheless, it's always good to know that there's a human on the other end to help you when you're in need.
Support: Easy Affiliate
Easy Affiliate offers several forms of customer support. The first is a highly responsive customer support ticket system.
The ticket requires a form that is quick and easy to fill out. You're guaranteed a response in 1-2 business days, but in the vast majority of cases, you hear back the same day.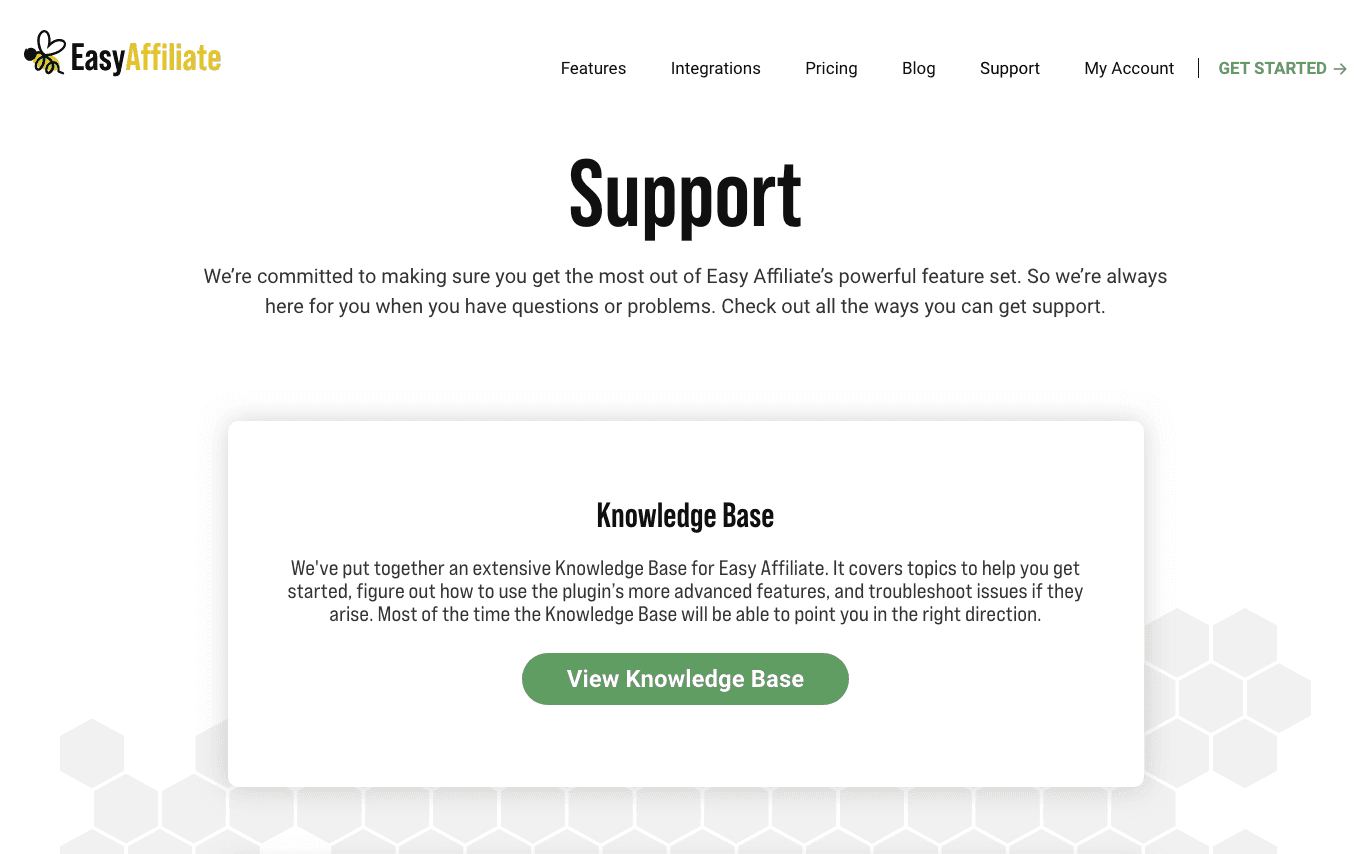 Although some might prefer a phone or chat option, the ticket system reduces confusion and ultimately enables faster and more efficient resolutions.
In addition, Easy Affiliate has a well-organized and extensive list of topics for its written knowledge base. This includes categories like add-ons, ecommerce integrations, how-tos, and reports.
Pricing for JVZoo vs ClickBank vs Easy Affiliate
The majority of affiliate programs charge a signup fee, take a commission, or do both. Meanwhile, every business has different models, expectations, and budgets.
Therefore, you may want to do some number crunching to see which payment structure is best for you. Let's see how these affiliate programs compare in terms of pricing.
Pricing: JVZoo
You might remember that signing up for JVZoo is free. There's no catch here. However, there are two types of profiles on JVZoo
Product vendors
Affiliates
One of them eventually has to pay, and affiliates never pay a dime. They just do their work and get a commission from the vendor.
Sellers, on the other hand, must pay a 5% fee for every product they sell. This may seem small, but it can add up quickly. For example, if you sell $5000 in widgets per month, $250 of that will go to transaction fees.
Pricing: ClickBank
The ClickBank platform also offers a free signup model. However, there are some unmentioned fees that you'll quickly discover if you decide to sign up: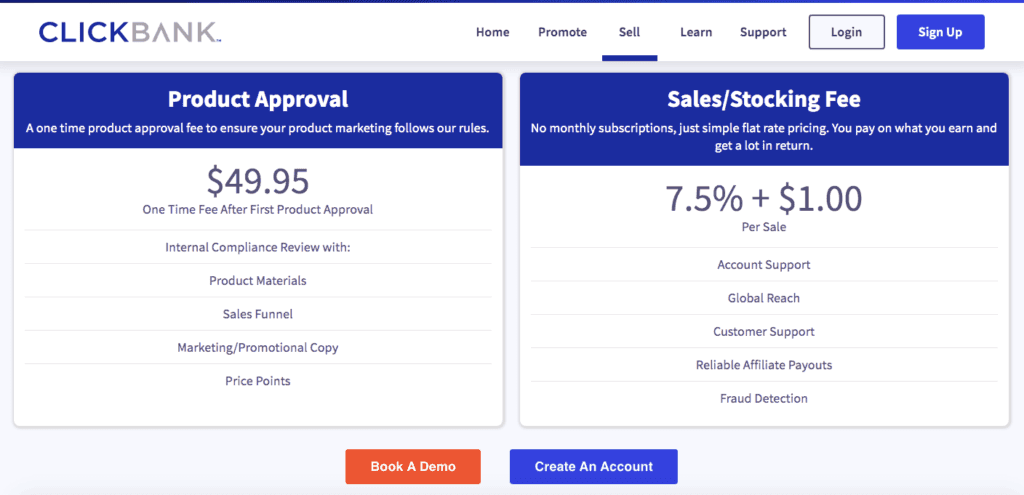 To get started, vendors must pay a one-time product approval fee of $49.95. After that, they'll pay 7.5% + $1 on every sale.
If your product has a low dollar value (something like soaps or makeup), this may not be the best model for you since that $1 is already a significant portion of your sale.
Essentially, ClickBank charges a start-up fee, a sizeable commission, and a flat fee per sale. It's no doubt a premium service, but you'll definitely pay for it.
Pricing: Easy Affiliate
Easy Affiliate has a unique pricing model for an affiliate marketing program. Instead of a signup or a commission-based model, you pay an annual subscription fee and zero platform transaction fees. The only additional fees go to your payment gateway.
You can choose from three different plans with varying costs and features:
The Basic Plan costs $99.50 a year and is a great option for small businesses using a single website. It allows you to have an unlimited number of affiliates and includes most of the popular integrations.
The Plus Plan may offer the best deal for $149.50 a year. With this tier, you get all the basic features (but on three websites) plus multiple commission levels and integration with Mailchimp.
Finally, there is the Pro Plan which costs $199.50 a year. With this option, you'll get everything included on the Plus Plan (but on five websites), custom commission settings, and integration with ActiveCampaign.
No matter which of the plans you choose, the subscription model is the most affordable. With no commissions or fees, Easy Affiliate allows you to take home more of your profits.
Cost Comparison
The following cost comparison is an approximation based on 200 individual sales (each $25) totaling $5000 over the course of one year.
JVZoo
ClickBank
Easy Affiliate Basic
Set-up Fee
$0
Set-up Fee
$49.95
Annual Subscription
$99.50
Deposit
$0
Deposit
$0
Deposit
$0
Per-transaction (PayPal)
2.9% + $.30
Per-transaction (PayPal)
2.9% + $.30
Per-transaction (PayPal)
2.9% + $.30
Per-Transaction (Platform)
5%
Per-transaction (Platform)
7.5% + $1
Per-transaction (Platform)
$0
Left in Your Pocket
$4545
Left in Your Pocket
$4170.05
Left in Your Pocket
$4695.50
Conclusion
Choosing the right affiliate marketing platform is essential to the success of your ecommerce business.
Therefore, we recommend you weigh your options and make a pros and cons list. Each platform has its own set of unique features, client support options, and dashboard functionalities.
Let's recap the major differences between JVZoo vs ClickBank vs Easy Affiliate:
JVZoo: Instantly connects you with customers and affiliates so you can grow your business on a sleek and streamlined platform.
ClickBank: Offers an opportunity to sell and promote with its powerful affiliate network and premium services.
Easy Affiliate: Great for small businesses. Has an intuitive interface, offers integrations with the best ecommerce and marketing tools, and is the most affordable option (no per transaction platform fees).
Do you have any questions about these affiliate programs? Let us know in the comments section below!
If you liked this article, follow us on Twitter, Facebook, Pinterest, and LinkedIn. And don't forget to subscribe to our newsletter 🐝