Want your business to cash in on affiliate marketing? Not sure how to make it happen? We've got you covered with this guide to affiliate marketing for beginners.
Learn all about the sales-boosting, lead-driving technique that's taken the marketing world by storm.
Affiliate marketing is a popular and effective tactic for boosting conversions, driving sales to your business.
However, considering that it's such a dynamic and expansive field, figuring out where and how to get started can feel overwhelming.
Fortunately, we're here to show you the ropes. And once you understand the basics of affiliate marketing for beginners and how it works, you'll see how easy it is to use it to increase the income you earn through your website.
In this post, we'll begin by discussing what affiliate marketing is and its benefits. Then we'll explain how it works, and provide you with some tips for getting started. Let's jump in!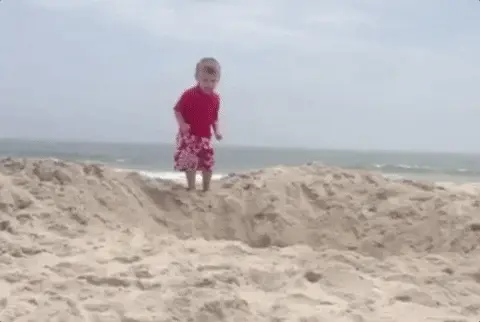 An Introduction to Affiliate Marketing for Beginners
In short, affiliate marketing is a strategy in which a brand pays a commission to affiliates based on sales generated through their referrals.
The key parties involved are:
Sellers (sometimes referred to as merchants, retailers, or brands) can range from individual entrepreneurs to global enterprises. They are the creators of the products or services being promoted and sold.
Affiliates (also referred to as publishers or advertisers) promote the seller's products to their audiences by using affiliate links and ads. If their promotion or referral leads to a sale, they earn a commission from the seller.
Customers purchase the product or service from the seller based on the affiliate's referral.
Essentially, affiliate marketing is a form of profit-sharing between sellers and advertisers. The commission earned comes out of the product price, so it doesn't create an additional cost to the customer.
Whether you participate in affiliate marketing as a merchant or an affiliate, there are many advantages when compared to other types of marketing. One of the biggest draws is the amount of control and flexibility available.
For example, a merchant can create an affiliate marketing program based on the products and services they choose to promote, while affiliates can decide which programs to participate in.
The shared goal is getting product promotions in front of relevant audiences who are likely to convert.
Affiliate links and banner ads are often used in informative, appealing, and engaging ways. The aims is to make the content (and the associated product or service actually useful to users, such as through video tutorials or product reviews:
Affiliate marketing is also cost-effective for both parties involved.
Affiliate program managers only pay out a commission once a consumer completes the intended action (a purchase, sign-up, etc.).
Affiliate programs tend to be free for affiliate partners to join.
It's a low-risk, win-win setup!
How Affiliate Marketing Programs Work
When an affiliate partner signs up for an affiliate marketing program, they're issued a unique ID and a trackable URL to use in their promotional content. When a user clicks on your affiliate link or banner ad, it adds a cookie to the user's browser.
If you click on an affiliate link or ad, you might notice the referral code or identifier within the URL. Generally, the link looks longer than it would if you were to visit the merchant's page directly:
As an affiliate program manager, you would use these special IDs to verify the referral source of a customer. In other words, these codes are critical for confirming and crediting affiliate partners.
Not all affiliate programs operate the same way, of course. Some common commission models include:
Pay Per Click (PPC): Affiliates earn credit any time a consumer clicks on their affiliate links.
Pay Per Sale (PPS): An affiliate earns a percentage of the referred sale.
Pay Per Lead (PPL): If an affiliate's link results in a qualified lead, they receive a fixed commission.
Ultimately, the structure and terms depend on whether you're using a self-hosted program or an affiliate marketing network. Networks such as Commission Junction and ShareASale are popular places to get started.
These third-party services act as an intermediary between sellers and affiliates, and they can help with finding and managing affiliate accounts.
However, affiliate marketing networks don't offer anywhere near as much control or autonomy as self-hosted programs such as those you can create with Easy Affiliate.
With Easy Affiliate, you can build your own self-hosted affiliate marketing program and exercise complete control — and it's simpler than working with a third-party service.
Tips for Getting Involved in Affiliate Marketing
If you're interested in getting started with affiliate marketing, the first decision you need to make is whether you want to participate as a merchant or an affiliate.
The side of the affiliate marketing relationship you're more interested in will influence your next steps.
Becoming an Affiliate Merchant
If you are a business owner (or represent a business) with existing products or services to sell, starting your own affiliate marketing program makes the most sense.
If you do decide an affiliate program is right for your business, the next step is to launch your affiliate site.
Fortunately, our own affiliate program plugin can make doing this quick and easy: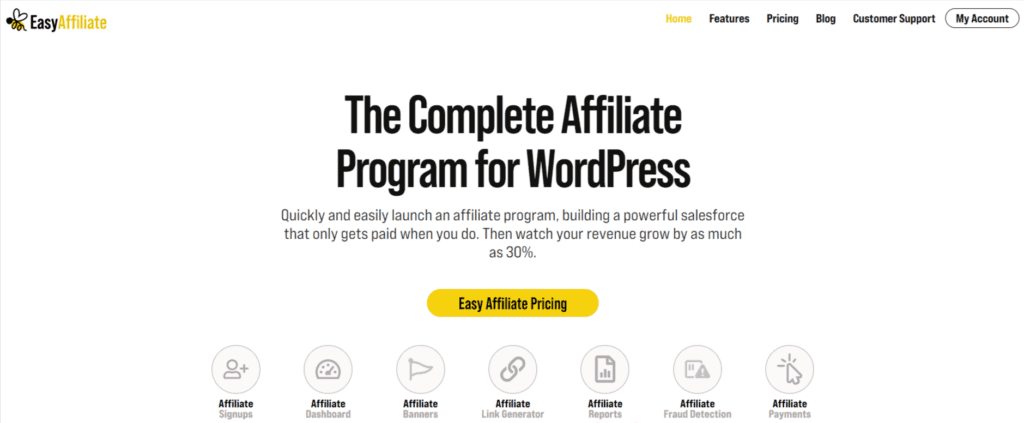 Built to simplify affiliate marketing for beginners, our all-in-one management plugin comes with all the features and functionality needed to set up and run an affiliate program.
This includes a personalized dashboard for affiliates, shopping cart integration, banner and link creation, and more.
Here are our top tips that will help you avoid common pitfalls and maximize your affiliate program's success:
Tip#1 Vet Affiliate Applications
In the desire to grow as quickly as possible, you may be tempted to accept any and every person who wants to become your affiliate partner. But a little due diligence can go a long way.
Affiliate partners whose main goal is to make a quick buck can reflect poorly on your brand.
These affiliates use spammy practices such as cramming as many affiliate links into their content as possible. This not only frustrates their audiences, it could even negatively impact your search page rankings.
At a minimum, you should add an application process to your affiliate program, and check that your applicants…
create good quality, engaging content,
regularly update their content channels,
has an engaged following, indicating a level of trust with their audience.
With Easy Affiliate, it's easy to add affiliate application requests.
From your WordPress dashboard, go to Easy Affiliate > Settings > Affiliate tab and set the Registration Type to Application.

Tip #2 Maintain Communication
Now you've got some high-quality affiliates, it's time to make the most of this opportunity. Think about ways you can help facilitate them to create regular, useful content about your brand.
Communicate anything that might be of interest to their audience, and update them with new products, feature releases, updates, and promotions.
This will give them a valid reason to promote your brand again through their content.
Tip #3 Provide Resources
Give your affiliates further incentive by providing them with banners and links to specific landing pages on your site.
Easy Affiliates makes it super easy to distribute these resources to your affiliates.
Upon registering and signing in, your affiliates will be sent to their Affiliate Dashboard. There they can see their performance report, and get access to links and banners for your campaigns.
They'll also be able to generate their own links to specific landing pages on your site themselves.
If, for example, they want to link directly to a product page or a blog on your website, they can easily do it themselves, alleviating your administrative burden.
Tip #4: Track and Analyze Performance
Tracking the performance of each affiliate helps identify which affiliates and strategies are working and which ones aren't. This allows you to allocate resources more effectively and reward your top-performing affiliates.
Easy Affiliate has a feature to automatically add UTM parameters to each affiliate link. This lets you track affiliate performance right in Google Analytics.
Tip #5 Provide Clear Terms and Conditions:
You've got to provide clear terms and conditions for your affiliate program. Affiliates should understand what is expected of them, how and when they will be paid, and what actions could lead to their removal from the program.
One often overlooked clause we recommend is including a ban on affiliates bidding on branded keywords in PPC campaigns. This prevents your affiliates from "stealing" your organic traffic.
Again, with Easy Affiliate's UTM tracking, there is a way to spot affiliates in breach of this clause, and refuse their commission before you pay out.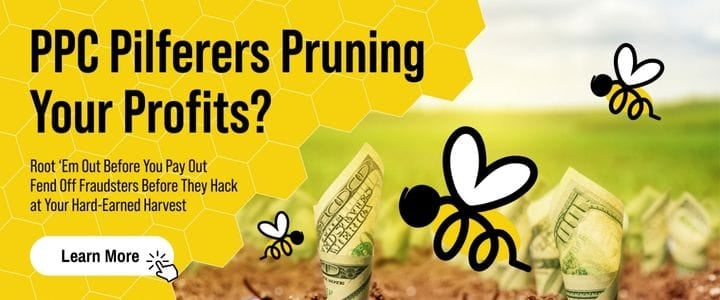 Becoming an Affiliate Partner
When you think of an affiliate partner, you might imagine an influencer or an individual that runs their own blog for a living. However, businesses can become affiliate partners too.
If your business has a popular and active blog, or a large social media following, becoming an affiliate partner to other companies and brands can be incredibly lucrative.
Not only will it help you earn money online, but it can also help to grow your confidence and familiarity with affiliate marketing programs, perhaps even paving the way to starting your own.
Here are some tips for starting out as an affiliate partner:
Tip #1: Brainstorm Relevant Brands
Start by brainstorming businesses that are a natural fit for your business. You obviously want to avoid competitors, but what are other products and services that are relevant to your audience?
You can check the website of your favorite brands to see whether they offer an affiliate program (this information is usually listed in the footer):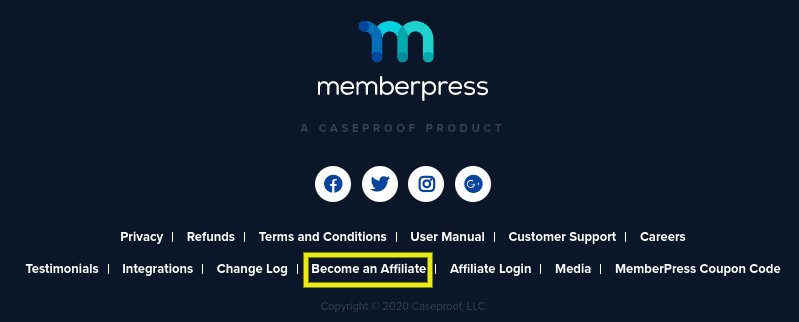 Consider other factors like the brand's reputation, whether the commission rates are competitive, and the resources provided by the merchant.
Tip #2: Prioritize Your Audience
Remember, you can only get good commissions if you maintain a good reputation and solid audience for your content.
Always prioritize quality content that provides value for your audience over shoehorning in irrelevant affiliate links.
These links won't perform well and you'll lose trust and credibility with your audience to boot.
Tip # 3 Be Transparent
Speaking of maintaining trust and credibility, always disclose your affiliate relationships to your audience. It's not just good practice — in many places, it's also legally required.
Tip #4: Diversify Your Affiliate Portfolio
Don't put all your eggs in one basket. Consider promoting products from different merchants in your niche. This can help protect your income if one merchant changes their program terms or ends their program.
Tip #5: Patience Is Key
Success in affiliate marketing doesn't happen overnight. It takes time to grow your audience, build trust, and start seeing significant income. Be patient, persistent, and consistent in your efforts.
Conclusion
Whether you're interested in promoting other companies' products to earn a passive income, or you want to grow your own business through a network of talented publishers and advertisers, affiliate marketing can help.
Although the structure, pricing, and terms vary by program, there are plenty of ways to get involved in affiliate marketing.
As we discussed in this post, as an affiliate partner you have the opportunity to earn a commission every time someone uses your affiliate link. We recommend looking into affiliate or referral programs offered by your favorite brands.
If you're ready to create your own program, our Easy Affiliate plugin can simplify and streamline the process.
Do you have any questions about getting involved in affiliate marketing? Let us know in the comments!
If you liked this post, be sure to follow us on Twitter, Facebook, and LinkedIn! And don't forget to subscribe in the box below.