The success of your affiliate marketing strategy hinges upon those you choose to promote your products. Therefore, you probably put a lot of time into recruiting quality affiliates. However, if they aren't satisfied with your program, they won't stick around for long.
The key to attracting – and keeping – quality partners is learning what makes them happy. Focusing on building and nurturing strong relationships with your affiliates results in a better experience for everyone.
In this post, we'll discuss some of the common frustrations promoters experience. Then we'll provide you with four strategies you can use to prevent them and keep your affiliates happy. Let's get started!
Common Frustrations Affiliates Face
To get an accurate idea of the kind of experience your program is providing, it's helpful to look at it from your partners' perspectives. For example, consider what's motivating them.
Chances are, it's primarily income. So understandably, not being paid on time or facing confusing commission structures can be a turn-off.
Similarly, if there's a lack of communication or transparency, it can be off-putting. Affiliates may feel like they are being taken advantage of or that the opportunity isn't worth their time and effort.
Other common frustrations affiliates may face include a lack of access to product information and materials, feeling neglected or undervalued, and having limited room for growth. Fortunately, by understanding what influencers don't like, you can more easily improve your program.
4 Strategies for Keeping Your Affiliates Happy
Making your affiliates' satisfaction a priority will ultimately influence your program's success. Let's take a look at four strategies you can use to keep them happy.
1. Provide Easy Access to Tools and Resources for Promoting Your Products
A common mistake affiliate marketers make is assuming their partners are already well-versed in their products. Hopefully, you have some quality influencers who are passionate about your brand. However, this isn't always the case.
Keeping your partners informed and updated on all your offers is crucial for helping them succeed. Providing easy access to the tools and resources needed to promote your products – such as links and banners – can streamline their workflow, minimize frustrations, and make them that much more productive. After all, they can only work with what they're given.
To do this, we suggest using our Easy Affiliate plugin: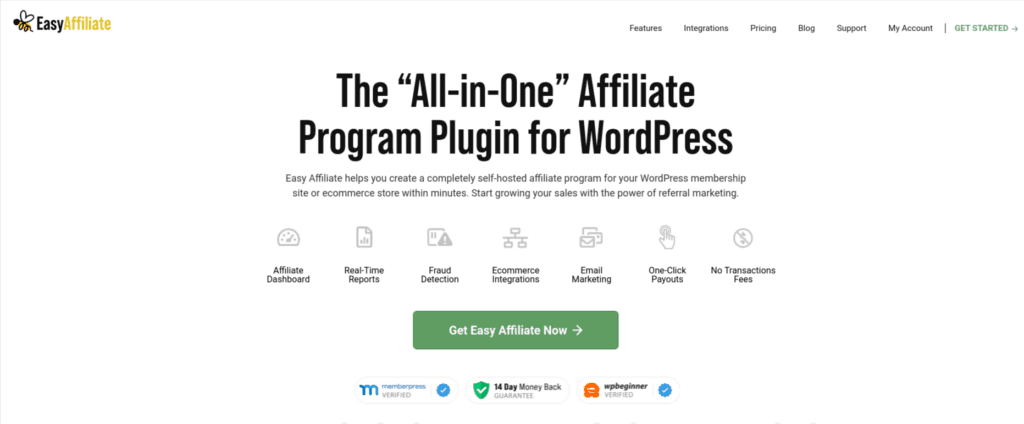 Our affiliate marketing program management tool provides a platform for you and your partners to share resources and communicate quickly and effectively.
For example, you can use the dashboard to provide banners and links for affiliates to use. Then they can download them directly from their personalized account page.
2. Check In Regularly and Encourage Open Communication
When it comes to making your affiliates feel like you genuinely care, regular communication can go a long way. Checking in periodically offers the opportunity to address their concerns and questions.
Open communication can also uncover areas in your program that can be improved. For example, if multiple affiliates bring up the same or similar questions, it's an indication that there's a lack of clarity somewhere in your guidelines.
You might also consider asking for feedback. One way to do this is by occasionally sending out surveys using a tool such as Survey Monkey:
This online survey platform makes it easy to quickly create polls and questionnaires to distribute to your partners. Then you can use the feedback you gather to enhance and improve your program.
To make your check-ins productive, be sure your affiliates understand you want them to be honest and open. Approaching them in a friendly and personable manner can make them feel comfortable and, in turn, more likely to share their thoughts.
3. Automate the Tracking and Issuing of Commission Payments
No employee would enjoy having to hassle their employer for a paycheck. Similarly, your affiliates shouldn't have to chase you down for their commission payouts.
One of the best ways to keep your affiliates happy is to pay them quickly and on time. To make sure this happens, it's helpful to have a reliable payment and transaction tracking system in place.
This is another task Easy Affiliate can tackle. Our plugin makes it easy to automate and manage commission payouts: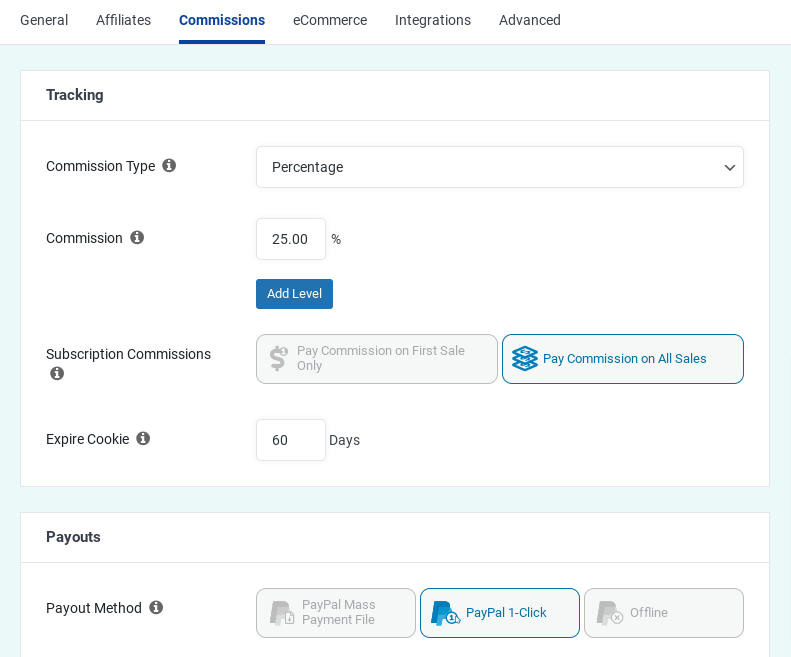 From the admin dashboard, you can:
View transaction reports
Configure commission levels
Track initial and recurring payments
Issue payments
You can also easily integrate it with gateways such as PayPal. Plus, from the Affiliate Dashboard, your affiliates will be able to monitor their stats and view their payment histories so there will be little room for confusion.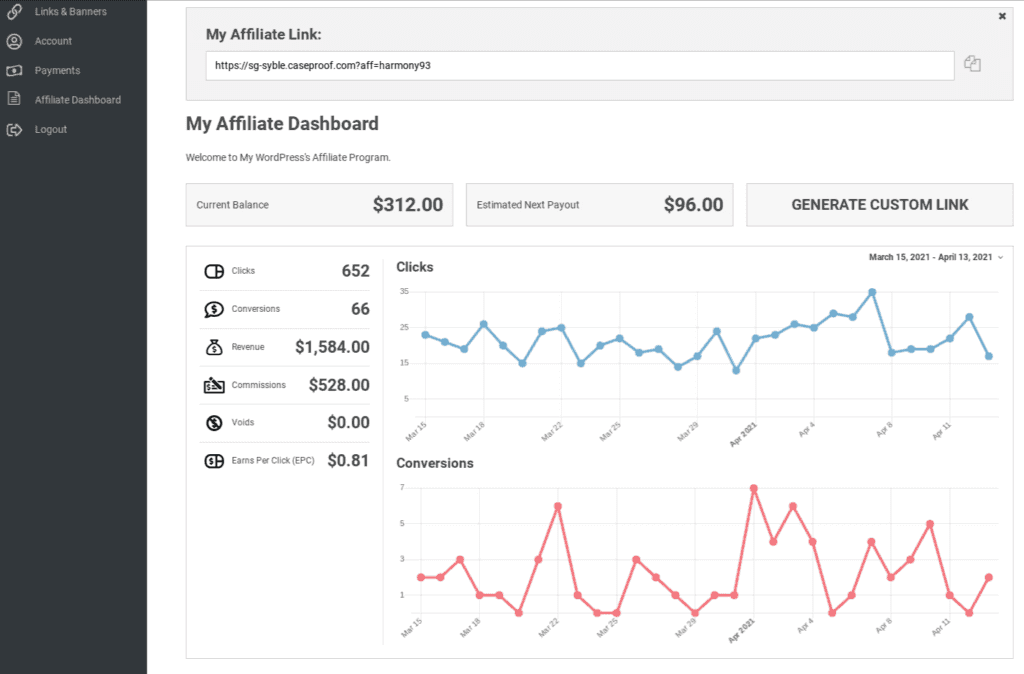 4. Offer Bonuses and Incentives to Boost Motivation and Performance
As we mentioned, money is typically the main motivator that drives affiliates to join programs. Therefore, offering commission boosts and bonuses can be a powerful way to increase productivity among your partners.
Creating commission tiers isn't required, but it's something we encourage. This type of structure can help affiliates establish and build momentum as they see their earnings increase with each sale.
You might also consider offering a "hot-streak bonus." This is when a certain number of sales in a given time period places affiliates in a higher bracket. You can easily create and configure commission levels using Easy Affiliate.
There are other strategies you can use to boost performance. For example, you might consider introducing limited-time offers to motivate inactive influencers, as well as running affiliate contests.
Conclusion
Your affiliates are what keep your program running. They play a crucial role in promoting your products and generating leads. However, if you want to cultivate productive, lasting relationships, it's important to make sure your affiliates stay motivated.
In this article, we discussed four strategies you can use to keep your affiliates happy:
Provide easy access to resources they need to promote your products.
Check in with them regularly and encourage open communication.
Automate the tracking and issuing of commission payments.
Offer bonuses and incentives to boost motivation and performance.
Do you have any questions about how to keep your affiliates happy? Let us know in the comments section below!
If you liked this post, be sure to follow us on Twitter, Facebook, and LinkedIn! And don't forget to subscribe in the box below.