As the digital landscape continues to evolve, the importance of online marketing is impossible to ignore. While outbound marketing efforts such as billboards and newspaper ads were once sufficient for spreading brand awareness, companies that fail to become well-versed in inbound marketing tactics now risk falling behind the competition.
By adapting to the digital marketing environment afforded by the internet, businesses can expand their reach, target customers, and increase sales. Using online marketing techniques will help you keep pace with others in your industry, while also improving the efficiency of your strategy.
In this article, we'll take a brief look at the history of how the internet transformed the way businesses are promoted. Then we'll introduce you to five online marketing techniques to try. Let's get started!
How the Internet Has Transformed Marketing
Before the rise of the internet, businesses relied mostly on "outbound" marketing methods, such as radio and TV ads, print mail, and cold-calling. These techniques tend to be highly generalized, impersonal, and directed toward large groups.
Outbound marketing worked fine for a while, but it's less effective now than it used to be. The problem with this method is that customers can easily dismiss it. Direct mail can be thrown out, many people can now skip TV ads, and telemarketing is often seen as a nuisance.
The '90s brought in a new age of advertising, including search engines and Google PageRank. These advancements ushered in a more meaningful way of communicating with consumers. Businesses started to shift toward 'inbound' marketing – the practice of attracting and engaging leads who are already seeking you out.
The internet and digital devices produce a plethora of data. This information offers insight into buyers' behaviors and preferences. As a result, businesses can leverage online marketing techniques to target better leads that are more likely to result in conversions.
Prioritizing inbound marketing is a matter of quality over quantity. Instead of wasting money and resources creating generalized content for people who may not find your brand relevant to their wants or needs, you can hook leads who have already entered the marketing pipeline and turn them into loyal customers.
5 Online Marketing Techniques Every Business Should Try
Taking a digital-first approach to marketing can be challenging for some businesses. However, to make the most of your advertising budget and efforts, there are five online marketing techniques you may want to try.
1. Implement Content Marketing to Drive Traffic to Your Site
Content marketing involves sharing knowledge online. It includes a variety of formats such as social media posts, videos, and blogs. Rather than being purely promotional, content marketing is used to deliver meaningful information to consumers to spark interest in a product or service.
To generate valuable content that drives traffic to your site, you should aim to create material that is entertaining, informative, or educational. You may or may not mention your products or services by name, but your posts should work to build your credibility in your industry.
If you're new to content marketing, a simple place to start is by adding a blog to your website. Take HubSpot, for example. They publish a significant volume of useful, well-formatted posts: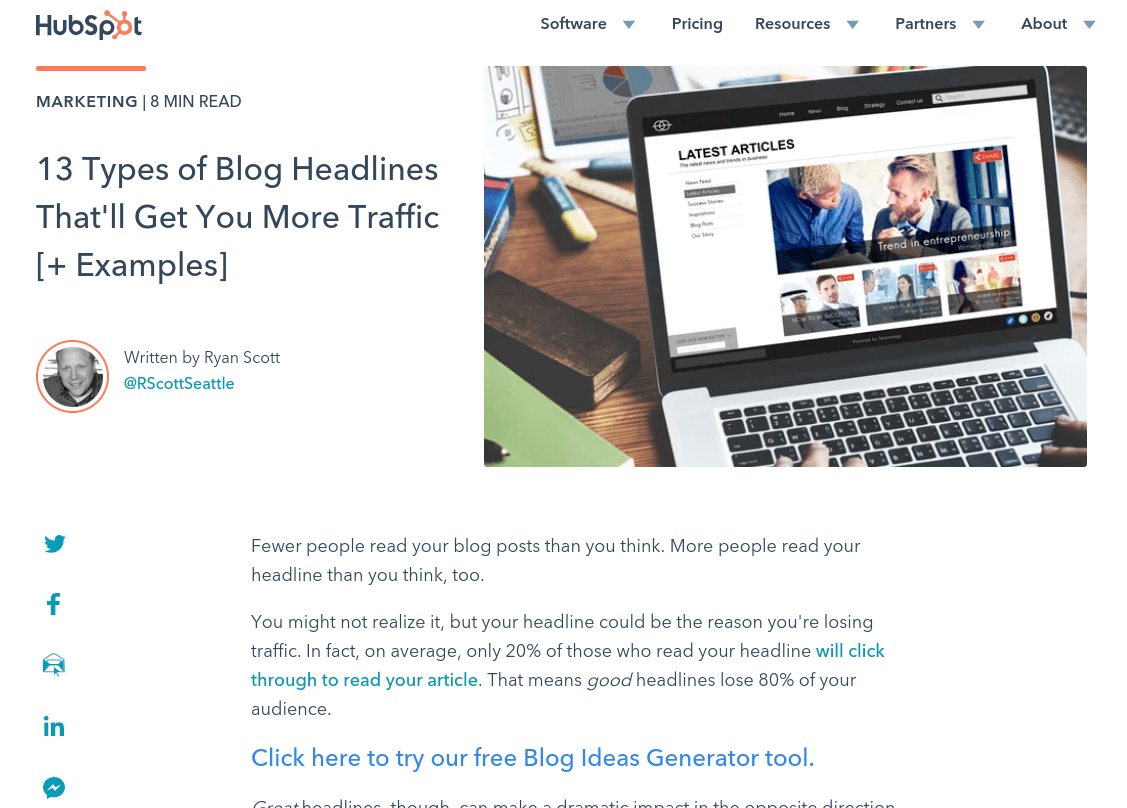 Regularly publishing on your blog can help improve your site's Search Engine Optimization (SEO). By posting consistently, you help keep the information on your site fresh and relevant. Plus, blog content can easily be shared on social media or used in email campaigns.
2. Grow and Engage Your Audience Through Social Media
Social media marketing is a way of promoting your brand, products, and services through channels such as Facebook, Instagram, and Twitter. There are many methods you can use to leverage social media to drive traffic to your site.
Today, many people use social media as a source of news and information. According to GlobalWebIndex, the average person spends over two hours per day on social media: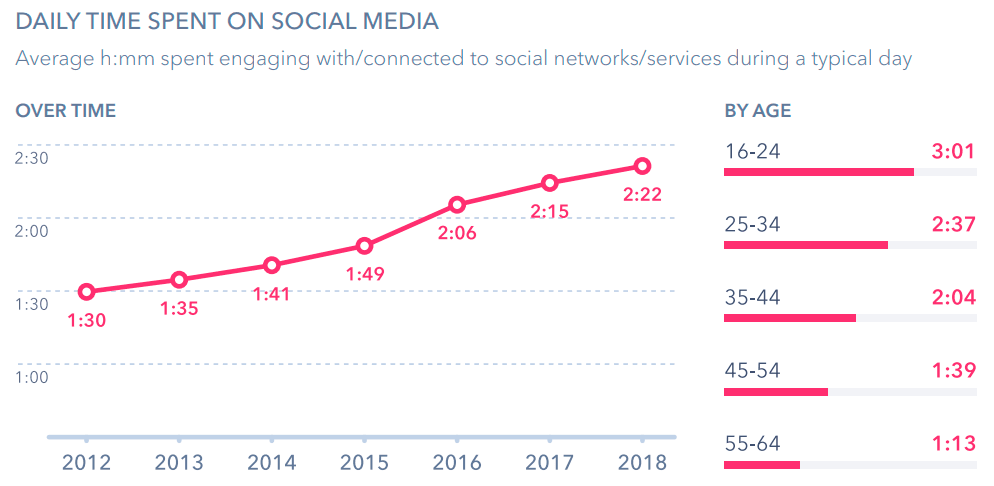 Therefore, establishing a presence on these platforms can help you boost brand awareness. You can do this by:
Regularly posting information that is relevant and unique to your audience
Running targeted social campaign ads
Using hashtags, high-quality images, and relevant links with your posts
Following and interacting with your audience as well as influencers in your industry
To make incorporating social media into your online marketing strategy easier, you may consider adding social share buttons to your WordPress website using a plugin such as UltimatelySocial. This enables visitors to your site to do the work of promoting your brand via social networks for you.
3. Use Search Engine Optimization (SEO) to Boost Your Site's Rankings
The introduction of SEO has had one of the biggest impacts on marketing strategies. By optimizing your content with keywords, you can improve your site's rankings on Search Engine Results Pages (SERPs).
This helps drive organic traffic to your site from users who are searching for terms related to your products and services. Google algorithms value content that is relevant and useful to consumers, so finding ways to make your website stand out in these regards is vital.
To determine which keywords you should target, you could use research tools such as Google Keyword Planner. You may also consider a plugin such as AIOSEO to make optimization easier.
AIOSEO analyzes the content on your posts and pages to assess its 'SEO-friendliness'. It also provides you with a snippet preview of how your page title and meta description will appear on SERPs.
4. Run a Pay-Per-Click (PPC) Campaign
In addition to organic search traffic, you can further boost your online marketing strategy by running a PPC campaign using Google Ads. This method involves bidding on keywords that you want your ads to rank for in the search engines. You only pay if a user clicks on the ad.
You can use these ads to run targeted campaigns on social media, as well as pairing them with your organic SEO efforts:
PPC advertising can be quite competitive, especially for broad search terms. It's important to develop a strategy and conduct keyword and competitor analysis to determine which keywords to target.
5. Start an Affiliate Marketing Program
Affiliate marketing is an online strategy you can use to generate additional revenue, promote your products, and drive site traffic. To get started, you'll want to set up a program to attract influencers and other potential partners (called 'affiliates') who will promote your brand in exchange for a commission on any resulting sales.
One of the best things about affiliate marketing programs is that they're easy to set up. If you're a WordPress user, you can get started with our Easy Affiliate plugin: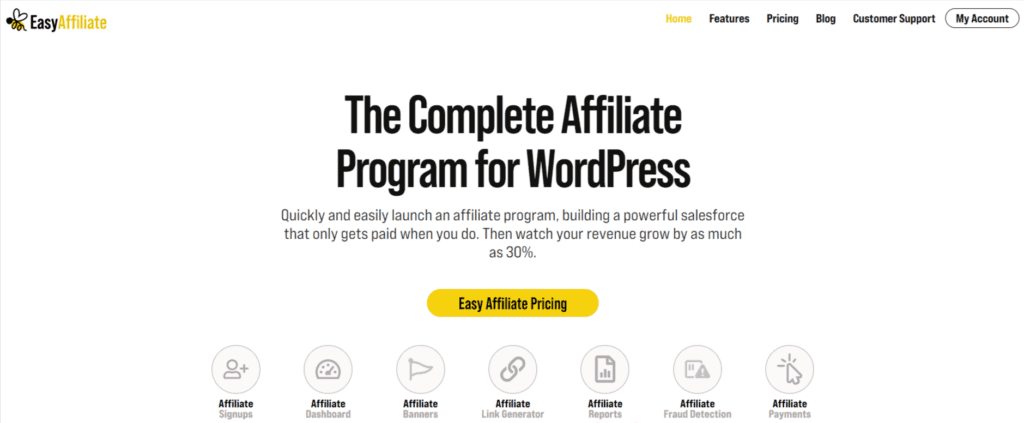 Once you choose your plan, you can download the Easy Affiliate .zip file and upload and install it on your WordPress site. Then you'll have a fully-personalized affiliate marketing dashboard that integrates with your WordPress admin area. From there, you can manage all aspects of your program.
Conclusion
The internet offers endless opportunities for businesses to grow their audiences and sales. If you aren't already incorporating online marketing strategies into your business plan, you could be missing out on potential customers.
As we discussed in this article, there are five key online marketing techniques you should try:
Implement content marketing to drive traffic to your site.
Grow and engage your audience through social media.
Use SEO to boost your website's rankings.
Run a PPC campaign.
Start an affiliate marketing program with Easy Affiliate.
Do you have any questions about online marketing techniques? Let us know in the comments section below!
If you liked this post, be sure to follow us on Twitter, Facebook, and LinkedIn! And don't forget to subscribe in the box below.