As an affiliate manager, focusing on program management and its associated tasks is usually a priority. However, even with a tool as complete as Easy Affiliate, you may find yourself lacking certain features. One of them is link optimization, which you can achieve with Pretty Links.
Pretty Links is a link shortening plugin that enables you to expertly optimize your website links. When used alongside Easy Affiliate, you can more effectively run your program and boost your sales.
In this post, we'll introduce you to Pretty Links. We'll then show you a few ways to use Pretty Links and Easy Affiliate together, and how your website and program will benefit from doing so. Let's get started!
An Introduction to Pretty Links

As we discussed, Pretty Links is a link management plugin that enables you to create shortened, branded links. These can be used on your affiliate program website, as well as by your affiliates. This is an invaluable tool, as links can tell you plenty about your affiliate campaigns – including Click-Through Rates (CTRs) and conversions.
There are many benefits to using shortened links in your affiliate campaigns alongside Easy Affiliate. For example, they can:
Boost awareness by incorporating your brand into the URL.
Make it more likely for users to click, as they're 'cleaner' and prettier.
Make it easier for visitors to share them on different platforms.
Because Pretty Links and Easy Affiliate are a part of the same family, they can also work seamlessly together. With both plugins installed on your affiliate site, you can increase your program's brand awareness, as well as its success.
3 Ways to Use Pretty Links With Easy Affiliate
Let's take a closer look at ways you can use Pretty Links to optimize your affiliate links. With this knowledge, you can then use such links throughout your program and affiliate campaign.
1. Brand Your Affiliate Links for Increased Credibility

Branded links are simply those that contain your brand (i.e. your website name) and an optimized slug. These enable you to easily spread your brand, which can increase interactions with your target audience.
This is important for you as an affiliate manager, because increased interactions can boost your conversions. These links are also something you can easily add to your program, both through your Affiliate Dashboard (which you created with Easy Affiliate) and resource hub.
Branding your affiliate links is simple with Pretty Links. Once the plugin is installed, head to Pretty Links > Add New Link within WordPress. Here, you'll have three required fields to set – Redirection, Target URL, and Pretty Links:

There are also plenty of Advanced and Pro Options to choose from. These include the options to track links, 'nofollow' them, and set an expiry date (for special deals or offers). Simply add your newly branded links to your Affiliate Dashboard and resource hub to share them.
2. Implement A/B Testing to Track (And Improve) Affiliate Sales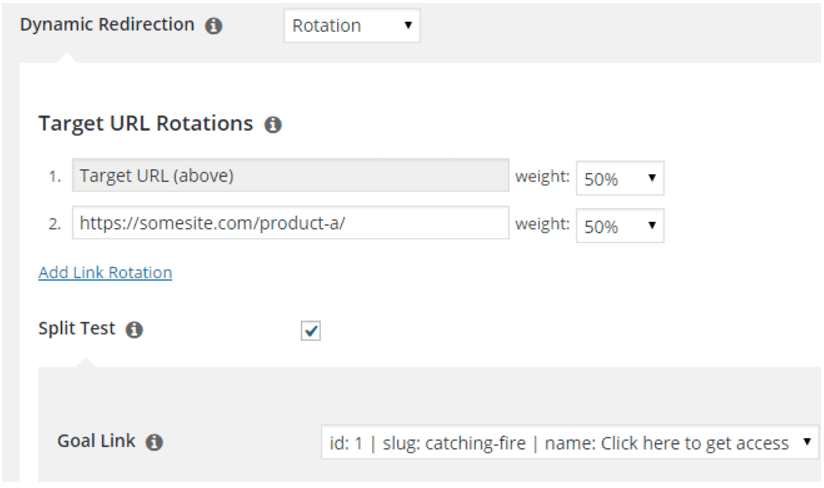 A/B testing is a marketing technique that enables you to better understand how different elements of your website work. For links, you can see which placements work and find ways to improve their CTRs.
To set up A/B testing, go to Pretty Links > Pretty Links. Locate the link you'd like to A/B test, and click Edit underneath. On the edit page, go to Pro Options > Dynamic Redirection and choose Rotation: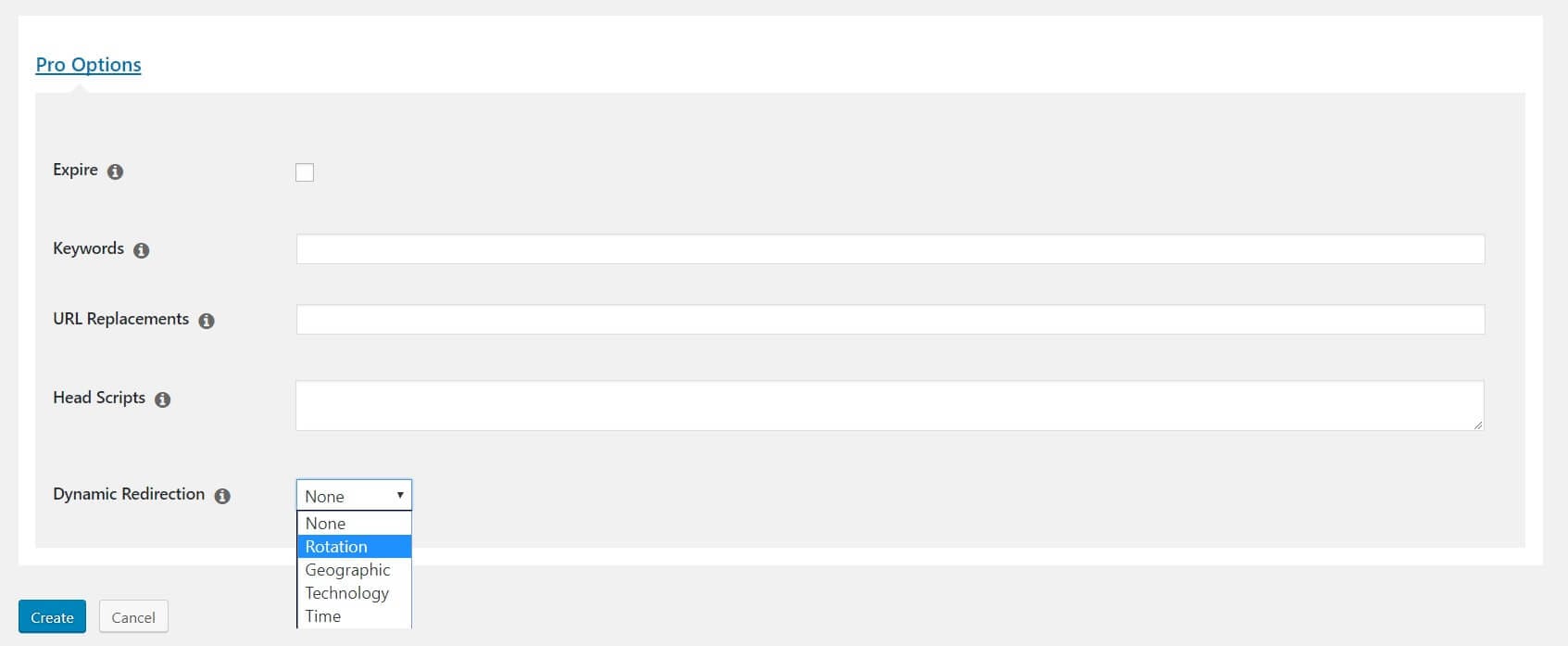 Here you'll add two or more target URLs, as well as select their 'weights'. This determines how often each is displayed during testing. Enable Split Testing, and enter your Goal Link. This is the landing page you'd like users to see from your selected Target URLs above.
Once the links have been in use for awhile, you can check out the results of your testing. Go to Pretty Links > Pretty Links and click Split Test Report for the specific link you've been testing. This will show you how each Target URL has performed, so you and your affiliates can make better decisions about how to use your links.
3. Track Visitor Conversions to Improve User Experience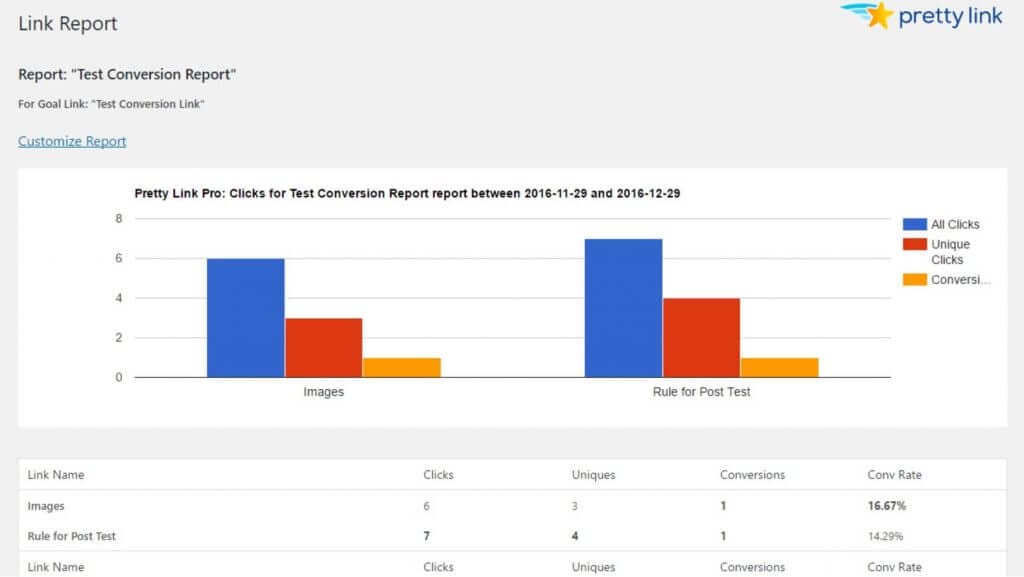 Visitor conversions tell you how often your leads are converting (either purchasing, or completing another wanted task) on your website. When you understand your visitors' behaviors, you can better target them and their needs. You can also use what you learn to personalize future interactions.
Start by setting up conversion reports in Pretty Links. Go to Pretty Links > Pro Reports. Click Add Report, and select your Links to Analyze and Goal Link. You can think of the former as the pages you use to send visitors to the final conversion page (the latter):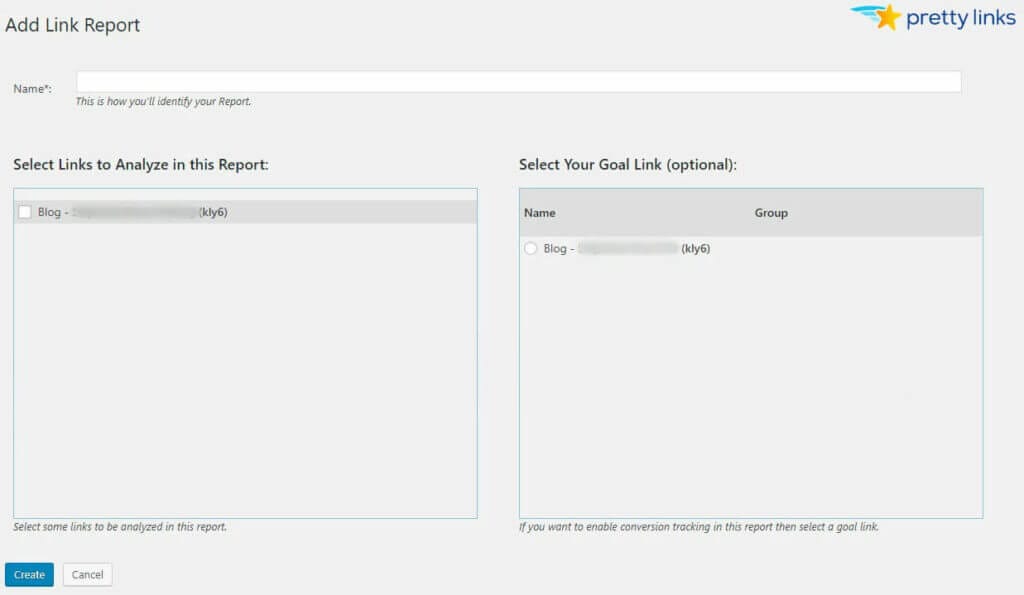 Name your report, and then click Create. Once they've had enough time to collect data, you can then access the reports by clicking View on the Pro Reports page. To better provide your affiliates with an understanding of their links success, share these findings on your Affiliate Dashboard, or include them in a monthly newsletter.
Conclusion
Links are a critical element for any affiliate marketer. While Easy Affiliate doesn't offer link optimization tools, it does work seamlessly with Pretty Links. By using these plugins together, you can improve your program's success.
In this post, we've outlined three ways to use Pretty Links and Easy Affiliate together. To quickly recap, they include:
Brand your affiliate links for increased credibility.
Implement A/B testing to track (and improve) sales.
Track visitor conversions to improve user experience.
Do you have any questions about Pretty Links, or how to use it together with Easy Affiliate? Let us know in the comments section below!
If you liked this post, be sure to follow us on Twitter, Facebook, and LinkedIn! And don't forget to subscribe in the box below.