A thriving affiliate program needs new recruits. After all, they are the ground troops that build up your sales. Yet, you may lose out on new additions if potential partners find your sign up process difficult to complete.
Thankfully, you can streamline sign ups to benefit both you and potential new affiliates. By doing so, you can recruit more advocates and ambassadors to spread the word about your brand.
In this article, we'll take a look at why it's important to make affiliate recruitment easier. Then, we'll offer tips on what you can do to smooth the process for future partners. Let's get started!
The Benefits of Streamlining Affiliate Recruitment
An affiliate program can drive traffic to your business, no matter its size, by offering commissions to associates who promote your products or services. However, before you can start driving sales, you have to increase another type of conversion.
At the end of the day, prospective partners are leads just like potential customers or clients. Convincing them to convert – which in this case means signing up for your affiliate program – requires your website to have strong user experience (UX).
Everyone who visits your site, including hopeful affiliates, wants to complete their goals quickly and simply. By making your sign up process easier, you decrease the chances a potential partner will give up and abandon your site halfway through.
4 Ways to Make Signing Up for Your Affiliate Program Easier
Creating a streamlined sign up process doesn't mean cutting corners. After all, there's still a lot of key information you need to collect in order to ensure you're onboarding quality affiliates. Here are four tips to simplify recruitment for your program.
1. Create a Sign Up Landing Page to Capture Leads
Landing pages are marketing-related content that help streamline conversions. Essentially, they contain only the basic information and steps needed for a lead to make a purchase, subscribe to a newsletter, or in this case, sign up for your affiliate program.
You can then optimize this page for search engines so it's easy for potential affiliates to find via Google.
Instead of having to poke around your site looking for the link to your affiliate sign up form, they can go straight to your landing page.
Landing pages are meant to be fairly minimal and get to the point quickly. However, a convincing headline and a compelling call to action (CTA) that inspires leads can help encourage sign-ups.
It's also wise to consider building a visually appealing page that shows off your brand in the best light. Thankfully, you can use our Easy Affiliate plugin to create one.
To do so, install the plugin and navigate to Easy Affiliate > Settings > General on the back end of your WordPress site. Then scroll down to Affiliate Pages:
From here, you can view or edit an existing signup page or create a new one.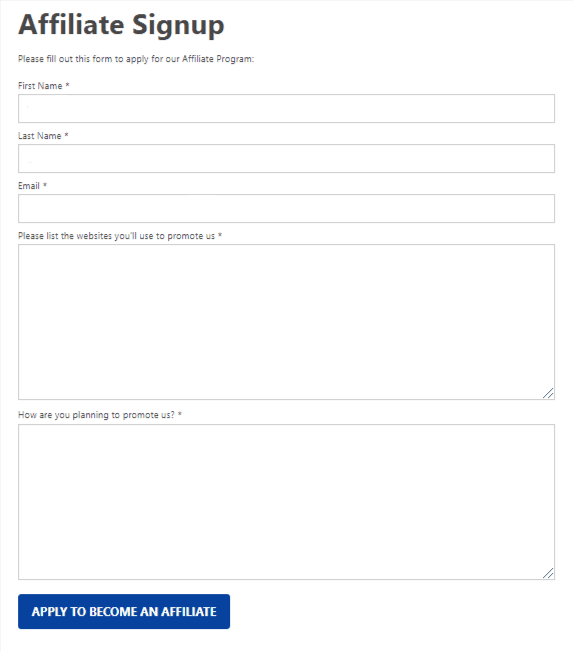 2. Make Your Submission Forms More Accessible and User Friendly
Accessibility can make signing up to your program painless for associates. You should aim to deliver solid UX, and make adjustments so those with vision, hearing, or motor challenges can become affiliates too.
However, these changes can benefit everyone. After all, an affiliate is more likely to finish signing up with an intuitive form. While improving your site's accessibility may sound challenging, it doesn't necessarily require an overhaul. You might only need to make a few tweaks.
Your first step could be to make filling out your form easier. One way to do this is to organize your sign-up content vertically. You may think that limiting scrolling by placing questions side by side would be beneficial, but it can create challenges for those using keyboard navigation: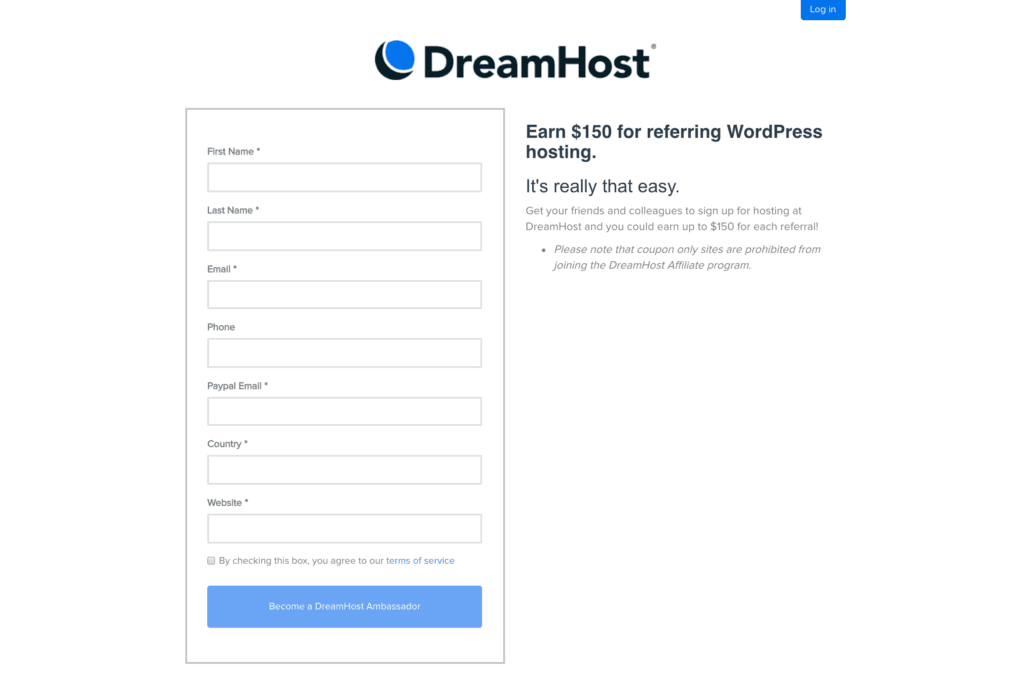 Lastly, a shorter form is obviously quicker to fill out than a long one. As you look over your sign up requirements, ask yourself if each piece of information is essential. If any pieces aren't necessary, consider cutting them to spare your prospective affiliates.
3. Consider Implementing Social Login to Ease Registration
Another way to simplify signing up is to use a social login system. This enables users to quickly make an account using their existing Facebook, Google, or other credentials, rather than creating new ones: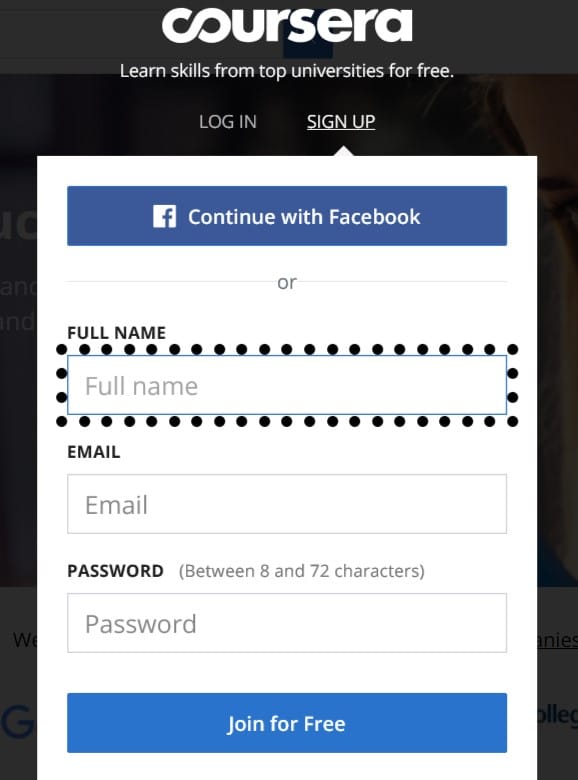 In many cases, social sign up takes a single click of a button. The benefits of using it can be seen over time. You'll likely have fewer failed login attempts and increase the speed with which people can join your program.
Even better, social login usually correlates with a higher rate of conversion for your site. After all, some users may feel put upon if they need to memorize yet another username and password combination. This option removes that burden for affiliates.
WordPress doesn't include social login functionality out of the box. However, there are several plugins available for incorporating it, such as Social Login by Oneall:
It includes support for more than 40 platforms, including Facebook, Google, Instagram, Twitter, and YouTube.
4. Use Chatbots to Answer Questions During the Sign Up Process
In the age of the internet, it's possible to have affiliates in different timezones. Therefore, it's considerate to provide assistance at all hours to avoid frustrated associates. That's where chatbots can be useful.
A chatbot is a program designed to provide pre-written answers to frequently asked questions. They can potentially reassure recruits who might abandon the sign up process due to confusion or uncertainty:
They can also relieve your workload when it comes to administrative tasks by collecting pertinent information from affiliates. Adding a chatbot to your WordPress site's Sign Up page is as easy as installing a plugin such as WP-Chatbot:
This tool uses Facebook Messenger to communicate with users. Considering Facebook is the most popular social media platform, any affiliates interested in your company will probably have an account.
Of course, there are other options available that don't rely on social media, such as Chatbot with IBM Watson. You can configure either tool to answer leads' questions about commissions, how to use their affiliate links, and more.
Conclusion
Adding new affiliates to your program doesn't have to be a chore. By easing the recruitment process, you can attract new partners to help spread the word about your brand.
As you've seen, there are a number of ways you can streamline affiliate recruitment, including:
Creating a Sign Up landing page to capture leads.
Making your submission forms more accessible and user friendly.
Implementing social login to ease registration.
Using chatbots to answer questions during the sign up process.
Do you have any questions about how to make signing up for your affiliate program easier? Leave them in the comments section below!
If you liked this post, be sure to follow us on Twitter, Facebook, and LinkedIn! And don't forget to subscribe in the box below.