Expanding your affiliate marketing strategy into new mediums is a smart move. Otherwise, you could struggle to grow and extend your reach. If that happens, your program could stagnate and subsequently lose out on traffic and click-throughs.

One emerging market worth considering is podcasting, an increasingly popular form of audio entertainment. Like radio before it, podcasting covers various genres and can appeal to a range of audiences.

In this article, we'll first give you a background on this medium and its popularity. Then we'll look into three reasons why you should recruit podcasters for your affiliate program. Let's get started!
An Introduction to Podcasting
Podcasts are digital recordings that can be streamed or downloaded. Most release regular episodes that feature the same host and are centered around a particular theme. The format is similar to that of talk radio: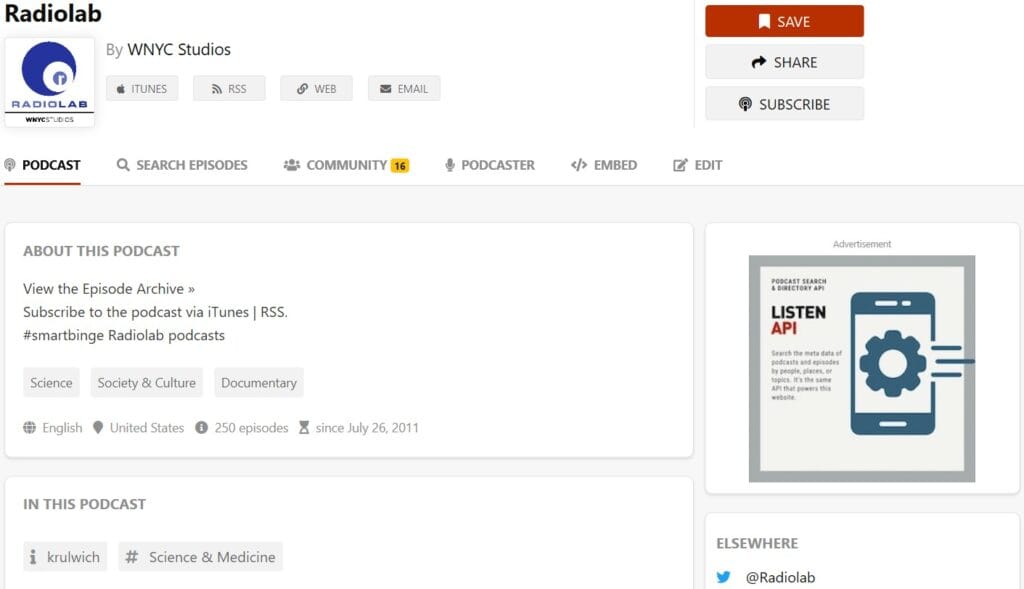 Although it's a popular medium, podcasting is often overlooked. By nature, this type of content is versatile since it can be listened to on computers, mobile phones, or tablets. This gives audiences the option to access shows however they want and whenever they want.
For instance, listeners could go directly to a podcaster's website, seek out a platform that aggregates episodes, or use an app such as Spotify or Apple Podcasts. Essentially, podcasts can be adapted to anyone's schedule.
Podcasting has been growing in popularity, too. Fifty-one percent of Americans have listened to one at some point, while 32 percent tune in to shows on a monthly basis. Almost a quarter engage with at least one episode each week.
For affiliate programs, that's a sizeable audience. This is especially true when you consider listeners who tune in weekly are more likely to follow multiple shows.
3 Reasons to Solicit Podcasters for Your Affiliate Program
With the ever-growing popularity of podcasts, it makes sense to leverage this market for your brand. Here are three ways podcasters could benefit your affiliate program as partners.
1. You Could Gain Access to Niche Audiences
There are countless podcasts that cater to various topics and audiences. Whether it's lifestyle, education, relationships, careers, or even storytelling, there are likely to be dozens of shows with a general or nuanced focus related to your industry.
Fortunately for you, this means you can reach out to targeted audiences practically crafted for you. For example, if your brand sells eco-friendly cleaning products, you can find plenty of podcasts that focus on sustainable living or conservation. The possibilities are endless.
Plus, if someone is tuning into a particular podcast, you can rest assured that they are fairly invested in the topic it discusses. That means they may already be looking for the types of products and services you offer.
Moreover, niche podcasters are likely to have experience and knowledge in their specialization. This can enable your affiliate program to leverage their credibility in your industry and reap the benefits that come with having authentic, relatable partners.
2. Podcasts Offer Chances to Network in Your Industry
Similarly, podcasters can not only lend you their authority when you partner with them, but can also provide opportunities to make additional connections in your field. Indeed, many hosts actively seek to network themselves and may already be familiar with the importance of the practice.
When it comes to affiliate marketing, networking is valuable in a few ways. First, it's helpful for you to meet new potential partners who can help you extend your brand's reach.
However, it's also advantageous to have affiliates who do their own networking. For instance, when you work with a podcaster who hosts interviews or celebrity appearances, you may be able to connect with the guests and their audiences, too.
This is especially useful if your partners have regular contributors, but even more so if they bring in a new speaker every episode:
By broadening your pool of potential leads, you're increasing your chances of driving more conversions for your brand. You may even be able to find new affiliates by connecting with your podcasting partners' former guests.
3. They Provide Promotional Opportunities
Podcasting is an interactive and personable medium. Statistically speaking, audio shows shape listeners' interests in products and services. This is also reflected in the continued rise of ad revenue for this type of content, which stood at $514 million in 2019.
Many podcasters actively seek opportunities for advertisements, sponsorships, and collaborations with businesses. This means recruiting new partners in this medium could be easier than you think.
Plus, consider that many podcasters often feature review segments on their shows. Finding these creators is a prime opportunity to leverage this for your brand.
Also, podcasters are likely to understand how their audience ticks. In a sense, they may know how to target their listeners without losing trust or credibility. That can benefit your program, as they can focus on making your products and services sell-able through their platform.
How to Recruit Podcasters to Your Affiliate Program
If you've made the decision to seek out podcasters for your affiliate program, you may be wondering what your next step should be. Of course, your first port of call will be to identify creators in your field.
Fortunately, there are tons of podcast repositories that you can sift through to identify prospects for your program. These sites let you filter shows by topic, location, and language.
You can then reach out to any podcasters who seem like they would fit in well with your program and brand image.
Conclusion
Podcasters are skilled when it comes to producing authentic content that could drive up your traffic, sales, and exposure. By recruiting some of these audio content creators for your affiliate program, you can tap into new audiences.
In this post, we explained how podcasters can benefit your affiliate program by:
Helping you reach niche audiences in new markets.
Providing plentiful chances for networking to grow your program.
Offering promotional opportunities for your brand.
Do you have any questions about adding podcasters to your affiliate marketing program? Tell us in the comments section below!
If you liked this post, be sure to follow us on Twitter, Facebook, and LinkedIn! And don't forget to subscribe in the box below.