Affiliate marketing is a great way to help promote a fledgling product you're proud of. Of course, you may already know this, but getting started could cause you a few headaches if you don't know how to go about it.
However, with a tool such as Easy Affiliate, you'll have practically all of the affiliate management tools you need to run a successful program. You'll be able to keep track of your affiliates quickly and easily, directly from your WordPress dashboard.
In this post, first, we'll discuss the aspects that make an affiliate marketing program successful. You'll then be introduced to the Easy Affiliate plugin – including its three main elements and why you need them in order to create a stellar affiliate marketing program. Let's get started!
The Aspects of a Successful Affiliate Marketing Program
While everyone defines success differently, a winning affiliate marketing program relies on two essential components. They are:
A quality product.
Clear and stated objectives.
Of course, we're assuming you already have a great product you're proud of. As for the second element, defining your goals enables you to choose the right affiliates for your program and set the correct commission rate. Your goals need to be clearly defined, such as "I want to increase sales by X% within six months", and doing so at this stage should be a simple process. However, it's a rabbit role you could get lost down if you lose focus.
Choosing the right affiliate management tool is also important. Firstly, the right choice enables you to stay in close contact with your affiliates, which shows professionalism and solid leadership.
Secondly, an affiliate management tool can provide you with the information you require to make informed decisions about how to optimize your affiliate marketing. You're able to closely track affiliate stats, as well as keep an eye on your program's goals (and how well you're meeting them).
Why You Need Easy Affiliate for Your Affiliate Marketing Program (3 Key Elements)
Of course, we recommend Easy Affiliate for tracking your affiliates. It's an all-in-one management tool with three key elements that make up the bulk of its value.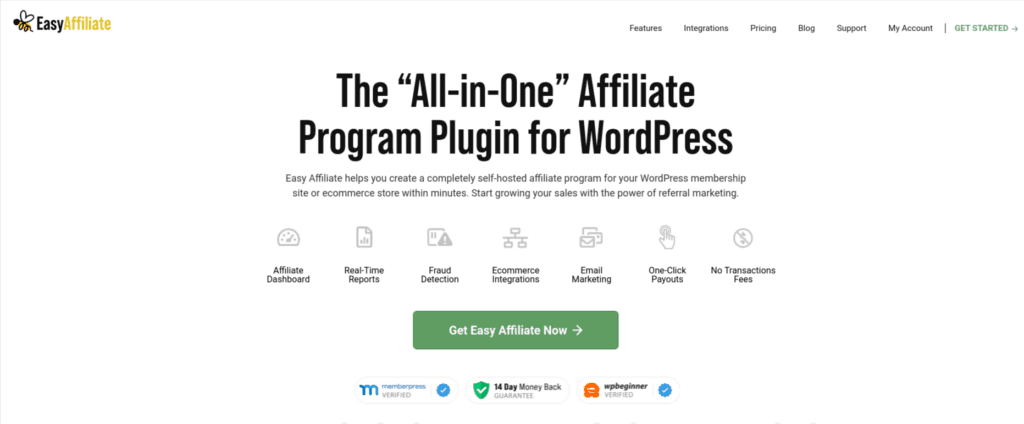 First, you'll need to purchase and download the plugin, then follow the simple installation instructions. You'll then find the Easy Affiliate menu on the left-hand side of your WordPress dashboard. This is the plugin's jumping-off point and where you'll begin each session.
Now, let's get acquainted with Easy Affiliate's three key elements, and take a look at why you need them for your affiliate marketing program.
1. You Get to Leverage a Powerful Admin Screen
The main admin screen is where you'll configure all of your program's settings. With the plethora of configuration options available to you, you can create a personalized program that works for you and your affiliates. To begin, navigate to Easy Affiliate > Settings: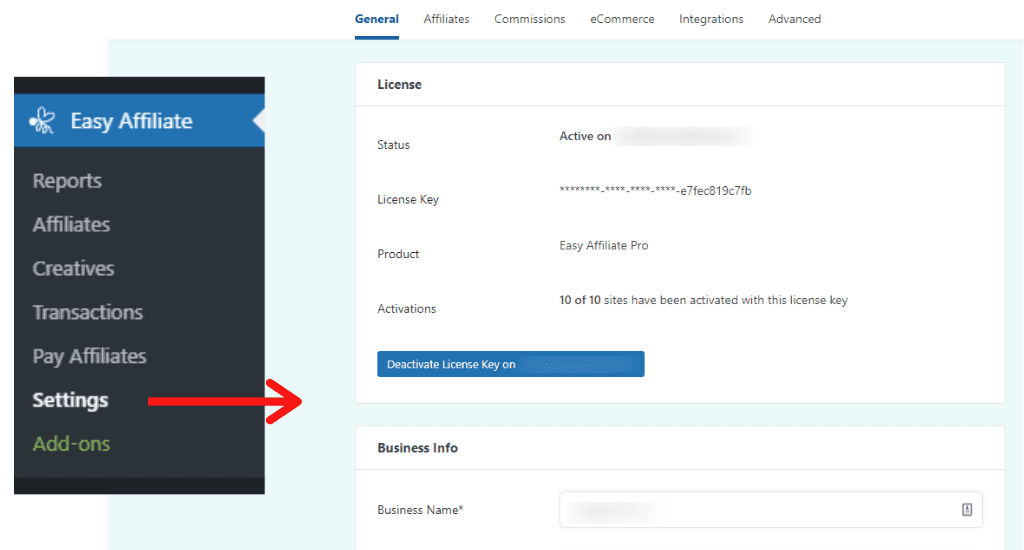 Here you'll find the bulk of the options, including your commission level settings and payment options: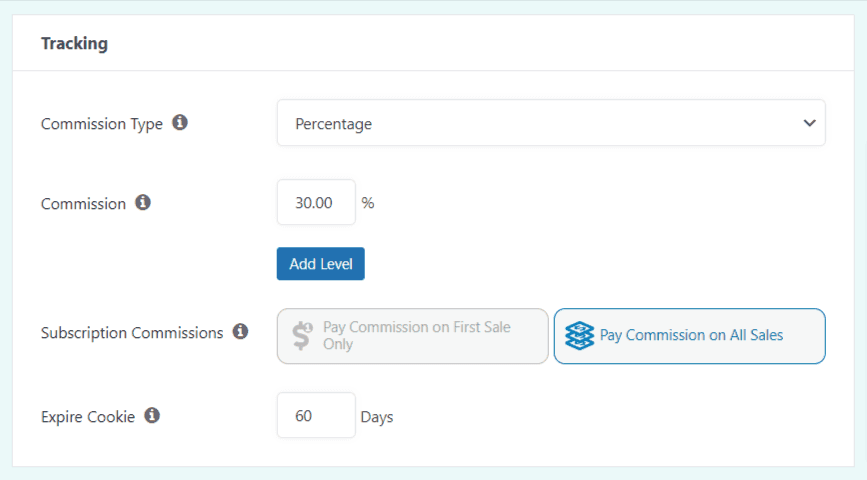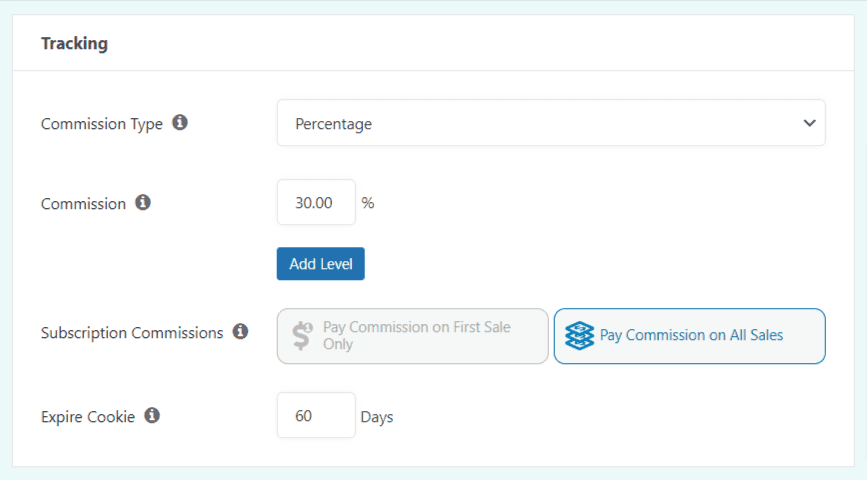 Your first step will be to add some commission levels. You can have an almost unlimited number, and adding them is as easy as navigating to Settings> Commissions > Tracking: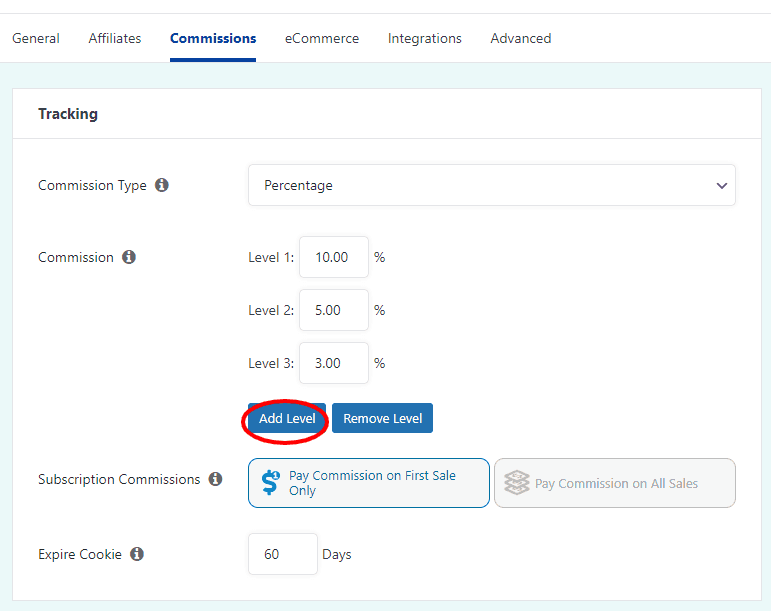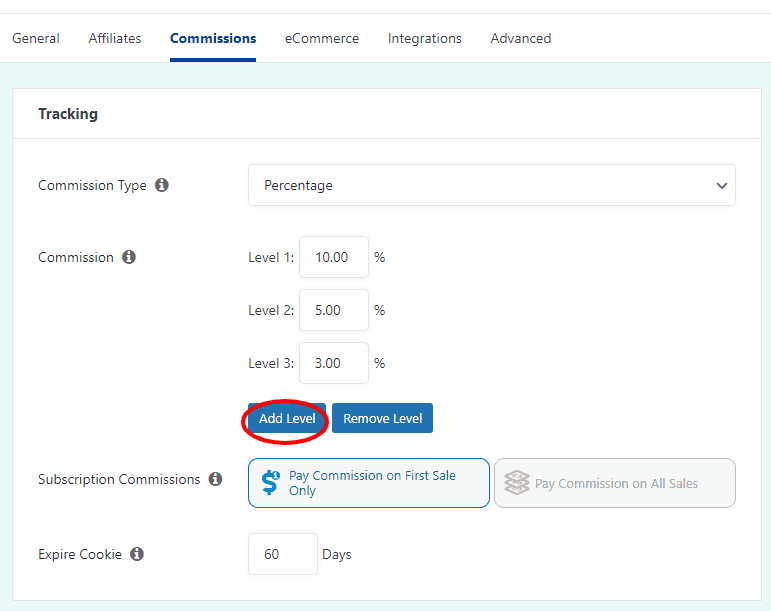 Once here, click Add Level and enter your commission percentage. NOTE: Multiple levels are ONLY available if the commission levels add-on is activated. When you are finished, be sure to click the Update Options button at the bottom of the page.
Additionally, for subscriptions, you can choose which transactions to pay commissions on. Check the Pay Commission on First Sale Only button if you'd like affiliates to only receive a one-time payment. Or, click the Pay Commission on All Sales button if you'd like to pay affiliates each time a subscription is renewed.
Once you're done here, you'll want to configure your affiliate settings by navigating to the Affiliates tab. Here, you'll find options for setting an affiliate registration page to accept applications, craft automated applied and approved emails, and post your affiliate agreement statement form.
2. It Offers a Personalized Affiliate Dashboard
Next up is the Affiliate Dashboard. This enables your affiliates to track their stats from a personalized dashboard, access any links and banners you've created for them, and view their payment history. They can also update their profile and even change their payment options: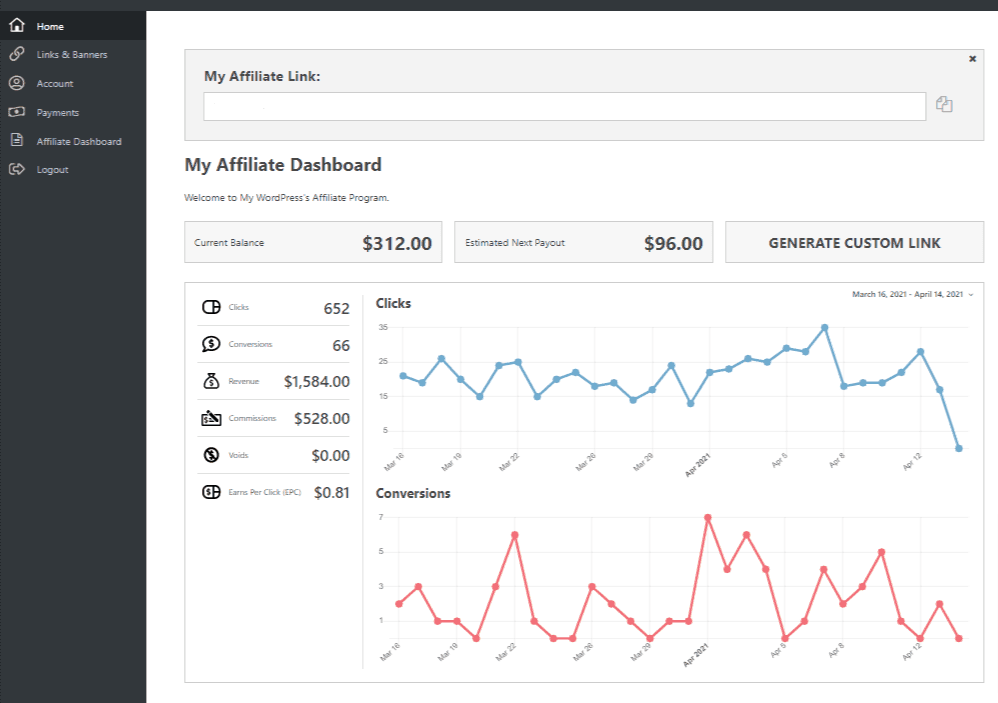 To configure this feature, go to Easy Affiliate > Settings > Affiliates. First, be sure to add a personalized welcome message: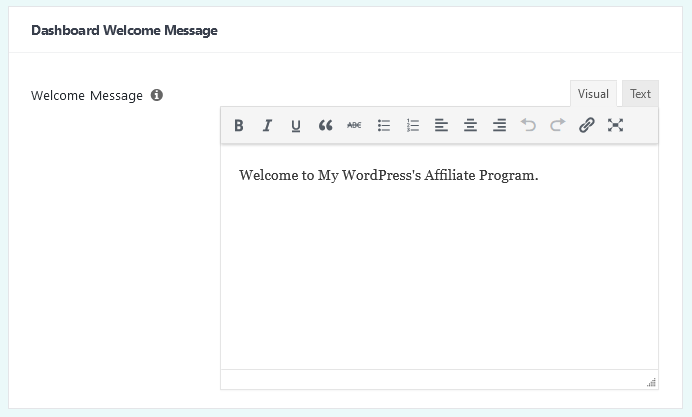 Next, you'll want to add additional dashboard navigation pages so your affiliates can maneuver around their site. To do this, head on over to the Advanced tab, then scroll down to Dashboard Navigation: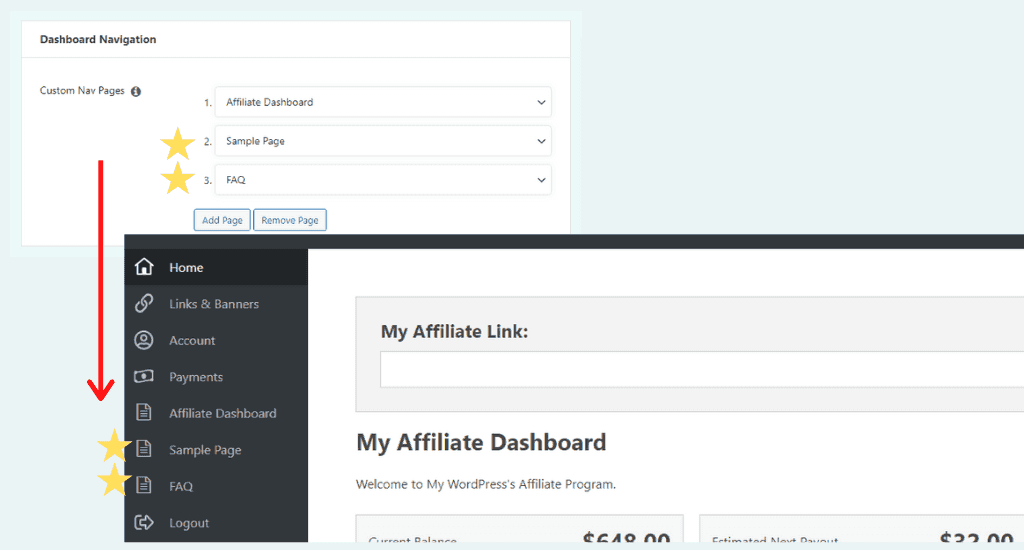 Click the Add Page button and select from a variety of page options to add to your affiliate dashboard, including a Thank You page, an Affiliate Login Page, an Account Page, and more. When you are done, click the Update Options button at the bottom of the page. Your created pages will automatically be added to your affiliates' dashboard.
These simple settings make it quick and easy to set up a functional dashboard for affiliates.
3. You Can Integrate Other Tools to Maximize Your Marketing Program
Easy Affiliate offers a number of integrations to help you with your affiliate marketing program. Some require zero configuration, while others may require a bit of tinkering on your end.
Many of the popular integrations – including WooCommerce, WP eCommerce, and MemberPress – require no configuration whatsoever. For others (such as PayPal), you'll be required to make some adjustments. Simply navigate to Settings> eCommerce to view your available eCommerce options:
If you sell on your site using PayPal buttons, you can use Easy Affiliate to track sales through these buttons by tweaking some steps when creating and embedding your buttons on your site. Click the down arrow on the right to expand further options and directions to follow on how to set up your PayPal buttons to track properly with Easy Affiliate.
There are plenty of other integrations to choose from, which only serves to enhance your affiliate marketing program.
Conclusion
Whether or not you're experienced with creating affiliate marketing programs, a full-featured management tool is an absolute must. That's where Easy Affiliate comes in. It offers you a number of premium features to help create you program and meet almost all of your needs.
In this post, we've introduced you to the three main elements offered by Easy Affiliate and why you need them for your program. Let's recap them quickly:
A powerful admin panel. Keep track of all aspects of your business including transactions, payments, and affiliate stats.
A personalized affiliate dashboard. Enable affiliates to keep an eye on their affiliate stats and manage their accounts.
Popular tool integrations. Seamlessly integrate your affiliate marketing program with a number of helpful third-party services.
Do you have any questions about getting started with Easy Affiliate, or how to best utilize its features? Let us know in the comments section below!
If you liked this post, be sure to follow us on Twitter, Facebook, and LinkedIn! And don't forget to subscribe in the box below.