YouTube is one of the most visited sites on the internet – in fact, it's second only to Google. It's a perfect place to showcase your creativity. What you might not know is that it's also a useful platform for increasing your affiliate profits.
Affiliate marketing on YouTube is a smart way to provide extra value to your audience, while earning revenue at the same time. While YouTube offers various built-in ways of monetizing your content, affiliate marketing gives you direct control over what products you promote and enables you to see more of the resulting profits.
In this article, we'll discuss how affiliate marketing works on YouTube and why you might want to get involved. We'll also show you how you can get started. Let's jump right in!
The Benefits of Using YouTube for Affiliate Marketing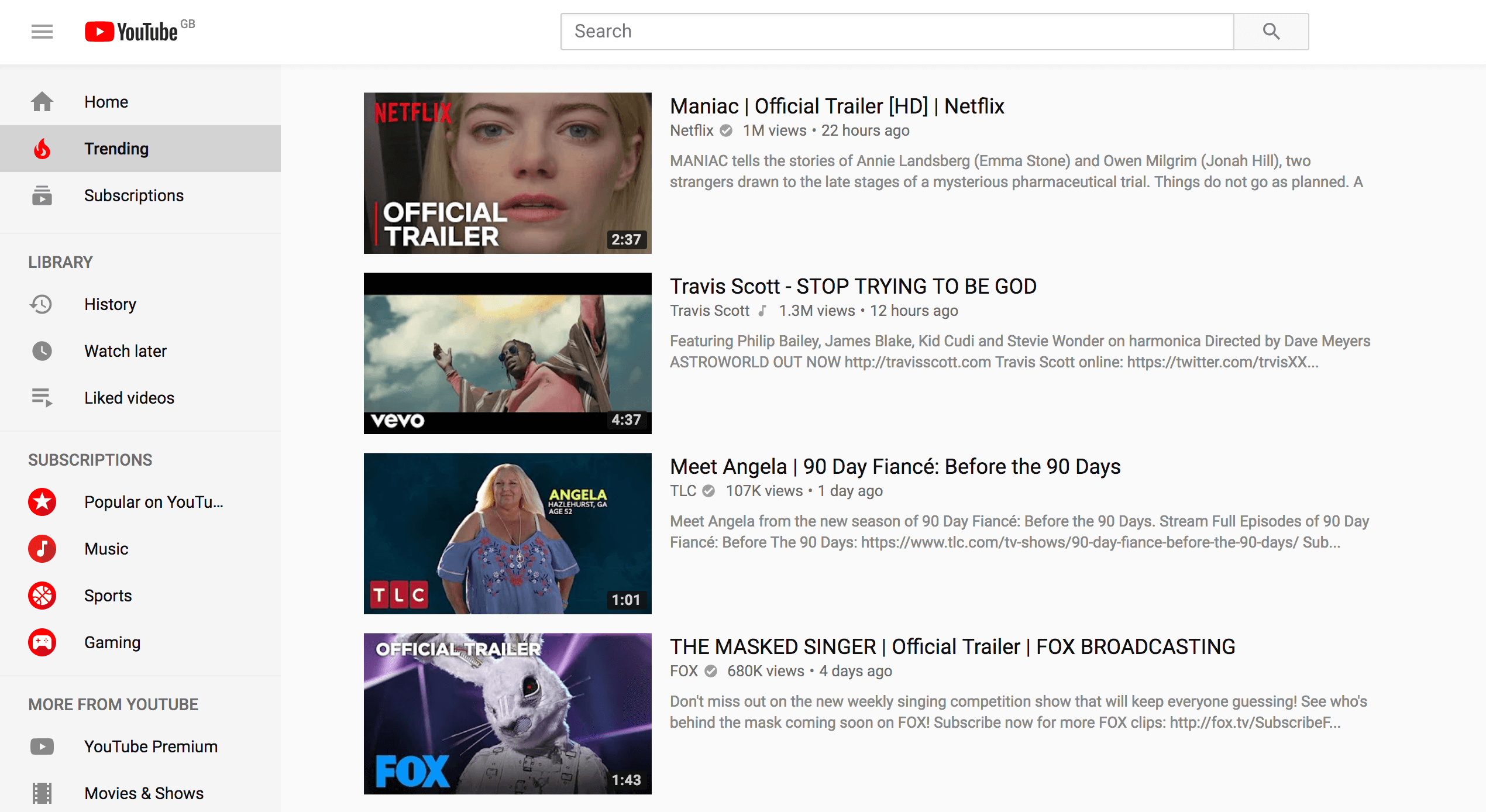 With nearly 2 billion logged-in users every month, YouTube is the second most visited website in the world. This also makes it the second largest search engine on the web. In both cases, YouTube is only surpassed by Google (its parent company).
Not only does this make YouTube an excellent platform for communication and creativity, but it's also a lucrative market for earning revenue through your content. YouTube itself enables you to monetize your videos by running ads before and during their run time. However, another way to earn money via your work is by incorporating affiliate links alongside your content.
Every time one of your viewers uses these links to buy something, you'll earn a commission. This gives you a greater degree of control over what you promote, and lets you keep tabs on your results by tracking the links.
How You Can Use YouTube to Improve Your Affiliate Marketing (3 Key Tips)
Throughout the next few sections, we're going to look at how you can use YouTube and affiliate marketing together, in order to earn more commissions and provide additional value to your viewers.
If you haven't already, the first thing you'll need to do is create a free YouTube channel. In order to get the most out of what we'll be discussing, we also recommend that you apply for the YouTube Partner Program, which will give your channel access to more features and monetization opportunities. Then, you can get to work!
1. Create Relevant and Engaging Content
The first step is to make sure that you're able to attract an audience. There's not much point in promoting your affiliate links to non-existent viewers, after all. This is obviously easier said than done. However, a vital factor in any affiliate marketing campaign is making sure you can provide top-notch content.
The quality of your videos is what will encourage viewers to visit your channel and trust your advice (as is the case with your blog posts). Therefore, it's important that you find the right niche, and produce videos that are relevant to the products or services you want to promote.
As one example, you could devote your channel largely to review videos, where you discuss and rate affiliate products. This will provide actual value to your viewers, and can help you grow your audience. Just make sure that along with being engaging, you provide an honest assessment of each item. This will help ensure that viewers trust your judgment when you present them with affiliate links.
2. Add Affiliate Links to Descriptions (And the Videos Themselves)
The easiest way to include affiliate links alongside your videos is simply to add them into your video descriptions. These appear underneath each video, and there is no limit to the number of links you can post within: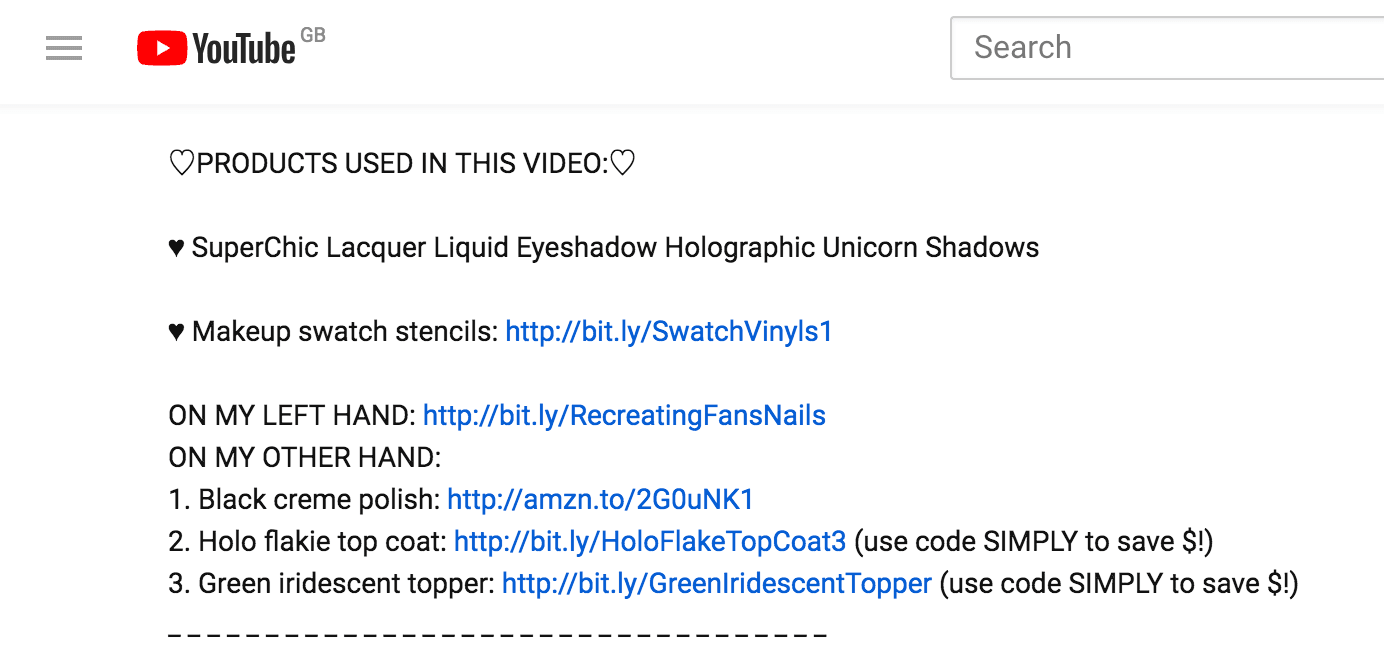 It's also smart to mention in these links in the videos themselves. This should make it more likely that viewers will take a moment to check out the descriptions.
If you're a member of the YouTube Partner program, you can also incorporate links directly into your videos. YouTube offers a feature called end cards, which you can add to the last 20 seconds of each video. These cards can contain links both to other content on YouTube, and to external sites.
While end cards are available to all users, however, only Partners can add external links:
As such, if you want to get serious about using YouTube for your affiliate marketing, you should definitely consider applying for the program.
3. Be Honest and Disclose Your Affiliate Links
Transparency is vitally important in affiliate marketing. It ensures that your audience can trust you without feeling tricked, and it enables you to market honestly.
Therefore, you'll always want to clearly label your affiliate links. We even recommend that you mention this aspect in your videos. For example, let's say you're reviewing a product for which you've provided affiliate links in the video description. You could mention that if the viewer wants to try the product for themselves, they can use the link in the description, and if they do they'll be helping to support you (since you'll get a small cut of the profits).
This makes the benefits of clicking on your links – both to yourself and to your viewers – readily apparent. Being honest about your opinions and goals will serve you and your audience well in the long term, as it establishes trust and loyalty.
Conclusion
Affiliate marketing can be a lucrative and rewarding way to monetize your creative content. With its enormous user base and many useful features, YouTube offers the perfect platform to spread your affiliate links, while remaining in control over your content's quality.
In this article, we've discussed three crucial tips for getting started with affiliate marketing on YouTube. These include:
Create relevant and engaging content.
Add affiliate links to your descriptions and videos.
Be honest, and disclose your affiliate links.
Do you have any questions about how to conduct affiliate marketing on YouTube? Let us know in the comments section below!
If you liked this post, be sure to follow us on Twitter, Facebook, and LinkedIn! And don't forget to subscribe in the box below.