Your website is the strongest tool in your affiliate marketing arsenal, so you need to make sure it has everything it needs to do its job. One crucial element is to include the most useful affiliate pages possible. Without these pages, you could be shortchanging your website and your business.
Your About Us and Contact pages are two great examples of necessary affiliate elements. They can help add a personal touch, as well as encourage your visitors to interact. Affiliate-specific pages, like signups, add a professional element that can improve your business operations.
In this post, we'll introduce a few important pages that can benefit most affiliate programs. We'll explain how each page can help and what they should include.
We'll also show you how Easy Affiliate can help you set up your Affiliate Signup page, which is one of the most important for your business. Let's get started!
1. A Personable About Page
Simply put, an About page offers visitors insight into you, your associates, and your business. It adds a human touch, and this can improve visitors' trust in you and your product. As a result of this increased trust, you may even see more conversions.
Contrary to popular belief, an About page shouldn't focus entirely on you. Instead, here are a few tips to help you strike the right balance between personable and professional:
Personalize it. This means adding a professional photograph of yourself (and your team, if applicable) and giving visitors a bit of insight into who you are.
Focus on the reader. While visitors will want to know about you, they'll also want to know how you can help them. This means tailoring your message to your audience's needs.
The goal is to convert your reader, not to tell your entire life story. As such, you'll want to focus on parts of your story that your reader can relate to.
2. An Easy-to-Navigate Contact Page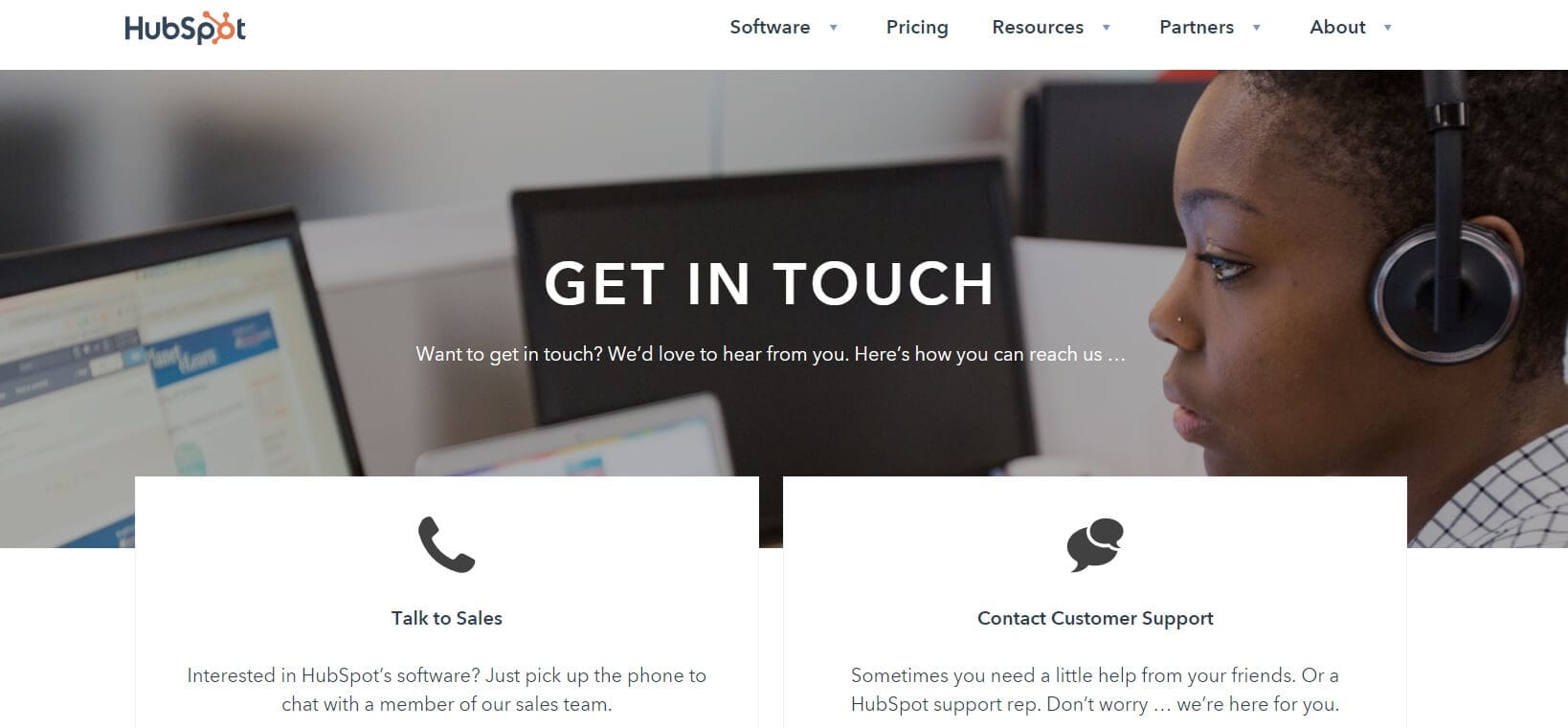 A contact page simply provides your website's visitors with a way to reach you. This could include your contact information, but usually offers a dedicated form. While a contact page adds a professional element to your website, it also has a more direct benefit – potential leads have a simple way to reach out to you. In fact, a contact forms can see as much as an 11% conversion rate.
While a contact page is one of the simplest to create, there are still a few tips to keep in mind as you do:
Keep it simple. You want to avoid creating barriers for your visitors. Make it easy for them to find your contact information or form and reach out.
Include social media links. While visitors may not want to reach out directly, they may be interested in following you on social media.
Finally, make sure that readers can find your contact page quickly. This means placing it prominently in your website's navigation menu, and linking to it where appropriate (such as on your social media profiles).
3. Compelling Product Landing Pages
Product landing pages are dedicated to a product or service. They operate as a part of your overall site, but they can also be optimized separately to generate more conversions.
Additionally, they are a resource for your buyers (helping them decide whether to convert) and your affiliates (as they determine how to best market the product).
As a complex element of your site, landing pages can be difficult to create. With this in mind, here are some tips to help ease the process and create the most effective landing pages possible:
Another element of the landing page you should focus on is visuals. Incorporate images, videos, and even infographics if they're able to get the point across more effectively than written text.
4. An Effective Affiliate Signup Page
One of the most important elements of any affiliate website is the affiliate signup page. This is where potential leads can learn more about your program and sign up. Like a landing page, it can also be optimized separately from your site enabling you to track results.
Creating such an important page can be daunting. Fortunately, Easy Affiliate makes the task simple.
The page, which includes a signup form, is pre-built into Easy Affiliate.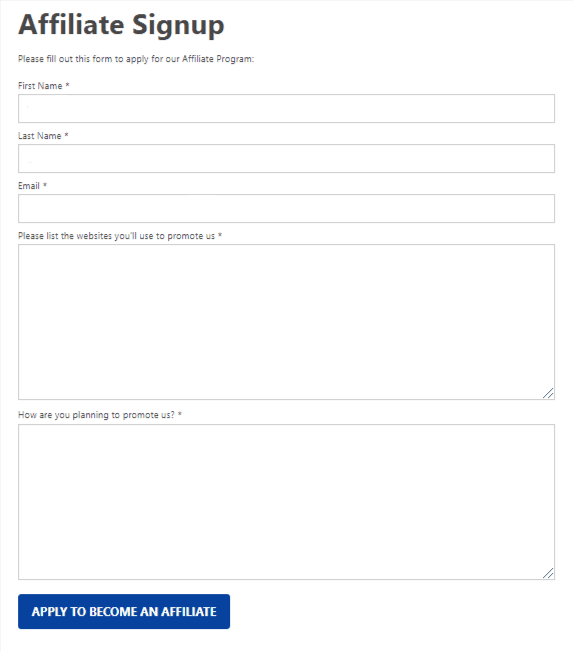 You can use the page as-is, but it's also super easy to customize with conversion-driving content.
To access the page for customizing, just go to your WordPress dashboard > Pages, and select Affiliate Signup Page. From within the WordPress editor, you can add text, links, images, or any other content to make your page more engaging.
Consider placing program information that entices readers to want to learn more about your program front and center.
Add these Pages to the Affiliate Dashboard
Because the Signup page is pre-built into Easy Affiliate, it'll automatically appear in the main navigation of your Affiliate Dashboard. However, any other pages you create, like Contact, About, and FAQ pages, will need to be added to the main navigation once you create them. This is simple to do with Easy Affiliate.
To add additional Affiliate Dashboard navigation tabs, just go to your WordPress dashboard > Easy Affiliate > Settings > Advanced tab, then scroll down to Dashboard Navigation.

Click the Add Page button. If you've already created your additional page in WordPress, that page will appear in the dropdown. Just select the page name, and it'll be added to the Affiliate Dashboard navigation. That's it!

Conclusion
As an affiliate marketer, your website is your most powerful marketing tool. However, to use it most effectively, you need to include the right pages (for both your affiliates and your customers). Otherwise, you could be causing serious harm to your website and your business.
In this post, we've outlined four beneficial pages to include on your affiliate marketing program website and why they are important. To quickly recap, your website should include:
An easy-to-navigate contact page.
A personable about us page.
Compelling product landing pages.
An effective affiliate signup page.
Do you have any questions about pages to include on your affiliate website, or how Easy Affiliate can help? Let us know in the comments section below!
If you liked this post, be sure to follow us on Twitter, Facebook, and LinkedIn! And don't forget to subscribe in the box below.