Running a business – whether it's brick and mortar or online – is difficult. However, running a fully offline store can also come with its own challenges. These include difficulty connecting with customers face to face, resulting in the loss of potential leads and sales.
This is where an online affiliate program can prove beneficial. By implementing one, you can bring in more customers, increase your sales, and even improve your business' brand awareness.
In this post, we'll discuss why you might want to consider creating an affiliate program for your brick and mortar business. We'll then offer a few tips you can use to get your program off the ground (with the help of Easy Affiliate). Let's get started!
Why You Should Consider an Affiliate Program for Your Brick and Mortar Business

For the uninitiated, an affiliate program gives dedicated marketers (or affiliates) a way to promote your business within their own network. They use their skills to increase sales for the business and get a commission in return.
While these programs are popular among online-only businesses, an offline business can also benefit. For example, an affiliate strategy can help you:
Drive sales (both online and in-store). With more people promoting your business, you have a higher chance of sales.
Expand your reach. Your affiliates will help expand your reach using their own audiences.
Secure future operations. Having an online program for your offline business enables you to diversify your income streams, which improves the odds of securing your business' future.
It's easy to see why the addition of an affiliate program to your business would be useful. However, you may not be sure where to start. Fortunately, we have some tips to help you kick off your program.
3 Tips for Creating an Affiliate Program for a Brick and Mortar Business
There's no doubt that creating an affiliate program for your brick and mortar business can take time. Thankfully, the tips below will make the process much easier. Let's dive in!
1. Simplify Program Management Using a Full-Featured and Dedicated Plugin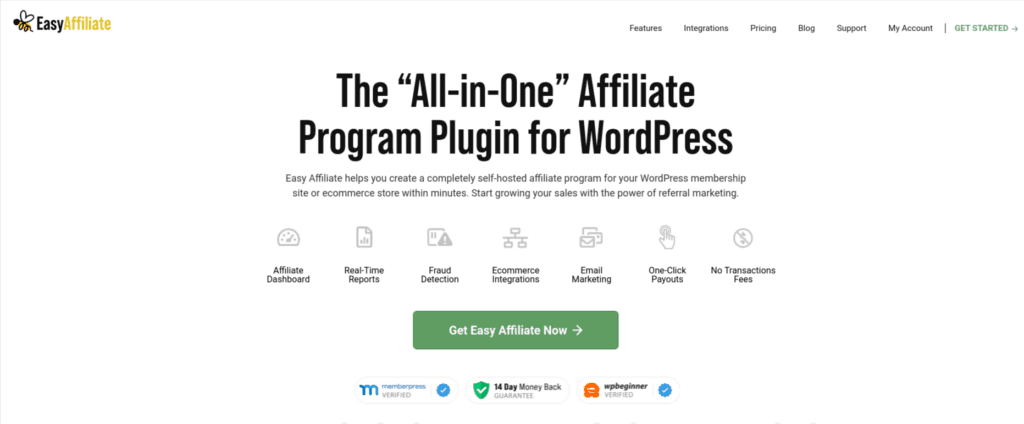 Easy Affiliate is one of the leading affiliate program management plugins and enables you to fully manage your new program and keep it running smoothly. Its extensive feature set lets you focus on your business without worrying about behind-the-scenes operations. With Easy Affiliate, you can set up many features (including commission levels and even a resource hub), then let your affiliates do the rest!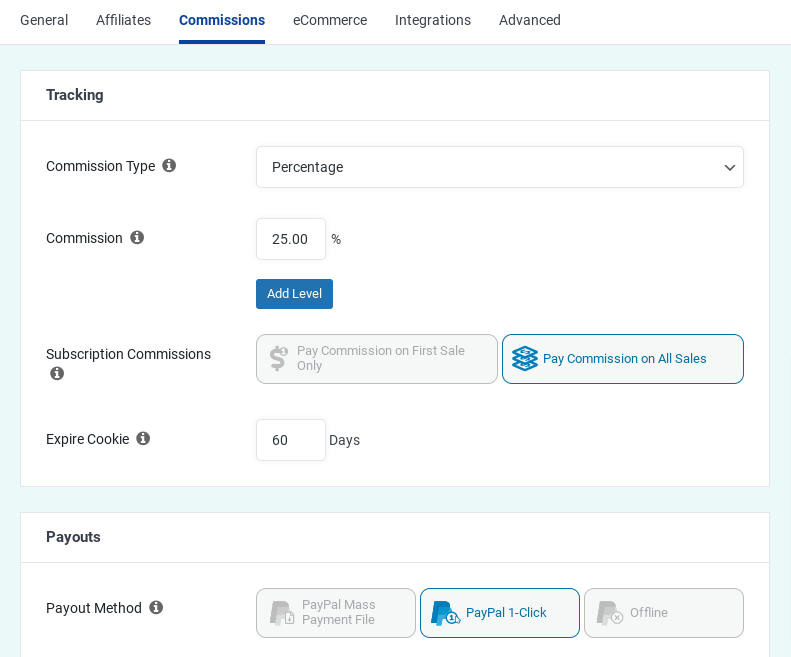 What's more, you can even set up an affiliate dashboard to provide further support to your affiliates (which ensures that your program runs smoothly). For example, you could include crucial documentation, important notices, and much more.
2. Promote Your Business and Program Using Social Media

Social media is a vital aspect of your business's success, both offline and online. It enables you to connect with your current customers, as well as reach out to potential leads. In short, a strong social media presence can increase brand awareness.
However, you can't gain a strong presence without a fair bit of work in the beginning. Fortunately, the two tips below will make this task easier:
Choose a social media platform that aligns with your industry. Not all platforms are created equal. This means you'll need to take the time to find the one that's right for your business.
Offer in-store and online discounts. Using this online platform, you can offer discounts to both in-store and online shoppers. In fact, many big brands offer in-store exclusive discounts to their followers.
As put by Bryan Eisenberg, "The #1 thing retailers can do to better market their brick and mortar stores is to give people a reason to go to their store." It sounds simple, because it is!
3. Offer Competitive Rates (and Benefits) to Your Affiliate Recruits
Your affiliates are the backbone of your program. As such, it's important to reward them for the work they do with competitive rates and benefits. Aside from rewarding your marketers, competitive rates can do two major things for your program.
First, it can attract more skilled affiliates (a must, especially when your program is new). Secondly, it can entice recruits to join a non-traditional program (such as the one for your brick and mortar business).
What you determine to be competitive rates and benefits will vary. However, here are two tips to get you started on the right path:
Know your competitors' rates. Only by knowing what your competitor pays, and then offering more than them, can you entice more affiliates to your program.
Offer benefits to promote in-store purchases. Whether your products are only available in-store, or you just prefer in-store purchases, you can offer benefits (such as bonus payments) for any in-store referrals.
With an edge over your competition, you can quickly grow your program, which will directly benefit your business.
Conclusion
It's entirely possible for your business – whether online or offline – to flourish organically. However, an affiliate program can hasten your business's growth and enable you to reach an audience you might have previously overlooked.
In this post, we've introduced the idea of incorporating an online affiliate program into your brick and mortar business. We've also offered you tips for successfully doing so, such as:
Simplifying management with a full-featured affiliate program plugin (such as Easy Affiliate).
Promoting your business and program with social media.
Offering competitive rates (and benefits) to your affiliate recruits.
Do you have any questions about creating an affiliate program for your offline business, or how Easy Affiliate can help? Let us know in the comments section below!
If you liked this post, be sure to follow us on Twitter, Facebook, and LinkedIn! And don't forget to subscribe in the box below.