Starting your own affiliate marketing program is undoubtedly a cost-efficient way to generate traffic and multiply sales. One of the greatest benefits to starting your own program is that you avoid the third-party fees associated with outside affiliate networks.
And with tracking cookies becoming a thing of the past, self-run programs are becoming even more attractive. They offer the customization and data access businesses and affiliates will need to succeed in this new landscape.
It's no surprise, then, that more and more brands are beginning to invest in this lucrative model. But before you plunge in, it's smart to do your research and make sure there aren't any hidden costs looming.
The requirements to start an affiliate marketing program are fairly straightforward and easily identifiable. The tools and services you'll want on hand come in different shapes and sizes, all customizable to fit your budget and needs.
In this article, we'll discuss the costs of starting an affiliate marketing program. We'll detail the basic must-haves as well as a few optional tools and services you may find helpful, all so you'll know what to expect and how to budget. Let's get started!
1. An Affiliate Program Management Tool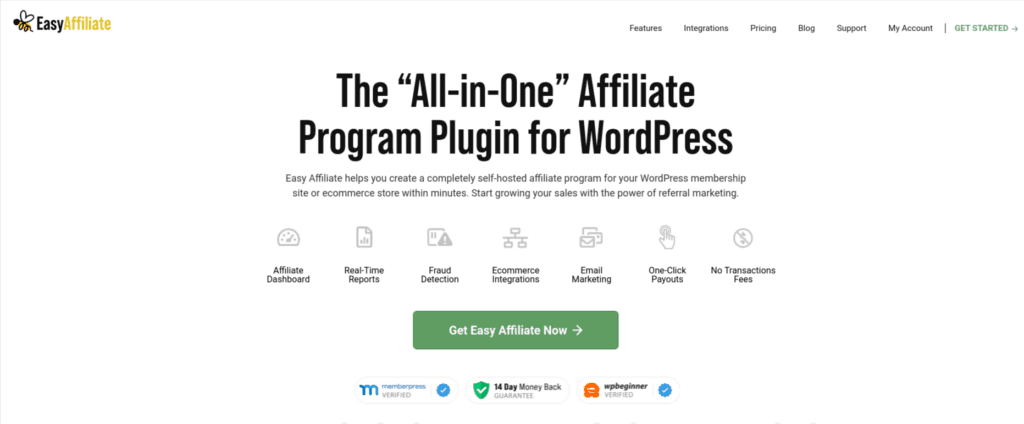 First, you'll want a tool that can help you keep track of your affiliates, their performance, commissions, and other key aspects of your program. A quality solution can also make it easy to communicate with your partners and share marketing materials with them.
There are different platforms available to run your affiliate program, but Easy Affiliate enables you to do so through your own website with a WordPress plugin – no other hidden fees. As mentioned, unlike third-party networks, we don't take a cut of your hard-earned sales, either.
There are several plans, so you're sure to find one that fits your needs. And Easy Affiliate is simple to install and set up, so you can have your program dashboard up in no time.
Affiliates can then log in to their accounts on your site instead of having to go through to a third-party hub. This should minimize the time and effort administrative tasks required, too, since you won't have to navigate between platforms.
2. Marketing Materials
To grow your program, you'll need a team of affiliates who will publish content to help educate audiences on your products and services and encourage them to buy. There are some potential marketing costs to find and recruit these partners.
Following is a list of some common tools to use for recruiting, along with their associated costs.
Social networking tools. Reach potential affiliates by commenting on posts or forums, sharing social media content, and joining professional or interest groups in your niche. Aside from your time investment, this recruitment method is often free.
Paid ads. Ads can help you reach newer or smaller influencers. You can start with Facebook for easy entry, lower cost, and integration with Instagram. Costs vary, but around $0.97 per click is typical.
Shareable images. You may wish to create graphics or other visual content to promote your program on social media. You can design them with Canva or other free tools to minimize costs.
Landing pages. This type of content helps explain the benefits of your program to potential affiliates. You can build them for free with Easy Affiliate, create pages using your website builder or content management system (CMS), or use a premium landing page builder.
Once you've brought on a new affiliate, there are other costs you may incur. Gifting your products to potential publishers and influencers to introduce them to your brand is a fairly common practice. You might also wish to create content such as banners to share with them so they can promote your business.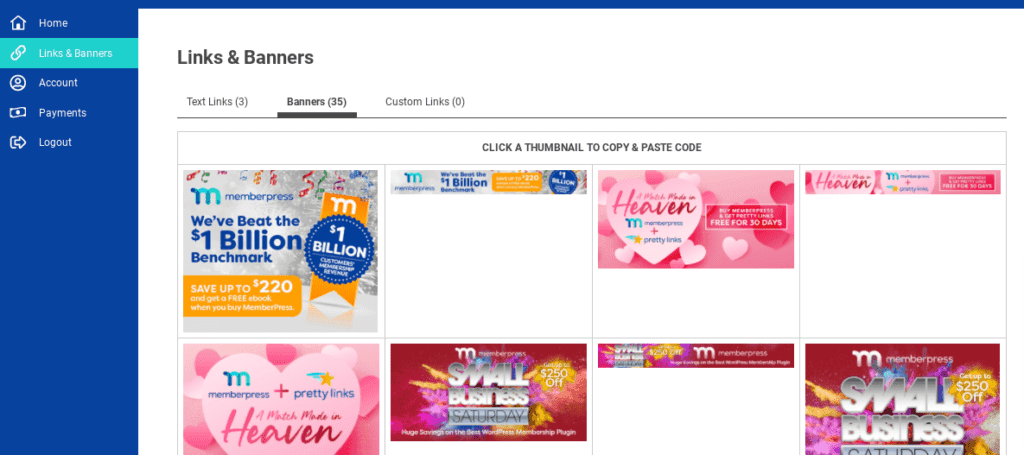 All said and done, the costs associated with marketing your program and your products can vary significantly. It just depends on which methods you use and whether you outsource certain tasks or handle them yourself.
3. Commissions and Payouts
Affiliate commissions and payouts vary according to industry, product, and even individual partnerships. Average rates span from 5–25%. They can go up to 50% for digital products since these are much less expensive to reproduce and require no shipping expenses.
Some affiliates earn higher commission rates because they have larger followings or greater influence. With Easy Affiliate, you can create multiple affiliate commission tiers to help you maximize your profitability and incentivize your partners to convert more traffic to receive larger payouts: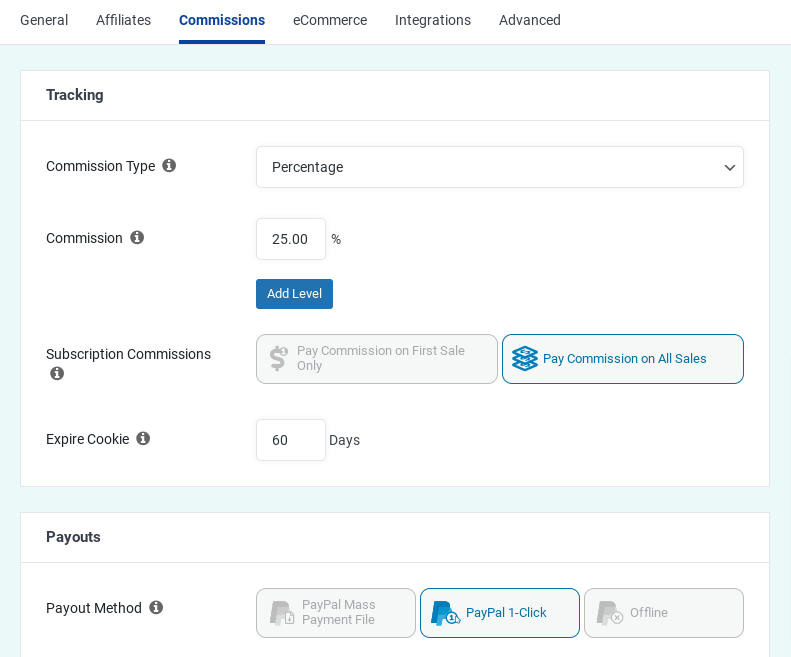 Where you set your budget is dependent upon your industry, product, and affiliates, so research your niche.
You'll also probably have to do some testing to find the optimal commission rate schedule. Easy Affiliate comes with easy-access reporting to help you evaluate the profitability of your rates.
4. Your Own Website Costs
You may already have a website for your business. If not, we'll discuss the costs of a basic ecommerce site. This is a necessity because your affiliates need somewhere to send customers to complete purchases.
Website costs include:
Domain name: $10–25 with annual renewal.
Hosting: On average, monthly hosting fees range from $15–79 or more for an ecommerce site, depending on your requirements and preferred options.
Website design: $0–5000 and up, depending on whether you do it yourself or outsource to a professional.

If you set up a WordPress site with the WooCommerce plugin, your cost may be $0 if you use one of the many free, customizable themes.
Hiring a web designer or developer who will provide you with a custom (but costly) solution may be preferable, but it's not a necessity.
It's also important that your site integrates with your affiliate program management tool. Easy Affiliate has 100% integration with several popular ecommerce solutions. It requires zero additional time to integrate with your site and provide automatic tracking of affiliate sales and commissions.
At a minimum, you'll likely spend around $200 per year on maintaining your site.
5. Additional Plugins and Tools (Optional)
So far, we've focused on the costs of starting an affiliate marketing program – the "must-haves" required to begin. However, there are some optional tools and strategic investments that can help accelerate growth.
For that reason, these are worth considering, if not now, then for your future plans and budgeting:
SEMrush. Helps with keyword search, competitor analysis, and other search engine optimization (SEO) strategies. Starts at $99.95 per month.
Pretty Links. Optimizes and shortens links to increase brand awareness and boost traffic. Starts at $99 per month.
Like any good wishlist, we could add more tools here. These are just a couple of examples to help you plan for possible expenses as you continue to invest earnings back into your business.
Conclusion
Starting an affiliate marketing program doesn't have to be expensive. There are multiple options available for every step of the journey. You can start small and grow your program as your business scales.
Required startup costs to consider include:
An affiliate program management tool such as Easy Affiliate.
Marketing materials to recruit partners and help them promote your brand.
Commissions and payouts for affiliates.
Your own website maintenance and management costs.
Optional tools such as Pretty Links.
Do you have any questions about the cost of starting an affiliate program? Let us know in the comments section below!
If you liked this post, be sure to follow us on Twitter, Facebook, and LinkedIn! And don't forget to subscribe in the box below.