Affiliate marketing is one of the most effective methods online business owners can use to make passive income. The more affiliates you add to your program and the more effective they are, the more money everyone makes!
So, how do you promote your affiliate program? Where on the internet can you go to promote your online business and recruit individuals?
In this post, we'll share with you a few places you and your affiliates can promote your affiliate links to find more affiliates, earn more affiliate commissions, and expose your business to a greater number of potential customers.
Affiliate Program Link Promotion: How to Be Successful
There are many different methods you can use to promote your affiliate links or programs, but there are a few specific things you should keep in mind to ensure that your promotions are successful.
Don't Overdo Your Promotion
There's nothing wrong with running a promotion every so often on your platforms and website, but the last thing you want to do is become overly salesy.
This behavior will quickly turn your customers off and make them feel that you're only in it for the sale. You want to provide value to your customers, not make it seem like you only need them for your selfish gains.
Spread Out Your Links
When you're promoting links or your affiliate program, spread out your information on various platforms and in different formats. Don't just use your links in blog posts. Also add them to videos, comments, website banners, and more.
This rule is the same for your affiliate program itself. Don't just limit this information to your website – include it in your emails, on social media, and in video descriptions.
Use Your Analytics
To understand whether or not your affiliate links or promotion efforts are working, you need to pay attention to your analytics. This will help you know where your viewers are interacting with your links, how they engage with your links, and how many conversions you're making.
This knowledge will tell you where to make changes to improve your program.
Easy Affiliate includes a robust reporting feature that puts all the data you need right in one place.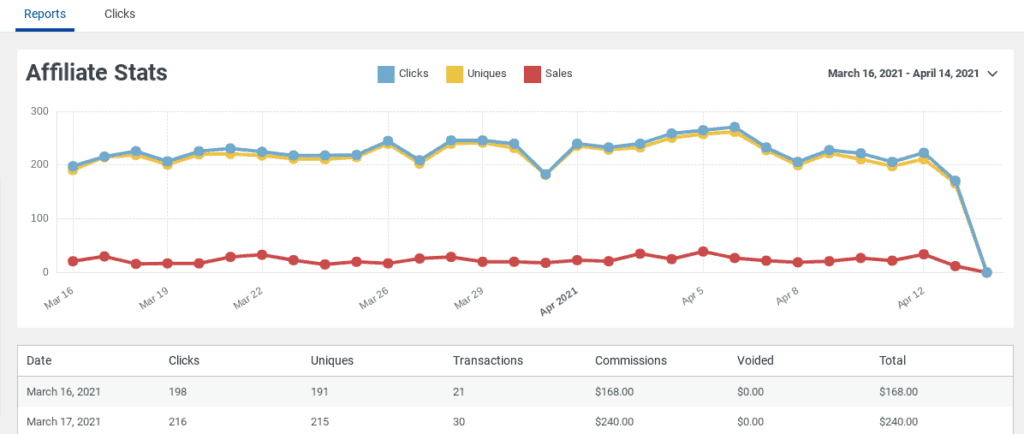 5 Places to Promote Your Program and Links
Armed with a general idea of how to be successful with your promotions, you can move on to getting those promotions out there. Following are 5 effective channels you can use to get things rolling.
1. Email Campaigns
One of the most important means of promoting your online business is email marketing. Email marketing is an effective way to bring traffic to your website, share your content with customers, engage with your audience, and attract new affiliates.
When readers and potential customers subscribe to your email list, they're seeking content to assist them and answer questions they may have. This is the prime time to include affiliate links or inform customers that you have an affiliate program.
The key to success here is to avoid posting your affiliate links all over the email. Focus on assisting your customers with solving their problem and then sprinkle in a few affiliate links from companies you know will help them.
Or, if you have an affiliate program, create a special announcement email to let your email list know. You could also simply include the information at the end of the email as a subtle reminder.
2. Video Content
Video content is all the rage in the digital marketing space right now, so it's only expected that your online business should embrace this tactic. Your videos should be centered around topics relevant to your business. Video content can be created from information in blog posts, social media content, a customer question, or anything in between.
To promote your affiliate links or affiliate program in your video content, add the information in your video captions or descriptions. You can also post your links within your video, whether by using hyperlinks within the video or by putting the link text in the video's footer.
3. Product Review Websites
There are numerous places around the web where individuals can log on and share their experiences with different products, services, and companies. Did you know that this is also an excellent place for you to promote your affiliate program and links?
While writing your honest, unbiased review, be sure to include information on how to use the product, the pros and cons of using it, and your personal experience with the product in addition to your affiliate link or information on how to join your affiliate program.
4. Guest Posts
Guest blogging is a great way to build links to your website, build brand exposure, and network with other companies. But did you know that guest posting is also an excellent way to share your affiliate program with a broader audience?
Before you incorporate information about your affiliate program into your post, be sure to discuss it with the company you'll be guest blogging for.
The key to any great relationship is communication, so you want to make sure that incorporating that information is clearly stated and understood by both parties. Also be sure to find out whether it is okay to include affiliate links in your post.
5. Roundup Posts or Resource Pages
Many online companies create roundup posts every so often to allow website visitors to check out different tools that could help them in their businesses. Some companies also create resource pages on their websites that are dedicated to tools and resources their followers can take advantage of. This is prime real estate for affiliate links!
List and talk about products and services your company uses and would recommend to others. Be sure to include a brief description of the products, the average prices of the products, and what you love about them.
You should also connect these services with your affiliate links and any discounts or free trials users of your links can get. This page or blog post should serve as evergreen content and should be continuously updated to provide visitors with accurate, up-to-date information.
In Conclusion
Affiliate marketing can be a lot of work, but there are all kinds of places and opportunities to promote your affiliate program and links, and many of these are available to you right now. We hope these tips will help you to better market your program so you can begin earning significant passive income.
Ready to start your own affiliate program? Check out Easy Affiliate >>
If you liked this article, follow us on Twitter, Facebook, Pinterest, and LinkedIn. And don't forget to subscribe to our newsletter!