When it comes to managing an affiliate marketing program, there are a lot of moving pieces to consider. Trying to stay in contact with your partners, provide them with key information and content, and tracking clicks and payments can quickly become overwhelming.
A simple solution is to create a dedicated affiliate website where you can connect with your partners and manage your program effectively. Fortunately, doing so with WordPress is fairly straightforward.
In this article, we'll take a look at why it can be beneficial to create an affiliate program website. Then, we'll offer tips on how to launch one successfully. Let's get started!
Why You May Want to Launch an Affiliate Website
Chances are, if you have an affiliate marketing program, you already have a website for your brand. Starting a dedicated platform for your partnerships with influencers and publishers may seem like overkill.
However, having a separate site for your affiliate marketing program can be helpful in several ways. For starters, it creates a hub where your partners can go to find the links, banners, graphics, and any other materials they might need when promoting your products.
It also makes managing your program easier on you. Having a dedicated website enables you to track the effectiveness of your partnerships by monitoring click-through rates (CTRs). You can also stay on top of payments to ensure they're sent out on time so you can keep your affiliates happy.
These benefits can come at a very low cost to you as well. Using WordPress to launch your affiliate program website is affordable and provides key flexibility and functionality through plugins, as we'll demonstrate shortly.
A Beginner's Guide to Launching an Affiliate Website (in 5 Steps)
Making the decision to launch a dedicated website for managing your affiliate program is just the beginning. Here's how you can get started on your new site in just five steps.
Step 1: Select a Platform for Creating Your Website
As you may already know, the first thing you'll need to launch a new site is a content management system (CMS) or website builder. When it comes to creating an online hub for your affiliate program, there are many advantages to choosing self-hosted WordPress for the job.
This platform is a popular choice. WordPress powers nearly a third of the top ten million websites. One of the biggest draws is its huge selection of plugins for extending its basic functionality:
Plugins enable WordPress users to customize their sites to meet their exact needs. This means that you can use this platform to create just about any type of website, including one for your affiliate program.
Additionally, if you're already using WordPress for your brand's primary site, you might consider launching your affiliate platform using Multisite. This feature creates a network that makes it easy to run updates and maintain a consistent design across your online presence.
If you aren't already, we suggest using WP Tech Support for your WordPress tech needs. More than 1,000 WordPress sites worldwide swear by their services, and it's easy to see why considering the value at such a great rate.
Step 2: Customize Your Site with Plugins and a Theme
Once you've chosen a platform, you'll need to go about designing your affiliate website and incorporating key features. For WordPress users, this means selecting a theme and installing key plugins.
Ideally, you'll want to choose a WordPress theme that matches the branding of your company website. This consistency in design will help reassure your affiliates they're in the right place.
However, plugins are where you're going to get the most bang for your buck. You can use them to set up a payment system, track sales, and other key tasks related to your affiliate program.
Our plugin, Easy Affiliate, is one you may want to consider: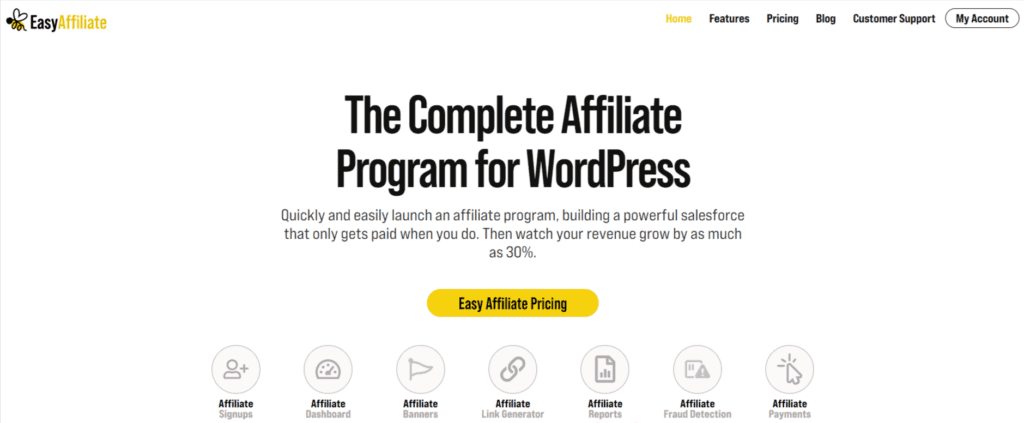 It can make creating and implementing your affiliate marketing plan an accessible process. It handles reporting, monitors your campaigns, and even helps maintain custom advertisements and links.
You might also want to consider some staple plugins for features such as search engine optimization (SEO), security, backups, and more.
Step 3: Set Up Personalized Affiliate Dashboards
For your affiliates, one of the most useful features your new program website can provide is a personalized dashboard where each partner can monitor their progress and other information: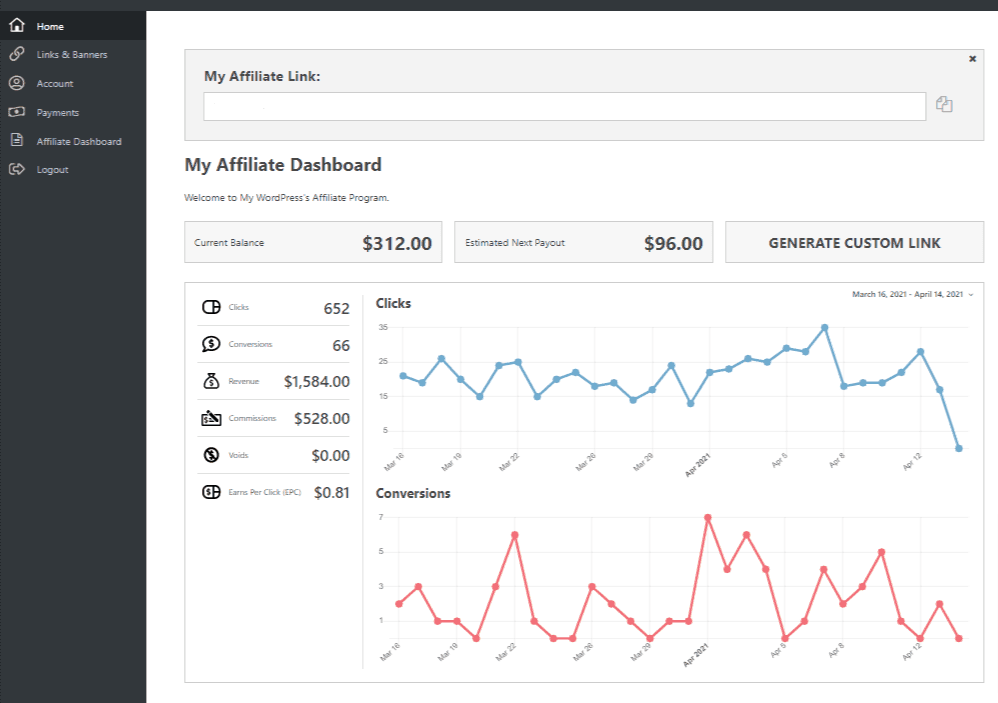 WordPress enables you to create user accounts out-of-the-box. However, plugins such as Easy Affiliate can help you set up full-fledged affiliate dashboards where your partners can:
Track their CTRs, sales, and commissions
View their payment histories
Download or copy banners and links
Whether you decide to create affiliate accounts for your website using Easy Affiliate or another method, making sure your influencers have access to this information is a must. By giving them all the tools they need to succeed, you can improve your own campaigns and revenue.
Step 4: Share Banners and Links to Promote Your Brand
Links are the bread and butter of affiliate marketing programs. Sharing yours with your partners is an important role for your new website. While you can always create links manually, having a plugin that can do it for you is easier.
Easy Affiliate has a simple link creation and management interface: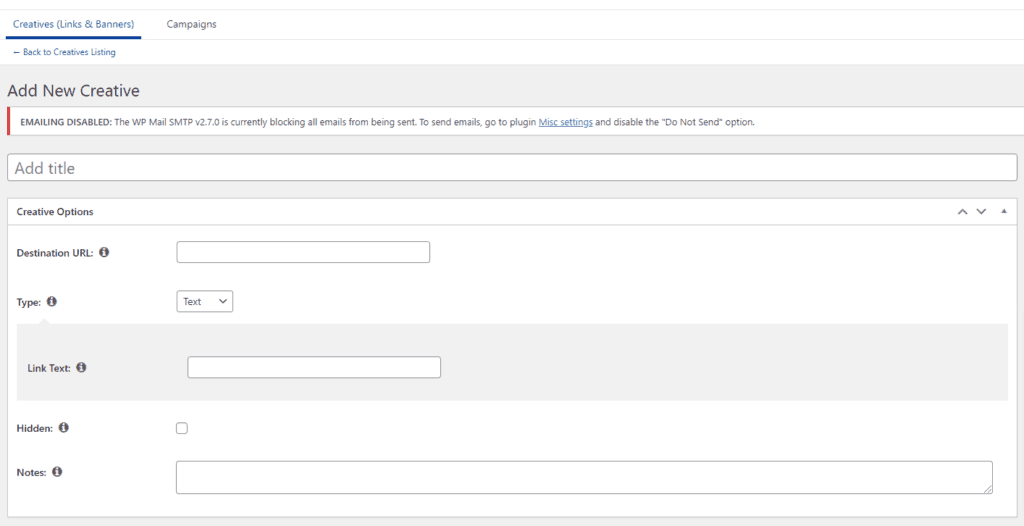 In addition to standard text links, you may also want to create graphics or banners that affiliates can display on their own websites or social media accounts. This helps promote your brand and can give your partners a leg up when it comes to crafting effective campaigns: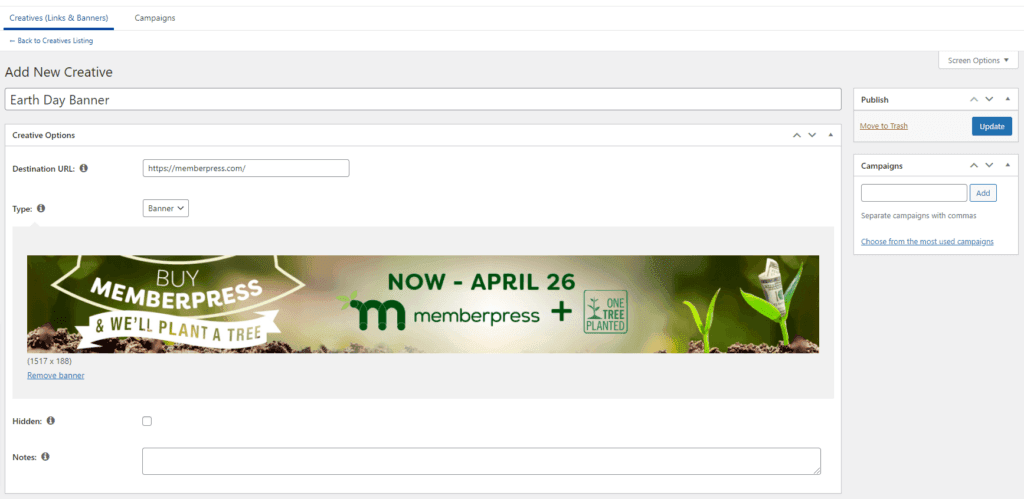 Easy Affiliate's link management feature also enables you to upload banners and graphics for your affiliates to use. While you're still in charge of designing them, this can make it easy to share them with your influencers.
Step 5: Monitor Your Affiliates' Success and Issue Payments
Managing an affiliate program is an ongoing process. Once you've set up your website, you'll want to refer to it regularly to track your partners' CTRs, sales, and commissions.
While this is important for making sure your affiliates get paid accurately and on time, it's also useful for your overall marketing strategy. By monitoring the success of your partnerships, you can determine which relationships are providing the greatest return on investment (ROI).
Easy Affiliate's Reports can help you track these details: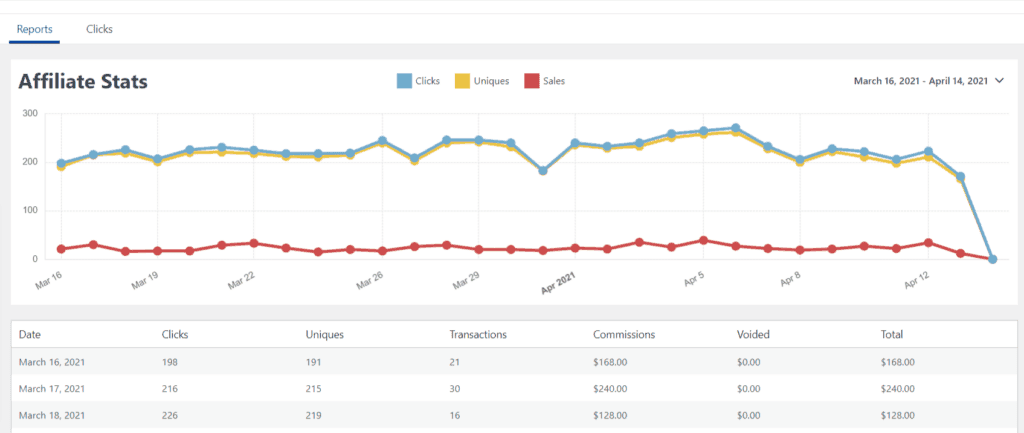 Our plugin also notes your Top Referrers. You can offer these partners higher commission rates or other rewards for directing customers to your products or services.
Finally, you'll want to integrate a payment system such as PayPal with your affiliate program website. This will enable you to easily complete and keep records of transactions with your partners.
Conclusion
Creating an affiliate website can sound intense, but it doesn't have to be. In fact, with the right approach and tools, building one can be an intuitive process.
Certainly, having a plan of action can be beneficial. In this post, we shared five steps you can take to get started on your affiliate website:
Select a suitable platform for creating your website.
Customize your site with plugins and a theme.
Set up personalized affiliate dashboards.
Share banners and links to promote your brand.
Monitor your affiliates' success and issue payments.
Do you have any questions about creating an affiliate program website? Ask away in the comments section below!
If you liked this article, follow us on Twitter, Facebook, Pinterest, and LinkedIn. And don't forget to subscribe to our newsletter 🐝