Marketing and promoting your products is essential for growing your brand. However, startups and small businesses are often working on restricted budgets, which means they can't risk a low return on investment (ROI).
Thankfully, you don't have to take a gamble on uncertain promotional methods such as pay-per-click (PPC) ads.
By running your own affiliate marketing program, you'll only pay commissions for successful sales. This means you don't have to worry about wasting your resources on unsuccessful campaigns.
In this article, we'll look at what affiliate marketing has to offer your small business. We'll then show how to set up your own program in three easy steps. Let's get started!
An Introduction to Affiliate Marketing (And How It Can Benefit Small Businesses)
Affiliate marketing is a system in which you reward an individual or another company for promoting your products and sending customers your way. Through an affiliate program, you can provide marketers with individualized links that contain unique tracking codes, which you can use to identify who referred certain sales.
Affiliate marketing is hugely popular, and when you crunch the numbers it's easy to see why. Global revenue in this industry is expected to reach $8.2 billion by 2022.
Additionally, affiliate marketing is growing in popularity among small businesses eager to boost their income. However, another huge benefit is that you only pay for successful sales. If a partner doesn't generate any conversions, you won't be obligated to pay them a commission.
This is in stark contrast to most other marketing and advertising strategies. For example, if you opt for a PPC campaign, then you'll be charged every time someone clicks your advert, regardless of whether it results in a sale.
In addition to generating sales and revenue, affiliate marketing can introduce your business to entirely new audiences. According to AM Navigator, 38% of marketers believe that affiliate marketing is one of their top ways of acquiring new customers.
Assuming you provide quality customer service, the leads you acquire through your affiliate program may become loyal repeat customers.
Your partners may have helped you gain these buyers, but once they start visiting your site directly you'll no longer have to pay commissions on their purchases.
How to Set Up Affiliate Marketing Programs for Small Businesses (In 3 Easy Steps)
After launching an e-commerce store, launching an affiliate marketing program may be the next step to growing your business. Let's look at how you can connect with new audiences and drive sales by setting up your own.
Step 1: Choose Your Affiliate Platform
The first step is choosing the platform that'll help you deliver and manage an affiliate marketing program for your small business. Your chosen solution should be easy to use, and provide all the information you need to monitor the success of your partnerships.
You may only pay commissions for successful conversions, but it still helps to identify the partners who are driving the most traffic to your site. As a busy small business owner, you'll often want to invest your time and effort into those who deliver the highest number of conversions.
If you opt for a platform such as Easy Affiliate, you can easily check your top-performing partnerships from your WordPress dashboard.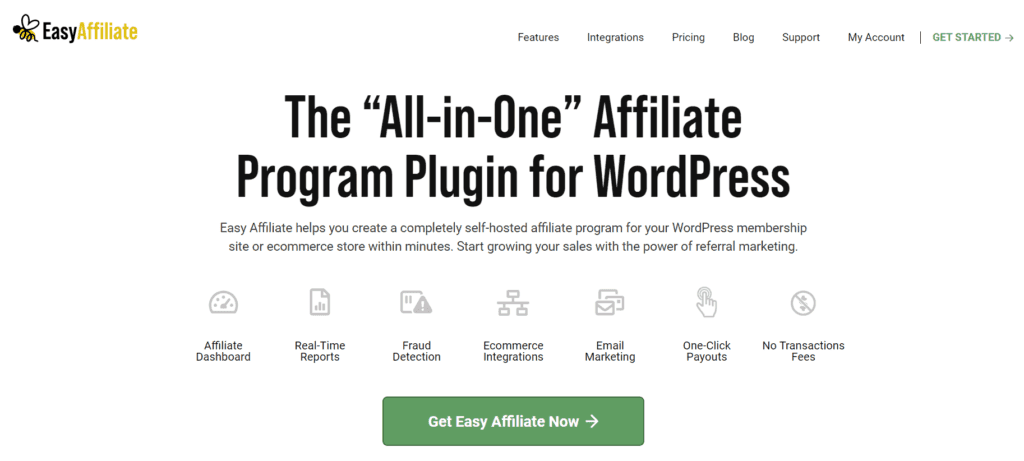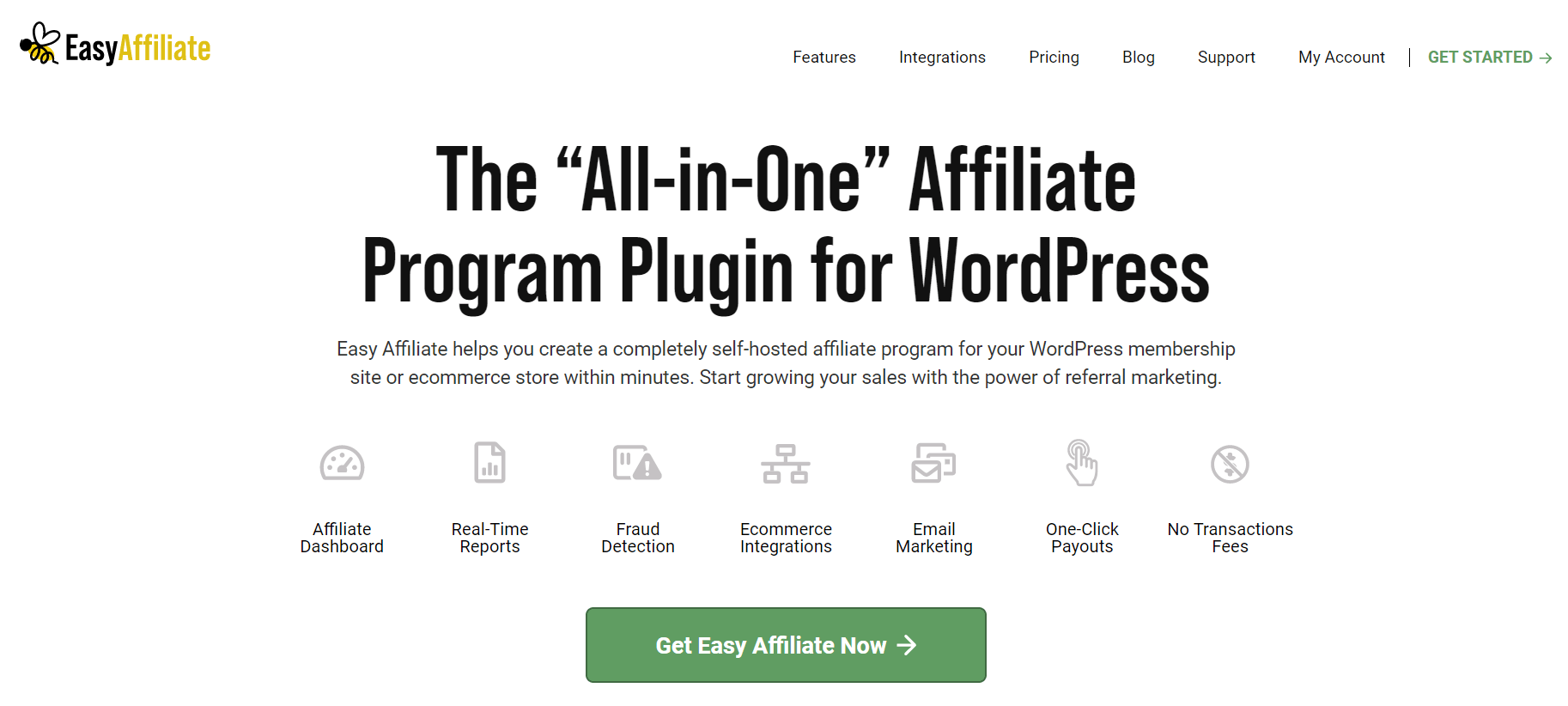 Affiliate marketing is a mutually beneficial relationship, so it's in your best interests to help your partners succeed. For this reason, it's important to give them everything they need to evaluate their own performance and make any necessary adjustments.
Easy Affiliate provides a dedicated Affiliate Management Dashboard where your partners can view their own sales records. It includes a detailed breakdown of the number of click-throughs and transactions they've generated.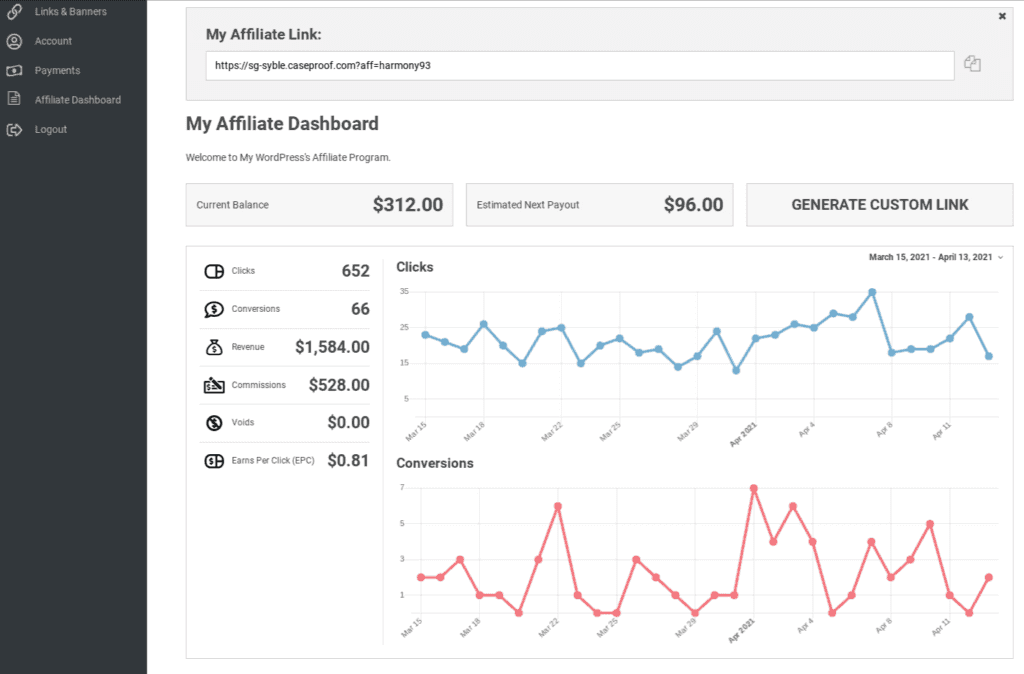 Your affiliates can use this information to identify the activities that drive the most sales, and earn themselves (and you) the more money. They can then adjust their strategies to do more of what's working, and less of what it isn't.
Step 2: Create Your Affiliate Program Site Pages
The next step is creating all the web pages that affiliates will need to join your program. By publishing signup, login, and affiliate dashboard pages, you can automate much of your marketing program.
You may even be able to turn your affiliate program into a passive income stream where you reap the benefits of multiple successful partnerships without having to invest huge amounts of time into establishing and nurturing those relationships.
Even if you plan to invite specific partners to join your program, it's still smart to create a page where third parties can take initiative and enroll themselves. This can help increase your signups, and ultimately earn you more conversions: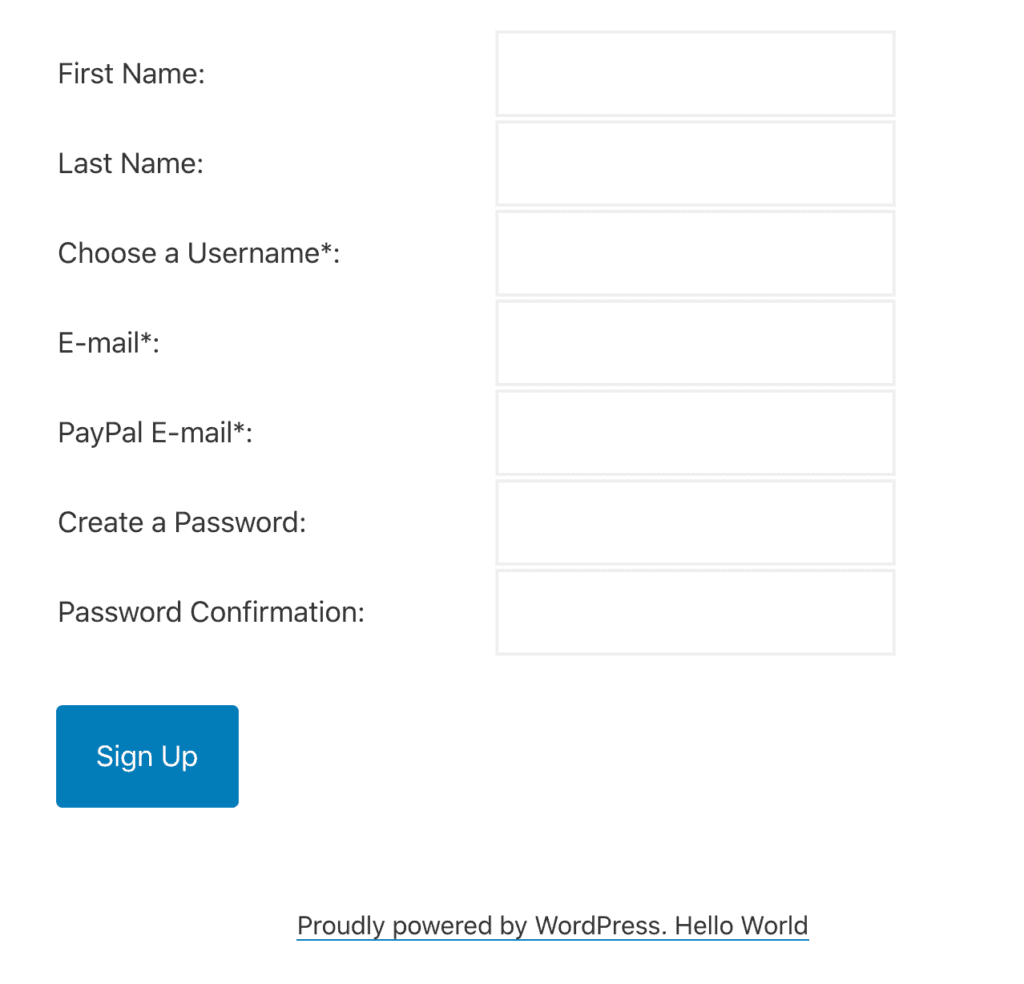 You can use Easy Affiliate to generate the required signup, login, and affiliate dashboard pages with the click of a button.
3: Set a Commission Type and Payment Method
Next, you'll want to choose a commission type. You might decide to pay your affiliates a flat rate for purchases made on your website, for example a $10 commission for each successful conversion. If you sell a small number of products with similar pricing, then fixed commissions may work well for your partners.
Alternatively, you can pay commissions based on a percentage of the corresponding sales. This can be a better system if your products have drastically different pricing.
A scaled model can also encourage affiliates to prioritize promoting your big-ticket items.

Easy Affiliate supports both percentage and flat rate commissions. It also integrates with PayPal to deliver payments to your partners: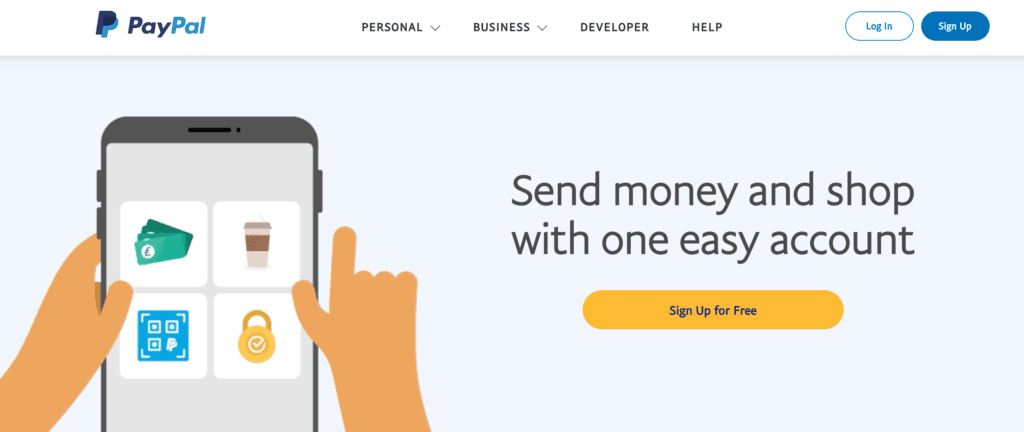 Alternatively, Easy Affiliate integrates with most major WordPress shopping carts, including WooCommerce and Easy Digital Downloads: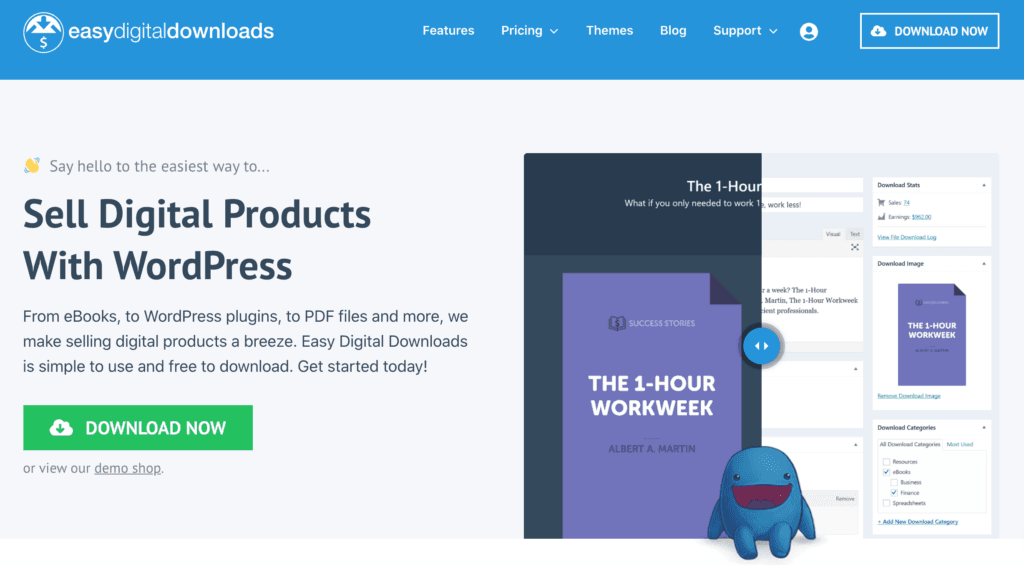 After you've added a payment method, your affiliate program is ready to go!
Conclusion
Many small businesses have tight marketing and advertising budgets, which means you'll need to spend your resources wisely.
By creating your own affiliate marketing program, you can promote your products and build brand awareness without risking your bottom line.
Let's recap how you can set up an affiliate marketing program in three easy steps:
Choose your affiliate platform, such as Easy Affiliate.
Create your affiliate program site pages.
Set a commission type and payment method.
Do you have any questions about starting your own affiliate program? Ask away in the comments section below!
If you liked this article, follow us on Twitter, Facebook, and LinkedIn. And don't forget to subscribe in the box below!