As the head of an affiliate program, one of the most difficult decisions you'll make is how to set affiliate commission rates that benefit everyone involved. This may be an overwhelming experience, especially if you are not familiar with the steps involved.
Fortunately, it can be a straightforward process. All it requires is a few simple calculations, and you'll be able to set rates that will benefit both you and your affiliates.
In this post, we'll touch on the importance of competitive commission rates. Then, we'll provide a step-by-step guide to help you determine suitable commission rates for your program. Finally, you'll learn how to set affiliate commission rates in Easy Affiliate, enabling you to implement your program immediately. Let's get started!
Why You Need to Set Competitive Affiliate Commission Rates
Simply put, commission rates are reward-based payments that your affiliates will receive upon the completion of a sale. These rates typically include two separate elements: a base rate and bonuses.
When setting your business' commission rates, it can be tempting to keep them low to maximize your own profits. However, there are two major benefits to providing more lucrative rates:
They can attract high-performing affiliates.
They can lead to increased conversions, as affiliates will have an incentive (i.e. higher pay) to do well.
While you may be paying each affiliate more per sale, you could end up seeing more sales overall. Of course, this increases your business' revenue and will be better for your affiliate program in the long run.
How to Determine Commission Rates for Your Affiliate Marketing Program (in 3 Steps)
As we mentioned, determining your affiliate commission rates doesn't have to be difficult. The three steps below will allow you to accurately determine commission rates for your affiliate program. Let's jump right in!
Step 1. Determine the Maximum Rate You Can Afford to Pay Out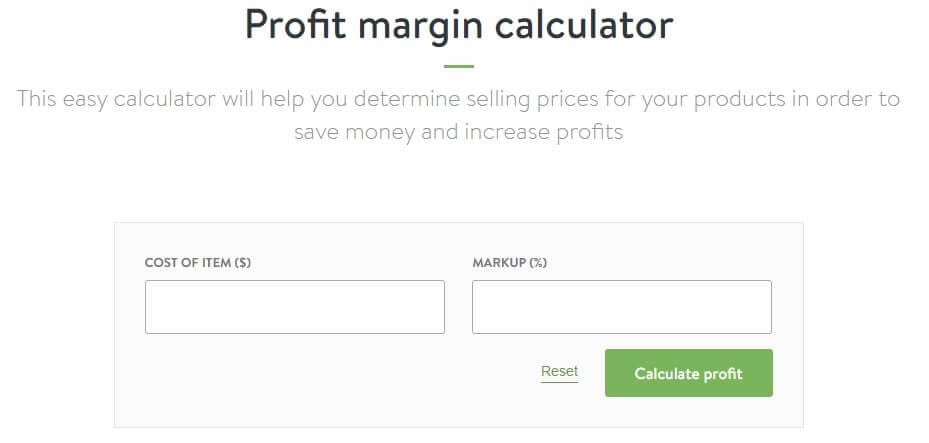 The maximum rate is the most you can afford to pay out to your affiliates without cutting into your profit margins or raising prices. With this figured out, you then have a boundary to work within, which will also help you when pricing your product.
Determining maximum rate isn't difficult. Just grab a calculator, and perform these three simple steps:
Determine your profit margin. This shows what you're actually making on each sale when your cost of doing business is factored in.
Consider how much you need to run your business. This includes your own paycheck, as well as any business operations (such as expenses and investments) and taxes.
Subtract step 2 from step 1. The result of subtracting one from the other is your maximum rate.
Keep in mind that your maximum rate is not your base commission. To determine that, let's first take a look at bonuses and incentives.
Step 2. Factor In Any Bonuses and Incentives

Bonuses and incentives are payments above base rate, and they're awarded to affiliates who have performed above expectations. As such, they're vital to maintaining a motivated and happy team.
Allowing for bonuses and incentives will provide you with wiggle room in your regular rates (i.e. you can set them a little lower depending on how generous you are). This means you can offer bonuses while ultimately protecting your profits.
This step isn't difficult. To get you started, here are two ways to factor bonuses and incentives into your commission rates:
Consider the bonuses or incentives you'll use. You can offer performance-based bonuses, or those based on affiliate recruitment.
Set commission tiers. Commission tiers enable you to restrict the payouts you make, while still rewarding your affiliate appropriately.
If you're looking for an easy way to keep your affiliates on-board, then bonuses and incentives are one element to include in your program.
Step 3. Compare Your Commission Rates to Your Competitors'
Comparing your rates to your competitors' helps you to get an idea of industry standards. With these in mind, you can then set more competitive rates, or set lower base rates with higher bonuses or incentives to entice affiliates to join your program.
The vast majority of affiliate programs have commission rates stated clearly on their sites, which makes comparing rates simple:
Utilize Google. Entering "competitor name" + "affiliate program" into your browser's search bar will typically bring up the competitor's affiliate page, which could list their current commission rates.
Keep records of your findings. This doesn't have to be complex. You could use a simple spreadsheet to record competitors' names, affiliate page links, commission rates, and any other data you think to be relevant. Once you've collected the data, it'll be easy to make comparisons.
If you're having trouble finding your competitors' rates, you can also reach out to their affiliates. Use a competitor backlink tool to find affiliates who link to your competitors on their websites, then send a short note inquiring about current commission rates. While not foolproof, this method may get you the information you seek.
How to Set Sales Commission Rates in Easy Affiliate
Easy Affiliate is an affiliate program management plugin, and the only one you'll likely ever need. Its list of extensive features includes link tracking, a link and banner creator, and even the ability to set up as many as 100 commission levels: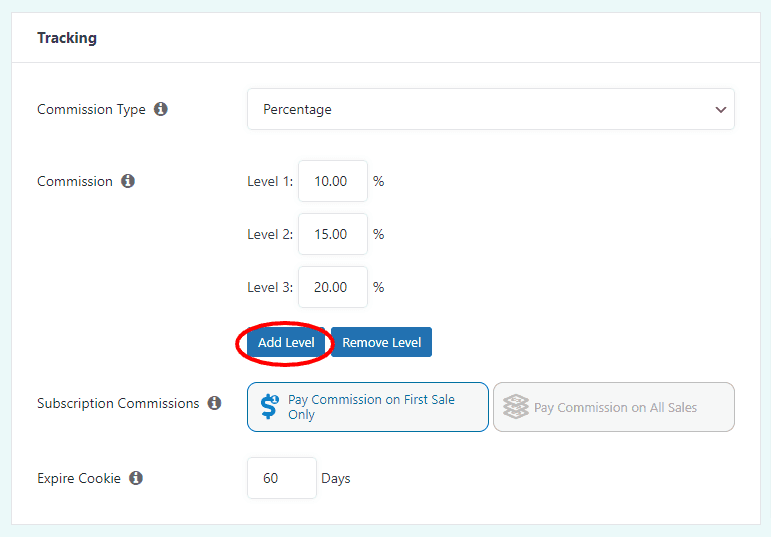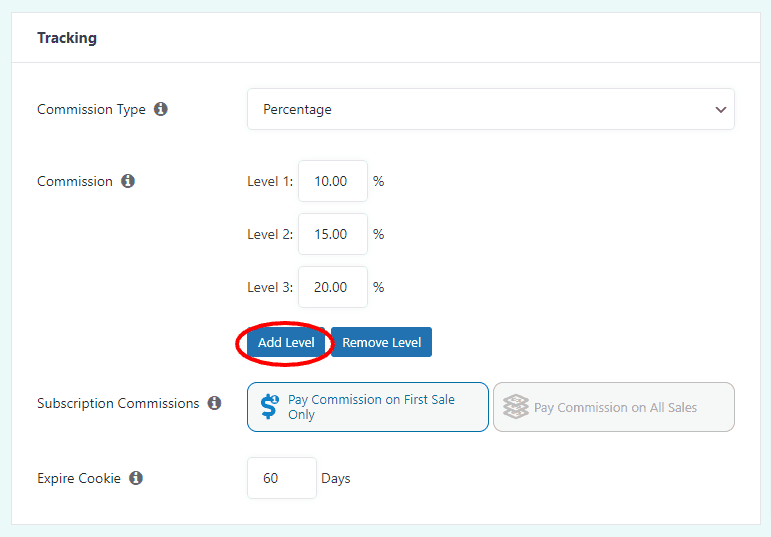 Setting commission levels in Easy Affiliate is a breeze. Once you purchase a plan and install the plugin, locate the Easy Affiliate menu on the left-hand side of your WordPress dashboard.
Next, navigate to Settings > Commissions and enter your commission rates. You can add more commission levels by clicking Add level. Of course, remember to click Update Options when you're finished to save your changes.
Conclusion
Determining commission rates is one of the biggest decisions you'll make as an affiliate program manager. Fortunately, the process can be straightforward, and there are a number of things you can do to ensure you offer competitive rates to your affiliates.
In this post, we've highlighted the importance of competitive affiliate program rates. In addition, we've provided you with a breakdown of steps for how to set sales commission rates for your affiliates. To quickly recap:
Determine the maximum rate you can afford to pay out.
Factor in any bonuses and incentives.
Compare your commission rates to your competitors'.
Do you have any questions about determining affiliate commission rates, or how to set them up within Easy Affiliate? Let us know in the comments section below!
Don't have your own affiliate program yet? Get Easy Affiliate today!
If you liked this article, follow us on Twitter, Facebook, Pinterest, and LinkedIn. And don't forget to subscribe to our newsletter 🐝